Believe it or not, Dave Stewart is in his sixth decade of covering sports in Kansas City, having started his broadcast career in 1979 with KMBZ radio. (Fun fact: he's in an elite group of journalists who have covered all four KC Royals' World Series teams.) Besides extensive stints at both KMBC9 News and Time Warner Cable, Stewart also honed his play-by-play experience—includes calling games for the Big 12, MLS, and NWSL. Many listeners also know Stewart from his various radio gigs around the metro.
We caught up with the die-hard sports nut (and KSU grad) to find out five things you don't know about the host of Big 12 Now and Jayhawk Gameday Live.

5) I'm a bird nerd.
"I probably inherited it from my mom—but I love birds. It's become a little obsessive over time, but I enjoy watching all the birds assemble in the yard. (One problem? The food on the ground attracts the nighttime creatures that come to graze—like raccoons.)
Hummingbirds, cardinals, and blue jays are here daily, in addition to the goldfinches, doves, and other random birds. I go through a lot of wild-bird seed, mealworm, sunflower blocks, sugar water, grape jelly, and suet to make them happy. The orioles are mostly seasonal but my favorite. They are bad at sharing. Birds are also the best predictor bad weather is coming."

4) Karaoke is my jam!
"My wife and I have taken at least ten cruises over the years and find it to be a great way to explore other countries while being on the move. Being at least a thousand miles from home, I feel a little more comfortable letting my hair down—and doing things like karaoke. Having said that, we'll typically have someone come up to us on the first day and say, 'Hi, Dave, we're from Liberty!'
On our last cruise, we did a duet from Grease. After that, we were known on the ship and Danny and Sandy. My wife was on the road in a rock band for several years after college and that's how we met—in the basement of the old Plaza III."

3) I was really blessed to be an intern at KMBZ in 1979.
"They were the Royals' flagship and the No. 1 station in town. When I went to work there, it was such an amazing, veteran news department. Real pros. Sports director Don Burley would smoke his weird, fruity cigarettes in that closet of a newsroom and gas us out. They let me cover all of the sports assignments in the field and I jumped at every chance. They ultimately created a position for me after my last semester at KSU. That's why I always tell our interns to work their tails off. You might get a job out of it.
That's also where I learned that there's no line between work and a personal life. When you spend that much time with people, they become your family."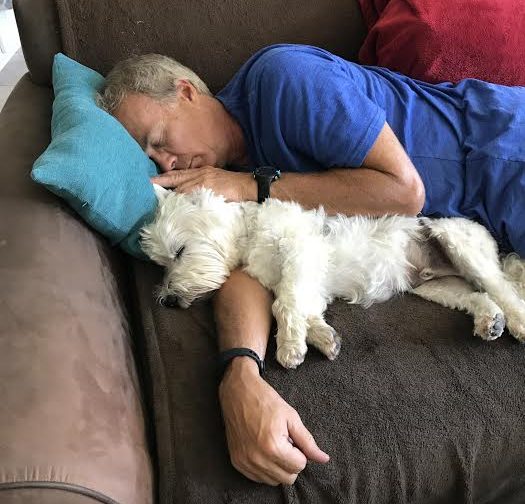 4) I'm a dog person.
"When I was in junior high, my career-day trip was to watch our veterinarian perform a teeth cleaning. (I about fainted when he stuck a needle in the dog's leg and that was it was for my medical pursuit.) We've had Westies for about 17 years and our boys are ten-year-old litter mates. One time when my wife was out of town, I let them sleep in the bed instead of their crate and we officially lost control of said bed.
All dogs tend to gravitate to me—with the exception of a two-pound chihuahua on the bike trail that hates everybody."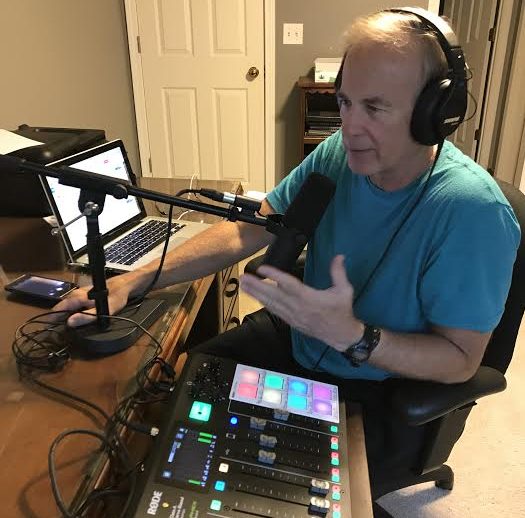 1) I've started a podcast!
"I was approached about doing a podcast a couple months ago by a former co-worker. His idea was to base it on mentors and the role they play in all of our lives—but those who go on to do great things, especially in sports. So, Liftoff to Greatness was born. (It was about 7th choice in the name game—but podcast platforms are picky on not allowing names that are too similar.)
I think there are some great, inspirational, and life-changing stories to tell, and we're gonna tell 'em. I love to be prepared for an interview, but I want to be surprised when I hear who somebody's mentor might be—as it's often someone unexpected. Long-form interviews are my favorite to do, to get to go deep with someone. I really look forward to sharing facts and feelings you may not know about." (Editor note: Sort of like this interview, Dave.)