As curator of the nearly 4,000-piece Hallmark Art Collection, Erin Dodson spends her days surrounded by modern and contemporary art. In addition to looking after the works of 1,200 artists—ranging from Edward Hopper to Jennifer Steinkamp—she actively participates in Kansas City's local art community.
Dodson makes it her mission to make art accessible and relevant to people, and she looks for opportunities to share the Hallmark Art Collection with the public through museum loans and exhibitions. The latest example of that is the Greetings, Saul Steinberg exhibit at Crown Center this summer. Perhaps best known for his cover illustrations for The New Yorker magazine, Steinberg was born in 1914 to a Jewish family in Romania and fled Europe in 1941 to escape persecution. (Fun fact: he had a long partnership with Hallmark Cards, creating over 100 works for greeting cards, calendars, and gift products.) The upcoming exhibition features dozens of original mixed-media drawings by Steinberg and serves as a timely complement to the Auschwitz exhibition across the street at Union Station.
We caught up with Dodson to find out some little-known tidbits about the art aficionado.

5) I was terrified of Santa Claus when I was a kid.
"I imagined that Santa had actual claws under his fluffy white cuffs, like a polar bear. In this photo you see me at a dance recital, holding a candle and some reindeer treats, crying because it was my turn to visit Santa!"

4) I'm a Hallmark baby.
"A few months before I was born, my dad started working at Hallmark, and eventually became a master retouch artist. After he retired, he trained me how to do the work he did, and I was able to get my first job at Hallmark doing part-time retouch work in the photo studio."

3) I love horses.
"When I was in middle school, I did a work exchange for riding lessons, which involved mucking out horse stalls all day in the summertime. At the end of the day I'd get a 30-minute lesson. I didn't keep up the lessons as I got older, but I'll still stop to pet a horse's nose any time I get a chance."
2) I once drove from Oregon to Alaska.
"When I graduated college, a friend and I drove nearly 2,000 miles through Oregon, Washington, British Columbia, and a bit of the Yukon, to Haines, Alaska. There was a wide range of scenery, and I loved picking wild blackberries and watching sea lions on the coast, but the drive was pretty extreme. In fact, we found a lot of roads in Canada labeled 'highways' that were paved in gravel."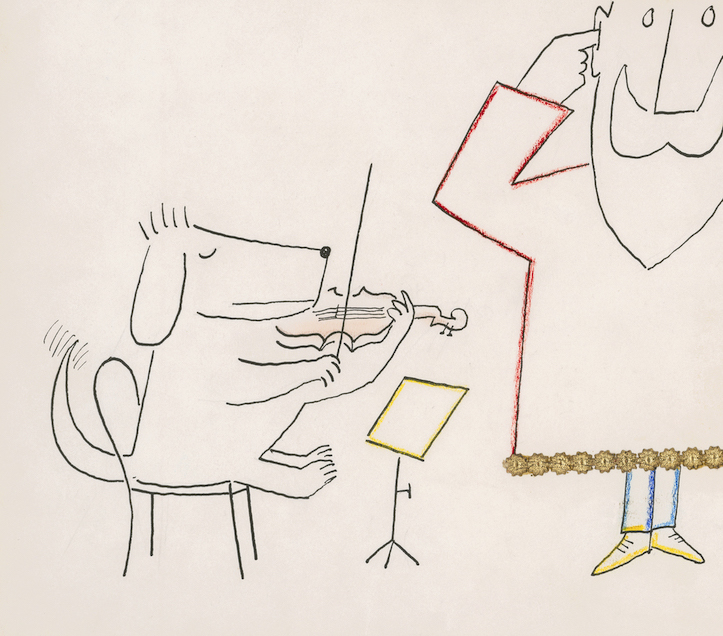 1) My favorite Saul Steinberg drawings are his animals.
"They have so much personality and are created with just a few simple lines. I love this quote from an interview Steinberg did, where he says, 'Cats and dogs, being domesticated, being near people, are people. They become interesting because they are clowns—they clown people.'"