Opera singer Sean Panikkar's bio is, well, how do we put this—totes all over the board. Not only has his pop-opera (popera?) trio, Forte, performed for President Obama at the White House, but he's also sang alongside (name drop!) Mariah Carey and the late Aretha Franklin. As if that weren't enough, Pannikar even has a Game of Thrones connection—because, of course, he does. Perhaps you've seen Forte's video where—according to Pannikar—"we set High Valyrian text to the iconic opening orchestral theme." (You know we had to throw that in there for all you GOT'ers out there.)
Given the sheer randomness of Panikkar's endless call sheet (and the fact he's starring in The Lyric Opera's upcoming performance of The Pearl Fishers, which debuts on Saturday), we asked for five things we didn't know about the Sri Lankan songster. He didn't disappoint.
5) My children Maria (10) and Mark (7) don't have phones or iPads! They both sing in the Michigan Opera Theatre Children's Chorus, and are participating in team sports, art, and music lessons. Our family is a bit old-school in that we encourage them to actually play outside and read physical books. I love that my job allows our family to see the world. When they aren't with me, I handwrite letters to my wife, Jane, and Maria and Mark every night that we are apart and send them in the mail. I also read to them every night. The only times that they have access to a phone is when I am on Facetime.
4) I am a huge sports fan who very rarely listens to music. I am so engulfed in music on a day-to-day basis, and I almost never go a day without singing—whether it's in opera rehearsals, performances, or simply practicing for an upcoming engagement. But in my downtime, I am a sports radio junkie. In college, I played trombone in the men's and women's basketball pep bands just to go to the games for free. Only after my voice teacher told me I couldn't scream at games did I stop playing.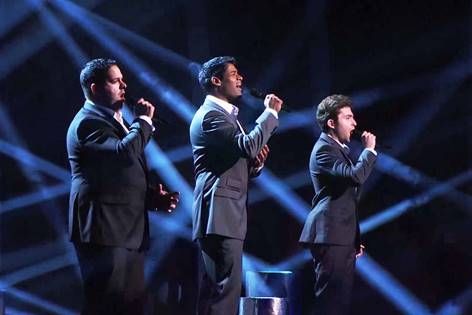 3) I was invited to compete on America's Got Talent. I had never seen the show, but a tenor trio called Forte had competed on the first round and lost a singer. They needed to replace him within the week or risk disqualification. Out of the blue I was contacted and agreed to compete despite never having met the guys. Our first time performing together was in front of a national audience of 12 million viewers with Howard Stern, Heidi Klum, Mel B, and Howie Mandel judging us. It was surreal. I thought we would do one round and then leave the show, but we advanced all the way to the finals. While we didn't win, we were literally signed by Sony Columbia Records in the wings of Radio City Music Hall. Since then it has been a whirlwind straddling the purely classical world of opera and the pop crossover world.

2) I was initially admitted to college as an engineering major and only applied to the music school to honor my high school voice teacher after committing to the engineering department. To my surprise I was accepted as a dual major. My last class of the day was choir and that is when my entire life changed. I saw a girl across the room and couldn't take my eyes off of her. I was too shy to ask her out on a date, but I found out she was a pianist and I conveniently needed an accompanist for my voice lessons. The only reason I didn't quit music was because it was my only way to spend time with her. It's also why I actually practiced and tried to do well in my voice lessons. By the end of sophomore year we were dating. Now Jane and I are going on 14 years of marriage and have two children.

1) My family never heard me sing a note until I was a senior in high school. My parents are from Sri Lanka and not musical, but they thought music was an important part of a well-rounded education. I started playing violin at the age of 3, piano at the age of 6, added trombone and saxophone in my middle school years, and sang in choir throughout. While I practiced my instruments at home, I never sang at home. In fact, my family routinely accused me of simply lip synching in choral concerts. It was not until my senior year, when in an effort to pad my resume for college engineering programs, I competed and made it to the All-State level. At the concert, my parents heard me sing for the first time. They had no idea that I had a voice of any kind.