Many of us were able to social distance and observe the quarantine from the comfort of home. Essential workers didn't have that luxury. Here are some of their stories.

Scott Lesch

| US Postal Mail Carrier
As a postman for more than 20 years, Scott Lesch has witnessed the way 9/11 and the financial disaster of 2008 and 2009 affected people on his South Kansas City route. Back then, he says, people wanted to talk about their fears, even share a hug. But COVID-19 is "completely different," he says. "They're even afraid to open their doors. I get a wave or thumbs up from behind windows."
It's lonely, he admits. For the homeowners and for himself. "I'm a social animal; it's why I love my job. Families move in, raise kids, get puppies they want to introduce me to. Show off their lawns, brag about their kids, talk about the loss of a loved one. I know it's someone's birthday when they get big, colorful envelopes.
"But for the last several weeks I can go my entire day without seeing or talking to anyone until I get home to [his wife] Christina and the kids."
One recent Wednesday was different. Twila, an 80-year-old homeowner in Red Bridge, had gone to live with her son during the shelter-at-home mandate. Five weeks later as he walked the neighborhood, he noticed her door was open. He stepped onto the porch and called out to see if everything was okay. Twila came out from the back room where she was gathering items and was nearly in tears at the sight of her friend.
In years past, after such an absence, he would put his arm around her shoulder. But on this day, she said, "Thanks for caring about me," from several feet away. "That's what I do," Lesch replied as he made his way to the next house on the street. —KVL

Mindy Earle

| Kansas City Police Department Officer
KCPD Officer Mindy Earle is having the last laugh when it comes to her hygiene habits.
"Before the pandemic, everyone made fun of me because I always carry hand sanitizer," she says. "I feel very strongly about cleanliness!"
In addition to hand sanitizer and 20 pounds of equipment and uniform, Earle wears personal protective equipment including a mask and gloves. She says it's been a challenge to adapt to PPE guidelines, especially when she's making split-second decisions when responding to a call.
"Our jobs are so fast-paced," she says. "One minute, you can be having a conversation, and the next, something bad happens and you go into help mode. We had a call where someone was holding a woman hostage. My only thought was, 'Get out of the car, go get her.' I realized later I wasn't wearing a mask."
Police officers are no strangers to taking risks and working within dangerous conditions. The increased health and safety risks of the pandemic are, to Earle, just another facet of what she and her colleagues face.
"In Shoal Creek, we have more tenured officers and some of them have acknowledged that they're at risk but that won't stop them from doing their jobs," she says. "I admire that. It reminds me of the quality of people that I work with."
Earle noticed other changes in the types of calls, for example—less property crime and, unfortunately, an increase in domestic violence incidents. She's also adjusted to a shift in the perception of police officers and their role in the community.
"A lot of people are outside, doing what they're supposed to be doing," she says. "If we don't have a call, we'll go to the parks and talk with people, say hello. At first, it was sad—people thought we were there to tell them to go home. Now, they've seen that we're here to be supportive, and as long as they do what they're supposed to, everyone's happy." —KS

Monica Howard |

ICU Nurse
In early April, Monica Howard wore a smile and a Chiefs sweatshirt when she and dozens of other nurses from HCA Midwest Health arrived at the New Orleans airport. They'd volunteered to serve at one of the country's early COVID-19 hot spots. Howard would find little to smile about during two intense weeks of taking care of "the sickest people I've ever cared for," she says. The long days and nights seemed to run together as she worked with ventilators, comforted scared patients and learned front-line experience she could take back to her role as an ICU nurse at Menorah Medical Center in Kansas City.
Her mom met her at KCI at 7 p.m. on a Monday along with Monica's dog McGee, named for the downtown garage where she'd found him. By 6:30 the next morning, she was back on duty at Menorah. Along with caring for patients' physical needs, Howard and the medical staff members find ways to provide the family connections everyone craves at times like this. "We help them FaceTime with family members, and we'll turn beds around to face the windows. The intensive-care unit is on the ground floor, and friends will gather outside a patient's window to wave and blow kisses," she says. "It gives the patients a spark of energy, and we feel it too."
Menorah's groundskeepers have erected tents, so visitors have a place to stand when it rains. Whenever possible, Howard takes her lunch breaks sitting on a bench along the landscaped paths, daydreaming of the time when she can hang out with friends again and take McGee to a dog park. But until then, she checks her watch and goes back inside where she's needed. —KVL

Mark Trujillo |

UPS Package Driver
In more than 30 years with UPS, Mark Trujillo has never seen the sustained volume of packages that's resulted from the pandemic.
"It's different than Christmas," he says. "At Christmas, you expect that, but we weren't really prepared for such a big boost in volume."
Trujillo routinely clocks 12-hour days, working into the late evening hours to make deliveries that are now primarily residential—about 70 percent, he estimates. That's a stark reversal from UPS's typical customer volume: 70 percent business, 30 percent residential.
He's used to the hustle and bustle of the River Market, part of his daily downtown Kansas City route that spans 11th Street to the south, Main Street to the east and Summit to the west.
In recent weeks, the city's stay-at-home orders have temporarily shuttered many Kansas City businesses. Trujillo says the neighborhood feels desolate without the heavy pedestrian and automotive traffic, and he's hopeful that the pandemic doesn't permanently stifle the area's economic development momentum.
On the upside? He's heard feel-good stories, including accounts of more families spending time together. Trujillo misses his own college-aged kids, all home from school. Still, he's grateful to be busy as he's in the home stretch of his UPS tenure.
"I have about two to three years left with UPS," he says. "It's a blessing to work for a good company." —KS

Hazel Hernandez |

Hen House Bakery Manager
There are no cash registers near the bakery department at the back of Leawood's Hen House grocery store. The only payment Hazel Hernandez needs is the smile when she hands a customer a cake she's decorated for a child's birthday or an anniversary party.
But for the last two months, masks have hidden smiles and muffled exclamations of thanks. The number of special orders has diminished, too, as graduation parties were canceled and weddings postponed. Mother's Day, usually a busy time for Hernandez and her team of ten bakers (including daughters Aubry and Shelby), was quieter this year.
But people still crave desserts, perhaps more than ever. Tippins Pies are as popular as ever. "We've been doing smaller cakes rather than large, decorated sheet cakes," Hernandez says, showing off a pink, two-layered beauty with sprinkles. And customers have ordered fanciful cupcakes to deliver to friends for a virtual birthday party over Zoom, or neighbors sitting on lawn chairs in driveways on a Sunday evening.
During her 20 years as a baker, Hernandez has developed friendships with families who turn to her to recreate cakes for weddings and birthdays from those they've seen on Pinterest or in a magazine. She loves the challenge. For his birthday this year, the son of a long-time customer wanted a PAW Patrol-themed cake. Who knows what Mason will want for his fourth birthday, but Hernandez says she'll be ready. —KVL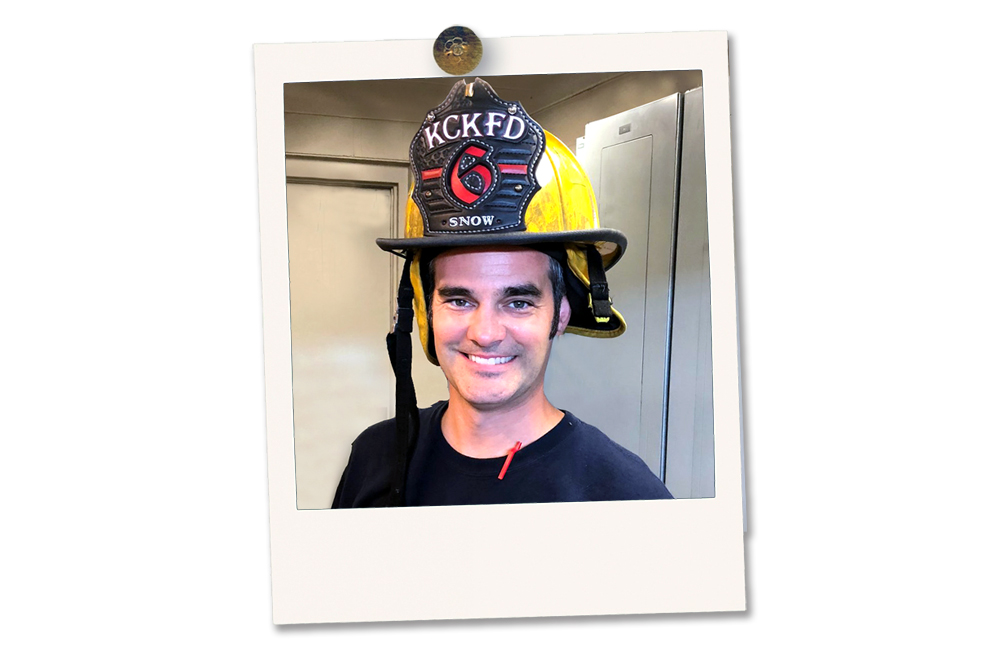 Gary Snow | Firefighter and Paramedic
On any morning of any year, Angie Snow feels a whisper of worry as she kisses her husband goodbye at the door. As she has during their ten years of marriage, she's learned to push the fears aside as Gary heads to the fire station in Kansas City, Kansas for his 12-hour shift as firefighter and paramedic. But during the pandemic, they're aware of extra safety measures, not just for Gary but also for their family, which includes Tula, soon to be 5, and nearly 2-year-old Levi.
Before coming home, Gary showers and changes clothes at the station and while Angie distracts the kids with breakfast in the kitchen, their dad washes up again before it's time for hugs and kisses.
Like most front-line workers, Gary brushes off the title of "hero." But he and his fellow firefighters appreciate the increased expressions of gratitude like doughnuts and cookies showing up at the station and cars honking as they drive by.
After a span of medical scares for the kids, Angie posted a sweet family photo with #lookingforwardto2020 on her Instagram feed. She couldn't have anticipated that the new year would bring other challenges. While she misses her job at Hallmark where she's a leader in the kids and babies retail category, she's treasured extra hours at home with what she laughingly calls her own personal focus group.
As for Gary, weeks of sheltering-in-place has meant more time for what Tula calls the "dog pile" with Daddy on the floor covered with a mash-up of little arms and legs as giggles fill the house. If that makes him a hero in Angie's eyes, he's fine with that. —KVL

Heather Peacock |

Lead Teacher, UICS-Metro Center
How do you keep 3-year-olds learning and engaged when they're separated from each other and at home?
In her first year of teaching, that's a question that Heather Peacock had to answer. One of two co-teachers in United Inner City Services' Metro Center (alongside Nicole Gunnels), Peacock found her daily routine thrown into a tailspin when the center closed for the city's stay-at-home orders.
"Distance learning makes sense for elementary, middle school, and high school students," she says. "They can pay attention to things for more than five minutes. Preschoolers are totally different—they like to be crazy in the best way possible!"
As a multi-service community-based agency that's served Kansas City since 1967, UICS is much more than a collection of resources. It's a "neighborhood anchor, providing a safe, warm and inviting site" for children and their families.
It's no wonder then that, despite the closure, Peacock and her colleagues were focused on how to help students, providing that same sense of security and connection that are fundamental tenets of the classroom experience.
One initiative? Launching food distribution on Thursdays. Each week, families come to UICS for food, art supplies, and other items that "would encourage learning and that they might not have at home," Peacock says. Center staff makes home deliveries to those unable to make it to the center.
Peacock and Gunnels also kicked off Zoom calls on weekdays except for Thursdays—they didn't want to conflict with food distribution day. At 10:30 a.m., students and their families gather around the computer to check in, chat and connect.
"I thought there would be no way our students would hang out for 30 minutes," Peacock says. "We got into a groove and found some things that worked for us and our class."
Peacock never anticipated her first year of teaching to include such daunting challenges, but with a bachelor's degree in public health, she's found much of her college education instantly relevant. Amid days that are anything but routine, she takes comfort in the connections she's created.
"I'm so glad that my students and I have such a strong connection," she says. "We're a school family and I'm so glad that I can be there for them. I can't imagine not hearing from them, not talking to them. This is the most rewarding job I've ever had." —KS

Kristin Griffin |

Membership services, Costco
With her effervescent personality, Kristin Griffin is used to hearing "thanks" as she caters to the needs of Costco members on a daily basis. But after the world changed in mid-March, she often gets a much more sincere exchange of "Thank you for being here."
Days after the mandatory shut down except for retailers providing essential items, Kristin was asked to join what she calls the SASS (for Safety and Sanitization) Crew. "I'm proud that ours (in south Overland Park) was the first Costco in the Kansas City area to develop specific programs that other locations can follow." While Costco has always adhered to safety measures, every department was now tasked with above-and-beyond cleanliness. Floors were marked for social distancing; shopping carts and hard surfaces were disinfected throughout the day.
Another change was to offer senior shopping hours so that the most vulnerable members could be there for essentials before the rest of the crowd seeking toilet paper and Lysol wipes. "Believe me, they were so grateful to be here early when the shelves were freshly stocked." If that meant earlier hours than usual, it was no problem for the woman colleagues call "Susie Costco" due to her loyalty to the company mission.
Kristin is grateful that Costco now requires all members to wear masks while shopping. "We have families to go home to, too," she says. "And if I'm willing to wear a mask all day, the least they can do is wear one for 20 minutes." She's known for being a huge hugger. It may be awhile before that habit can return, but she's looking forward to the day when the masks are off and she can exchange smiles and laughs with her teammates and Costco members. That, and meeting a friend at Westside Local. "There will be bubbles," she promises. "Lots of bubbles and hugs." —KVL

Brian Aaron |

Executive Chef, Tannin Wine Bar
On a regular Saturday, Brian Aaron would be scanning the list of dinner reservations, making a mental note of where the regulars would be seated so he could stop by later to chat. But for the last several weeks, his only public face time was when he'd personally deliver take-out food to cars parked in front of the restaurant.
It's been a challenging spring; Aaron returned to Tannin in February after time at other eateries and a month later had to furlough most of his staff. "We'd just celebrated our ninth anniversary, then boom," he says. But chefs are creative by nature, so he and Barry Tunnel, Tannin's wine director, crafted a Tannin to Go that would lend itself to take-out dining. "One of our most popular options was the Wagu Burger Pop-Up. The first Saturday we sold out of 80 orders immediately. The next week I ordered enough for 150 orders and sold out the day before."
The Zoom wine dinners have been successful as well. Instead of bringing a winemaker to the restaurant, Barry and Brian host a virtual gathering while patrons pick up the dinner and paired wines beforehand to reheat in time for the online discussion. "What's cool is that the winemaker can take us on a tour of the vineyards and cellars, whether they're in Walla Walla or Italy. We may continue these even after we re-open." Take that, Covid-19. —KVL

Rod Jackson |

KC Streetcar Operational Supervisor
Even amid a pandemic, Rod Jackson's got his eyes peeled for problems.
"I ride up and down Main Street, making sure no one is parking over the line so the streetcar can continue to move," he says. "When that happens, we call it a foul."
Jackson's current streak is three to four weeks without a foul. Sometimes he even proactively catches people parking where they're not supposed to, and he can ask them to move before an issue arises.
Streetcar ridership is starting to rebound after plummeting during the stay-at-home orders. The line operates reduced hours, so Jackson is currently working shorter shifts and doesn't typically see as many riders in an evening. Regardless of ridership numbers, streetcar operators are required to wear PPE. That helps Jackson feel secure, even if riders choose not to mask (they're encouraged to but not required).
"It doesn't make me nervous since I'm wearing a mask," he says. "Plus, we're always cleaning. The operators are good at wiping everything down."
As a supervisor, Jackson is already acclimated to on-the-job risks. If operators have a security issue on-board, for example, Jackson will respond and try to resolve the problem before reaching out to authorities.
If anything, the pandemic has made Jackson appreciate the pre-closure pace.
"I hope all of the downtown businesses can fully reopen," he says. "I'm just ready for everything to get back to normal.
"When we go back to full schedules, it's going to be a change," he says. "We're slowly moving back to our regular hours. And we've had more people on board since May 15. Parents want to find something to do with their kids, and kids love the streetcar." —KS