Cars! Celebrities! Food trucks! Um, beer! There's a little something for everyone at the Kansas City Auto Show, which runs this week—March 4-8—at Kansas City's Bartle Hall.
If you're a self-proclaimed gearhead, you can be among the first in Kansas City to see several of 2020's most buzzworthy vehicles. (Porsche Taycan, anyone?) But there's so much more to see and do.
Here now are our Top Five Mostest Awesomest Things About the 2020 Kansas City Auto Show:

5) Two words: Travis Kelce
He's the man, the myth, the legend. Of course, we're talking about Chiefs fan-favorite and studly Super Bowl-er Travis Kelce. The popular tight end will be signing autographs at the Honda booth on Sunday, March 8 for the first 200 guests. Stay tuned to kcautoshow.com or follow the event on Facebook and Instagram, for updates regarding session times.

4) Experiential Ride and Drive
Want to be in the driver's seat of one of several Toyota vehicles? Take a Camry, Highlander, RAV4, or Tundra for a virtual spin around downtown Kansas City throughout the show.

3) Did we mention beer?
Shopping for new cars can be exhausting. You'll need sustenance to sustain yourself. Good thing the 2020 Kansas City Auto Show features KC's Garage—the perfect food and drink respite. Featured food trucks include Crave of KC Taco, Crave of KC 2 – Burgers, BBQ Shack, KC Fooditude, Ohana Lemonade and Ohana Shaved Ice. Or just kick back with a cold one at any of the fab beverage vendors on hand.

2) Game on!
Sure, the 2020 Kansas City Auto show offers plenty of new (and vintage) cars, but it's also jam-packed with activities for kiddos of all ages. Check out the Kids Korner by Paradise Park, which offers little kids (and a few big ones) the chance to have fun. Our faves? There's a giant dartboard, bounce houses and inflatable axe-throwing! Plus, kids can make crafts, throw bags, race pedal cars, and more.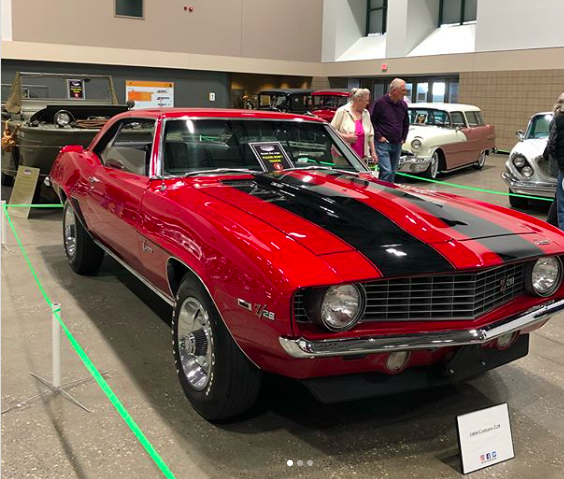 1) Bring on the vintage cars!
Vroooom! The Kansas City Porsche Club will be on hand to showcase ten stunning classic sports cars. Plus, you can also check out older cars like an old-school '41 Ford Custom Coupe, which will be on display courtesy of the Kansas City Auto Museum and private collectors.
Follow the 2020 Kansas City Auto Show on Facebook and Instagram for more programming updates for this week's event. Put the pedal to the metal and we'll see you at Bartle Hall starting on Thursday.
Thursday, March 5: 9:30 a.m. to 10:30 p.m.
Friday, March 6: 9:30 a.m. to 10:30 p.m.
Saturday, March 7: 9:30 a.m. to 10:30 p.m.
Sunday, March 8: 9:30 a.m. to 6:30 p.m.