Our two favorite adventurers, Kim Farrell and Mady Johnston, had a crazy idea this summer. They quit their respective jobs, hocked all their belongings to begin a devil-may-care, 18-month journey around the world. Now they're skipping around parts unknown and brazenly enjoying where the wind takes them. IN Kansas City is following the sojourns of these two travel buddies from Overland Park.

Since we last checked in with Kim and Mady, they've spent the last two weeks soaking up the sun in the Philippines. They have wandered through the malls of Manila, relaxed on the beaches of Puerto Princesa, ferried over to Coron and island hopped their way around El Nido.
We'll check in on their adventures in a minute. First up though, let's read up on some quick stories and travel highlights on their last two weeks sojourn: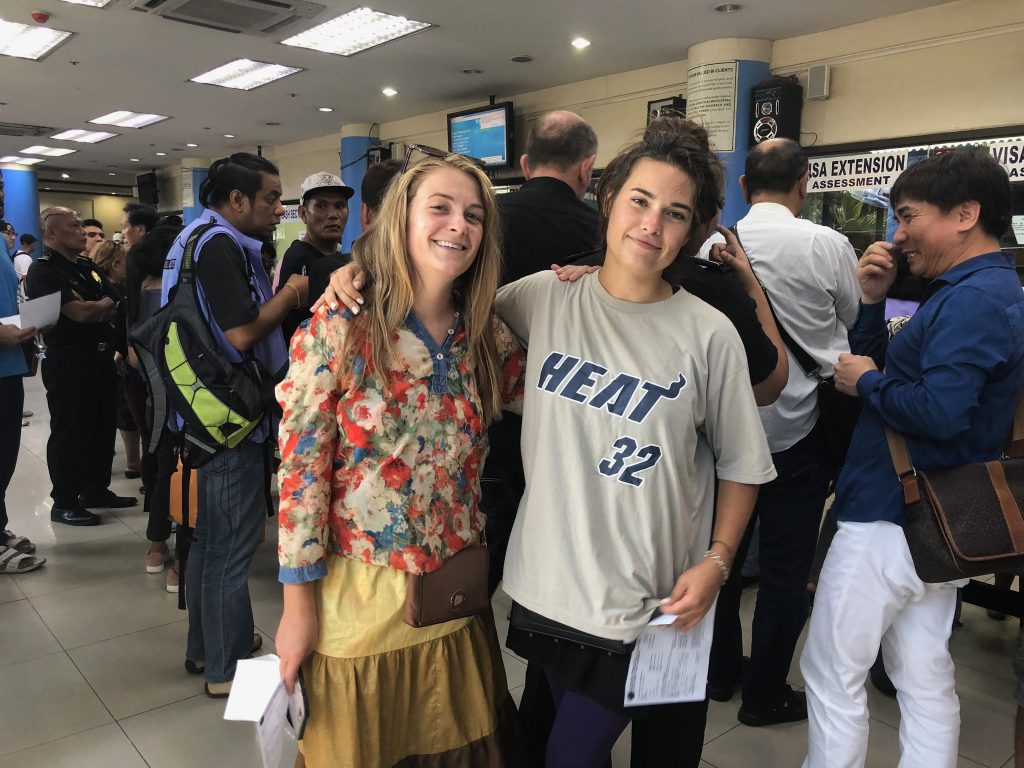 Mady: "We missed our first flight. We were flying from Kuala Lumpur to Manila. Instead of looking at Google Maps to time our travel to the airport, we ballparked how long it would take based on how long it took us to get to our hostel when we first arrived in Kuala Lumpur. The only problem was—we didn't fly into Kuala Lumpur. We took a bus. So the thirty minutes of travel time we recalled was actually the time it took us to transfer from the city bus station to our AirBnB, not the airport. After being in the car for 30 min, we realized this and discovered that getting to the airport was actually going to take us a little over an hour. Ooooops!
Long story short—we missed our 11 a.m. flight and the next available flight was at 5:45 p.m. How did we entertain ourselves for six hours? Pigging out on airport food and catching up with all our fave people at home via FaceTime. Definitely not a win-win, but I'll chalk it up to a lose-win this time."
Kim: "It's Thursday. We landed in the Philippines and make our way to customs. The officer asked me when our outbound flight is. I tell him we're leaving on December 4th. Without looking up, he responds with, 'Your visa is good until December 1st. Next!' Well, okay then—and out I go. I find Mady and say we may have a problem—apparently, we accidentally booked three days over the tourist visa allotment. (Rookie mistake on our end.) We figure out we can extend our visa for 30 more days for a fee. Perfect, it's Thursday so we can do it tomorrow before the office is closed for the weekend. Friday rolls around and per usual we post up at a coffee shop, get caffeinated and start to work on our plans for the Philippines. By the time we remember that we had to go extend our visas, the office had closed and now we have to wait until Monday. Lovely.
Monday hits, we mosey our way out of bed and head the Consulate around 12 p.m. Turns out we have the wrong address and we needed to go across town to the Bureau of Immigration (BI) We finally make it to the BI around 1:30 p.m., three hours before it closes. To our surprise, they won't let us in because our shoulders and legs aren't covered. This kid looked at us and goes, 'You need clothes, don't you?' We nod our heads and follow the kid. We pay ₱200 PHP ($4 USD) to borrow some clothes from his family seated across the road. Mady sported purple leggings and a Miami Heat basketball jersey, meanwhile I am in a nice floral blouse and a floor-length tiered skirt. After layering up outside, we made it in and began the process. Two and half hours, ₱3,300 PHP ($66 USD) and a couple weird outfits later we were able to get our visas extended."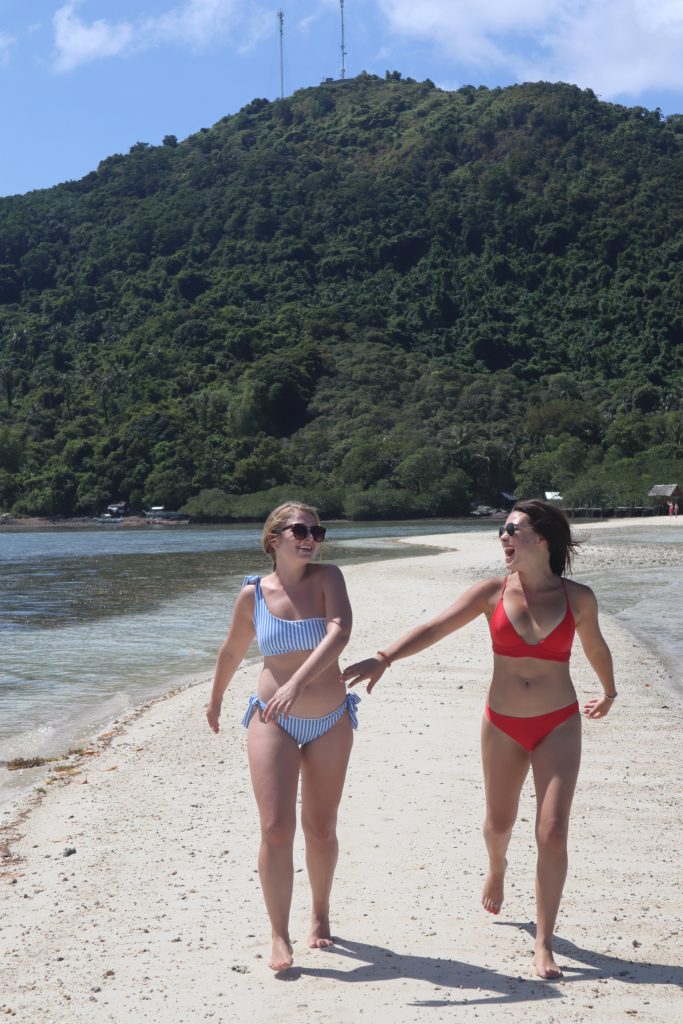 Currently in: El Nido, Philippines
+14 hours ahead of Kansas City
Learn the Lingo:
Salamat: Thank you!
Grupo ng magkakaibigan: Group of close friends (No, that was not a typo.) This phrase is fitting as one of our friends from Kansas made a trip out to visit us this last week. It was the best spur-of-the-moment surprise and a great way to kick off island hopping around the Philippines as a grupo ng magkakaibigan!
Last thing you ate?
10 Crabs – ₱1,000 PHP ($20 USD)
Mady: "While island hopping around the El Nido Bay, a group of locals swam up to our boat with a bucket of fresh crabs they were selling. Who could pass up on $2/crab? We purchased 10 crabs to feed the seven of us on board for lunch. The most memorable part? We ate our lunch on a deserted island, uh, with no silverware. So we went full-on Survivor-style. After a morning of drinking, cue the chaos between all of us finding rocks to crack apart our crabs and shoveling rice in our mouth with our bare hands."
Last thing you bought?
Books:
Little Fires Everywhere–  ₱542 PHP ($10.84 USD)
The Subtle Art of Not Giving a F*ck– ₱685 PHP ($12.90 USD)
Mady: "With four weeks ahead of us in the Philippines, we needed to gear up with some beach essentials. And what's better on a beach day than laying out in the sun with a good book? We bought two books that were on both our reading lists so we could read and then trade. Having a book handy is a commodity in hostels as most hostels have an open book exchange for guests. The hostel book shelves are a gold mine of best sellers, travel-tip books and unheard-of titles from various countries across the world.
Kim already finished her book so that means I need to spend more time reading and less time drinking on our beach days. Then maybe we can finally switch and start taking advantage of the hostel book shelves. Accepting any tips for speedy reading and self-control. Please and thank you!"
Learn the Lay of the Land:
Kim: "On the islands, tricycles are the mode of local transportation. A tricycle is essentially a cart attached to moped. We have been zippin' around the island of Palawan on these bad boys. We tend to push the limits on how much we can fit into a tricycle. To date the most we have fit is 3 girls, 3 book bags, 2 traveler's backpacks, 1 suitcase, 1 large Lululemon bag stuffed to the brim, 1 grocery bag of snacks and a driver. The driver even admitted that was the most he has had on his tricycle. Honestly, it was an interesting ride and totally worth it for ₱120 PHP ($1.40 USD). It was an unforgettable experience!"
Last Night's Stay + Cost:
Spin Designer Hostel– $21 USD/night
Kim: "This was definitely on the pricier side for our backpacking budget. It came highly recommended by others we've met on our travel. Spin Designer hostel included comfortable full-size beds (with fluffy blankets and pillows), an omelet and pancake station at breakfast, laundry and social activities. Our KC friend who traveled with us this past week had never been in a hostel before and she was impressed by the hostel life. Spin was the perfect place for all of us to enjoy—and at $21 a night with all the amenities, it truly was a steal!"
Wizard of Oz Tally: 47 (and counting)
"While we know Kansas City has a lot to offer, the majority of the world immediately affiliates us with one thing—The Wizard of Oz. We're keeping a real-time tracker of all the Dorothy, Toto, and tornado references made to us along the way."
Kim: "After telling our new friend Nush we are from Kansas, she responded with, 'Wait, Kansas is a real place?! It's not just a made-up place from that Wizard of Oz movie?' Honestly, that's probably one of the best responses we've got."
Next up?
Mady: "We have two and a half more weeks in the Philippines! In that time, we plan to hit up Cebu, Siargao and Boracay. Siargao is the surf capital of the Philippines and we've never surfed before, so we're either going to leave with a new hobby, hysterical memories, or a serious drinking problem.
What else is on our mind besides the sun, sand, boats, and beach cocktails? Thanksgiving! We're hoping to find a fun group of foreign friends we can share this special holiday with. Stay tuned for photos of us stuffing our faces somewhere tropical in our next update."
Follow the girls in real time on Instagram via @kimfarrell10 and @aboutlastflight.