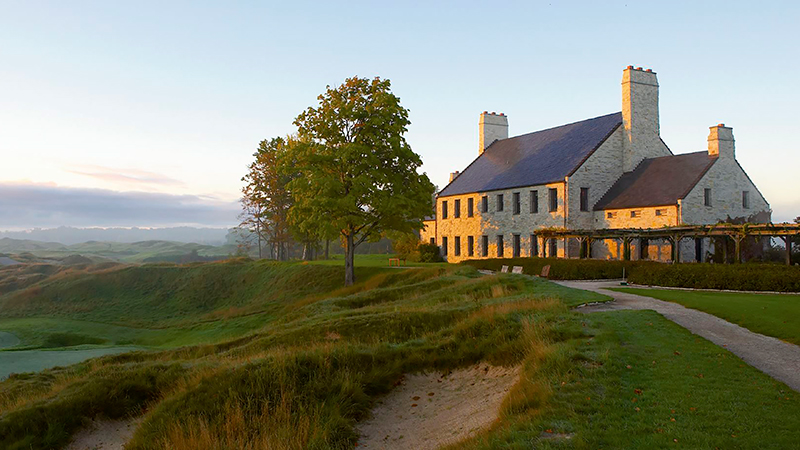 Luxury Adventure
In the Lap of Luxury
Set against the majestic Cheyenne Mountains at the eastern edge of the Rockies, The Broadmoor in Colorado Springs, Colorado, boasts panoramic Western scenery with European elegance. Part of the Historic Hotels of America, the iconic Forbes-rated five-star hotel opened in 1918 and now has 3,000 acres to explore—if you ever even leave the grounds of the luxurious hotel.
But if you do, you can hike up to Cloud Camp, pack your rod and reel for catch-and-release fly-fishing, or play as many rounds of golf as you like. Or you can relax in the spa or outdoor pool. You'll probably see someone famous staying at the hotel, so look smart.
It's a long day's drive, but you can leave the Kansas City skyline in the morning and by night be at the Destination Kohler five-star Tudor-style resort on the western edge of Lake Michigan in Kohler, Wisconsin. As you might guess by the name, this resort is all about the calming, restorative properties of water. At the famed Kohler Waters Spa, you can try out various forms of hydrotherapy, including relaxing Lavender Rain, romantic Riverbath for Two, or an invigorating Vichy shower.
That's when you're not kayaking and canoeing, river fishing, or playing golf on the four courses designed by the legendary Pete Dye. Stay at the hotel or in a secluded woodland luxury cabin so you can watch the stars come out at night.
If close-to-home rustic luxury is what you seek, the Lake of the Ozarks' Big Cedar Lodge is it. Designated one of the Top Ten Resort Hotels in the Midwest by Travel and Leisure, Big Cedar overlooks scenic Table Rock Lake. The hotel offers exclusive accommodations for two or a tribe in the hotel itself or in glamping tents or private log cabins with sweeping views.
Enjoy water sports and golf. Hit the bistro for breakfast and lunch, dress up for dinner at the Osage Restaurant, or have your gourmet meal delivered to your well-appointed room. Easy drive, easy stay.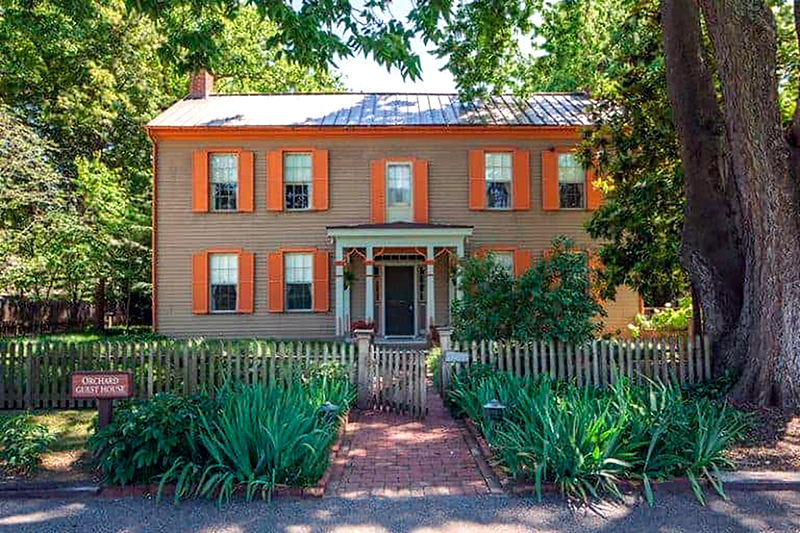 Spa & Wellness Adventure
When You Need a Little TLC
Iowa is full of surprises, and The Raj one—an Ayurvedic health spa in the cornfields. Long established in ancient India, Ayurvedic medicine realizes that everyone's mind/body chemistry is different and optimal health starts with recognizing one's unique makeup or dosha—Kapha, Pitta, and Vatta or a combination. Special diets, herbal compounds and oils, yoga, massage, and cleanses help keep the body in balance.
The Raj offers a diagnosis of your type, then panchakarma or specialized treatments including Blissful Rose Body Treatment for women and a host of Maharishi Rejuvenation Treatments for all—plus vegetarian meals attuned to your dosha.
Too much screen time and 24/7 bad news? Maybe a dose of mindfulness in a quiet place off the beaten path is what you need. If so, then the Utopian community of New Harmony could provide it. Just an hour or so east of St. Louis, the country village was founded by 19th-century idealists who left their mark not only on the fabric of the town, but also its spirit. New Harmony is here to tell us that there's more to life than what we fret about.
Book a charming historic guest house at the New Harmany Inn, perhaps one with its own garden, then stroll around the town and see how it grew from log cabins separated by dog-trots to cottages and then Carpenter Gothic houses. Take a quiet moment and walk the labyrinth designed after the one at Chartres Cathedral in France, a walking meditation. New Harmony exudes peace. Breathe it in.
When you drive west on I-70 and exit for Hays, it doesn't look promising. But leave the you-could-be-anywhere strip malls for downtown, historic Hays, and it's another thing entirely. Travel a little further south and you'll find Rock Haven Spa amidst the scissortail swallows, limestone outcroppings, and wild plums along the riverbanks.
In an 1890's barn built from local stone by Volga German settlers, you'll find unique spa services—and Pavarotti the peacock. First comes the bathing ritual—outdoor-in-ground whirlpool tubs that ready your body for treatments. Maybe a cactus agave body wrap or an aromatherapy facial. Go back to stay the night in old town Hays, renewed.
Foodie Adventures
Culinary Trips to be Savored
Bring your cooler and stock up on homegrown delights. Leave on Friday or very early Saturday to hit the Downtown Des Moines Farmers Market, where local vendors sell regional cheeses, artisan breads, local honeys, Iowa-made Maytag blue cheese, apple-smoked bacon, or Pan-Asian vegetables and herbs from refugee farmers. While you're there, grab a bite from Tacos Tarascos or Bosnian cabbage rolls from Papillon.
On the way home, stop in Norwalk to load up again. La Quercia Cured Meats, a nationally known butcher/retail shop, dry-cures guanciale (jaw bacon), Iberico Jamon, and Acorn edition prosciutto from heritage breeds of pork. Artisan foods well worth the trip.
Bring your credit card when you head east to St. Louis. Stop, eat, and shop in the Italian enclave known as The Hill and take a box of Italian cookies home from the Missouri Baking Company. Save room for Turkish rolled flatbread, baked in a wood-fired oven, at the Balkan Treat Box headed by James Beard Award semi-finalist Loryn Nalic and her husband, Edo.
Go for brunch at Bowood by Niche, an urban garden oasis on a quarter-acre—small but wonderful and so serene. Or save your appetite for Juniper, a restaurant celebrating Missouri's Southern roots. Dive into the breadbasket with three different kinds of homemade biscuits. Chow down on blackened catfish, collard greens, red beans with smoked cream, and sweet potato pie.
Bring your appetite to get-away-from-it-all farm dinners. There's nothing like countryside ambience and dishes made by local chefs to make you relax and savor every bite.
At 2L Farms near Leavenworth, grass-fed beef is the star at four-course dinners with beer/wine/cocktail pairings from June through September.
In Overbrook, Kansas, southwest of Lawrence, Saltwell Farm offers a relaxed dining experience in an 1856 farmstead. The menu changes from weekend to weekend, but the dry hard cider is always a hit.
And, of course, north to Weston and Green Dirt Farms where you can dine in an open-air room on artisan sheep's milk cheeses, lamb, and local produce coaxed into even more deliciousness by chefs such as Waldo Thai's Pam Liberda and Fox & Pearl's Vaughn Good.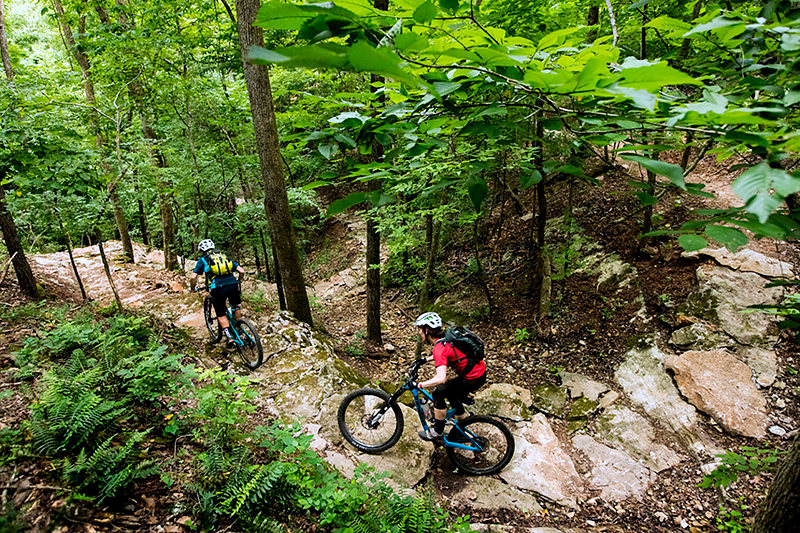 Biking Adventures
There's No Better Way to See They Country Than on Two Wheels
There is mountain biking, and then there's real Rocky Mountain biking with altitude. You can start from downtown Fort Collins, Colorado, and choose the trail that best suits the difficulty level you wish, with trails that go for 100-plus miles. Horsetooth Reservoir, Ginny Trail, and Bobcat Ridge are popular paths that take you up and down craggy peaks with plenty of wildlife to spot along the way.
Make sure you get used to the altitude for a day or so before you take your bike up the mountains.
The rolling prairies, canyons, and railroad bridges of Nebraska offer biking of a different kind, more dirt than mountain. If you want a mellow cruise through grasslands and wildflowers, choose Potter's Pasture bike trail to see how your mountain bike stands up to tallgrass and bluestem. Choose parts of the 196-mile Cowboy Trail for a more flat and scenic ride, but with wooden-trussed railroad bridges far above river valleys that are thrilling to bike over.
The Ozark hills of northwest Arkansas provide the terrain and the challenges for any mountain or dirt biker.
The Coler Mountain Bike Preserve challenges with rocky trails and lots of jumps for the more-advanced biker.  For the long-distance biker, Razorback Regional Greenway includes trails from Bentonville south to Fayetteville, 27 miles.
Hiking Adventures
When It's Time to Hit the Trails
Hike Kansas? Well, yes. While there's no yellow brick road, there are plenty of trails on what used to be inland sea. You'll find the fossils—and flowers—to prove it. During the Permian Period of the Paleozoic Era—250 million years ago—Kansas was a shallow sea that slowly became rich grassland. If you go on the Wildflower Walk on the Konza Prairie near Manhattan in June, you'll see old-time prairie blooms: blazing star, black Samson, prairie smoke, rattlesnake master.
Check out @hikingmanhattan on Facebook for more information.
Southwest South Dakota offers prehistoric in a different way—with a side of dinosaur and mammoth bones. Before or after you hike the hills, you can hit the dinosaur trail and maybe even dig for your own. But first, the petrified forests, the rocky canyons, the pine peaks, the deer, the circling buzzards. While you're at Custer State Park, check out Mt. Rushmore and the Sin City of the 19th-century American West, Deadwood. Just don't go when the Harley Davidsons gather at nearby Sturgis.
There are daredevil hikes for thrill-seekers and gentler ones that can be no less interesting. Load up the kids, put the leash on Fido, and head to Slaughter Pen Trail in Bentonville, Arkansas. While there is plenty for the experienced rider/hiker at this location, this is also a good spot to bring the family or your artsy friends. With the scenery at a ten, this 40 miles of single-track flows alongside Crystal Bridges Museum of American Art, where the trail is studded with public art installations. Hike as much or as little as you like.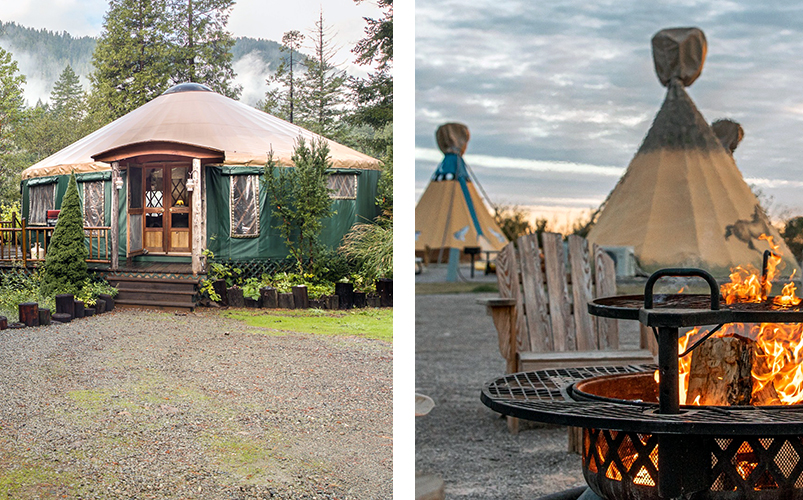 Camping Adventures
Get Back to Nature
Situated just outside Lawton, Oklahoma, and the old Fort Sill, the Wichita Mountains Wildlife Preserve encompasses 60,000 acres of mixed-grass prairie, freshwater lakes, and ancient granite mountains. The wilderness is home to roaming herds of bison, longhorn sheep, and Rocky Mountain elk. Make your reservation early to wilderness camp with your own equipment. Enjoy fishing, bird-watching, hiking, kayaking, and wildlife photography.
You, too, can camp in a yurt or a painted Romany wagon in Colorado. The yurt, complete with a woodstove and charcoal grill, no running water, and a groover toilet (don't ask), happens to be in bear country. You must keep your food in a metal bear box at a corner of the deck or in your locked car if you don't want a visit from Yogi Bear and his little pal Boo Boo. Plenty of people think this sounds like paradise, with four and five-star ratings. By comparison the Romany (gypsy) wagons—Shimza and Sapphira—let you wake up to bird song, not growls. Find your perfect campsite at hipcamp.com/colorado.
Glamping means you have all the comforts of home, but in a tent outdoors. At Orr Family Farm near Oklahoma City, those comforts take on pioneer charm. Choose to glamp in a 19th-century Conestoga wagon or a teepee with real beds and linens, bedside lanterns, and tables for playing saloon-style poker—that's what the pioneers did when they got to town. Sit outside around the campfire to roast complimentary marshmallows, look up at the stars, and consider yourself very lucky to enjoy this adventure for an evening.