A big birthday. Sorority sister annual gathering. Mother-daughter time. Post-Covid (or post-divorce) celebration. Whatever the reason, a road trip is the solution. Whether you're hankering for rustic or ritzy lodging, luxury spa treatments or communing with nature, we found adventures nearby or a few hours away. Add in extraordinary art, shopping, and culinary pleasures, and it's time to hit the road.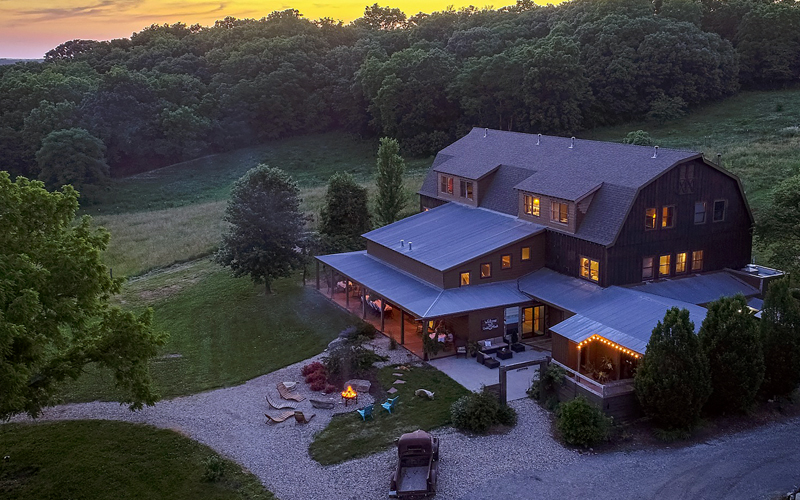 Lawrence, KS
Circle S Ranch and Country Inn, just 12 miles from downtown Lawrence, offers the cowgirl life with horseback rides, hiking trails, and, depending on the season, cute longhorn calves. After a day in the saddle, book a massage or hot-stone treatment. Each of the 12 rooms has its own personality, from cowboy-inspired to a garden theme. After breakfast, claim a rocking chair on the porch to admire the quiet beauty of the Kansas plains. If downtown action is more your speed, Lawrence has two luxury hotels, the Oread and the Eldridge with its popular Jayhawker Bar. 
Mass Street has blocks of unique shops, including KB & Co offering more than a dozen fashion boutiques. Phoenix Gallery displays works by 500 local and regional artists. Pop into Waxman Candles for sensory overload, or Raven Book Store for the latest mystery. Lawrence Antique Mall has three floors of vintage and antique treasures, while Essential Goods showcases the works of hundreds of area artists. 
Lawrence's impressive list of restaurants includes 715, an Italian bistro with a menu that changes daily. Don't overlook the chorizo dates or rapture-inducing desserts. 715's front patio caters to what it calls the cool kids while the enclosed back patio hosts special events like a disco party or crab boil. The Mad Greek has been serving Mediterranean favorites for lunch and dinner since the late 80s. Mass St. Fish House & Raw Bar is where to order a tower of shellfish to feed the entire table. Don't let the "dive" in Wine Dive + Kitchen fool you; entrées include ahi tuna nachos and seared duck breast. Noodle shop Zen Zero serves cuisine from Nepal, Tibet, Japan, Thailand, and Vietnam. Visit explorelawrence.com for additional places to stay, play, and dine.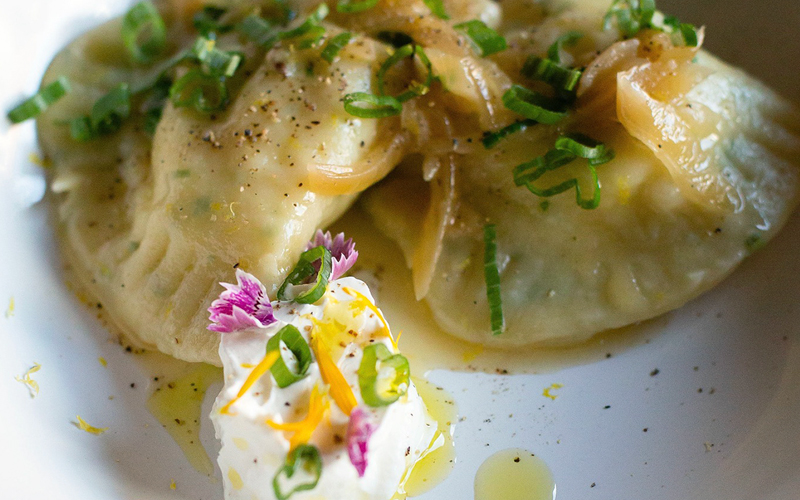 Weston, MO
This charming hamlet feels worlds away from the big-city bustle, yet its Main Street is filled with so many restaurants, art galleries, and specialty shops, you'll need a weekend to experience it all. Luckily, Weston has several bed and breakfasts for an overnight stay.  
When it's time to shop, consider turquoise earrings or a black-and-white cowhide rug at Cactus Creek. Missouri Bluffs has cornered the market for boho chic, including the Magnolia Pearl line of pattern-drenched dresses and tops. Back Roads Art features metal sculpture, chainsaw carvings, and Indigenous art. Beverlin Statuary specializes in cast-stone garden décor, while Ten Thousand Villages offers eclectic décor. Create a gift basket at Weston Bend Candle to thank your neighbor for watching Fluffy while you're away. Else-Wares opens the second weekend of each month with an array of antiques and vintage treasures. Stock your home bar with premium bourbons from Holladay Distillery (founded in 1856) at McCormick on Main or take a short drive to tour the distillery. 
Make a meal of baked brie and mussels in wine sauce at Avalon Café; the extensive menu may encourage a return for dinner or brunch. The Tin Kitchen serves pecan wood-smoked barbecue while American Bowman is the place for Irish food, including bangers and mash and Scottish eggs; after dinner sing along to Irish tunes at O'Malley's Pub downstairs. 
Fans of Green Dirt Farm will want to visit its café for charcuterie boards, local wines, and a life-changing tomato soup. Return to load your cooler with GDF cheeses before heading home. And the chef Nick Matinkovic is making a name for himself at Noah's Cupboard, an intimate eatery with locally sourced dishes like pork belly, pierogies, and foie gras. There's no bar, so start with cocktails at sexy little Royal Deluxe across the street in the Saint George Hotel. 
Many of Weston's bed and breakfasts are within a short walk or drive from downtown (see a detailed list at westonmo.com). Verandas, antiques, hot tubs, lavish gardens, and cozy fire pits are just a few of the amenities, while innkeepers are eager to recommend must-see favorites. For those preferring Main Street lodging, the historic Saint George Hotel offers 26 rooms.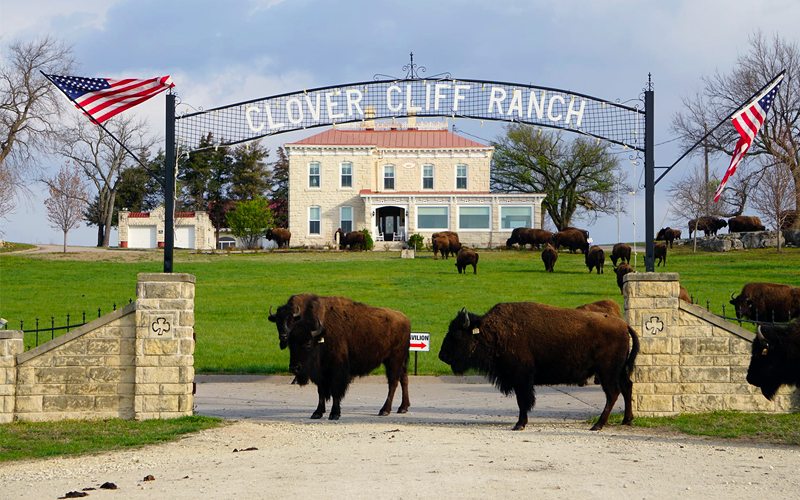 Cottonwood Falls, KS
The Flint Hills have captivated travelers since wagons crossed these undulating grasses while heading west. Start your own journey with a stay at Cottonwood Falls where songbirds replace your alarm clock at Clover Cliff Ranch. There are several delightful Lark Inn guest houses of various sizes scattered around the downtown area; the Stone Lodge sleeps up to 12, for instance. For the true outdoor experience, check out glamping at Dry Creek Post.
Grand Central Hotel and Grill, established in 1884, offers ten spacious rooms, each "branded" by a local rancher's name. The restaurant proudly serves steaks from nearby Creekstone Ranch for lunch and dinner.
Meet locals, grab a beer, and listen to live music at the Doghouse Saloon. HeBrews Coffeehouse serves up fresh java and baked goods. Downtown is also home to Prairie Wheel Pottery and Flint Hills Gallery. View antiques and works by local and regional artists at Prairie PastTimes, then mosey outdoors for the Emma Chase Friday Night Music ranging from gospel to vintage rock and roll. 
Bring sunscreen for a day of hiking in the Tallgrass Prairie National Preserve or PrairieArt Path in nearby Matfield Green where you can book an overnight stay. Practice your photography skills at the Cottonwood River Bridge and Waterfall; pack a picnic lunch to make a day of it. 
Make time for a trip to Volland in historic Wabaunsee County to check out the award-winning renovation of The Volland Store, a former general store turned art gallery, event space, and community center.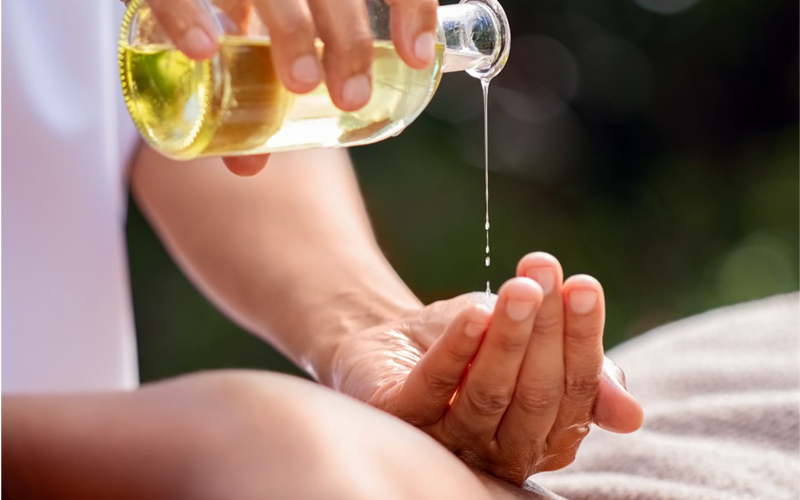 Lake of the Ozarks, MO
With its midcentury vibe (paging Dean Martin!), the 350-acre Lodge of the Four Seasons Resort is worthy of a weekend to enjoy all the amenities. Check parasailing off your bucket list as you scan the lake from 600 feet in the air or opt for a sunset cruise on a luxury yacht, cocktail in hand. 
But it's the award-winning Spa Shiki that makes the Lodge an ideal girlfriends' escape. The Far Eastern philosophy starts with its Japanese garden and continues with spa services to balance your chi. A coffee-essence massage will invigorate your skin and a pedicure will have you ready for sandal weather. Meanwhile a reflexology session and time in the far-infrared sauna will leave you relaxed. 
The Lanai guest rooms are just steps away from the spa; an afternoon nap might be in order before convening for cocktails at the Fire and Ice Bar or Rooftop Bar with light fare, including California rolls. HK's Restaurant and Bar offers steaks or soy ginger-glazed salmon while Baxter's Lakeside Grill combines stunning water views with menu items like sushi-grade sea scallops.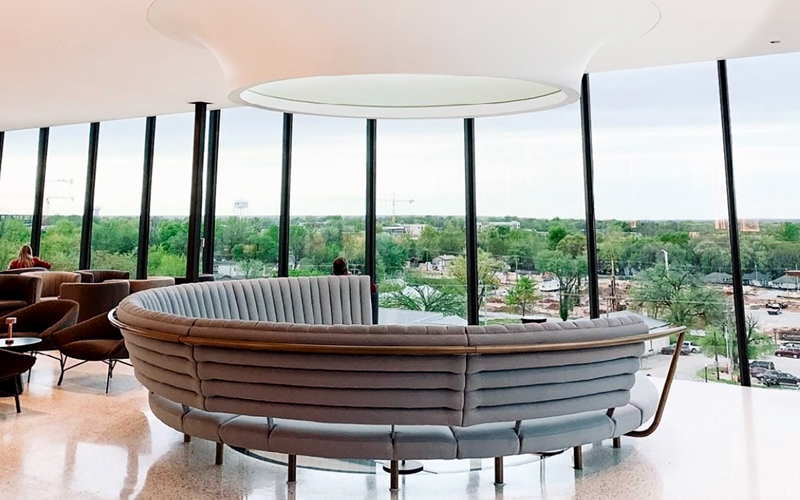 Bentonville, AR
When Crystal Bridges Museum opened in Bentonville, it transformed this Northwest Arkansas village into a major art destination. Yet it hasn't lost its small-town feeling thanks to an old-fashioned square surrounded by gardens, unique shops, and Instagram-ready murals. Several restaurants offer outdoor seating to catch live music during summer months. 
Art and nature converge at the museum; walking trails are dotted with installations by Chihuly, the famous LOVE sculpture, and a Frank Lloyd Wright house. Check the calendar for outdoor events like the Listening Forest, a night-time experience where your movements direct the woodland's response. Inside the museum, view Diego Rivera's America through July 31; other galleries are filled with permanent collections and temporary exhibitions. Culinary art is on display at Eleven during lunch and happy hour. Evenings at Eleven is a five-course dinner, and WOW (Wednesdays over Water) are monthly themed gourmet affairs. 
The Momentary is like Crystal Bridges' younger, hipper cousin. This contemporary art museum and outdoor music venue is home to The Tower Bar, a local hangout. 
Keep the art experience going at 21c Museum Hotel where exhibits surround you (along with the famous green penguins). The hotel's Hive restaurant is a place to share pimento cheese and a cocktail or end the evening with a nightcap; the lounge is open until midnight. Other lodging includes Airbnbs and a variety of upscale rentals through cohobnb.com, where you can book a townhouse for nine guests in the Market District or a downtown brownstone that sleeps 12. 
Bentonville has become a food lover's dream. One standout is The Preacher's Son in a renovated church. Begin with cocktails at Undercroft Bar, a seductive lounge that features live music several times a week hidden behind a door marked "coatroom."  After dinner upstairs, head to the rooftop bar for last call. Consider the slow-roasted brisket enchiladas or a healthy veggie bowl at Table Mesa Bistro and Bakery; margaritas are available by the glass or pitcher. Tusk and Trotter is open for lunch through dinner; try the Truffle Shuffle, flatbread topped with sausage, bacon, and truffle oil. Share antipasto at Tavola, an Italian trattoria, before tucking into an order of lobster risotto.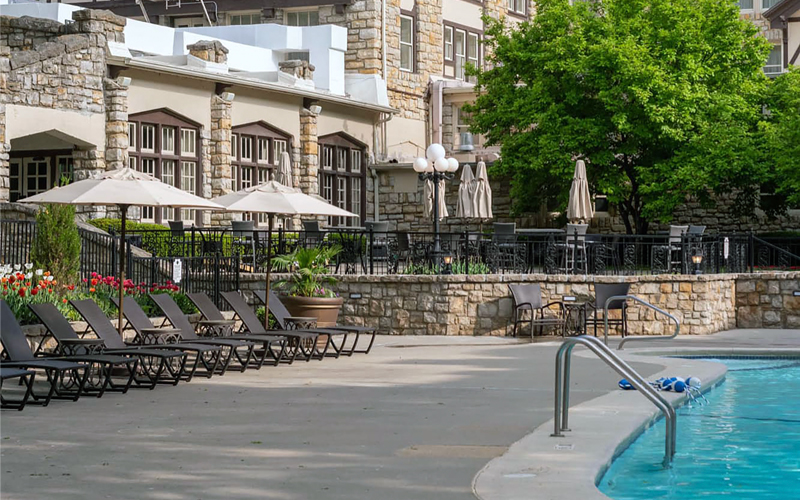 Excelsior Springs, MO
Healing waters made Excelsior Springs (visitexcelsior.com) famous more than a century ago and it's still known for its liquid attributes—as in spas, a lakeside inn, and nearby wineries. The Elms Hotel and Spa, with sumptuous suites, is set in 16 acres of landscaped gardens with a gazebo, pool, 20-person hot tub, and fire pit. The spa features a grotto where chums can reserve a private lounge while taking turns getting massages and pedicures. Treatments include cupping, Reiki, herbal compresses, an infrared sauna, and the Sleep Well massage that includes a CBD gummy. 
That last one might help if you're afraid of ghosts; it's said the hotel is haunted. Take the fascinating paranormal tour if you dare. Dining options include the café, the Tavern lounge, and Three Owls, a modern steakhouse.  
The fact that Inn on Crescent Lake is adults-only is just one reason your pals may favor this destination. The 1915 Georgian Colonial mansion offers ten sophisticated guest rooms, a pool, walking trails, and lake complete with paddle boards. Add in-room spa treatments to your itinerary because yes please. Downtown lodging includes the Sunny Side Cottage overlooking all the action, or The Loft with five bedrooms and two baths above a housewares boutique. 
Nearby restaurants include Wabash BBQ with award-winning ribs. Next door, Ice House Blues Garden has live music during nice weather. Ray's Diner, a local favorite for burgers and chili since 1932, is easy to spot with its red-and-white awning. Ventana Gourmet Grill is known for steaks, pastas, and an extensive wine list for lunch and dinner.
Dubious Claims Brewing Company serves beer, pizza, and lasagna with a side of live music. Willow Spring Mercantile has a wall of local wines, beers, and spirits along with gourmet food and gifts. Grab a light lunch at its bistro or make this the first stop for the Wine and Dine Trolley Tours that visit area wineries including Fence Stile Vineyards and Van Till Family Farm Winery, where you can watch your pizza being pulled from the wood-burning oven on the patio.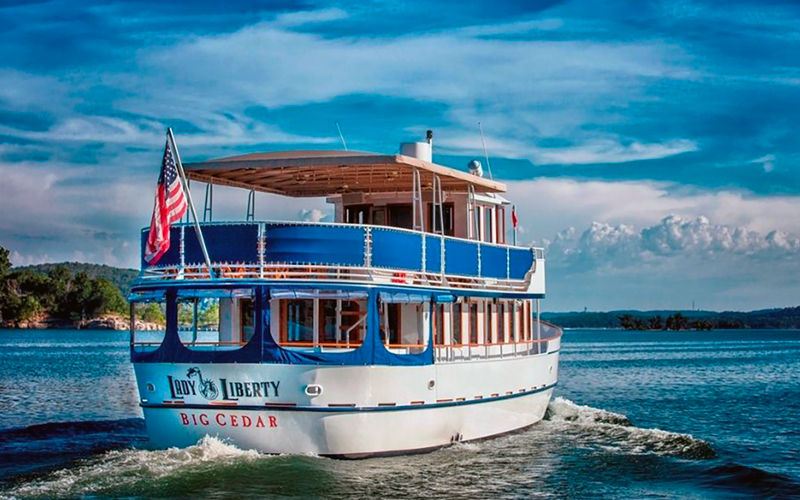 Big Cedar Lodge, MO
Yes, this Ozarks resort is a magnet for families, but several new activities also make it a cool scene for female friends. There are yoga lessons, nature walks, and spa services galore. Tap into your creative spirit by making your own charcuterie board or candy bars (while sipping on mimosas), participating in a bakery contest, or trying your hand at painting or mixology. Challenge your pals to a round of miniature golf; the loser buys the first round at Buzzard Bar. 
Choose from guest rooms and suites in the two main lodges or a rustic cabin with kitchenette nestled in the woods that sleeps between two and ten. Lakeside cottages offer two to four bedrooms. Wherever you stay, a free shuttle will transport you throughout the resort. 
Dining options include a sunset cruise or brunch aboard the Lady Liberty; a gourmet repast at the Worman House Bistro and Raw Bar; casual fare for breakfast, lunch, and dinner at Devil's Pool Restaurant; or savoring a Kansas City strip at Buzzard Bar while listening to the Singing Cowboy. For dessert, make s'mores at the bonfire. Early risers can get their coffee fix and breakfast burrito at Truman Café and Custard.
Top of the Rock offers majestic views of Table Rock Lake. Stoke your appetite with a 2.5-mile trek along the Lost Cave and Nature Trail. Watch the sunset while sharing an order of spinach dip at Buffalo Bar; if tacos al pastor and margaritas are more your game, head to Arnie's Barn. Or reserve a table at the upscale Osage Restaurant where you might ponder whether to order your lobster pit-grilled or stuffed in ravioli with a truffle cream sauce. 
Keep the Ozarks vibe going at Dogwood Canyon Nature Park, just 20 miles from the Lodge. See elk and bison on a tram tour or enjoy hiking, biking, or horseback riding through this 10,000-acre paradise. Mill & Canyon Grill Restaurant will satisfy your hunger pangs with spicy risotto fritters or a smashed burger. Be sure to ask about upcoming Wine and Dine 5-course dinners for your next girlfriends' great escape. Because admit it; you're already planning one.  
---
A girlfriends' getaway calls for a few new items for lounging poolside, going out to dinner, and sightseeing. Lucky for you, shops around Kansas City will have you packed and on the road in no time.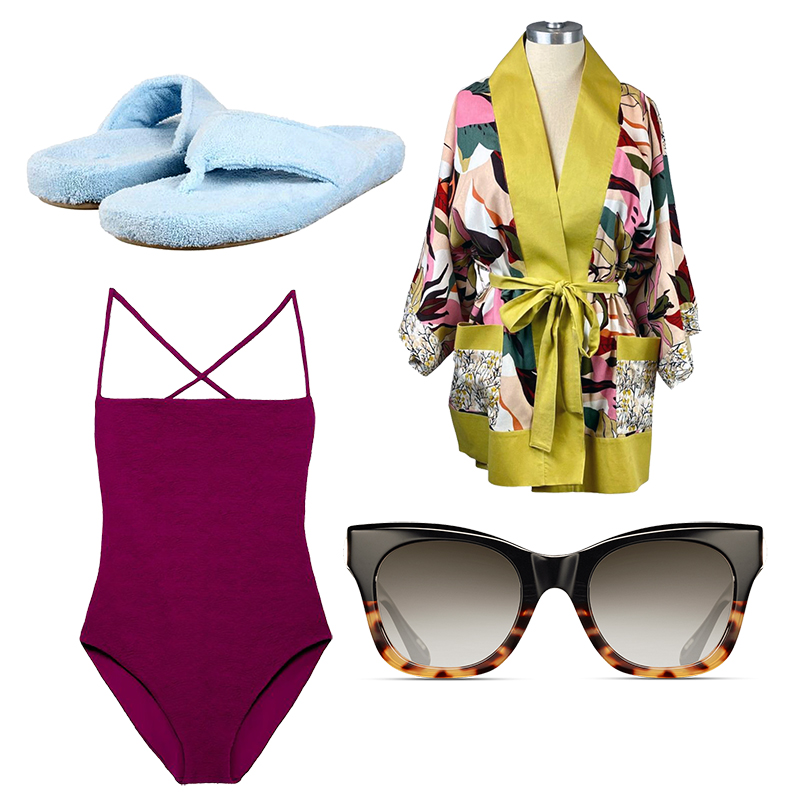 Sharing a room or an entire house with your friends means hanging out in something more special than a T-shirt and yoga pants. We found fabulous loungewear (various colors and prices) at Terrasi Living and Scandia Home on the Plaza, including silky, animal-print pajamas. The top can double as a shirt for a night out. While you're there, pick up a silk eye mask ($28), terry cloth spa thong slippers ($38) with non-slip bottoms, and a Salute by Sempre Beve two-oz. candle in a travel tin ($10). The Americano combo of pepper oil, exotic grasses, and bergamot will add a sophisticated scent to any room.
Joni Johnson, proprietor at Clairvaux (rhymes with "let's go"), has so many summer travel-worthy fashions and accessories you can bring an empty suitcase and leave with everything you need. Start with a sun-shading fedora. The Eleanor, by Janessa Leone, which has a slightly downturned wide brim for added protection and the structured shape is flattering to every face ($370).
Dare to go bare in a Mara Hoffman bikini top ($160) and low-rise bottom ($155) in a bright, tropical print. For a more modest style, the designer offers a one-piece with a square neckline and straps that cross in the back in a gorgeous orchid color ($290).
A one-of-a-kind kimono from J. Mullin Apparel can serve so many purposes: as a poolside or spa day cover up and a topper over palazzo pants or jeans. Designer Joanne Mullin combines vintage kimono fabrics with contemporary prints, each with its own personality and name. In robe or jacket length, the flowy shapes flatter every figure. Prices range from $150 to around $600.
Optical Innovations eyeglass shop in Brookside has been fitting some of Kansas City's most stylish faces for years. A vacation is the perfect excuse for a new pair of sunglasses and with over 2,000 styles in stock, you'll find the ideal shape, color, and vibe. Go for bold with a Matsuda black-and-tortoise shape or an Alain Mikli red, sculptural shape worthy of Jane Jetson.