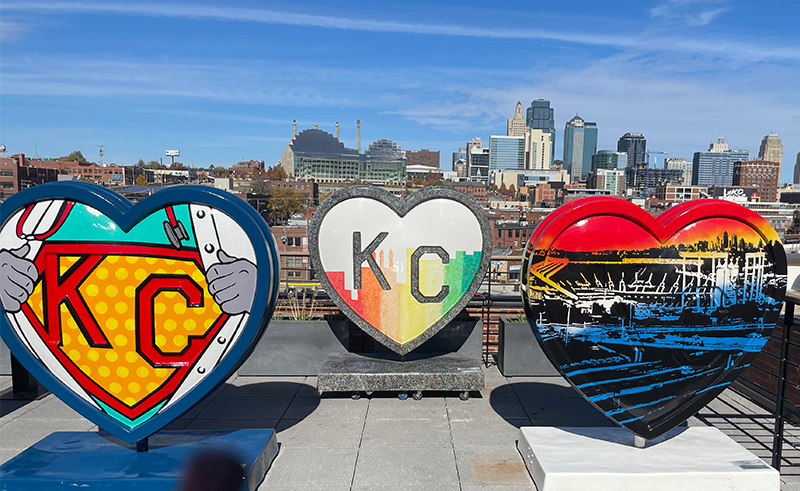 If you didn't quite track down all 156 individually decorated hearts that adorned popular sites and street corners around the area earlier this year, your second—and third—chances are coming. 
After attracting thousands of people around the Kansas City metro area in a scavenger hunt-like experience from March to June, Parade of Hearts has announced the regional project will make a comeback in 2023 and 2024.
"In 2022, Kansas City really took the Parade of Hearts to heart," says Jenn Nussbeck, executive director for Parade of Hearts. "Our artists did such incredible work and represented a diverse cross section of greater Kansas City—in geography, culture, age, gender, and ethnicity, and we were honored to bring their designs to life. As a direct result of their overwhelming popularity and public support, we are thrilled to announce that this project will continue for at least two more years—a continued reminder of Kansas City's creativity and generosity."
In 2023, a limited-edition batch of new hearts will start appearing around town. In 2024, the full display of 100+ new hearts will return to the greater Kansas City area. Parade of Hearts is once again putting out the call to local artists asking for design submissions for the new hearts, which can be submitted at TheParadeofHearts.com.
In 2022, Parade of Hearts raised $2.56 million for The University of Kansas Health System, Visit KC Foundation, AltCap, the Mid-America Regional Council, and local artists. Starting in November, the nonprofit is asking local charities to submit applications to be considered as a beneficiary for the next two rounds of hearts.