If there ever was a year when we needed a little Christmas, right this very minute—candles in the window, carols at the spinet—it is now.
Last year the tour was canceled for the first time in its 70-year history. Here's a look back at two homes from the 2019 tour.
Since 1951, the Kappa Kappa Gamma Holiday Homes Tour has transported us to a winter wonderland where all is merry and bright. This year, from December 7 through 9, Kansas City's top florists and designers will show us how to put a little holiday spirit in every room.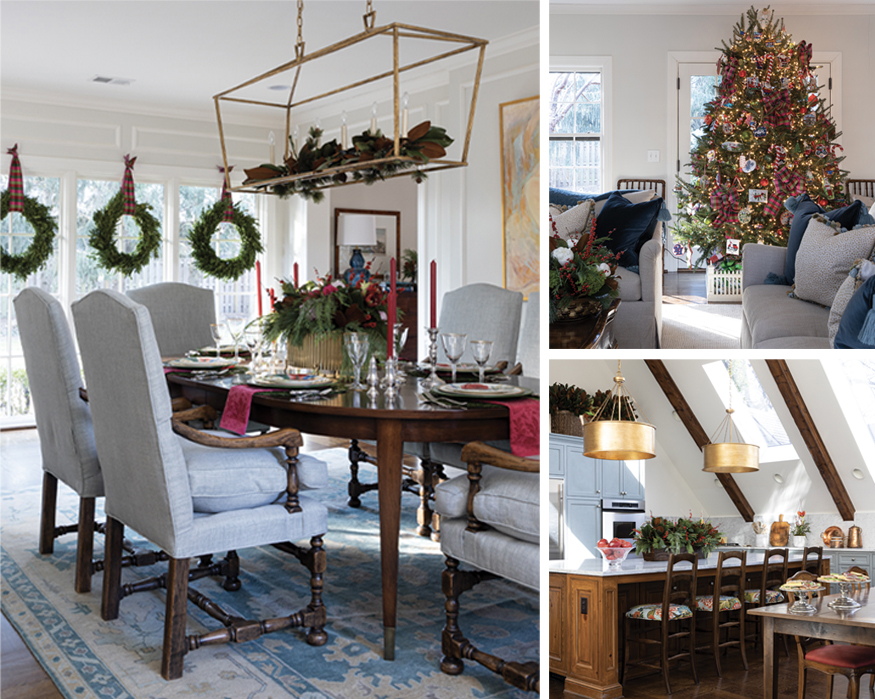 Updated Ranch
For empty-nesters Chuck and Lynette Koester, redoing their 1940s Plaza-area ranch was a chance to rethink their possessions. What stayed? Among them, Lynette's precious needlepointed Christmas tree ornaments in vivid display on their soaring holiday tree encircled by a vintage fence. "It was pretty unique," says an admiring Chuck Matney of The Little Flower Shop. He took his cue from there.
Matney chose coordinating pops of red in candles, ribbons, and bows to add a jolt of color in the airy and spare setting. "I also like to do mounded arrangements of carnations or roses in different tones of red," he says.
On the kitchen island and the back cabinets, he did low arrangements of fresh magnolia. "I love magnolia because it keeps its color—green on one side, brown on the other. And you can have magnolia up all winter, even when it dries," he says.
"You can't go wrong with keepsake ornaments, old-fashioned trees, and mercury glass that sparkles," he says.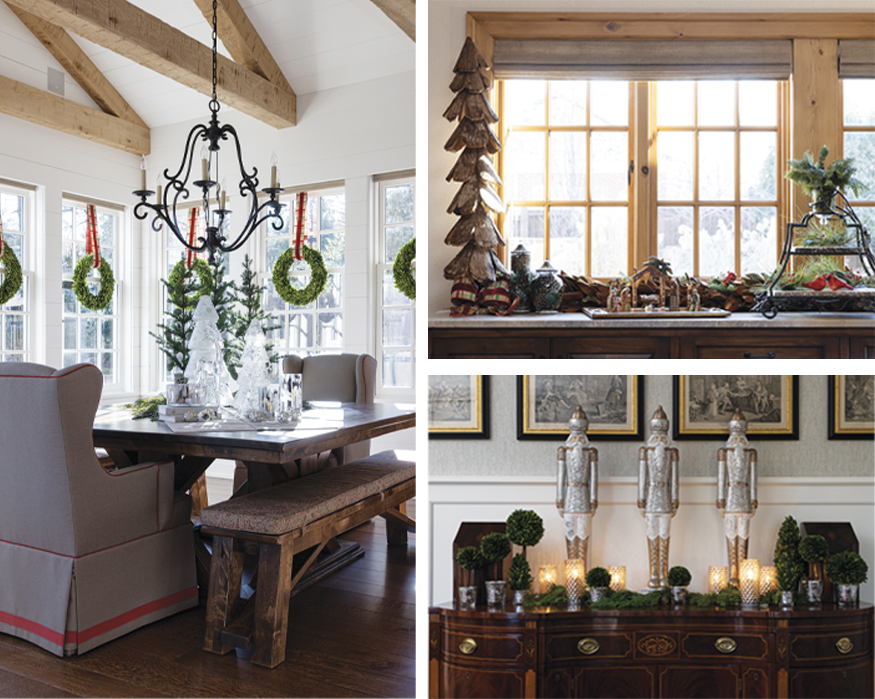 Pennsylvania Country
If there's an argument between fresh and preserved greenery, Terry Mancuso of KC Surroundings in Prairiefire is firmly on the side of preserved. "Preserved greenery—especially boxwood—looks great and can last a long time if you take care of it," Mancuso says. In the spacious Mission Hills home of Dave and Tracy Lockton, Mancuso used preserved boxwood wreaths, table trees, and topiaries to give the rooms a festive touch without those pesky dried evergreen needles. "After Christmas, you can take down the ribbons and ornaments and still enjoy greenery through February," she adds.
Mancuso used sparkling glass in a winter scene to grace the custom Unruh table, evoking a feeling of a snowy day in Vail, special to the homeowners. Standing sentry in the dining room are a trio of sleek, silvery nutcrackers.
"Make your decor welcoming, homey, and cheery," she says.