Utilitarian gets a stylish spin when Kansas City basements transform into indoor golf courses, virtual schoolhouses, media rooms, and cocktail lounges.
Cuddle-Up Media Room/Smoky Cocktail Lounge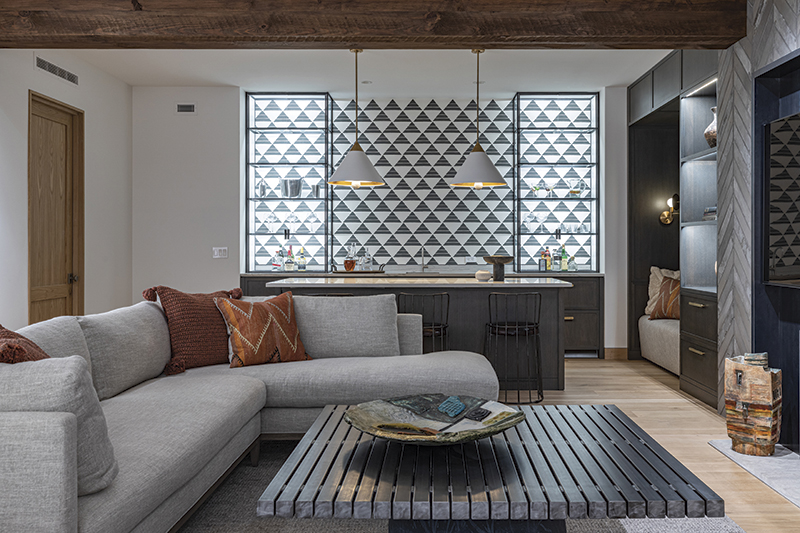 For their empty-nester home in Meadowbrook, an Overland Park couple wanted a hangout space that could go from bowls of popcorn and Disney Plus with their grandchildren to martinis and game nights with their friends. Early on in the building process with Ambassador Homes, the couple brought in Lisa Schmitz, of Lisa Schmitz Interior Design, who took full advantage of the higher ceilings and worked around the structural beams and absence of windows.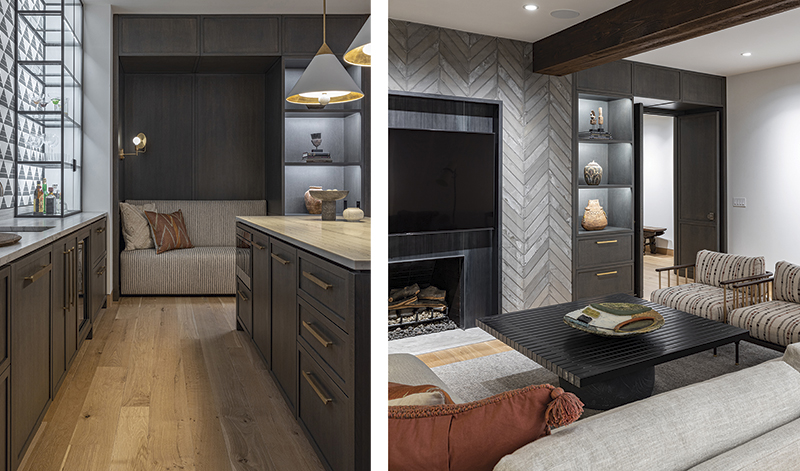 "A lighting plan is a must for a room with no natural light," she says. "I love the ability to create moodiness in a media room. We used dimmables, task lighting, pendants, and integral LED lights in the cabinetry to go from cozy and nestled-in to sophisticated." Schmitz emphasized smoky neutrals and textured materials, making the television disappear in a casing of black steel.
"Seating is also important for a multi-use room," she says. A deep, squishy sectional lets everyone pile in with their favorite blanket. Armchairs allow for movie nights for two. Barstools, a stylish banquette, and chairs around the game table turn on the cocktail-hour vibe.
---
Indoor Golf and Virtual Schoolroom
When a Leawood family built their new home designed by Elwood Smith Carlson Architects, they had big plans—for their basement. "The entire basement was built around specs for a future golf simulator, which meant a big golf room with 10-foot ceilings," says the homeowner. "Like the rest of the house, we wanted the area to be open and multi-use. When we entertain, there's something for everyone—adults mingle at the bar, some of the guys putt or play darts in the golf room, the kids can go into the playroom. The playroom is technically another bedroom, adding value to our home, but for now, it's a bunkroom, make-shift classroom, playroom, toy-storage area, someday-fitness-room."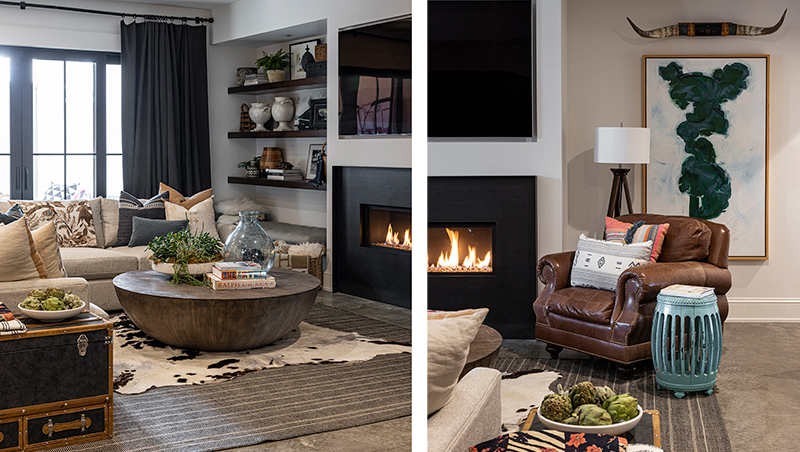 She adds, "Not everything has to be 'finished.' We polished our concrete floors rather than putting down alternative flooring, then added some rugs to warm up the room." The lower level also offers an opportunity to get creative. "We had an awkward space between the bar, living area, and golf room," says the homeowner," so we added some bistro tables and chairs. Now it's a place to sit and chat, or the kids eat lunch, or another place to do crafts."
And the fun continues. "My husband practices putting, and the boys are getting in on the action too," she says. "They love creating miniature-golf obstacle courses. We have also had some indoor campouts on the putting green."