Home Is Where We Do Everything

Covid influenced how we want to live, says Will Ruder, executive vice president of the Home Builders Association of Greater Kansas City. With the second largest HBA Parade of Homes in the country, KC's Ruder is in a prime spot to notice. "Homebuilders are responding to an intense demand for more space," he says, now that we work, dine, exercise, play, podcast, and even worship from our homes. 
"As we head into 2023, creating a home that is good for you, good for the planet, good for your mind, and good for your future, is The Good Home," says Nora Gomez of NFM. "A smarter home with energy-efficient appliances, technology to help express yourself, better fitness options, and personalized interiors lead to a home that helps you be you."
We want our homes to welcome and refresh, says interior designer Kacy Childs Levin, ASID president Missouri West-Kansas. "After being stuck inside, people want to bring the outside in. Greens in natural elements in furnishings are trending and contribute to a warmer and cozier interior." 
We also want our homes to be pretty, says Mark Sudermann of M. Sudermann Interior Design and Sid & Co. "Pretty is never out of style. Layering textures, colors, and collections is a wonderful way to warm up your surroundings."
We want more. "The simplicity of the modern farmhouse gives way to more maximalist design," says Carmen Thomas of Tran + Thomas Design. "Wallpapers with scenic landscapes and oversized stylized florals are gaining popularity. Color is fighting to make a comeback." 
An open-plan kitchen and gathering space is still popular, says Alex Roach of Martanne Construction, and a member of NARI, the National Association of the Remodeling Industry, "but we're seeing clients wanting a separate dining space again. They want to make it special."
---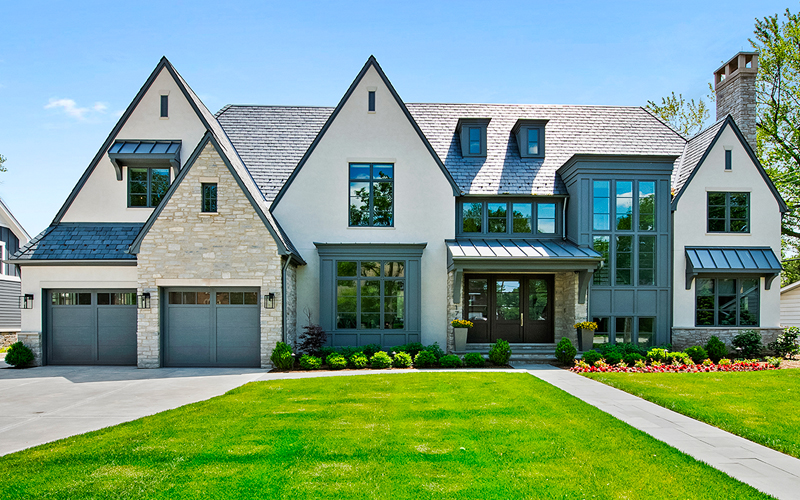 What Trends Do Architects See?
"Functional, quiet, home office space is a priority. Indoor amenities like fitness rooms, golf simulators, and informal media spaces help make that added time at home more enjoyable." —Todd Hicks, associate principal architect and vice president of NSPJ Architects
"More modern styles are increasingly popular whether they are strictly modern or a modern take on prairie, French, or farmhouse. My clients want larger pantries and closets, more outdoor living spaces, larger garages with more storage or living space, siding rather than stucco, hard-surface flooring." —Scott Bickford of Bickford and Company
---
Appliances and Lighting Work Smarter
"Natural elements continued to be a strong theme throughout," says Mikeal Allen of Wilson Lighting. "Wicker, rattan, seagrass, and raffia are braided, wrapped, and woven into every category of fixture.Amazing smoked and pearlescent glasses are replacing their clear cousins to create a beautiful glow.Alabaster, alabaster, and alabaster.Sconces, pendants, and chandeliers are all being decked out with the gorgeous stone, which adds tons of character and warmth." —Mikeal Allen of Wilson Lighting
"The sophisticated Gourmet feature is included across Wolf's vast offering of ranges and wall ovens. Gourmet uses algorithms to optimize timing, modes, airflow, and heat transfer. In addition, users are also prompted about the best rack position." —Denise Knoblich of Roth Living
"Today's design trends continue to integrate LED light sources into basically every type of light application. Mixed-metal finishes—black and gold—and anything in a gold finish, or warm burnished brass. Organic lighting designs that incorporate natural fibers, alabaster, or wood are having a moment as well." —Wendy Rensenhouse of Rensen House of Lights
---

 

Goodbye, Bright White Kitchens

For Geri Higgins of Portfolio Kitchen & Home, contemporary or classic kitchens might go cream, but warm it up further with wood islands, furniture-like pieces in mushroom or sage green, and hardware finishes in brass and bright to a classic French gold. 

Karin Ross of Karin Ross Designs notes her clients don't want a quick fix; they want the dream. "They want everything on their wish lists: clean European lines, strong transitional lines with classic elegance, countertops with bold veining, brass in a satin-gold finish, and nature-inspired elements." 

Lisa Otterness of Classic Kitchens notices "lines are simplified, but often the scale is larger and more dimensional. Warm wood tones, particularly oak, especially when paired with white-and-black accents. Countertops show less gray and more gold tones. Unusual elements, such as the varied tambour profiles from Art for Everyday, are great for customizing and adding curved elements."

"White background with gray veining really held its popularity in 2022," says Barbie Heniss, VP of sales and business development for Rocktops. "Late in the year, it started to shift, with stained cabinets, warmer paint tones, and pops of color becoming more popular in design trends. We're now seeing an upswing in granite and quartzite."
---

Baths: A Spa in Your Home
Sara Noble of Noble Designs says that primary baths are becoming spas. "We are adding lots of digital showers, which give you complete control of the water source, temperature, and timing from one touch of a control pad," she says. "Both steam showers and digital showers allow you to step into a warm, spa-like space in your own home."  
Lynn Nelson from Ann Sacks at Kohler Signature Store sees hand-painted Moroccan clay tiles—rustic and rough-edged sunbaked slabs of Mediterranean stone—making a comeback. Also, the black-and-white "Portuguese pavement" of Lisbon along with Middle Eastern glass mosaic, narrative, or geometric tiles make a statement. 
"Everyone wants color now," says Amy Sanders of International Materials of Design. "With wallpaper coming back, so is antique marble in pinks, purples, and greens—no more plain white subway tile." 
Designer Kurt Knapstein sees primary baths extending into entire wellness rooms. "Clients want cold-plunge tubs and steam showers, as well as daylight saunas. Clients with demanding careers are wanting to pamper themselves more at home."
And open concept for baths? Yes, says Christine Hawkins of Ferguson Enterprises. "Open-concept wet-room bathrooms contain all the luxe elements with zero-entry showers with frameless glass and a freestanding tub. A very clean, modern look that can double as ADA compliant. The wet-room trend is gaining momentum and expect to see an increase this year."
---

Rugs Go Traditional
"Lighter, faded colors have been popular, but we have seen a real uptick in more traditional colors and patterns again. Classics like Serapis, Mamluks, Aryanas, and Herizes always seem to be a solid foundation to build around." —Darrel Wingo of Knotty Rug
"The current trend is monotone and more muted colors, but now it seems to be trending more towards splashes of color." —Jay Erwin of Area Rug Dimensions/KCWholesale Carpet
"We are seeing a renewed interest in traditional area rug designs as well as sustainable materials, particularly wool and silk. Wool, because it's durable and easily cleaned." —Phil Aitken, owner and president of to-the-trade Rug Studio
---

Antiques: Old Is New Again
Scott Higgins of Swanky! maintains, "More people are upcycling. Vintage is readily available, of quality construction, customizable, affordable, stylish, and leaves a much smaller carbon footprint than most new or custom furnishings." 
With the return of the dining room comes a new interest in antique dining pieces, says Todd Miller of Charlecote. "Sideboards, tables, chairs, we have them or can get them in on approval from our network of reputable antique dealers," he says. "It's important to buy from a reputable dealer, and we try to buy pieces that are as pure as possible."
Antiques can imbue a "collected over time" look, says Cindy Barnhill of Pear Tree. "Adding an antique mirror or a beautiful white, green, or yellow glazed French confit pot lends a sense of 'soul.' Antiques tell a story, and I truly believe every home should have pieces that can tell a story."
---

Traditional Furniture Has Staying Power
"White-oak doors, white-oak floors, and white-oak accents are the new gray, contrasting with a pop of color in the art, rugs, or wallpaper." —Elizabeth Johnson of Seville Home
"We are seeing a trend in furniture that shows individuality, craftsmanship, and quality. While clients are still appreciating minimalism, they are injecting personality and warmth with unique pieces that speak specifically to them and don't look mass produced." —Buck Wimberly of Ulah Interiors and Design
"We are often inspired by the trends of the day, but we are tried, true, and traditional at our core. Our customers come to us for timeless, often generational, pieces that might not necessarily be trendy." —Katie Laughridge of Nell Hill's
"Traditional is back in a big way. And so is texture: cane, rope, strips of leather and wicker, often paired with shearling, hides and boucles. And motion. All of the manufacturers seem to be competing to have the most comfortable and the best-looking swivels, gliders, and swivel + gliders, great for a 'man cave' and even outdoor spaces." —Katy Sullivan of Madden-McFarland
---

Bed Linens—Gotta Love It
''Trends come and go," says Ursula Terrasi of Terrasi Living and Scandia Down, "but we should always choose what we love: Colors, patterns, how the fabric feels, as well as pillows and comforters, as they can literally enhance and transform our lives." 
Lisa Payne of Annabelles Linens sees a more romantic feel in luxury bed linens with "bright colors and plush floral patterns."
---
Form Meets Function— But It Has to Be Beautiful
"The spaces in our homes need to do more and be more. The form has to be beautiful, but it also has to function. For a recent home office project involving space for Zoom calls, 'quiet' was the theme for both sight and sound—quiet colors, wool wallcovering, and in the rug underfoot." —Lisa Schmitz, Lisa Schmitz Interior Design
"While we'll continue to see a rise in more layered, traditional looks, there also will be blending of the old and new. Think cherished, loved, and beautiful antiques mixed with newer pieces and natural materials for a cleaner, more modern look." —Laura McCroskey of McCroskey Interiors
---

Home Accessories Make It Personal
Jorjy's Pam DiCapo stocks plenty of coffee table books and everything malachite. "Its emerald green has been popping up in every category from wallpaper to tabletop to lamps," she says. "My Jorjy peeps love all the colorful pieces, from candy-colored hurricanes to our knife collection from France." 
At Cuorebella, Trish Church Podlasek sees "bold, beautiful colors and graphics as a striking way to add elegance and energy to neutral color palettes, from large-scale serving pieces with bold florals to jewel-toned cocktail and wine glasses." 
Everyday kitchen items need a yearly refresh, too, says Jenny Steffens Hobick of JSH Home Essentials. "The kitchen sink is a focal point, so I like to make sure it looks great—glass bottles for dish soap, bamboo dish brushes, and a little bud vase all perched on top of a cake stand. And I start fresh every year with a stack of new dish towels. I recently switched all of my spices into glass hinge jars, which I love." 
And storage for everything. Says Christine Fee of Inspired Closets Kansas City, "Homeowners seek to bring their favorite design ideas into their most personal space, including coffee bars for home offices. Center islands in closets add counter space for packing and folding clothes with additional storage underneath. Garage organization will become a bigger conversation as many homeowners look to maximize every square inch of space."
Any room can do more with a little help. "How do we turn that lightly used guest bedroom into an office, but still have a comfortable space for company when they come to visit?" asks Michael Payne with California Closets. "The solution is utilizing a wall bed to create a space that combines both the office and guest room into one. With a wall bed you can essentially put it away when not in use. Along with that newly open floor plan, we can create a fully functioning office space with an abundance of desktop areas, cabinets with adjustable shelving, task lighting, and a multitude of drawers in one organized spot."
---

Outdoor Living, Resort Living
"The days of having a rectangular swimming pool and diving board surrounded by a concrete deck are gone. Today outdoor living is all about having the same creature comforts offered at a high-end resort. Pool features now include reef ledges, sunken fire pits, swim-up bars and perimeter-overflow. Our clients want 365 days of resort living in their own backyard." —Kurt Kraisinger of Lorax Design Group
"Gone is the outdoor dining table and chairs. Outdoor furniture is now geared toward seating pieces around a firepit." —John Southerland of Seasonal Concepts
"Grilling in the garden is in. Grills, flat-top griddles, smokers, pizza ovens, and food prep areas are big. We design a lot of outdoor bars around a grill island so people can hang out while the food is being prepared." —Kristopher Dabner of The Greensman
"Our outdoor kitchen business continues to grow. Homeowners can now design their outdoor living space using more high-quality, built-in appliances than ever—gas grills with built-in sear burners, charcoal grills, outdoor griddles, smokers, pizza ovens, undercounter refrigerators, wine coolers, and beer keg tappers, plus side burners, sinks, and much more." —Lloyd Doolittle of Doolittle Distributing
---
Fabrics, Wall, and Window Coverings
"We are trending towards pops of deep jewel tones and warmer neutrals like cognac brown and creams. Designer's projects are centering around bold patterned wallcoverings and large-scale murals. Think moody, cozy, and fun!" —Maggie Parker of to-the-trade KDR Showrooms
"We're seeing bold and bright hues in textiles. Textured fabrics are also going to be big this year, especially boucle. Wallpaper is becoming more popular. A bright, bold wallpaper can be used as an accent wall or even break up a space within an open floor plan." —Madison Duenke of Design & Detail
"With the rise of the smart home, motorized window treatments are a great option. They have a clean design with no visible controls, are a great solution for large and out-of-reach window treatments and can help improve energy efficiency." —Adam Skalman of The Shade Store