Built in 1962, the home's potential convinced Nuss and his partner John Matthews, a translator of Japanese, to leave their Mission Hills home almost two years ago. With the help of architect Chris Castrop and contractor Joe Elder, the low-slung ranch now lives bigger and brighter, but with a palpable sense of the past.
"We wanted an open plan, lots of light, high ceilings, and spacious enough for entertaining yet comfortable for just the two of us," explains Nuss. He wanted oak floors in a pale finish, the better to contrast with all the "brown furniture" and plenty of other treasures. "Plus, we had collected these zinc dormers from a trip to France that we wanted to include in the design." To get just the right pale, chalky finish on the beams, he hand-sanded them himself until they were just right.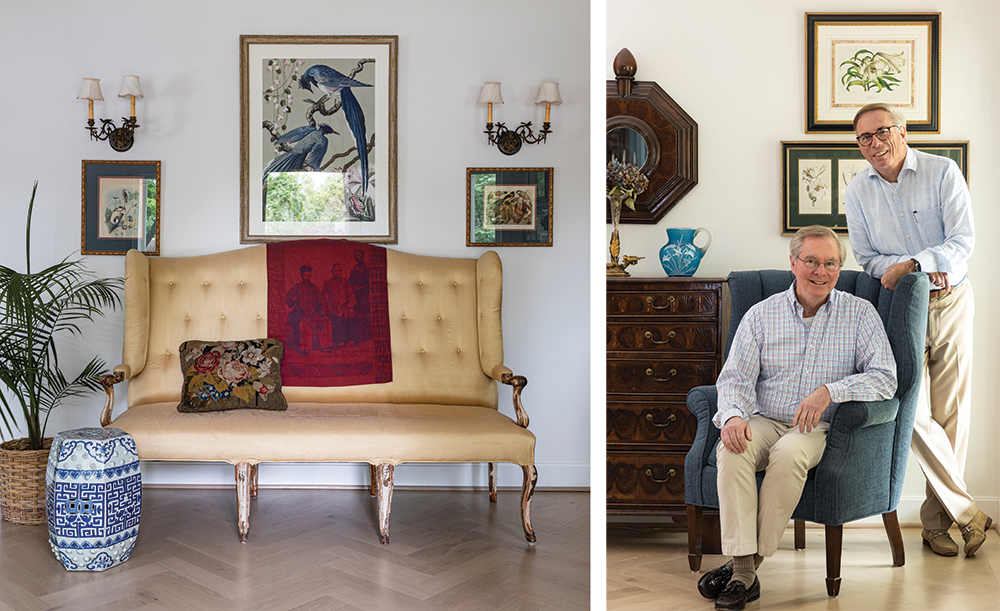 Nuss knows the color palette he prefers, a triumvirate of gold/yellow/caramel, blue, and scarlet.
"The house is more my style," he confesses. "John doesn't really care." But mementos of their life together flow through the space, as well as pieces from clients, family, and friends. "My parents and grandparents were collectors," says Nuss, "and we have a lot of their antiques. I like things that have a story. They draw me in."
What draws you into the entry is the allure of a high-backed antique settee in a gorgeous yellow silk. Against the other wall is an English antique chest of drawers. On the wall are some of the paintings by John Douglas Patrick, a 19th- and early 20th-century artist who taught at the Kansas City Art Institute. Nestled in a corner is a "baseball glove" chair that Nuss had reupholstered in blue chenille.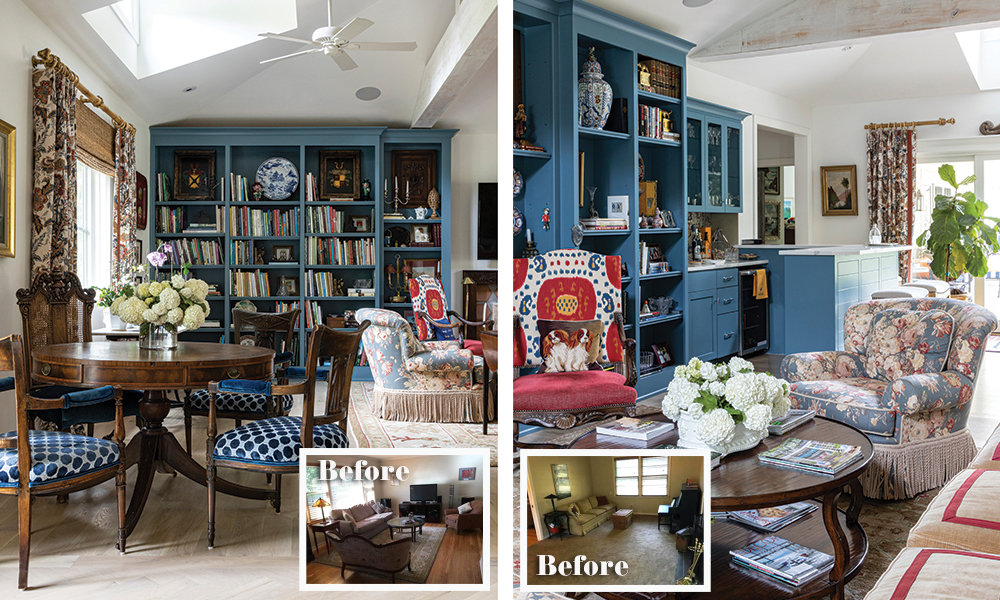 A leather-topped gaming table for playing their favorite dominoes, rimmed by mismatched chairs, leads the way into the soaring living space. "It's all for sale, you know," says Nuss with a laugh.
The Jamestown Blue (Benjamin Moore) bookshelves on either side of the fireplace give way to a bar at the end. Two French antique armchairs in a scarlet suzani from Brunschwig & Fils anchor the fireplace. Nuss had the new sofa banded in scarlet braid and commissioned a new Oushak rug in tan and caramel—"My splurge," he admits. Draperies on either end of the open space in a Schumacher pattern pick up the blue and red. "I always wanted draperies on bamboo rods, so I did them here," Nuss says, faux painting the rings and finials to match. A floral armchair with deep bullion fringe is one the couple has had for twenty years. "If you like it, buy it," Nuss says. "It will work no matter what."
Nuss worked with Randy Sisk at Kitchens by Kleweno to design the kitchen, which features ivory cabinetry, zinc lighting, a faux-zinc oven hood that Nuss designed, and dramatically veined quartz countertops. "We both cook," Nuss says of himself and Matthews, "and I'm in charge of aesthetics." To that end, pull-out drawers hold china and silverware for easy access to set the table.
A wood carving over the French doors leading to the courtyard and garden came from a carousel.
In the guest wing, a hallway in horizontal stripes of blue takes a happy turn into Steve's office, a guest bedroom, and a guest bathroom with marble tiles and Moroccan-inspired wallpaper.
The hallway on the other side of the house pauses at a dramatic powder bath in gray-green,  with scarlet on the ceiling, and panels of a Venetian scene. "I picked up a sample of this Zoffany wallpaper and kept thinking about it," says Nuss. "It's expensive, so I just used a roll and cut it up to create panels."
The new master suite features a corner fireplace and glass doors that open onto the courtyard. "I have always been fascinated by courtyards and the mystery of what they hold—an inspiration from our travels and homes we have visited, especially in Mexico as well as Europe," says Nuss.
The headboard, upholstered in a vintage Brunschwig & Fils pattern, is one the couple had in their previous home. Nuss framed charcoal sketches by John Douglas Patrick on one wall.
The master bath looks straight out of an English gentleman's club with genteel hexagon marble floors, a deep soaking tub, gray cabinetry by Shamrock, and a generous shower. Backlit and dimmable mirrors from Rensen House of Lights cast a flattering glow.
"Everything is designed for how we want to live," says Nuss. "We like our drinks served in antique crystal at the bar. We play dominoes where the light is best. We wake up to a view of the courtyard."
When design works well, life follows.
---
The It List
Construction
Elder Custom Home and Design
816-820-1250
Flowers
Bergamot & Ivy Design
Interior Design
Steve Nuss Ltd.
Kitchen Design
Kitchens by Kleweno