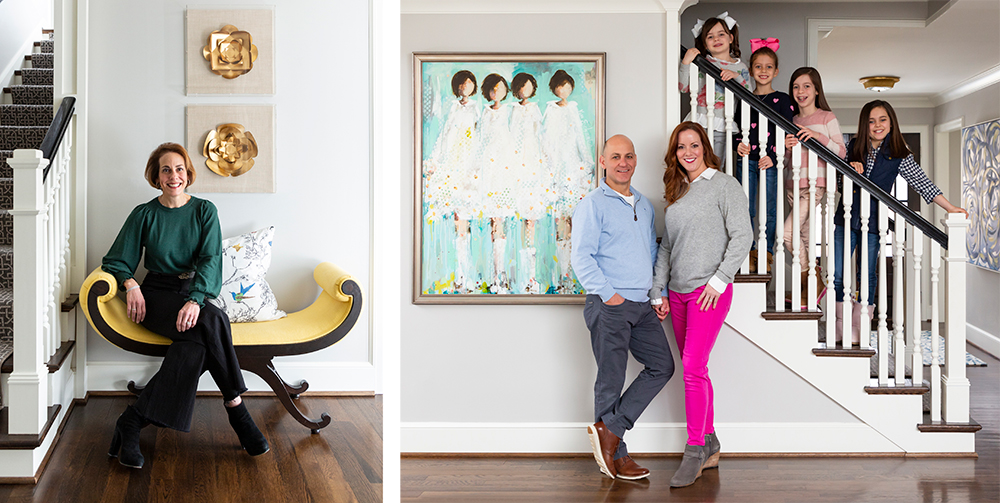 It's not unusual for growing families to reassess the functionality of their homes. Space that once worked great for two—or three—can suddenly seem not-quite-right as their family expands. Talks of moving often follow. While Tara and Charlie Ammeen went down this road, they decided to stay put in a house they loved and make it perfect with a thorough renovation.
"It took a lot of planning," says Kelly Lambert, Tara Ammeen's designer and also her sister-in-law. "Tara and Charlie had purchased a lot and were planning to build. In the meantime, they reconsidered. They loved this house, but it needed reimagining to give them what they wanted to make their lives work." 
The original floorplan of the house did not include a family room, and the kitchen was dark and small. One of the top priorities was an addition and rethinking of the remaining spaces that would accommodate the Ammeens' life with four young daughters, as well as large gatherings of family and friends. "Tara comes from a big family," says Lambert. "She has five siblings. She needed the space to accommodate a crowd."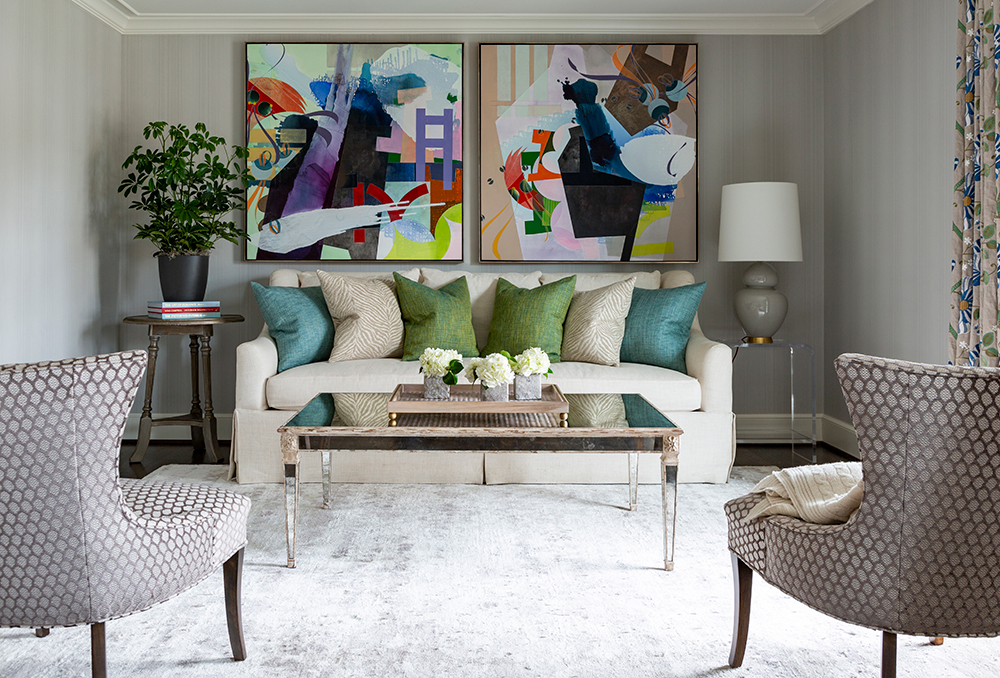 The new addition provided the square footage for cooking and entertaining, as well as a wide island with counter seating that works beautifully whether someone is eating, coloring, or doing homework. White cabinets and a gleaming white-tile backsplash create a serene vibe for the family's busy lives. Tara took advantage of the new construction to incorporate storage details that make her life work easier.
"It was Tara's idea to put this sliding door in the backsplash," says Lambert. "The walk-in pantry is on the other side of this wall, with the mudroom right behind. This creates a great spot to deliver groceries on the way in from the car, or it can work as an appliance garage."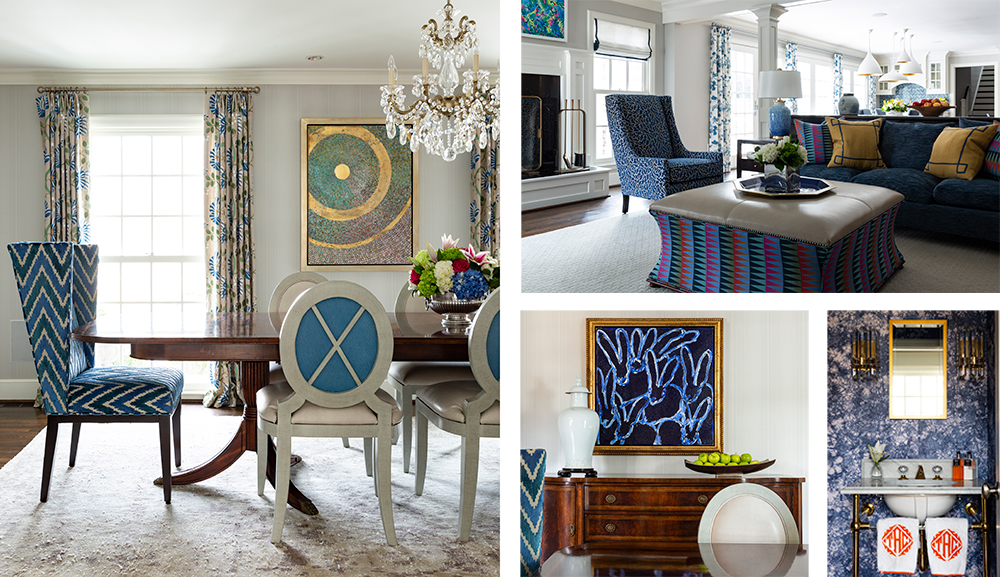 A long table overlooking the backyard is crowned with five modern pendants in a chalky white finish. Rather than overwhelming, they read like sculpture. "At the time, we couldn't find a long, modern fixture—now you see them all the time—so this was a good solution," says Lambert.
The new family room is furnished with high functioning pieces with an updated, classic aesthetic. While the furniture is covered in hard-wearing fabric and leather in darker, more practical colors, Lambert kept the room lively with bright pillows and interesting art.
"I found this painting when Tara was expected her fourth baby," says Lambert of the painting of four girls by the artist Kim Schuessler. "They didn't know what they were having. But I just had a feeling."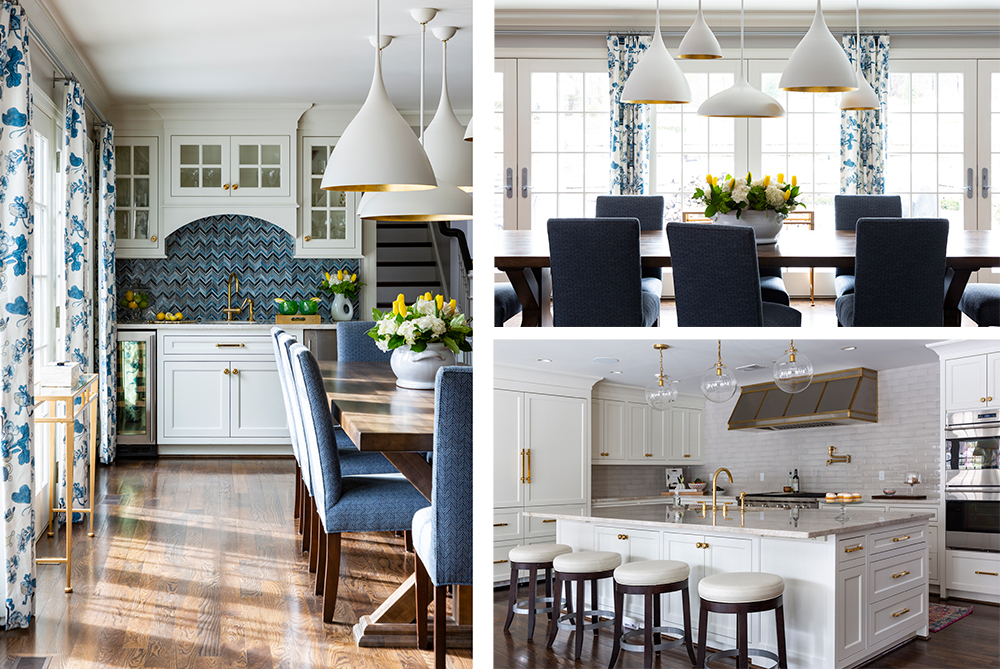 Lambert enjoys helping her clients discover new art and artists. Two large paintings by Kuzana Ogg conduct a lively conversation in the living room, which is predominately finished in varying textures of cream and taupe. Mirror and silver add sparkle and light to the classic, but updated space.
The new construction included the addition of a master suite on the first floor. Soothing tones of gray and white create a spa-like retreat for the busy couple. (Though pink Murano glass lamps provide a rosy punch.)
The classic master bath with white cabinets and richly veined counters houses modern-day features like his-and-her sinks and a steam shower. A stackable washer and dryer nearby make a regular chore easy, if not exciting.
At the top of the stairs the girls have their own area to hang out and relax. A secret hideaway behind the TV wall creates a private clubhouse for the four original members. Because the girls are a creative crew, Lambert created the gallery wall with ledges that makes for easy rotation of the artists' current work.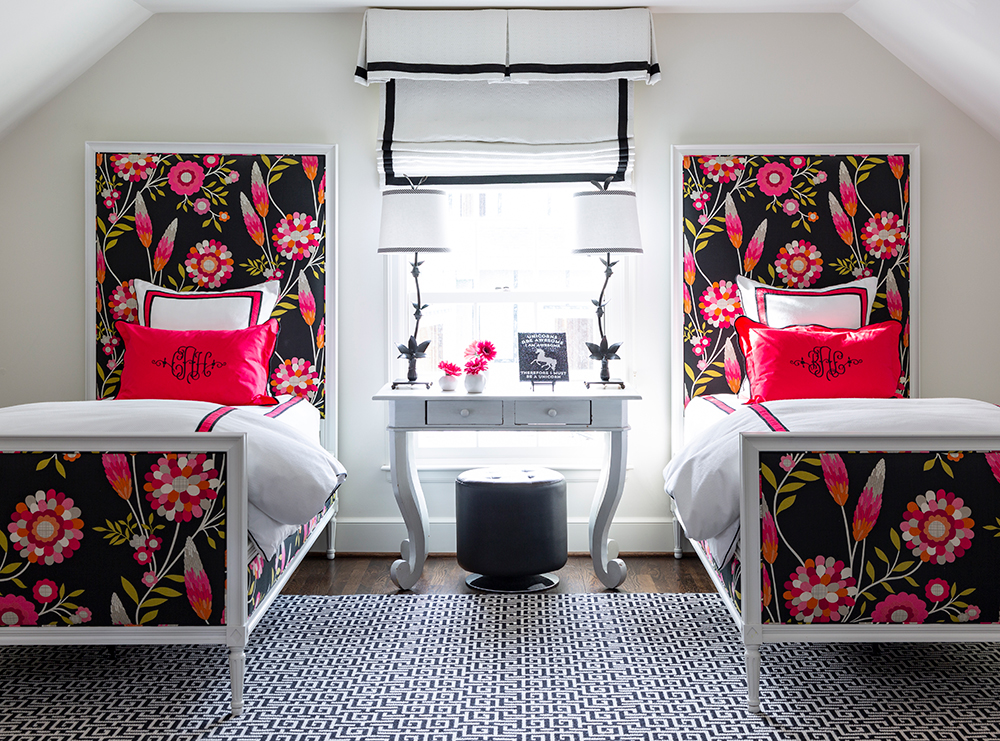 The four girls share two rooms, though they sometimes trade spaces. Lambert had monogrammed pillows for all the girls made in both bedroom's colorways to accommodate the girls' moves.
Ammeen anticipated future needs with built-in desks and storage in an upstairs study room. Monogrammed bulletin boards hold recent photos, paintings and medals for each daughter. A second-floor laundry room just beyond this work space means less tote and carry, another sign of her efficient thinking.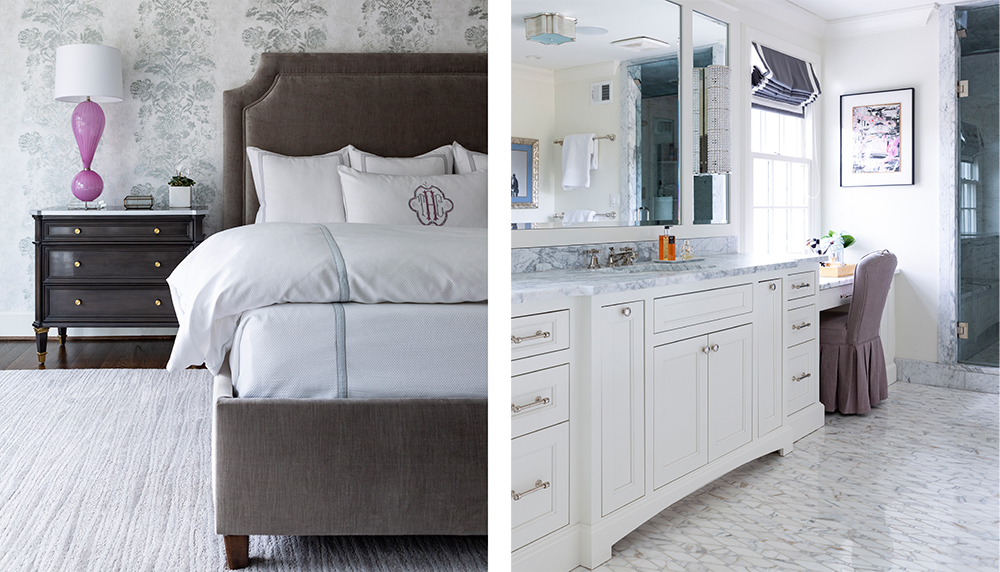 In addition to finishing an inviting guest room, Lambert created a home office for her brother on the second floor as well. "I think Kelly imagined this as some sort of retreat, but then I took on a big volunteer job and moved right in," says Ammeen. She notes that with these additional upstairs rooms, each of the girls could have her own, but no one is requesting one as yet.
Tara Ammeen says that while in the beginning it may have been easier to buy something new, the process of reimagining their current home was satisfying.
"I have absolutely no regrets!" she says with enthusiasm.
---
The It List
Flowers: The Little Flower Shop
Interior Design: K. Lambert Design, 913-484-7780