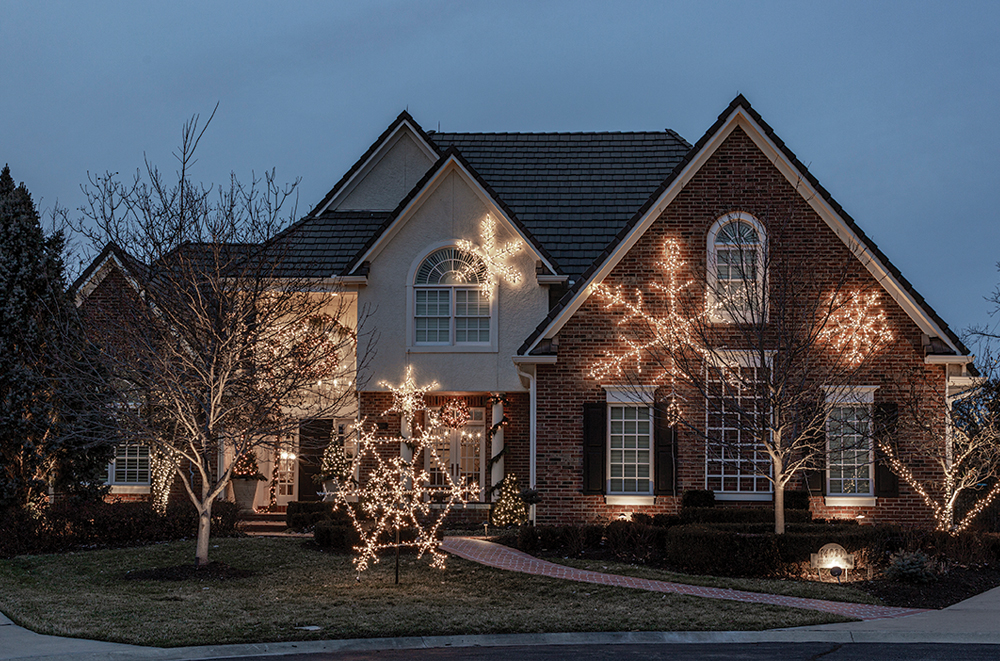 Santa's sleigh doesn't always bring a white Christmas down from the North Pole to Kansas City. So if you want snow, you have to get creative. When longtime Overland Park clients wanted a signature seasonal look, beyond the requisite white lights on everything, Kristopher Dabner of The Greensman knew just the thing—snowflakes. "I work with a custom metal company in Olathe, so I drew up snowflake patterns for them to fabricate," says Dabner. Each one was different, of course. "We wanted nine in front and three in back so you could see them from the house. The largest one is 16 feet high." Dabner had them painted white and wrapped them in twinkling white lights to create a winter wonderland, no matter what the weather. The largest snowflakes come apart for easy storage in the garage.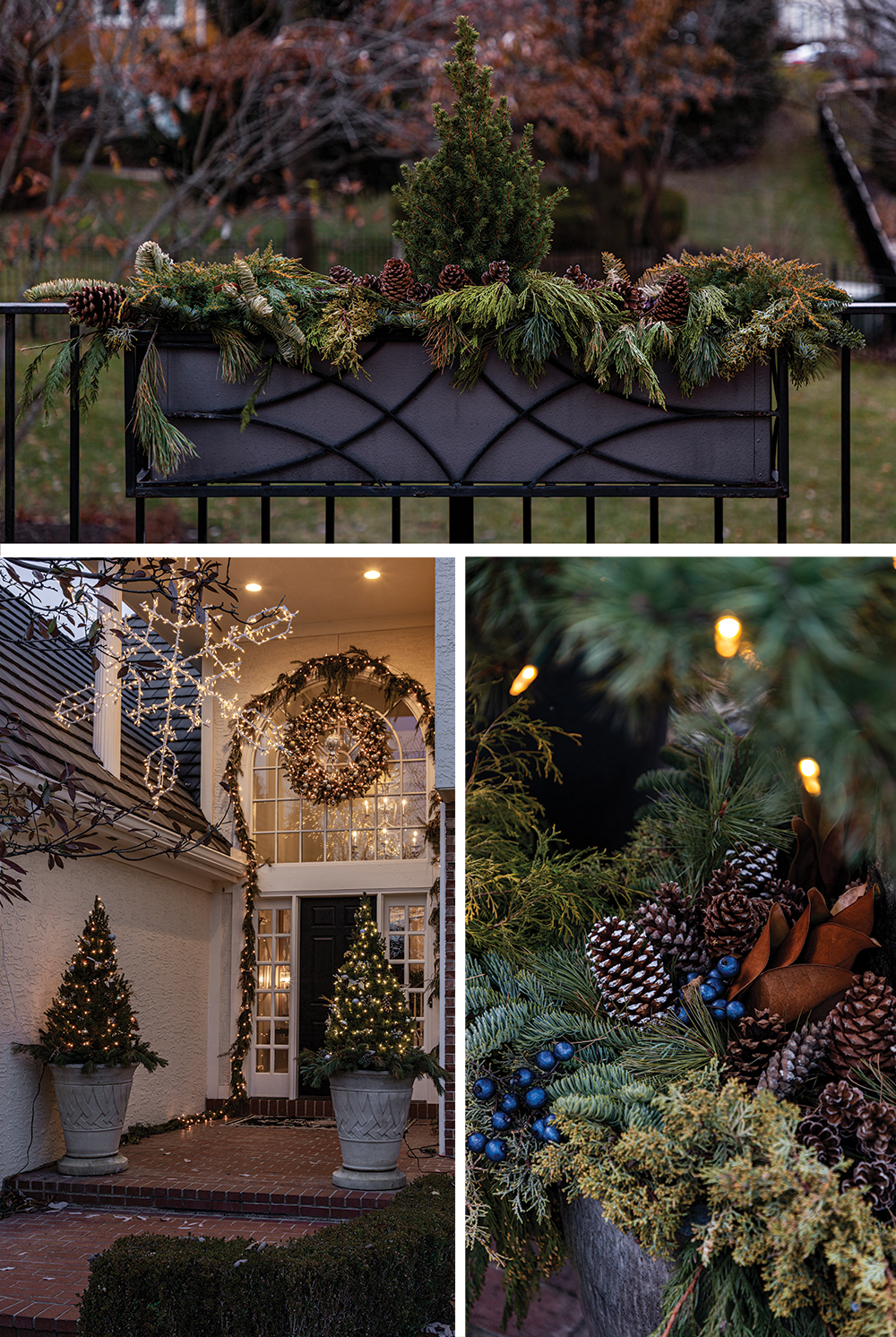 Dabner also filled containers arranged around the landscape, from planters in front to window boxes on railings to pots in the backyard. "We change those out three times a year," says Dabner, starting with pansies, kale, and snapdragons in spring; hibiscus and gardenias in summer; and evergreens in winter.
In a metal window box, Dabner centered a miniature pine tree, then surrounded it with pinecones and evergreen boughs that can last into February. "That's the great thing about doing a wintery base," he says. "You can pull out the holiday bows and ornaments and leave the rest up all winter." When the large wreath and fresh greenery garland at the front door comes down, the two small evergreens, lit with white lights, can stay up to light the dark, cold nights.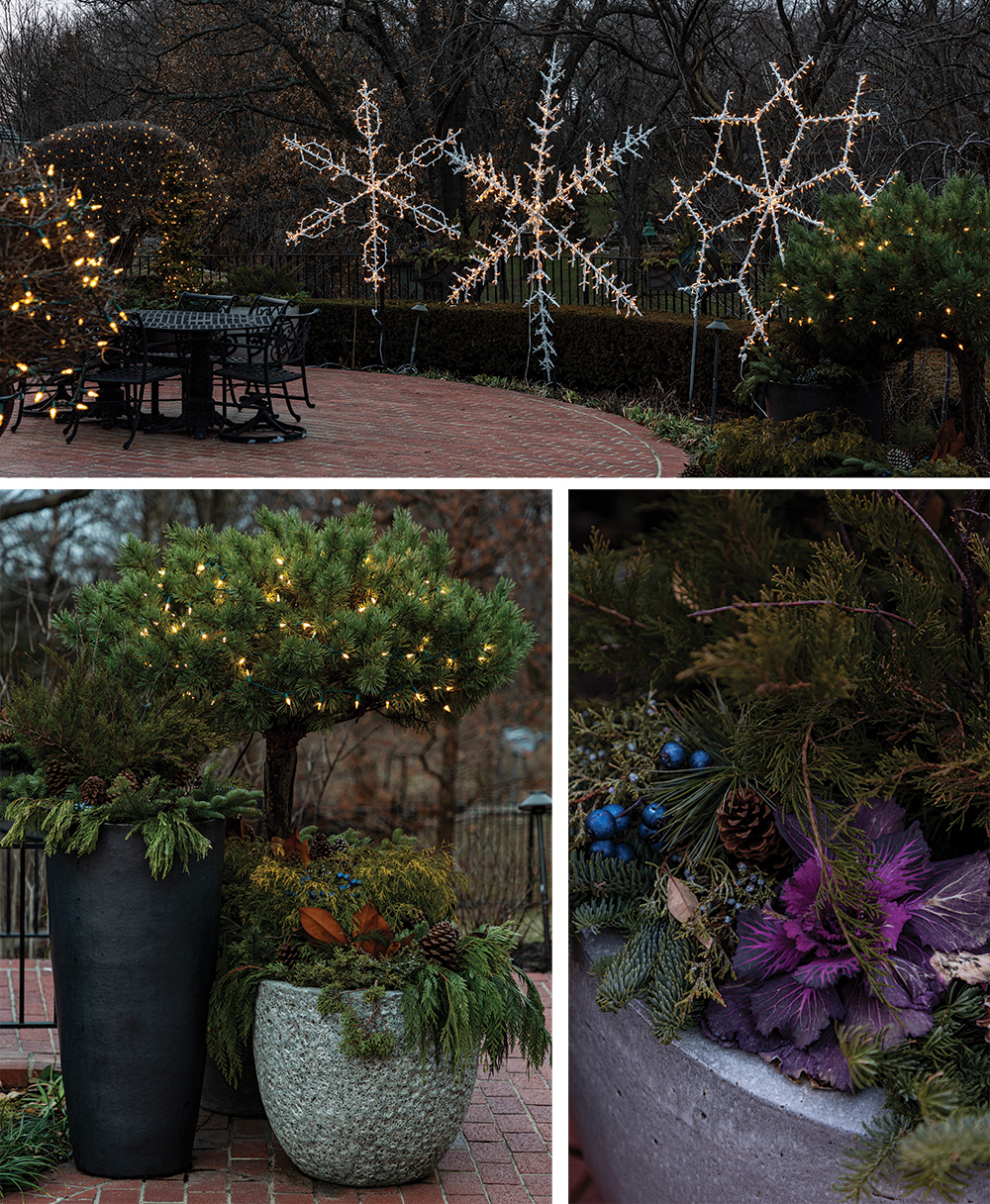 For a winter theme, Dabner uses a mix of hardy materials—different kinds of pinecones and sprays of winter berries mixed with all the shapes and colors of evergreens from long-needled Scotch pine to blue-green Alberta spruce and fragrant cedar with its bluish berries. Sometimes he tucks in a purple winter kale, a spray of holly berries, or dried magnolia leaves.
Dabner created a whole look for the McAvoy landscape, but if you're a do-it-yourselfer, he has one piece of great advice: Go big, not lots of little. "It's more fun to do one big thing—maybe a wreath—and put all your emphasis on that rather than a few little things here and there," he says. Take a large artificial wreath, wrap it in lights, and customize it with fresh greenery as well as ornaments and ribbon that can take the winter weather. At the end of the season, remove the dried evergreens and holiday décor, then keep the light-wrapped wreath to give you a head start for next year.