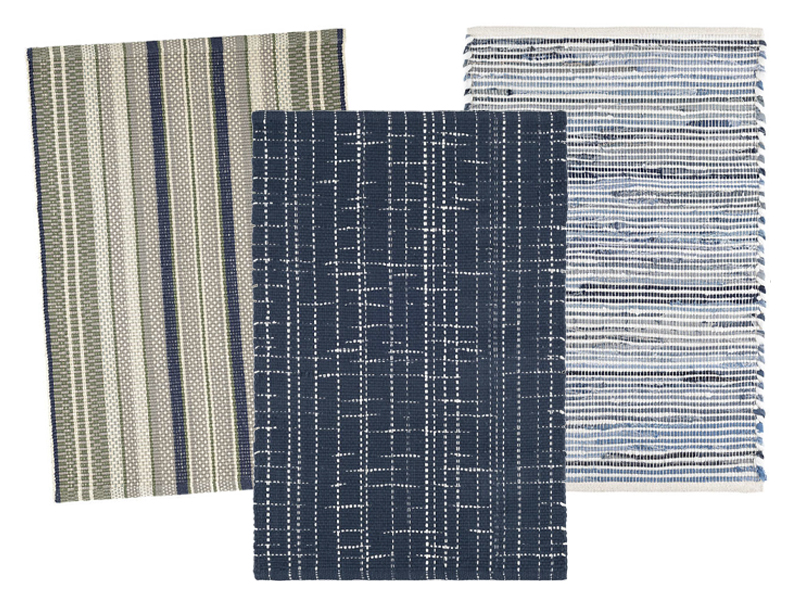 In a springtime text exchange with a stylish friend a few years ago, I lamented that I had—just maybe—gotten a little too much sun. (I am aware that despite health warnings, there are some people who don't think this is even possible.) His advice? "Wear blue. It fixes everything." 
As we head into spring and the light becomes a little clearer, you may notice that your rugs have gotten a little too brown as well. (The wear and tear from the snow and salt can be truly horrible.) I've relied on the cotton rugs from Dash and Albert for the kitchen, hallways, and baths for ages. Yes, they make all-weather models, too, but I throw the cotton ones into the washer and dryer time and again and they do just fine. Dash and Albert founder Annie Selke continues to introduce new styles and a few blue models caught my eye.
The groovy grid of the Flint Navy Cotton Rug reminds me a bit of the dishes I ate my peanut butter and jelly off of as a child, while the Denim Rag Ribbed Woven Cotton Rug is just the kind of thing that I should be making with worn-out blue jeans, but I never seem to stop wearing them. The Bay Stripe is more neutral, for those of you who are drawn to harmony. Still, the navy provides a little punch. 
Dash & Albert Rugs are available at the Knotty Rug Company in the antique district at 45th & State Line Road.