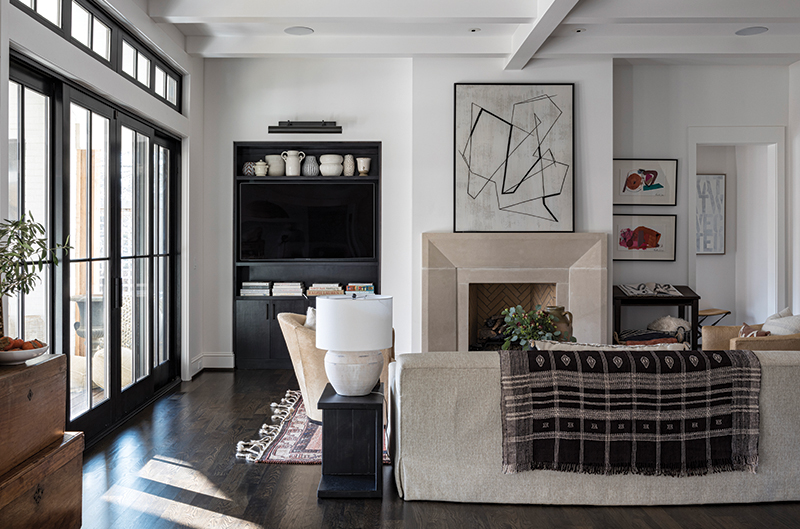 Home is more than just a house. It's a place where you feel you belong.
In 1955, this suburban street was lined with the latest in home styles—the ranch.
Over time, families moved in and out, trees grew tall and leafy, and Leawood matured into a very desirable location.
"I love our neighborhood," says the homeowner, a marketing manager at the same business where her husband is in sales and operations.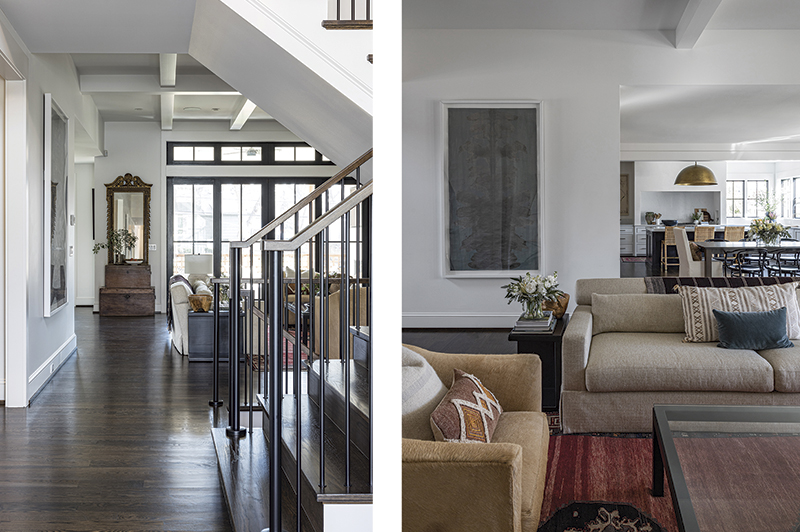 When their small ranch became too small, they simply moved next door. "We have two boys, kindergarten and second grade, and we know our neighbors. We just couldn't leave," she says.
"The house was for sale. We bought it and closed in a few days," she says. And then came the fun part—working with architect Gerald Janssen of Elwood Smith Carlson Architects, P.A. to design the house of their dreams. It involved tearing down the old house, but "we worked with him so that the new house still fit in the neighborhood," she says.
"We had a three-hour meeting and Gerald came back with a plan that was exactly what we wanted," she says. And that was streamlined, open plan, indoor/outdoor living with plenty of hidden-away storage. "We want to grow into this house."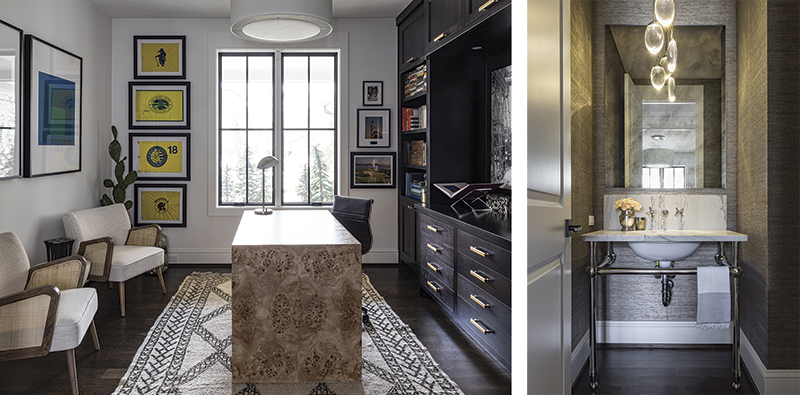 The homeowners also wanted a blank canvas—white walls and dark oak flooring. "I tried a million different white paints when we lived next door and I settled on Snowbound from Sherwin-Williams," she says, which was used in the new house too. Growing up with an artistic mother who liked to change things up, the homeowner is the same. "My décor style is fluid rather than static," she says. "I like good basic furniture pieces and then change it up with art, rugs, pillows. We have a mix of high and low."
She and her husband consider themselves to be art lovers on the way to becoming collectors. Their collection ranges from famous (a Josef Albers in the office) to family—paintings by her parents, colorful pictures by the kids, framed family photos arranged gallery-style in the hall.
The sense of open space draws you in.
The living, dining, and kitchen spaces look out onto the backyard.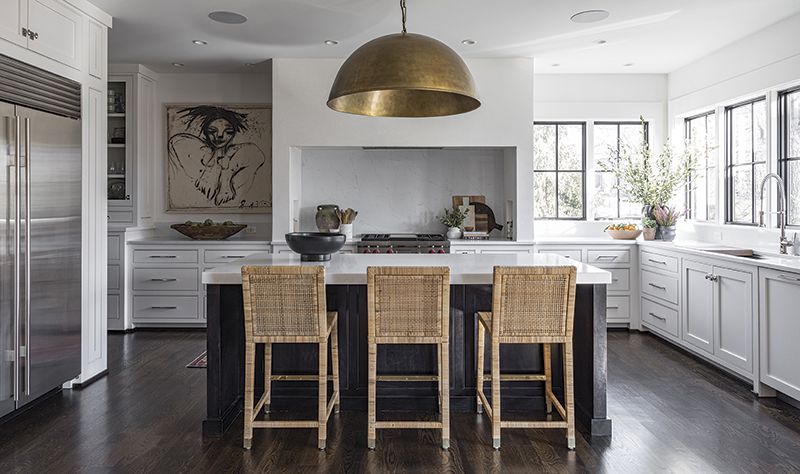 The living room features a cast-stone fireplace surround that is special to the homeowners as it was made by a deceased friend's company. An ample sofa is upholstered in family-friendly, hardwearing fabric. "My husband wanted the TV over the fireplace, but I wanted art," says the homeowner. They compromised with a TV next to the fireplace, camouflaged against black cabinetry.
A vignette of stacked antique chests topped by an antique mirror from the husband's family suggests the flow into a new space. Low bentwood chairs surround the dining room's long walnut table crafted locally by Unruh Furniture. A length of pale oak cabinetry keeps all the clutter hidden.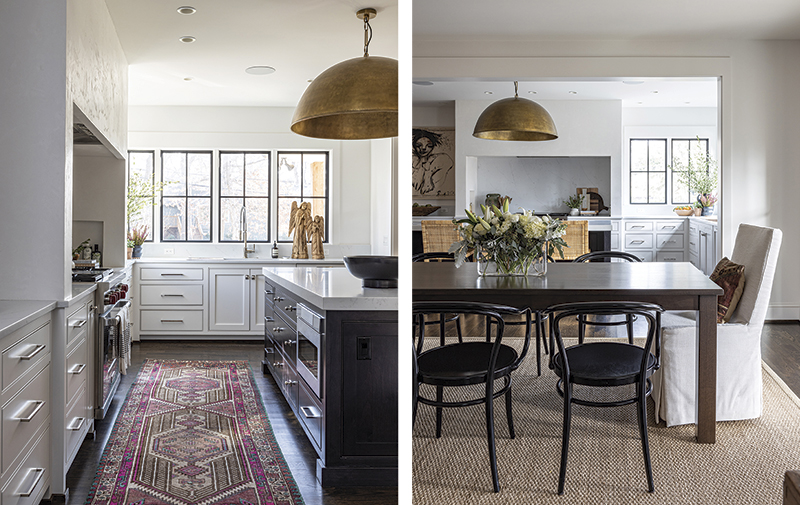 "I didn't want any upper cabinets in the kitchen," says the homeowner, "and I wanted to be able to cook and see the boys playing outside." She also wanted the messy kitchen prep hidden away in a butler's kitchen, another trick to living with an open plan. Glass-fronted cabinets nearby let the homeowner admire her crystal and china even if, right now, they don't get used every day.
The ground-floor principal bedroom got its inspiration from a Pinterest photo. The bed with hobnail trim came from their old house. Layered seagrass and oriental rugs from Etsy underfoot, drapes from Restoration Hardware, and sconces purchased online all point to her high/low approach.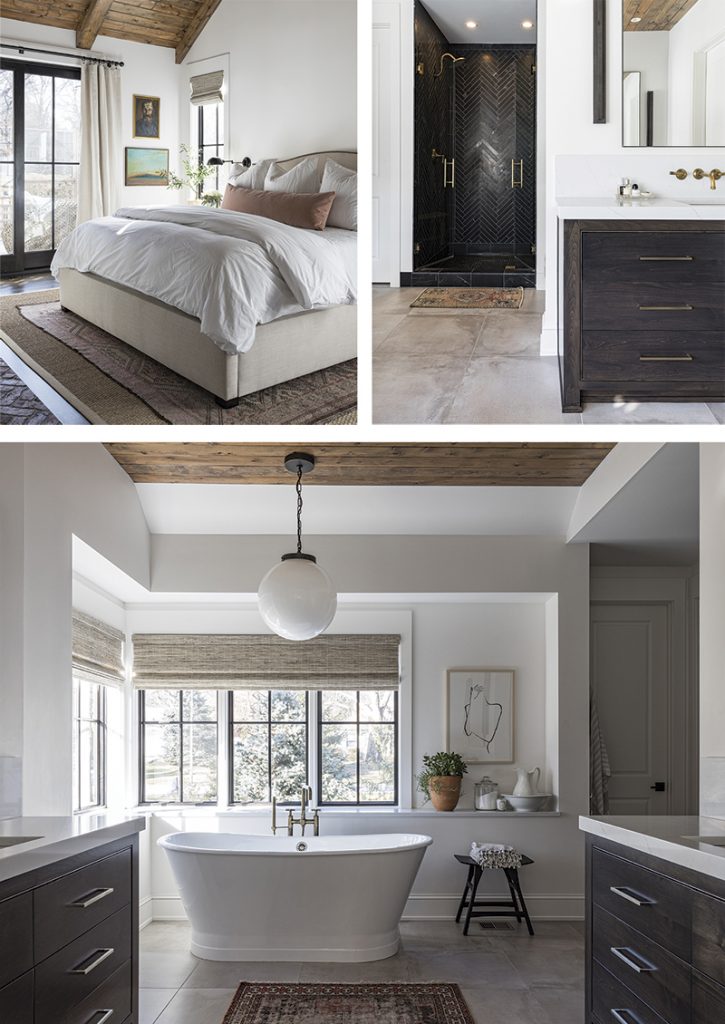 She had to be talked into the standalone tub in the master bath, but a winter soak watching snowflakes fall made her a convert. Two opposing sinks and a coffee station nearby make for easier mornings getting ready for work.
A corridor off the garage functions as a mudroom with ventilated drawers for boys' things and lockers to corral coats and shoes. In the adjacent laundry room, honed black granite countertops and white cabinetry make this room much more than an afterthought.
It's a house that works beautifully with the way they want to live—in the neighborhood this family calls home.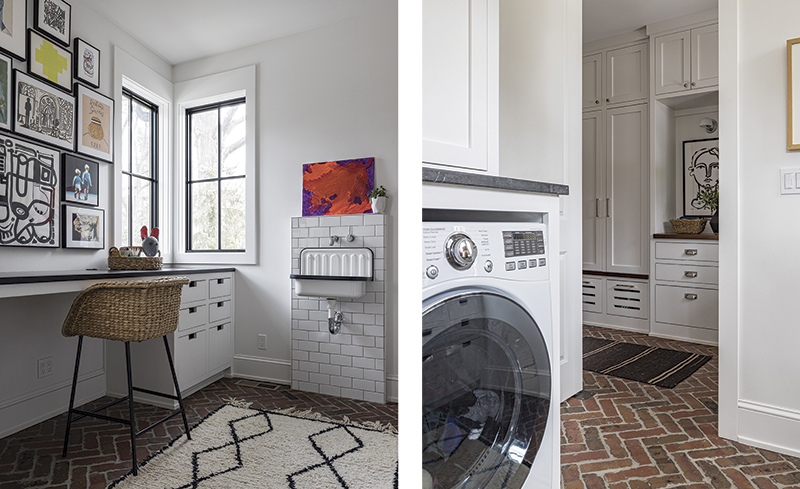 ---
The It List
Architect
Elwood Smith Carlson Architects, P.A.
Builder
RM Standard & Co.
Cabinetry
Built to Fit Custom Cabinets 
913-441-5722
Cast Stone Fireplace
Caliber Cast Stone 
Flowers
The Little Flower Shop