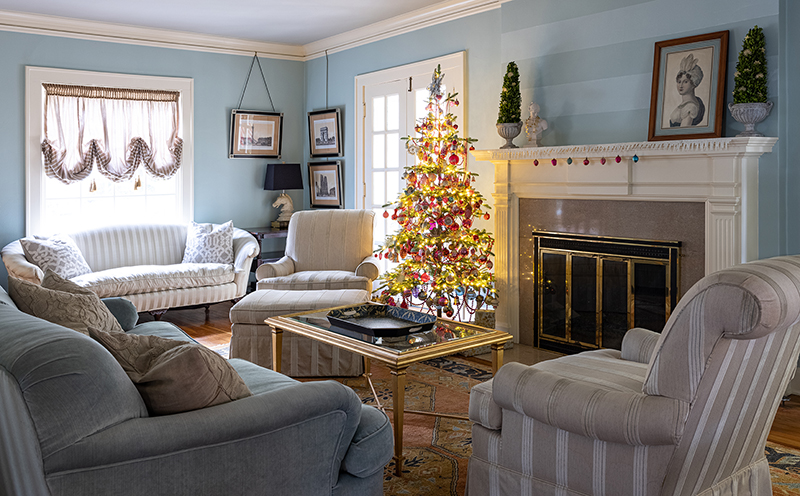 Lorraine Colbert Elmore had a long career at Hallmark as a designer, photo stylist, art director, and studio manager. During her tenure she decorated a lot of Christmas trees, but it hasn't soured her on the process. She and her husband, Leigh, still delight in dressing their home for the holidays. "I've decorated a lot of Christmas trees in my life," she says. "As a photo stylist at Hallmark, three quarters of the year was devoted to Christmas."
Now decorating their home in Brookside for the holiday may not take as long, but the Elmores certainly dedicate time and care to getting it right. Their classic style is restrained but features the perfect amount of gilt and glow.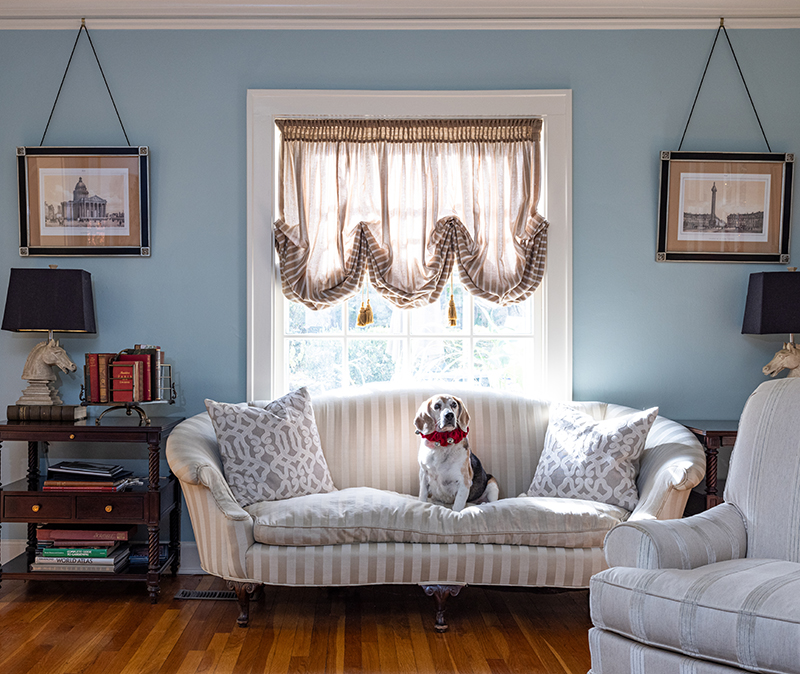 Lorraine Elmore has been collecting pre-1940's Czechoslovakian Christmas ornaments for decades. "They're beautiful, but they're so interesting," she says of the old-world, pink, turquoise, green, blue, and gold glass ornaments. "There's Red Riding Hood, but also Joan of Arc. I still look for them, but I haven't found any in a long time."
The Elmores have lived in the home for 26 years. They'd had their eye on another house nearby but couldn't commit. It was during the holidays and they decided to wait until after Christmas to decide. Driving by one evening to see if it was still available, they discovered a new house on the market. It became their current home.
"We saw this house and made an offer two days later," Leigh says.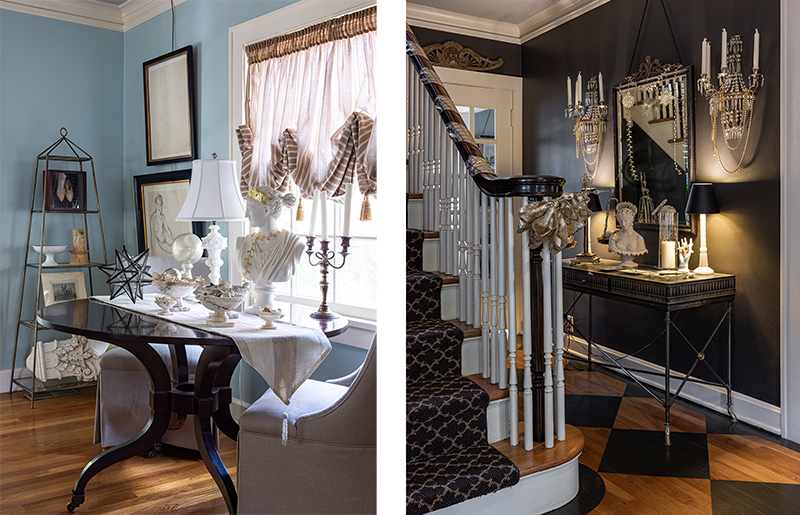 It was love at first sight, and they've taken their time to make it their own in a way that doesn't fight with the house's original design. The center hall features a classic painted check on the floor and dramatic dark walls, with crystal sconces and a vintage mirror that lends a flash of sparkle.
The stunning, difficult-to-name blue of the living room provides the perfect background for their art and accessories, which often feature a dose of black and the gleam of gilt. The drawings flanking the front window in the living room are by the late Daniel MacMorris. Lorraine found the nude studies at Parrin & Co., which is one of her favorites spots to shop. MacMorris studied at the Kansas City Art Institute and painted several murals in town, including scenes of Kansas City at the downtown Kansas City Library, ceilings at the Nelson-Atkins Museum of Art, and the murals at the World War I museum.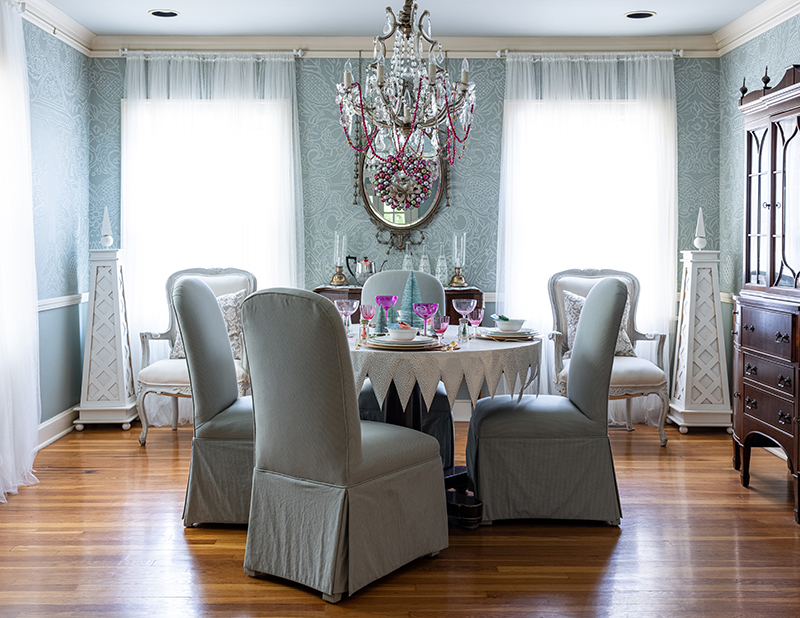 The mural on the dining room walls is a work of art itself. The chalky painting has the grace and movement of a fine damask. They had seen something similar commissioned by the local designer Marie Smith of MLB Designs.
"The artist drew the pattern on paper, then put little pinholes along the lines. Then he put the paper against the wall and blew chalk dust through the holes to create the pattern. It was amazing," Lorraine says.
She credits Smith for many of the smart and beautiful modifications she and Leigh have made on the home. Smith helped with their kitchen remodel. "Marie was great. She was able to redesign the kitchen without changing the footprint, but she made it much more functional," Lorraine says.
Among other space-saving tweaks, Smith pulled the sink forward away from the wall and created counter space in front of the kitchen window. "I love this space!" Lorraine says. "It's my winter garden. It was such a simple shift, but it makes a huge difference."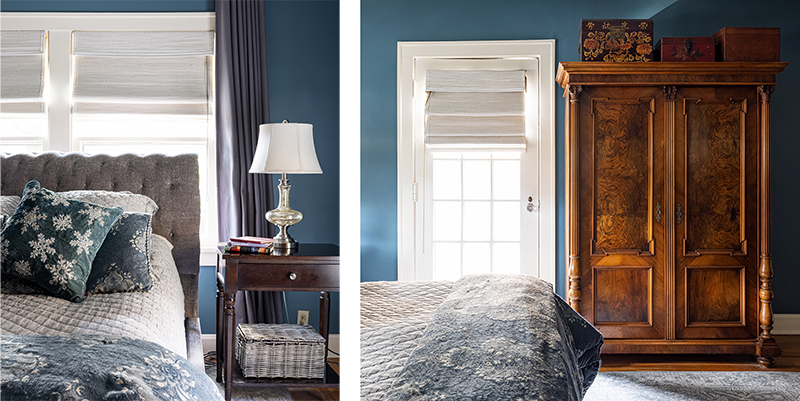 Upstairs, the bedroom has received a recent update. "I just saw this new Sherwin Williams color and I had to have it," she says. "I'm so glad I did. It's so soothing." She says she had no trouble going against the advice to not put your bed in front of a window. "If you live in this neighborhood, you know that it's difficult to avoid. There are so many doors to work around!"
While they are still focused on making their home warm and welcoming, they both have outside pursuits keeping them busy. Lorraine is working on a catalog for the Nelson-Atkins Museum of Art on the Starr Miniatures Collection and taking a botanical illustration class through the Denver Botanical Garden.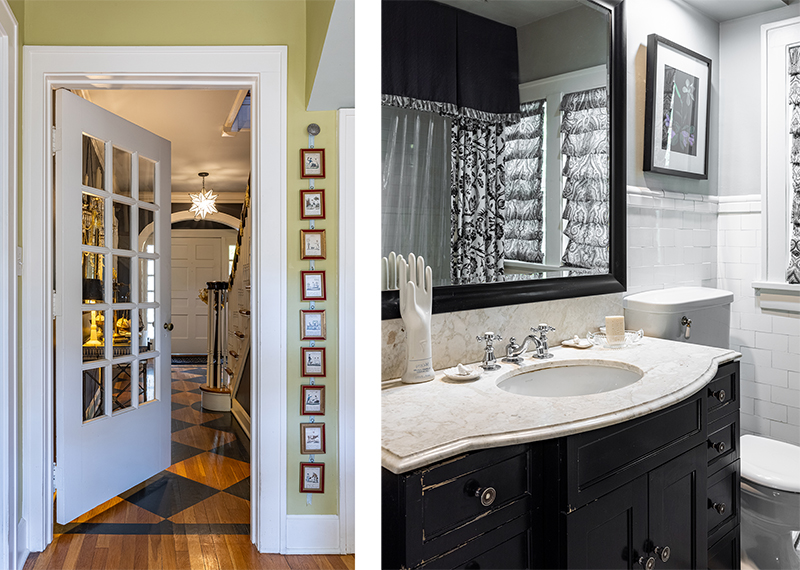 "When I became interested, I had to wait for a weekend seminar," she says. "But during the pandemic, the courses became available online, which is great!"
Leigh is equally busy with his work supporting the Rice-Tremonti Home, built in 1844 on the Santa Fe, Oregon and California trails.
The pair plans to spend the holiday at home. "I usually make my Slovakian grandmother's mushroom sauerkraut soup and kolaches, which you can fill with many things—honey, nuts, apricots," Lorraine says.
The holidays are about tradition, after all.
---
The It List
Leigh and Lorraine's Favorite Haunts
MLB Designs
mlbdesigns.com
Parrin & Co.
1717 West 45th Street
816-753-7959
The Rice-Tremonti Home
rice-tremonti.org