When Aussies Rob and Kate Joseph and Erika Vikor made the move from Sydney to Kansas City, they found themselves missing the Hong Kong-style Cantonese food that was available in their hometown. So they created a place where they—and everyone else in the metro—could find it.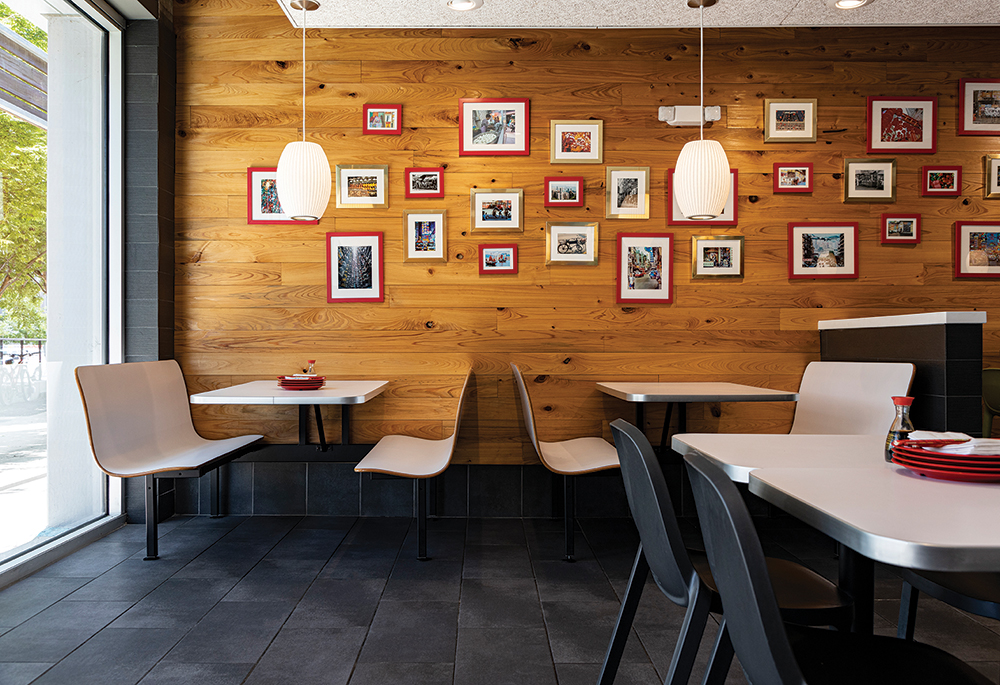 You can see signs of their global influences at Duck & Roll in the South Plaza neighborhood. The restaurant is right next door to the new location of their Australian bakery Banksia, and a pumping soundtrack of '80s greats—from Bruce Springsteen to Prince to Hall & Oates—is accompanied by the persistent click of a gold lucky cat figure's arm waving back and forth. But there's also a clear love and respect for Cantonese food that you can taste in the dishes.
As the restaurant's name implies, duck is a focal point, as it should be: It's juicy and just the right kind of fatty, cut by smoky, crisp skin. In addition to a Peking duck entrée, it's the star ingredient in three appetizers: shredded Peking duck spring rolls, sang choi bao (also known as lettuce cups), and Peking duck pancakes. The latter two are a pitch perfect way to start your feast. In the sang choi bao, crisp lettuce cups are filled with juicy duck, carrots, red pepper, green onion and carrots for satisfying crunch in every bite. The pancake almost has the texture of a tortilla and serves as the wrap for thick chunks of duck, cucumber and hot pepper with a rich hoisin sauce that remarkably manages not to overpower the appetizer's more subtle nuances.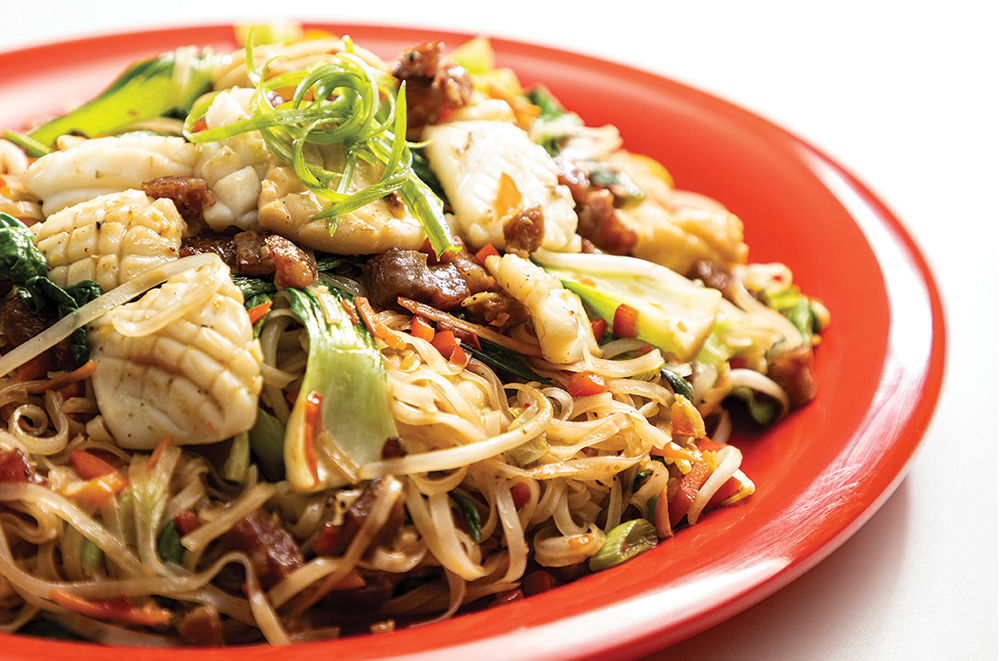 Duck & Roll also serves up a plethora of dumplings, broken up into seafood, pork, chicken, and vegetable offerings, some of which are also available in soups. The pork, shrimp, chive, and mushroom dumpling filling is tasty, but the texture veers toward overcooked.
Entrées include Chinese barbecue and hot pots, plus noodle dishes and fried rice from the wok bar. In addition to the delectable duck, served with both Chinese pancakes and lettuce cups, there's cumin lamb, char sui pork shoulder and crispy pork belly. For being such a trendy way to serve the cut, few restaurants successfully pull off crispy pork belly, but Duck & Roll can happily be added to the list: The edges are crisped enough to click against your plate, lacquered with a potent, potentially boozy glaze, but the interior is still succulent. The dish is simple, just the meat and white rice with green onion, but it's satisfying, nonetheless.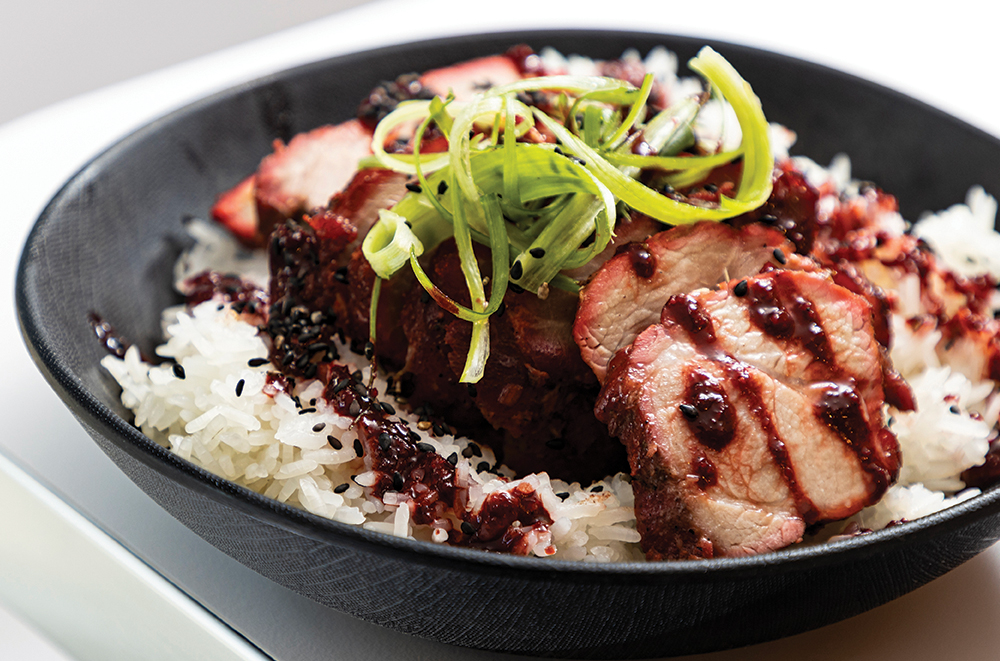 The wok bar pulls off another impressive feat with its treatment of veggies, which are lightly cooked and as bright as jewels, maintaining their crisp texture and distinctive flavors. Take the calamari and lap chong mai fun rice noodles, a dish where peas, red peppers, and green onions manage to feel like they contribute as much to the dish as beautifully tender calamari and mild, sweet Chinese sausage (lap chong). They're all tossed with a mass of noodles in a sauce that's a little sweet, a touch smoky and unexpectedly complementary to all the other ingredients—if Chinese-American dishes like orange chicken are usually too sweet for your palate, Duck & Roll's balance and restraint are a welcome change.
The restaurant's smarts go beyond the meals. For the quality of the food, Duck & Roll's portions and prices are a pleasant surprise. A wide array of Asian beers feels right at home with the traditional steamer baskets, tea canisters, and soup spoons are strung up to form a decorative separation between the entryway and the main dining area. A gallery wall of photos featuring eastern cityscapes also help set the scene.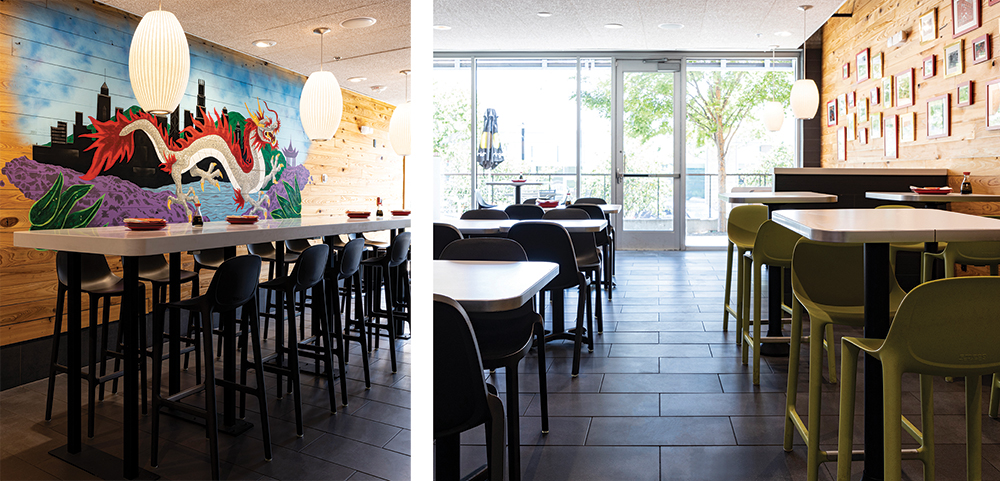 Although diners can take a seat and place an order, there's also a counter for carryout, and it's easy to envision the spot becoming a popular takeaway destination: You don't need to pull up a chair to get the experience Duck & Roll offers. The food speaks for itself.