Sad salads, meet your match. Cultivare, a new fast-casual concept in Overland Park, aims to bring a little excitement and culinary finesse to the world of salads and grain bowls, one delicious dressing at a time.
The restaurant found the right spot at the corner of 135th Street and Metcalf Avenue, where it's surrounded by health- and beauty-focused businesses. You can easily imagine families stopping by after a dentist appointment for a guilt-free bite or congregating on Cultivare's umbrella-shaded patio after soccer practice.
Indoors, black metal chairs are gathered around tables and high-tops in natural colors, each one adorned with plants, as are the restaurant's white walls. It makes sense for Cultivare thematically to lean into the green—after all, the earth's bounty is front and center.
Guests can choose from a lineup of designed salads and grain bowls or build their own from a long list of ingredients ranging from the basic to the less conventional. Lettuce blends and cauliflower rice, crispy chicken and carrot bacon, fresh herbs and chicharrones are just some of the options available at this next-gen salad bar.
Cultivare's menu also comprises appetizers, signature salads, grains bowls, and classics, plus a small but suitable selection of local beers, wines, and cocktails. Beverages aren't really the focus, as the two-drink deep cocktail list suggests, but the coconut mojito is nevertheless tasty, and the rare cocktail that actually feels hydrating.
Shareable starters include three varieties of hummus: chimichurri with toasted pine nuts; harissa red pepper with almonds; and spicy red chili with candied peanuts, available on their own or all together for a few dollars more. The hummus has a solid flavor and texture that works well against the accenting sauces and is served alongside your choice of thinly sliced cucumber rounds or soft pita triangles.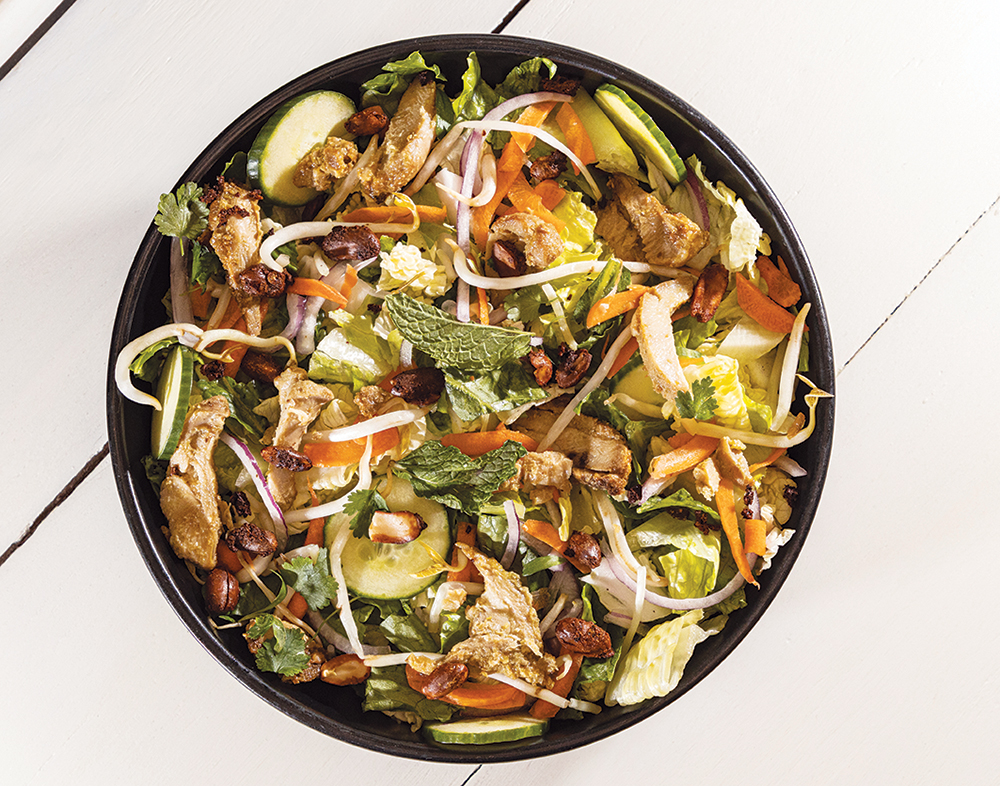 Cultivare also offers two takes on spring rolls filled with cilantro, Napa cabbage, and rice noodles. The Lean and Green Roll features green bell pepper, cucumbers, and mint, while the Summer Roll turns to carrots, red cabbage, and mango. The rolls are tasty, although thin on veggies—rice noodles account for 85 percent of the filling—but they're light and fresh and make for a serviceable snack, especially when they're dipped in a divine sweet and spicy tahini dressing, which boasts more acidity than your typical peanut sauce.
Sauces and dressings are the true standouts at Cultivare, transforming fairly stock offerings into craveable dishes. In the miso mushroom bowl, the maple-miso dressing masterfully plays off the sweetness of cubed sweet potatoes and beets and the earthiness of the white quinoa base and meaty sesame yuzu mushrooms. If the dish has a shortcoming, it's that there isn't much variance in texture—a savory granola mix tries to get the job done, but there's too little to make much of an impact.
On the Hanoi chicken salad, a subtly sweet and slightly nutty sesame peanut dressing mellows out red onion and mint for a balanced bowl of romaine, napa cabbage, cucumber, and carrots that's crisp and crunchy. Chunks of marinated chicken thigh hold their flavor well and help make the salad feel less like a first course and more of a meal.
Other dishes are more traditional, although Cultivare does add interesting flourishes where appropriate: There's an everything bagel salad with Meshuggah Bagel croutons and smoked salmon served with a creamy dill dressing, and a Mexican Caesar with jalapeño, toasted pepitas, and a creamy cilantro-lime spin on the salad's classic tangy dressing. A steak and gorgonzola salad and a crispy chicken BLT are sure to have wide appeal.
There are no desserts on the menu, but the salads and grain bowls are surprisingly filling. Plus, you wouldn't want to cancel out those good-for-you calories so soon—basking in your veggie fix for a while is enough of a treat.