Chewology has come a long way—and we're not just talking about its recent move from Lenexa's Public Market to a dedicated space in Westport. 
At the restaurant's new home, formerly the site of celebrated fine-dining establishment Bluestem, owner Katie Liu-Sung has expanded the menu, added a cocktail program, and introduced a new weekend-only experimental sister concept, Stray Kat. Although the look and feel at Chewology are more polished, the focus remains the same—delectable dishes inspired by Taiwanese street food.
Illustrations of dishes like gyoza (dumplings) and bao (steamed buns) decorate the restaurant's windows on the corner of Westport Road and Southwest Trafficway, but Chewology feels removed from the intersection's hustle and bustle as you step inside. The intimate space includes two rooms: One features a bar where guests dine and drink under the neon pink light cast by a sign displaying the restaurant's name, while the other offers a prime view of the open kitchen and a slightly more serene atmosphere.
The same illustrations from the windows are carried over to the menu, which serves as an enchanting visual guide to Chewology's dishes. That includes the cocktails designed by acclaimed bartender Brock Schulte. The drinks include a few reinterpretations of classics, like the Manhattan-inspired 823, which boasts a sesame oil-washed glass that lends a surprising dose of flavor, as well as some creations that feel wholly fresh. The Lambai Island Highball is made with tequila, coconut water, and kombucha, but don't let the drink's clear color fool you—there's plenty of bright flavor happening within the glass.
Handcrafted gyoza have been a big part of Chewology's focus over the years, and they still make quite the impression, from the more traditionally flavored pork and cabbage version to the decadent honey apricot goat-cheese variation that could almost serve double duty as a dessert. While all the offerings are impressive, the beef and kimchi stand out for their bold filling, which balances the acidity and richness of its ingredients to create parcels of perfection.
 The dumplings come six per order and make for an ideal appetizer or late-night snack, as do the bao. Served in three different iterations—fried chicken, tofu, and pork belly—they're packed with character and are a filling steal at $5 or less each. We're partial to the karaage bao, chunks of Taiwanese-style fried chicken with a paper thin, crispy coating alongside house pickles, basil, and chile mayo, all sandwiched between pillow-soft steamed buns.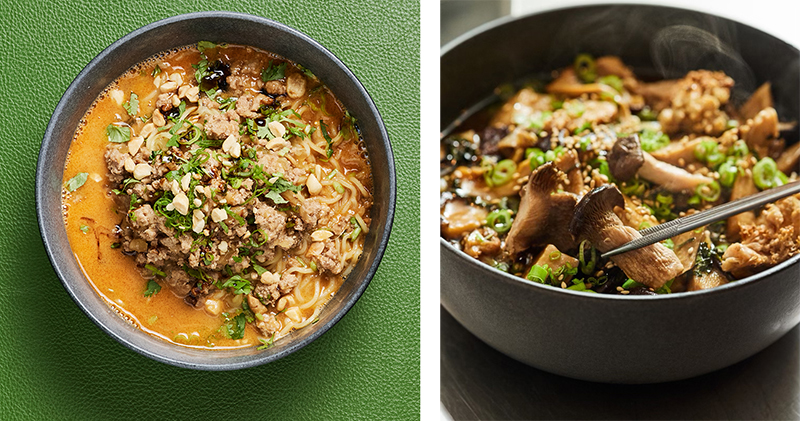 Chewology also serves up a selection of rice and noodle dishes, including a poke bowl and lu rou fan, pork belly braised until it has the texture of a ragu and served over brown rice with pickled English cucumber and pineapple. Although it appears simple at first glance, flavor overflows from the bowl, with the spiced meat and funky pickles taking you on a flavor journey. The Dan Dan (spicy peanut ramen) is also a hit: The yolk of a poached egg provides a rich, silky sauce for the dish that's a little sweet, spicy, salty, and utterly satisfying. And vegan diners should be sure to try the three-cup mushroom ramen, which features a deeply flavored mushroom and basil broth. 
As the evening winds down, guests may have to turn to the cocktail list to satisfy their dessert cravings—tonight, Chewology has already sold out of its intricately designed moon cakes. Better luck next time. 
And there will, inevitably, be a next time. Chewology is that rare restaurant with a cool factor that makes you want to recommend it to anyone and everyone, and the quality and consistency to keep you coming back visit after visit.