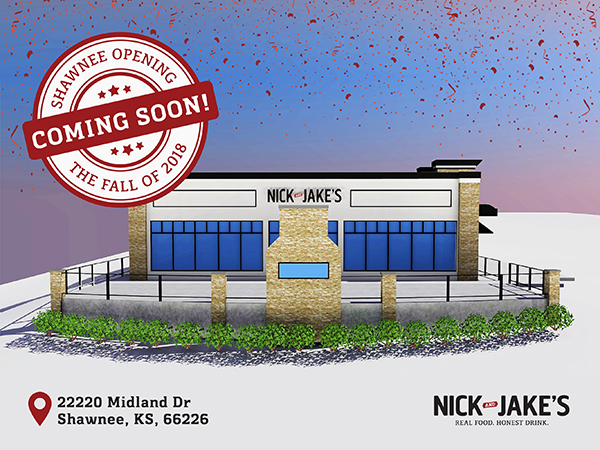 The rumors are true. Nick & Jake's is taking their act on the road again—this time to the 'burbs of Shawnee. Turns out owners Doug Watkins and Kevin Timmons have their children to thank for the restaurant's newest locale. "We've been looking at western Shawnee for years," says Watkins. "Our kids' sporting events introduced us to the area from their youth all the way through high school."
This will be the fourth location for the locally owned restaurant group which is poised to replace the now-defunct Ruby Tuesday's at 22220 Midland Drive. Founded in 2001, Nick and Jake's has expanded from its original Overland Park flagship bistro to locations in Parkville and just south of KC's famed Country Club Plaza.
With their chef-driven, American-inspired cuisine, patrons are bound to appreciate Nick and Jake's venture out west. And let's not forget their killer Sunday brunch which has been voted Best in KC several times over. "We feel the Nick and Jake's brand travels well," says Timmons. "Our growth model is based on great locations and great people."
The chefs and culinary team are promising a diverse menu with a slew of tasty, seasonal specials as well as some creative, hand-crafted cocktails. "It'll be great to have Nick & Jake's out in our neck of the woods," says Shawnee resident Kellie Stewart. "They have a lot of healthy offerings that I enjoy. And now I don't have to be jealous of my friends who live up in Parkville."
Barring an unforeseen hiccups, the restaurant should be up and rolling by late fall. Oh—and if you're looking for gainful employment at Nick & Jake's, stay tuned. They'll start hiring staff towards end of the summer.