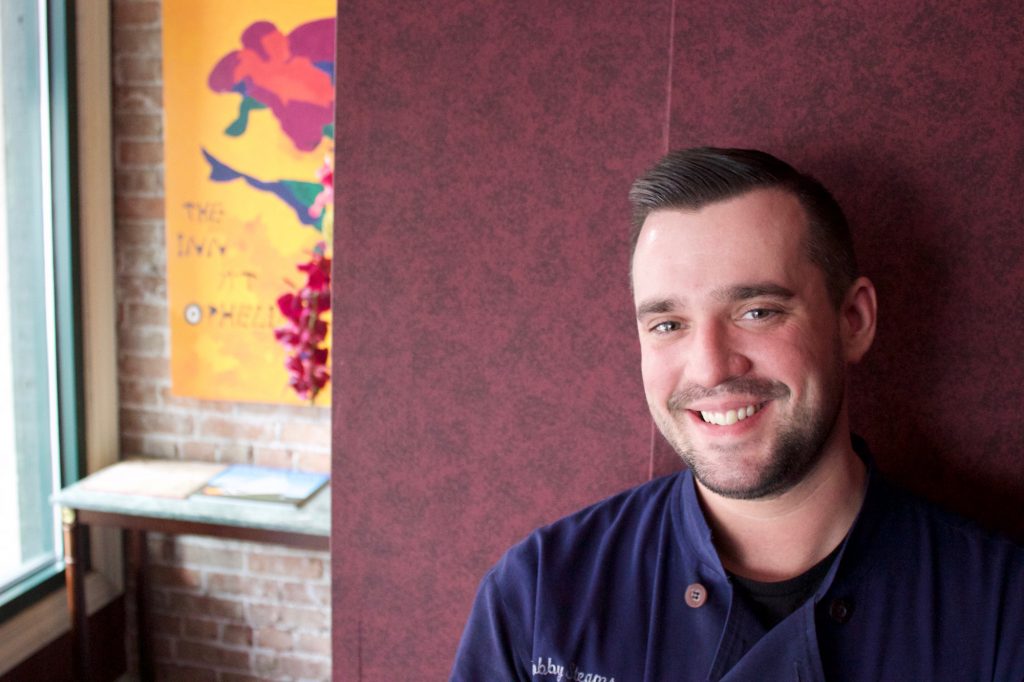 Little known fact: March 1st is National Peanut Butter Lover's Day. We challenged Bobby Stearns, executive chef of Ophelia's restaurant, to come up with a decadent dessert recipe that was PB'd to the max. Goal achieved—and then some.
Stearns' inspiration? Working in the kitchen with his grandma. "One of her classic recipes was a gooey butter cake. This recipe was inspired by that and, of course, the yummy peanut butter edible cookie dough from Clinton's Soda Fountain," says Stearns.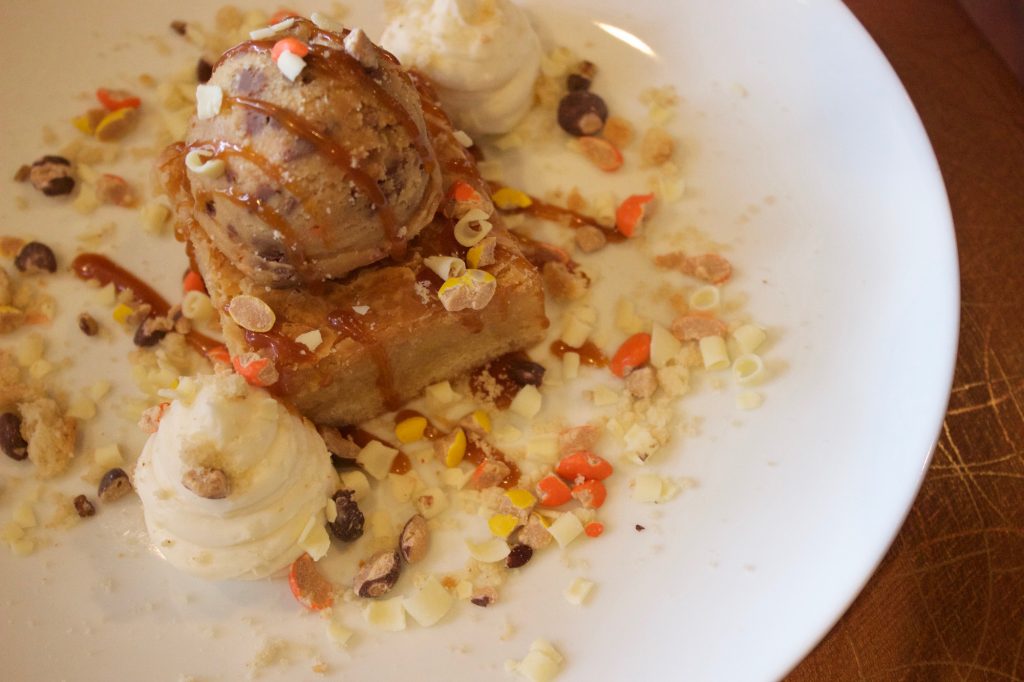 Peanut Butter Gooey Cake with Clinton's Peanut Butter Cookie Dough Ice Cream
Yields 12-16 servings
Gooey Peanut Butter cake (bottom layer)
Ingredients:
6 tablespoons melted butter
1/2 cup creamy peanut butter
1/2 cup sugar
1/2 cup brown sugar
2 eggs
2/3 tablespoons salt
2 teaspoons baking powder
1 1/2 cup all-purpose flour
(top layer)
1 cup cream cheese
1/4 cup brown sugar
2 eggs
1 tablespoons vanilla
3 1/2 cups powder sugar
1/2 cup peanut butter chips
Instructions preheat oven to 350 degrees. Line 8 by 8-inch baking dish with parchment paper, combine all bottom layer ingredients and pour into dish, combine top layer ingredients and then pour over bottom layer. Bake for 45 to 50 minutes or until the middle slightly jiggles. Cool for 30 minutes, then cut in 12 to 16 squares while still warm. Top with ice cream and garnish.
Clinton's Edible Peanut Butter Cookie Dough
(Yields 2 cups)
Ingredients:
3/4 cup all-purpose flour
Pinch of salt
1/2 cup butter
1/2 cup peanut butter
1/4 sugar
1/4 cup brown sugar
3 teaspoons whole milk
1 teaspoon vanilla extract
Mix everything in a big mixing bowl and mix 3 to 4 minutes or until everything is fully incorporated. Scoop into ½-ounce balls and place in ice cream maker with ice cream once ice cream is almost done.
Vanilla ice cream base
(Yields 1.5 quarts)
Ingredients:
3 cups heavy cream
2 cups 1/2 -1-2
1 1/2 cups sugar
1 vanilla bean (insides scraped) or 1 teaspoon vanilla extract
Combine cream, half and half, and sugar in medium saucepan or until sugar is dissolved 3 to 4 minutes. Remove from heat and add vanilla. Let chill for 30 minutes before placing in ice cream maker. Once cool, pour into ice cream maker and churn until almost solid, add cookie dough balls and churn for five more minutes. Place ice cream in freezer in air tight container. Freeze overnight. Scoop and place on top of warm gooey cake.
Final step? Garnish with vanilla-bean whipped cream, crushed Nutter Butters and mini Reese's pieces.