If you're a deviled egg aficionado (and who isn't?), these are a must-try.
This fresh take on the classic appetizer is courtesy the newly appointed e-tainment venue, The Clubhouse Experience in downtown Kansas City. Besides a wide variety of simulated games (Golf! Hockey! Dodgeball!), you can find some pretty tasty nosh too. Here's the soon-to-be legendary recipe courtesy of Todd Walline, Chief Culinary Officer: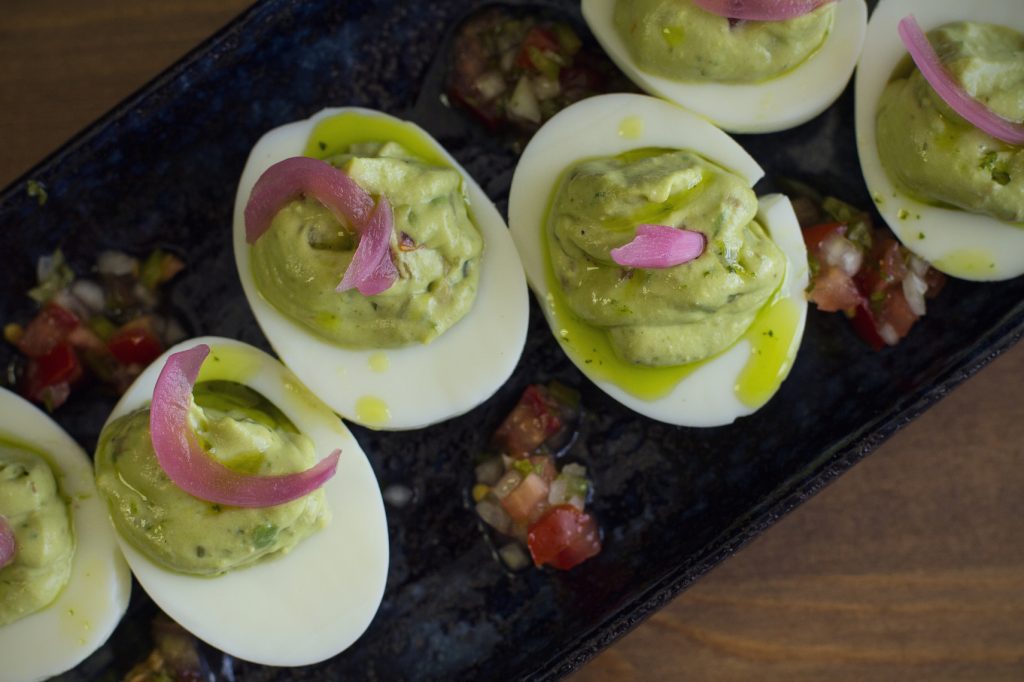 Guacamole Deviled Eggs
Yield 24 pieces
Ingredients:
12 large eggs (hard-boiled) halved—yolks and whites separated
1 cup mayonnaise (Duke's or Hellman's preferred)
1 tablespoon Dijon mustard
1½ teaspoons horseradish
½ teaspoon Tabasco sauce
Finely grate the egg yolk into a bowl and then slowly incorporate the mayonnaise a little at a time until completely combined. Add the other ingredients and mix until fully combined
Adjust seasoning with salt and pepper. Refrigerate both the whites and egg yolk mixture.
Guacamole:
3 avocados (should equal 12 ounces of pulp)
3 ounces yellow onion, finely chopped
3 ounces tomato, finely diced
½ ounce jalapeño, minced
1 ounce fresh squeezed lime juice
1 tablespoon cilantro, chiffonade
¼ teaspoon garlic, minced
Combine all ingredients except for avocado in a bowl, mix thoroughly and season with salt and pepper. In a separate bowl add avocado and season with salt and pepper. Mash avocado thoroughly until light and fluffy. Fold in tomato mixture and then correct seasoning.
To create deviled eggs combine equal amounts of guacamole with deviled egg yolk mixture and then fill egg white cups. Garnish with cilantro oil and pickled onions. Served chilled and enjoy!