Happy National Peanut Day, kids!
Given that peanuts are used in about 18 bazillion different recipes, we were hard-pressed to think up one particular peanut-forward dish. Do we go sweet or savory? Well, cue executive chef Ryan Sneed who heads up the KC Hopps Restaurant group. He challenged his team to come up with one of each and held a contest to decide what made the cut. These are the winning recipes—one an entrée, one a dessert. Enjoy!
First up? A stellar mahi-mahi entrée courtesy of Laura Favela, executive chef at Silo Modern Farmhouse.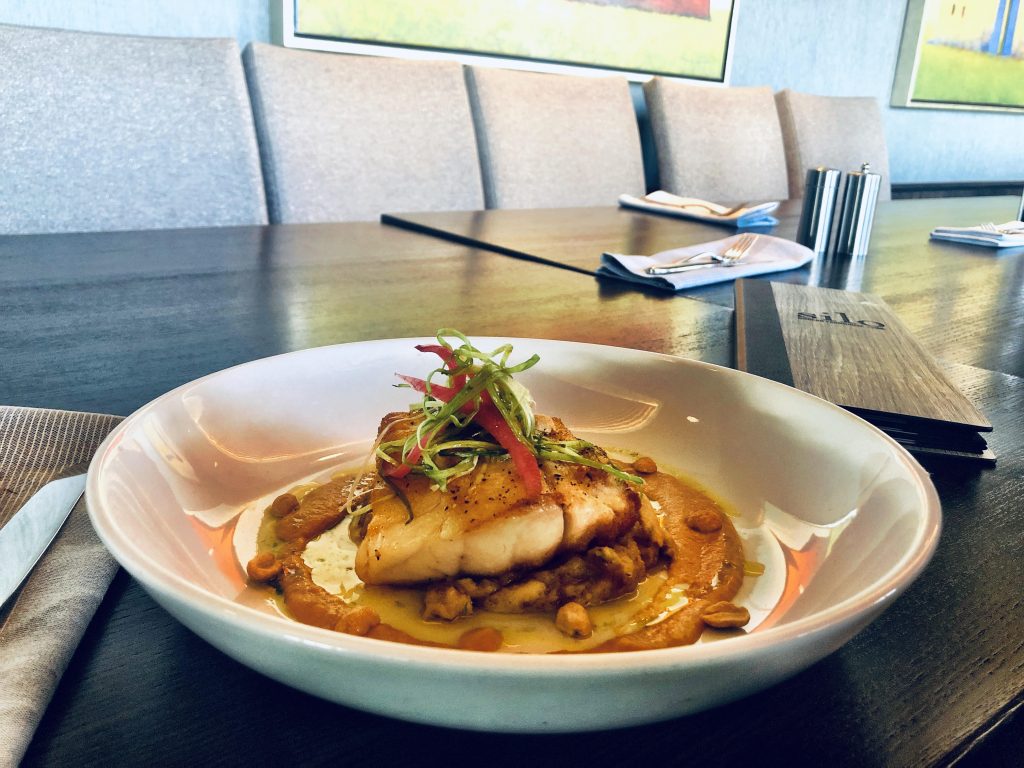 Pan Seared Mahi-Mahi with Peach-Peanut Aji Salsa
4 – 6 ounce fillets fresh Mahi Mahi, skin removed
Olive oil
Salt and pepper to taste
Rub each mahi fillet down with olive oil, then season with salt and pepper and let rest at room temperature for approximately 15 minutes, covered lightly in plastic wrap.  Heat a heavy, cast iron pan to very hot and add a little peanut oil. Alternatively, pre-heat outdoor grill to high or grill pan to very hot.
Place mahi, skin-side up, in the pan and sear until golden brown on one side, then flip over and repeat until desired doneness (we recommend internal temperature of 145oF).  Remove from heat and allow to rest on a plate with aluminum foil loosely tented above it for at least 3 minutes.
Serve with room-temperature Missouri Peach-Peanut Aji Salsa (recipe follows) either pureed or chunky or both!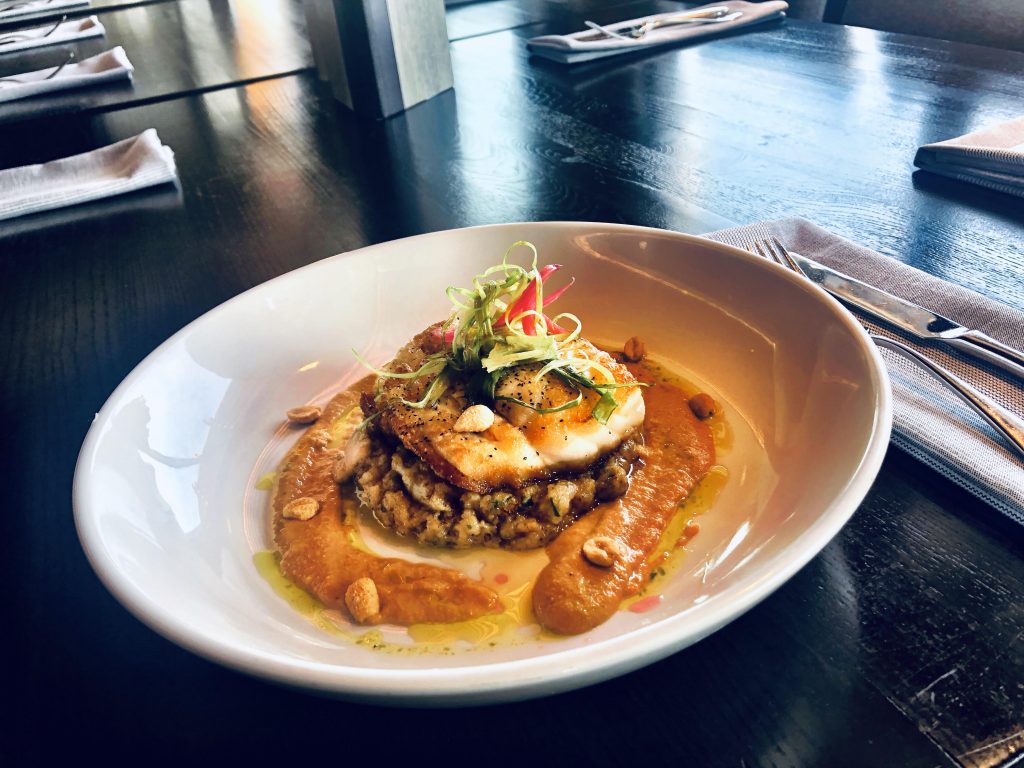 Missouri Peach-Peanut Aji Salsa
2 each peaches
4 ounces Aji Amarillo paste
2 each dried Guajillo peppers
4 cups chopped peanuts
1 tablespoon sesame seeds
½ of a medium red onion
3 cloves fresh garlic
1 teaspoon apple cider vinegar
1/2 teaspoon white pepper
1/2 teaspoon salt
Place the dried Guajillo chili peppers in tap water to re-hydrate them for 30 minutes, set aside. While the peppers re-hydrate, core the peaches and small dice them about ¼" and dice the onion ¼". Puree half of the peaches. Process the peanuts until 1/8" chopped if not already chopped and mince the garlic.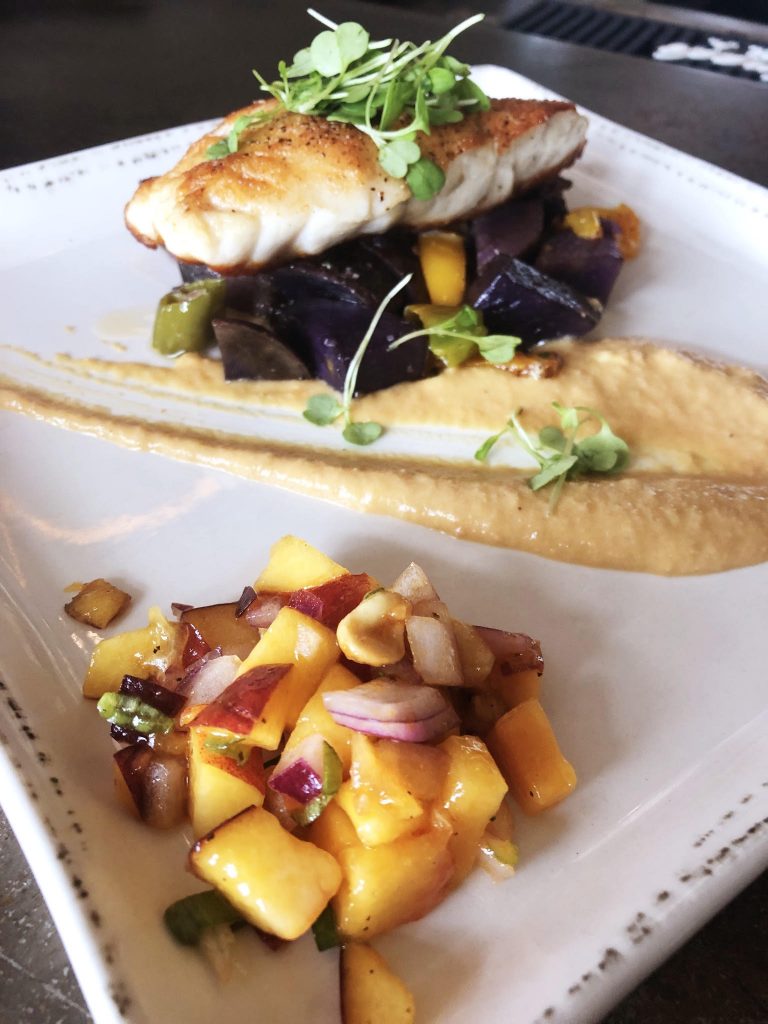 Combine the Aji Amarillo Paste, peanuts, sesame seeds, onion, garlic, vinegar, salt and white pepper in a mixing bowl. Remove the stems and seeds from the chili pepper (or keep some seeds if you like it spicy) and finely chop the peppers. Add to the mixing bowl with the pureed and diced peaches. Mix well until incorporated. Make at least 6 hours in advance and hold at room temperature before serving.
Chef suggestion: Try pureeing some of the salsa and paint the plate as a garnish!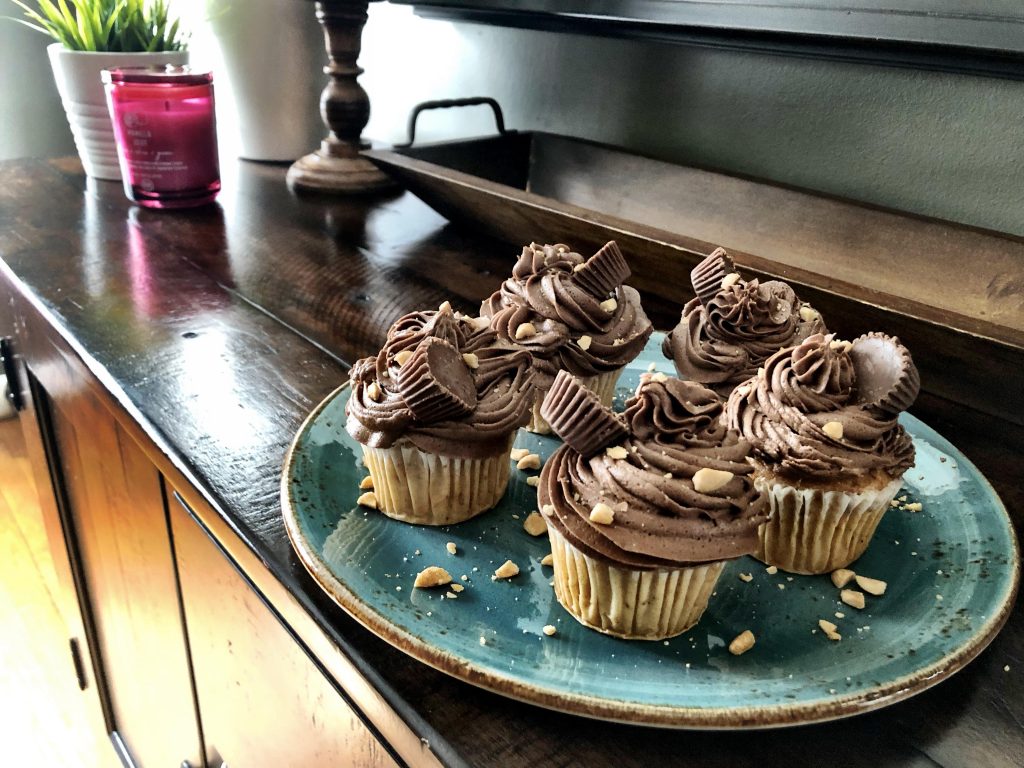 Next up, a decadent sweet treat from Sneed himself. We may be biased, but this one sounds absolutely to-die-for. He had us at Chocolate Peanut Butter Buttercream Frosting.
The Most Peanut Buttery Cupcakes with Chocolate Peanut Butter Buttercream Frosting
1-1/4 cups all-purpose flour
½ teaspoon baking soda
¼ teaspoon kosher salt
½ cup vegetable oil
½ cup creamy peanut butter
1 cup packed light brown sugar
1 large egg, room temperature
1/3 cup sour cream, room temperature
1-1/2 teaspoon pure vanilla extract
¾ cup whole milk
1/3 cup very finely crushed/chopped peanuts
Frosting
1 cup unsalted butter, room temperature
3-½ cups confectioners' sugar
½ cup unsweetened cocoa powder
3 tablespoon heavy cream or whole milk
1/3 cup creamy peanut butter
1 teaspoon pure vanilla extract
½ teaspoon kosher salt
Preheat oven to 350oF. Line 12-cup muffin pan with liners and set aside
For the cupcakes: Mix together the flour, baking powder and salt and set aside. With a handheld or stand mixer, cream together the peanut butter, butter and brown sugar until light and fluffy. Beat the egg and add it to the wet ingredients. Add the vanilla extract.  Slowly add the dry ingredients and scrape down the sides of the bowl as needed. Mix until just combined—don't overmix. Divide the batter between the muffin cups and bake for 23-25 minutes or until a toothpick inserted in the middle comes out clean. Allow to cool completely before frosting
For the frosting:  Sift the powdered sugar and cocoa powder together to make sure there are no lumps then set aside. Beat the butter, peanut butter and vanilla at medium speed until fluffy, then gradually add the sugar/cocoa powder mixture. Add some of the cream or milk a little at a time then more sugar/cocoa. Alternate ingredients until desired texture is achieved. Add the salt when finished.
"Frost the heck out of those babies and enjoy the most peanut-buttery cupcake you have ever had the pleasure of eating," says Sneed. "If you really want to go nuts sink a mini-peanut butter cup in the frosting."  Mind. Blown.