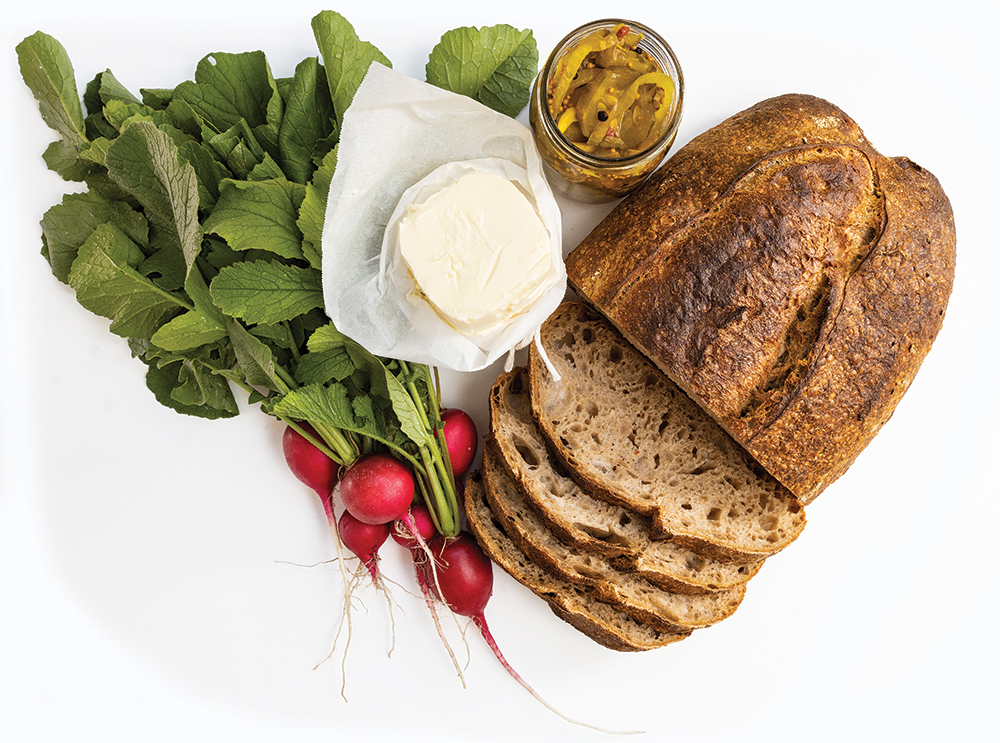 I know it's hot and a tad humid, but July does offer a number of occasions for picnics here in the Midwest. Foremost is obviously the Fourth—with all of the fireworks and public events—but don't forget the KC Fringe Festival, Theater in the Park, Rockfest (maybe not the best picnic idea!), and Kansas City's Big Picnic with the Nelson-Atkins Museum. Whatever the occasion, and whatever the weather, dining alfresco is always a treat. Fresh air, a blanket on the ground, and a good bottle of chilled wine just makes food taste even better.
I have a few go-to dishes when I want cool and easy—and warm weather calls for cool and easy.  I always begin with a great loaf of bread. (That someone else baked—who wants to heat up the whole house baking bread in one of the hottest months of the year?) And if I have bread, well then I need butter—and my new favorite butter is hand-rolled butter, lightly salted. The rest is up to your imagination, but there are a few classic picnic combinations that have stood the test of time for a reason. Radishes come to mind first, but a selection of cured meats—many need no refrigeration so they are perfect for picnics—and a cheese or two make for a filling fare shared under the dappled shade of an old oak tree. And don't forget that other classic—tuna salad (or chicken or ham, but tuna is my favorite)—made with best quality preserved tuna from Italy, Spain, or Portugal, capers, mayo, spicy mustard, freshly chopped cilantro or parsley, a little red onion and celery, all garnished with slices of roasted peppers. Yum! I'm planning my next outing already.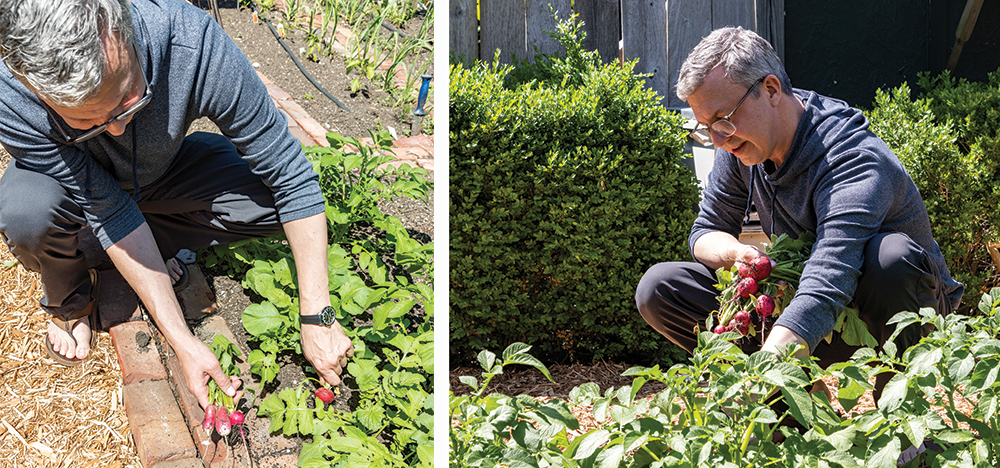 As romantic and carefree as this little repast sounds, a memorable picnic takes time and preparation, most of it shopping and chopping. I know you can run into a bait shop down at the lake and throw something together, but is that what you really want? Special occasions, in most cases, require special measures.  Here are my suggestions for a relatively simple yet still ideal picnic.
I've already mentioned great bread and here I shall repeat myself. You need a good artisan "country" loaf with complexity and textural integrity; something that won't sog out after it's been dressed and filled for an hour or two. If I'm pre-assembling sandwiches, I like to toast the bread first—it adds to their ability to absorb moisture without becoming mushy. But ideally, I assemble the sandwiches a la minute—right before serving. This provides a bit of entertainment for everyone, and also takes into consideration the unforeseen dietary restriction. 
It may be a cliché, but bread spread with silken buttery butter, topped with thin slices of spicy radish and a generous sprinkling of medium-coarse sea salt (like Maldon): perfect meal. Later in the season when radishes have passed their prime, substitute slices of crisp cucumber or zucchini, this time adding a generous hit of freshly ground black pepper—coarse, of course. But that is just the foundation. Additions and substitutions are up to you. Good homemade mayonnaise can take the place of butter, but that comes with food-safety issues. (Everyone has surely heard of a picnic ending in some type of food poisoning, so proceed with caution.) Carnivores have any number of deli-inspired options, and don't overlook peanut butter (the honey-roasted kind that is ground right before your eyes in better grocery stores), topped with your favorite fruit preserves—doesn't have to be grape!—or just a simple drizzle of honey, sea salt and fresh pepper—this can double as dessert!). All of the extras are up to you: the perfect tomato or peach, kettle chips, homemade pickles, a blueberry pie.
And while you're planning, don't forget the insect repellent, large trash bag (for trash, or to serve as a protective layer under the picnic blanket or as an impromptu poncho for the unexpected downpour), and least of all the corkscrew! Turn off your phone, as well, maybe crack open a book, talk to your friends, or just take a nap. The true purpose of a picnic is to slow down, enjoy your surroundings, company, and food, and most of all break out of your daily routine.
---
In Your Pantry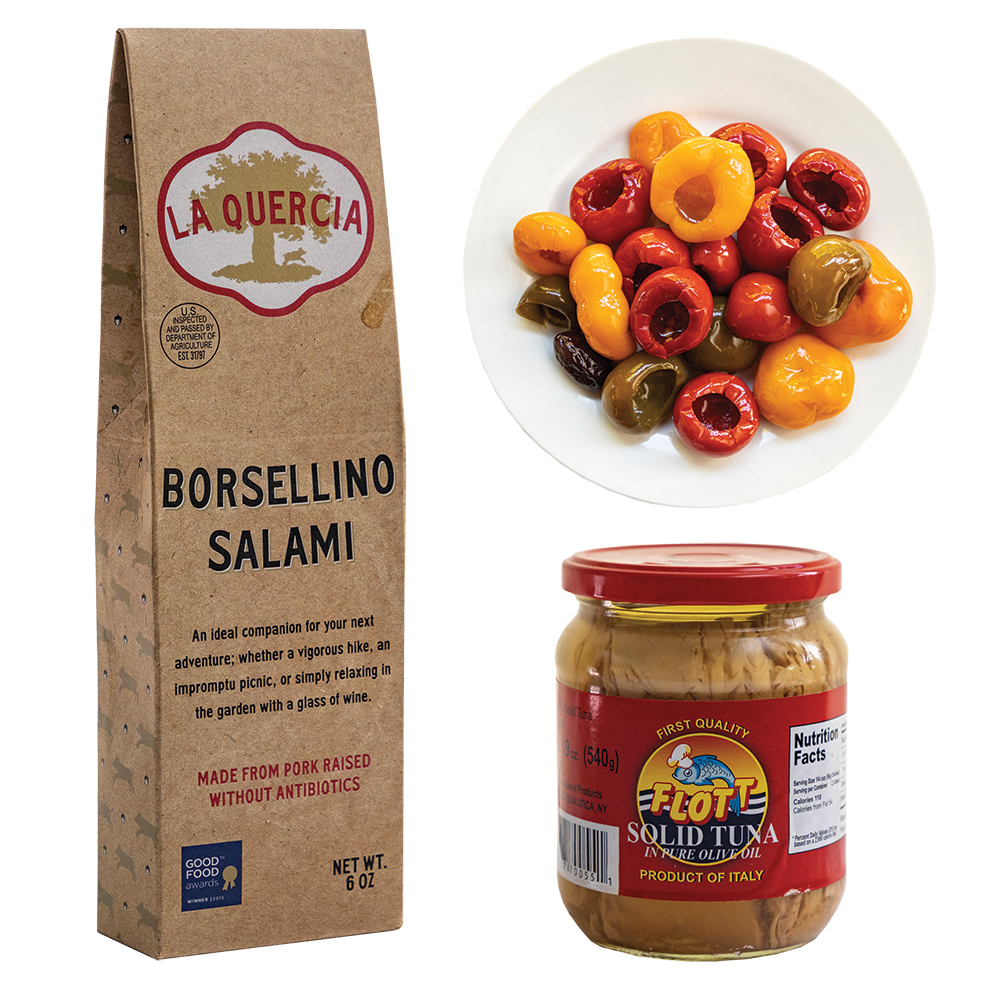 Borsellino Salami
Produced right here (well, in Norwalk, Iowa, which is practically the backyard), Borsellino is one of many absolutely delicious cured-pork products from La Quercia, a company most famous for its prosciutto-style hams. La Quercia uses only the finest available cage-free pork from within 200 miles of their facility and they employ only best practices in their production. The Borsellino Salami comes in regular and spicy (both fabulous for picnics because they need no refrigeration—and are super tasty). Available at better grocery stores.
Peppadew Peppers
A relative newcomer on the culinary scene, these peppers, discovered in South Africa in 1993, are available pickled at many olive bars in better grocery stores. They are the perfect vehicle for stuffing—try with good tuna salad or goat cheese (or any cheese), dipped in chopped chives. While all deliver a little kick, the red ones are definitely the most spicy—but don't be afraid, you'll love them!
Preserved Tuna
Many of us have bad associations with canned tuna. Blame that on American industrialization, disgusting school cafeteria lunches, and a lack of refinement. The coastal regions of Spain, Portugal, and Italy have taken preserved tuna to a level you never imagined.  Flaked on top of a tomato salad, blended into a classic tonnato sauce, or tossed into the most delicious tuna salad ever, you won't regret the extra pennies (dollars) you spend on this delicious foodstuff. Very important—must be packed in oil.  Available at better stores that specialize in imported ingredients, like Bella Napoli in Brookside.