Need a good excuse to bake a yummy dessert? You don't have to wait long! National Peach Cobbler Day is on April 13, and you can celebrate the day with a recipe from Denisha Jones of Sweet Peaches Cobblers. 
Jones received national attention for her cobblers after being part of the KC BBQ Fest last summer—which led to her traveling to festivals at NFL stadiums across the country with her desserts. 
The local baker's made-from-scratch cobblers are sold in grocery stores across the metro, and she's got the perfect recipe to whip up on National Peach Cobbler Day: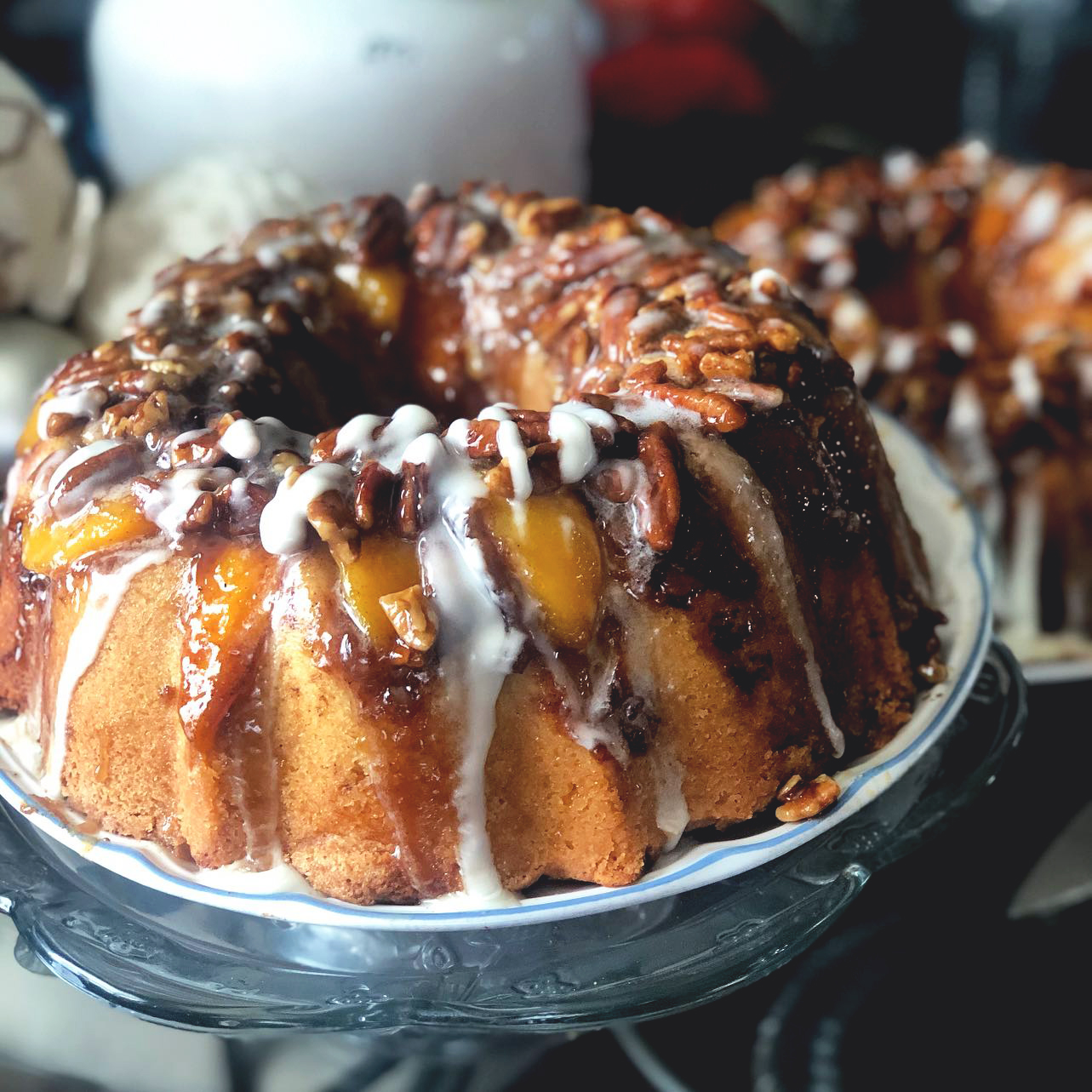 Sweet Peaches Cobblers Rum Pound Cake
Serving Size: 12-16 slices
Ingredients:
1 (15-ounce) can of sliced peaches in light syrup, drained

2 cups unsalted butter, softened 

3 1/2 cups granulated sugar

6 large whole eggs

6 large egg yolks (in addition to the 6 large whole eggs)

1 tablespoon vanilla extract

1 teaspoon salt

3 1/2 cups all-purpose flour 

1 cup rum

1 (16-ounce) jar of Sweet Peaches Cobblers Topping or Filling* 

2 (8-ounce) packages of Sweet Peaches Candied Pecans* 

8 ounces cream-cheese icing of your choice
Instructions:
Preheat oven to 350 degrees F. and grease a 10-inch tube pan or 12-cup Bundt pan with shortening and flour. Shake out excess flour and set aside.
Place a single sliced peach in each groove of the Bundt pan or spread them out in the tube pan. 
Place butter in a large bowl and use a standing or hand-held electric mixer to beat the butter until it is creamy and smooth.
Scrape down the sides of the bowl and add sugar. Beat until the ingredients are well combined and light and fluffy (about 1-2 minutes).
In a separate, medium-sized bowl, combine your eggs, additional egg yolks, vanilla extract, and salt.
Use a fork to lightly beat the eggs and yolks until all egg yolks are broken up and salt and vanilla are incorporated.
With the mixer on low speed, slowly pour egg mixture into your batter, allowing it to gradually become incorporated (don't pour all the egg mixture in at once, if you can't manage a steady stream then add the egg mixture in about six parts, allowing each part to become well incorporated before adding more). 
Once all the egg mixture is incorporated, pause to scrape down the sides and bottom of the bowl, then increase mixing speed to medium-high and beat for another 1-2 minutes.
Reduce mixer speed to low and gradually add flour (about ¼ cup at a time) to the batter until all has been added. Scrape down the sides and bottom of bowl and stir again on medium speed until well-combined. Add rum and beat for another minute.
Spread batter evenly into prepared tube pan or Bundt pan on top of the peaches, use a spatula to smooth the surface of the batter.
Transfer to preheated oven and bake on the center rack of your oven for 70-80 minutes, or until a wooden skewer inserted in the center of the thickest part of the cake comes out clean.
Allow cake to cool for at least 20 minutes then run a knife around the sides of the tube pan and the center.
Top the cake with Sweet Peaches Candied Pecans and drizzle with cream-cheese icing of your choice.  
Fill the center of the cake with the Sweet Peaches Cobblers Filling.
*Jars of Sweet Peaches Cobblers Topping or Filling and Candied Pecans are available at Price Chopper and Sun Fresh.