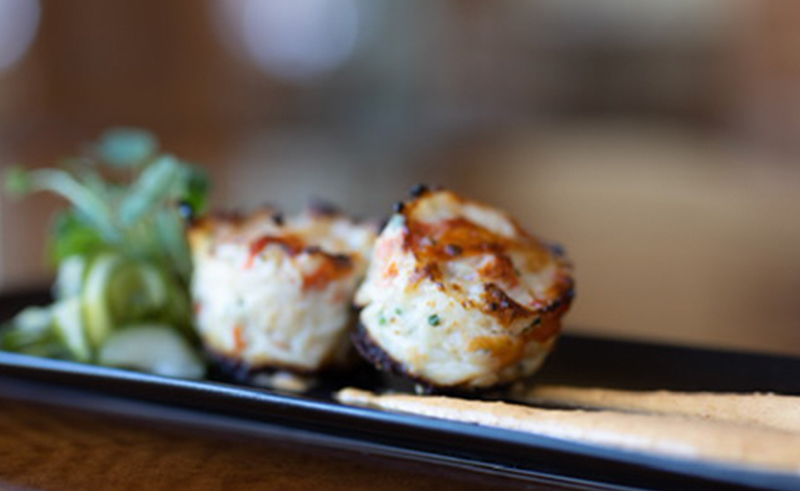 Chef Adam Fruehauf has been creating luxurious dining experiences at Hollywood Casino at the Kansas Speedway's Final Cut Steakhouse since 2016. 
He's curated a delectable, high-end, farm-to-table menu for the restaurant, and now he's sharing a recipe you can use to bring the fine-dining experience to your kitchen table. 
Fruehauf's Alaskan king crab cake recipe bounds Alaskan king crab leg and claw meat with a scallop mousse that's complemented with an aioli of chipotle chili pepper and Scandinavian style "quick pickle" cucumbers—sure to wow just about any dinner guest.
Here's how to make it for your next dinner party.
Final Cut Crab Cakes
Serving Size: About 12 Cakes
Ingredients:
3 pounds king crab meat* 

12 ounces of scallop pieces (thawed)

2 ounces heavy cream

1 egg

2 ounces parsley

Pinch of salt

Pinch of cayenne pepper
Instructions:
Preheat oven to 350 degrees F.
Steam Alaskan king crab legs until completely thawed and plunge into ice water to stop cooking.*
Remove meat from the shell using scissors to cut the shell and expose the meat. 
Place meat in a mixing bowl.
To make the mousse place scallop meat, heavy cream, egg, and seasoning into a food processor and purée mixture until just smooth.
Add the mousse to the crab meat and mix gently with a spoon or spatula.
Add chopped fresh herbs and gently fold the herbs into the mixture.
Form mixture into 2.25-ounce cakes.
Add a small amount of oil to a sauté pan and allow oil to become hot but not smoking hot.
Sear cakes on both sides. Remove from pan and transfer to a baking sheet (use a metal baking sheet for best results). 
Bake cakes in the oven at 350 degrees F for 10 minutes.
Once cooked through, remove from oven and transfer cakes to a tray lined with a paper towel. Rest for two minutes and serve cake drizzled with chipotle aioli (recipe below) and serve with a side of Scandinavian Sweet Pickle Cucumbers (recipe below).
* You can substitute canned lump crab meat or imitation crab, but this may not yield the best result. In that case, you can skip the next step and jump directly to step four.
Chipotle Aioli
Yield: About 3.5 cups
Ingredients:
3 fresh egg yolks

1/3 cup fresh squeezed lemon juice

1 tablespoon fresh minced garlic

1 tablespoon dry mustard powder

2 ounces chipotle purée 

3 cups blended olive oil

Kosher salt

Cold water
Instructions:
Place egg yolks, garlic, lemon juice, mustard powder, and chipotle purée into a food processor and allow ingredients to blend for one minute.
While the food processor is running, begin to slowly drizzle oil into the mix. The product should begin to emulsify quickly. 
Add some water if the mixture is too thick.
Adjust seasoning with salt.
Scandinavian Sweet Pickle Cucumbers
Ingredients:
3 seedless cucumbers

Kosher Salt

1/2 cup sugar

1.5 cups rice vinegar

Chili de Arbol powder
Instructions:
Using a mandoline slicing tool, slice cucumber as thin as possible. Place slices in a bowl and evenly sprinkle salt over the surface. Toss cucumbers and salt and repeat. Allow cucumber to rest for one hour. 
Drain residual water from the cucumbers. Coat cucumbers with sugar and mix thoroughly to coat. Allow to rest for 15 minutes. 
Add rice vinegar and chili de arbol and mix thoroughly.