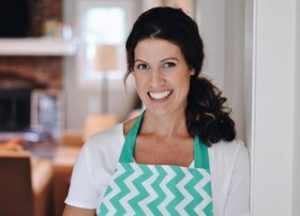 Toffee maker Teresa Spiess would like you to know there's an exact science to her Cedar Street Toffee confections. "I don't go by temperature," says Spiess. Disaster can happen if Spiess cooks her toffee "ten seconds too long or four seconds too fast. It has to be the perfect, silky texture, color and aroma," she says. "We take really great pride in that our toffee doesn't stick to your teeth."
If you're looking to indulge your non-sticky sweet tooth, Cedar Street Toffee might possibly be the most addictive thing you'll find in the metro. Founded in 2016, the toffee company took off this year when Spiess grabbed ahold of the reigns. "It's all grassroots—and people love it," says Spiess. "I'm in the kitchen all week—and I love the connection and the ability to share it with them."
Whether you're interested in semi-sweet or dark, Spiess has your back. She even alluded to some upcoming super-secret new flavors in development as we speak. "I'm working on labels right now," says Spiess.
Perhaps you're thinking toffee is just a fall/winter candy? Well, think again. "This time of year, toffee is perfect on a bowl of vanilla ice cream. It's wonderful at night with a glass of wine. It's perfect with your morning coffee," says Spiess. "And it's wonderful at 3pm—or 3am—if you need that little sumpin'-sumpin'."
Prices range from $11.95 for a quarter pound to $27.95 for a full pound. Her most popular seller is the half pound at $18.95. And she will confirm, it's wholly addictive. "A man called me on a Friday and said, 'I need some toffee'. And I said I can get that to you on Monday," says Spiess.  "His wife bought it at a party and brought it home and he ate the whole bag. He said, 'I. NEED. IT. NOW.' and he was so persistent in getting my toffee that I left it on the front porch for him to pick up. He wrote a thank-you note and says he's a former toffee-hater turned toffee-lover. People are funny. I love it."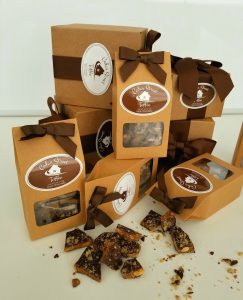 As a public service announcement, please don't demand toffee from Spiess. Order online or find it at various locations around the metro. She'd appreciate it.