While bonbons are typically everyone's go-to for Valentine's Day, we tried to think outside the box (of chocolates) this year. Here are some suggestions for your sweetie that don't involve your typical, garden-variety chocolate fare.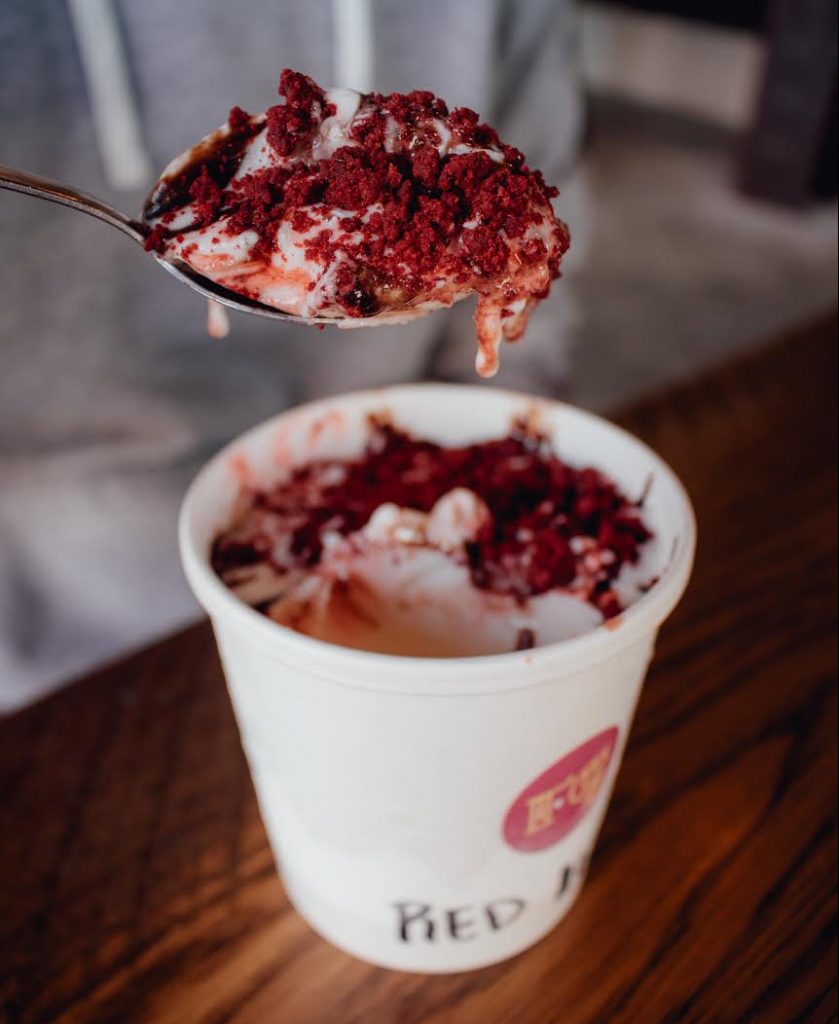 Crème de la Crème
Frozen Gold in Westport recently launched a new ice cream pint flavor called Red Headed Stranger—featuring cream cheese soft serve layered with red velvet crumbs, cream cheese icing and brown-sugar fudge ($8.95). It's the perfect sweet treat for Valentine's Day. Order online through Denver Biscuit Company or Fat Sully's and pick up at their walk-up window. (Bonus: when you order a 20-inch pizza at Fat Sully's, get a $5 ice cream pint from Frozen Gold to go.)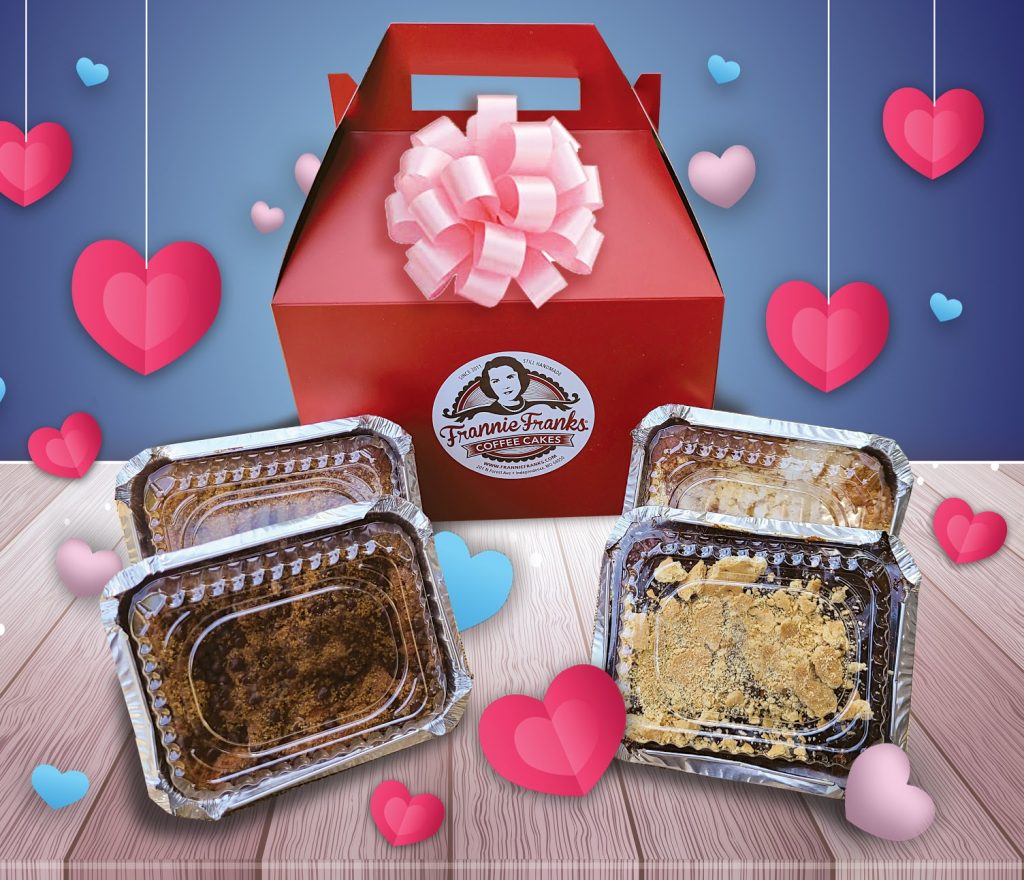 Coffee Cake—Delivered!
All of your coffee-cake dreams have been answered with Frannie Frank's Valentine's Sampler! Try four flavors in one gift pack, including regular and gluten-free versions. Includes: (4) 4″x3″ individual coffee cakes packed together in a gift box. With over a dozen decadent flavors from which to choose, they're available for pickup and local delivery. (Get the cinnamon streusel or chocolate chip—you won't regret it.) Dairy-free options are available at no extra charge, please request. Use promo code BEMINE for 20% off.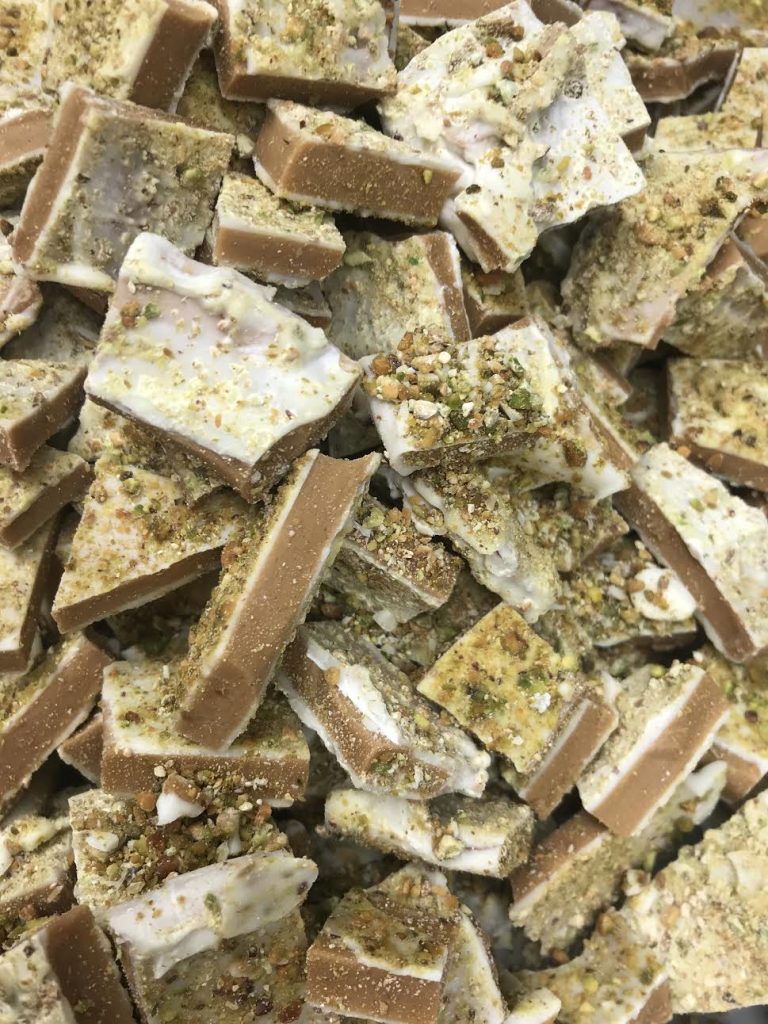 Toffee-tastic!
Cedar Street Toffee has unveiled a classic white pistachio toffee that's perfect for Valentine's Day—and, yes, it's cocoa-free. With just the perfect amount of crunch-to-sweetness ratio, it will more than tempt your tastebuds. "I truly love all our customers," says owner Teresa Spiess. "A sweet lady came in just this morning and asked for a sample so that she could share with her husband to decide which flavor they might like to purchase."  This month Cedar Street Toffee is featuring a Buy One, Get One 25% Off now through Saturday.

Sweet Dreams (Are Made of Cheese)
Between Grazing KC and More Cheese Please KC, we're not sure who has the most decadent charcuterie boards. If you're looking for a customized—and wildly ornate—mix of meats, cheeses, fruit, and assorted accoutrements (jams! olives! pickles!), look no further than either of these local chefs. They'll be sure to whip up something that's almost too pretty to eat—almost. And, yes, we're sure they'll throw in some chocolate if you ask nicely.

Recipe Refresh
Trying to tackle the world's most complicated recipe? Having trouble perfecting an old-school recipe passed down through countless generations? Don't sweat it! The squad at MyChef KC is here to help. "We love to be creative with our cooking, but any time we can help bring some tasty nostalgia to our clients' lives is a huge plus," says owner/chef Adam Glass. (We can think of a particularly delicious, but labor-intensive beef bourguignon we've always wanted help with.) The private chefs at MyChef KC will come to your house and show you step by step how to duplicate said recipe—or they'll tackle it themselves. No fuss, no muss.

Bread Is Life …
… is the motto at Best Regards Bakery. It's no wonder they're offering up their heart-shaped focaccia bread this Friday and Saturday. ($7.99) "It's classic ciabatta, glazed with Tuscan herb olive oil," says owner Robert Duensing. "We bake it with fresh spinach, sun-dried tomatoes and finely grated, extra-sharp cheddar cheese from Tillamook." This densely delicious pull-apart loaf goes perfectly with a hearty soup—or just slather it with butter and wolf it down. Remember, the couple that carb-loads together, stays together.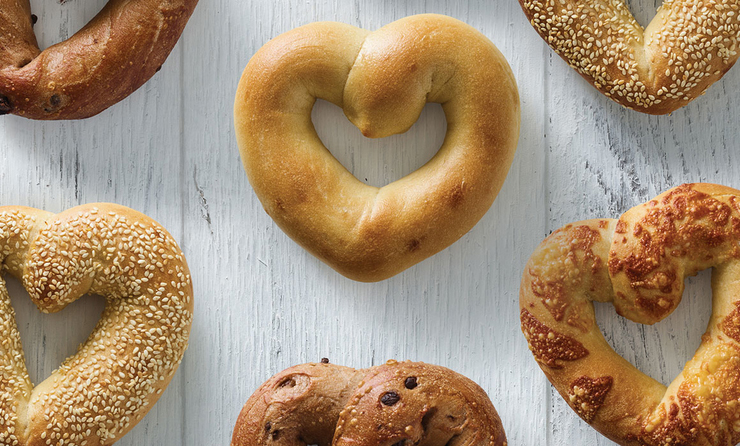 Bagels Are Also Life
Flowers will fade and candy will melt. But a heart bagel from Einstein Bro. Bagels will keep you full and content for at least 12 to 14 hours. The Prairie Village location is offering up a baker's dozen Valentine's bagels with two schmears for a mere $15.79. Pre-order by Saturday or you'll have to finagle your bagel from somewhere else.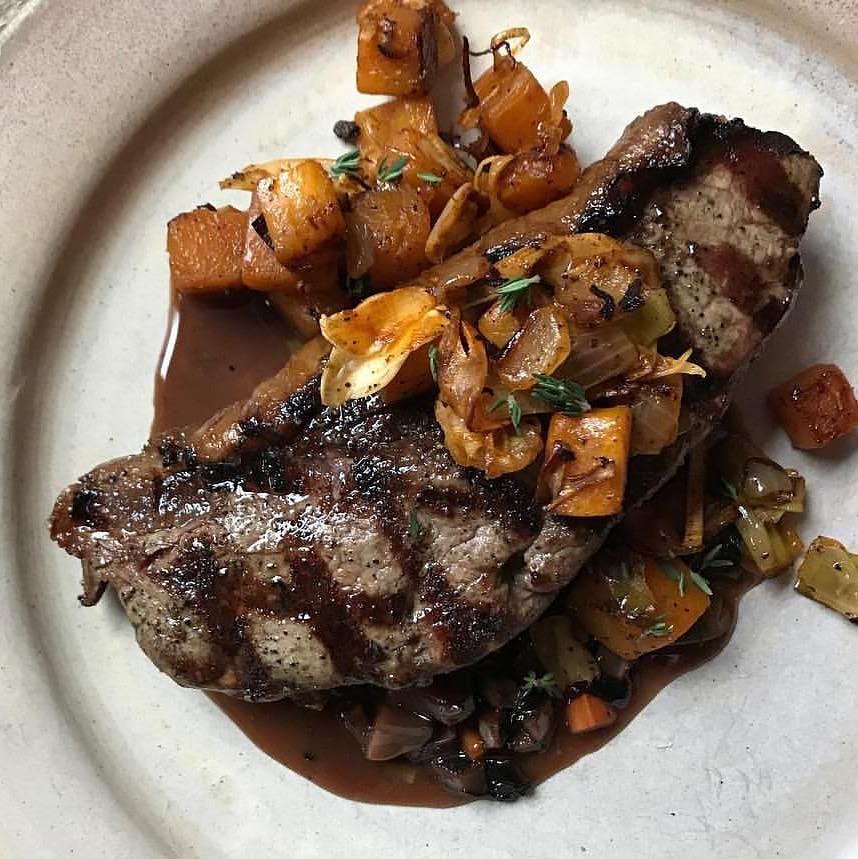 Where's the Beef?
Ever wondered about the local farmers and ranchers who supply some of Kansas City's top chefs? Kenny Barham of Barham Family Farm, located right outside Kearney, works with countless chef-driven restaurants like Fox and Pearl and Café Sebastienne just to name a few. He's serving up his Barham KC Strip Bundle + Seasoning which includes 2 KC Strips (12-14 ounces each) plus his Barham Special Blend Seasoning. Available for pick up at the store only through Saturday, February 13, or while supplies last. (Hint: Call ahead to ensure the bundle hasn't sold out. We're called CowTown for a reason. And while you're there shop around Barham's well-stocked shelves and coolers for more KC artisan-made delights.)