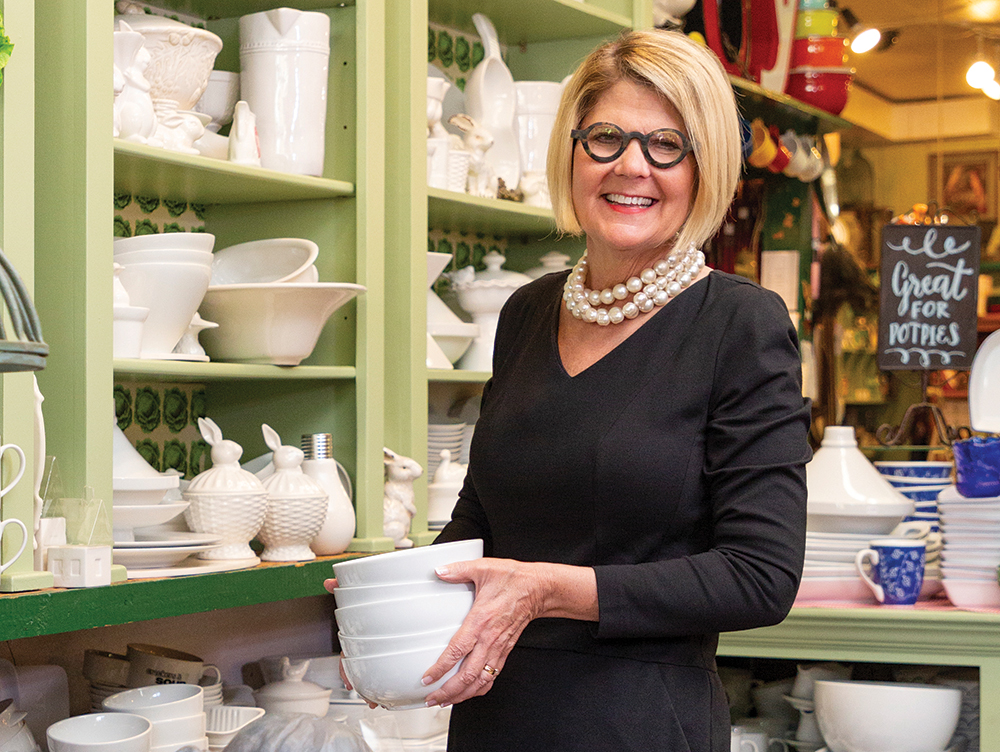 The year 2020 will be remembered for many sorrowful reasons. But it has also been the year that brought us all back into our kitchens, no matter how grand or humble. My own kitchen fits more into the latter descriptor. While it is not large, it is cozy and handily equipped for cooking and entertaining. In fact, when I cook with friends and family in their sometimes bigger and fancier kitchens, I miss my stuff, the simple things I have in my drawers and cabinets that make cooking and entertaining easier.
Here, then, is my highly personal list of low-tech kitchen utensils, small-scale equipment and dinnerware that I find most useful when I cook and serve food.
Don't Skimp on the Sharps
"Buying cheap knives," said James Beard, "is the worst sort of economy." He was so right. Even if you cook only periodically, high-quality knives are a solid investment. If you have good cutlery, you might even find yourself cooking more often, because prepping food with a hefty, razor-sharp knife is pure joy.
My Cutco eight-inch "Petite Chef's" knife is not at all cool-looking, but it is the knife I would keep if I could keep only one. It costs about a hundred and fifty bucks and lasts a lifetime. Don't bother with knife sets if you're on a tight budget; 95 percent of chopping, slicing and dicing can be done with this one implement. Just be sure you keep it sharp. I take my knives for professional sharpening once a year to Ambrosi Brothers on Main Street, and use a whetstone for touch-ups in between.
I'm also fond of my Microplane grater, which can turn Parmesan cheese, nutmeg, chocolate, and citrus peels into piles of fine shavings with little effort on my part. It was fifteen bucks at Pryde's Kitchen and Necessities and is worth its weight in saffron threads.
The Value of the Really, Really Big Bowl
A couple of times a year, I team up with other friends who cook and we donate a dinner for eight or ten to be auctioned at a fundraiser; we usually prepare the meal in the purchaser's home. There is one thing I always make sure I have with me when I cook for these dinners: a wide, shallow, stainless-steel prep bowl, 16 inches in diameter. Otherwise well-equipped kitchens often lack this simple tool, and it makes me crazy not to have it, because I don't like blending, mixing or tossing foods together in an undersized bowl; it takes longer to do the job since your arm movements are restricted, and it's messy because things plop over the edge of the bowl. So my big metal bowl gets loaded in the trunk, just in case.
Baker's half-sheet pans (13-inch by 18-inch, with a one-inch rim) are equally useful, and, given their versatility, also surprisingly scarce in private kitchens. In addition to being great for making cookies, half-sheets are ideal for roasting vegetables (you can toss them in olive oil and sea salt right there in the pan and pop them in the oven at 400 degrees); baking potatoes, rolls and biscuits; and heating breads. When I have a dinner party, I usually plow through several half sheets.
Likewise, I wouldn't trade my Cuisinart food processor and my KitchenAid stand mixer. They are the John Deere tractors of the kitchen.
Serving Dishes, Distanced and Otherwise
If you like to entertain and you have the storage space, it's great to have an assortment of interesting serving trays, platters and bowls in a variety of shapes and sizes.
My friend Darcy Howe, an accomplished and creative hostess, has devised a way to serve cocktail food at small, socially distanced gatherings. She uses pretty ceramic ramekins to portion out cheese, spreads, crackers, nuts and veggies so everyone, or every couple, gets their own personal appetizer assortment. You sit six feet away from each other, sip your drinks, feast on your treats, and it feels like a normal cocktail gathering.
The Elegant White Plate
It is my heartfelt hope that, by the time you read this, the pandemic has lifted and we feel comfortable having a few people over to dinner again, to eat indoors, from real plates and not takeout boxes. Whenever that happy day comes, know that to feed guests simply and stylishly, all you really need in the way of dinnerware is a set of classic, unadorned white porcelain 10-inch dinner plates. If you have a quantity two or three times the number you are feeding, you can use them for a salad course and a dessert course, in addition to the main course.
To my eye, food looks most appetizing against white plates, which blend well with almost any table décor. Choose the best-quality porcelain you can afford; cheap dishes crack and chip easily.
Let's Be Clear
Unless you are a true wine enthusiast, you can get by with two sets of wine glasses: a tall round balloon glass for red wine (mine often double as a water goblet) and one with a narrower profile for white wine. Make sure you have plenty of wine glasses for a party. People appreciate getting a fresh glass at some point, especially when being served dinner. I'm not crazy about the stemless wine glasses, although I certainly understand their practical appeal. Stems just seem more genteel. Never serve wine in plastic cups, darling, if you can possibly avoid it. And wine glasses should always be clear. Colored glass is fine, however, for water goblets.
I also highly recommend having a supply of Champagne flutes on hand, (and a bottle of Champagne in the fridge) because you never know when you are going to have something to celebrate.
Flowers and Candles: More is More
A final note from the Ambience Committee: have an assortment of small, simple vases for the flowers at your dinner table, which always should be low enough so your guests can see each other across the table. Don't forget to keep your favorite candles in good supply. If you're feeling lazy, an assemblage of unscented pillars at different heights can make a lovely non-floral centerpiece.
---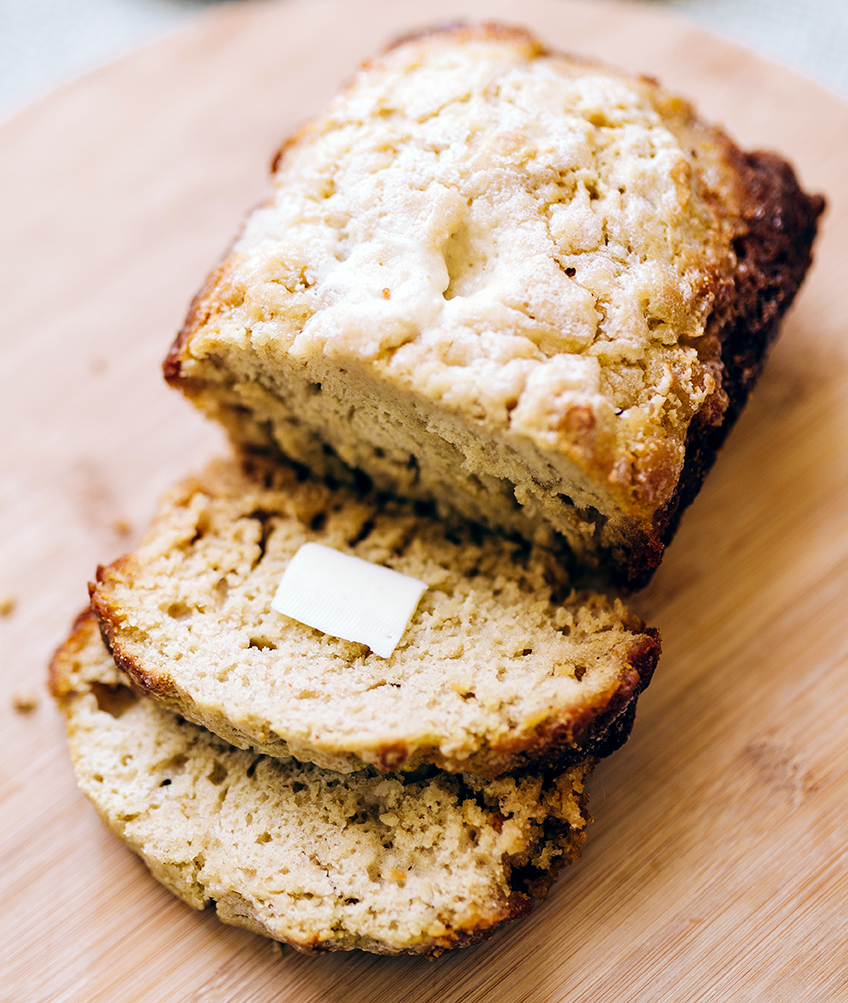 Fresh Bread Made with Three Ingredients
Fresh, homemade bread pulled straight from the oven makes everyone happy. Here's a recipe you can put together fast, with no kneading or yeast-proofing or gnashing of teeth. You'll get best results if you use a high-quality ceramic loaf pan, such as Emile Henry or Le Crueset. This bread tastes delicious with honey butter, and it also makes great toast.
Beer Bread
3 scant cups self-rising flour
3 tablespoons sugar
12 ounces beer, room temperature (I use Boulevard Amber Ale)
Preheat oven to 375 degrees. Combine all ingredients and stir to mix. Place in greased 9-inch by 5-inch loaf pan. Bake about 50 to 60 minutes or until nicely brown.
---
Email me with your entertaining questions, dilemmas, or triumphs at mjackson@inkansascity.com