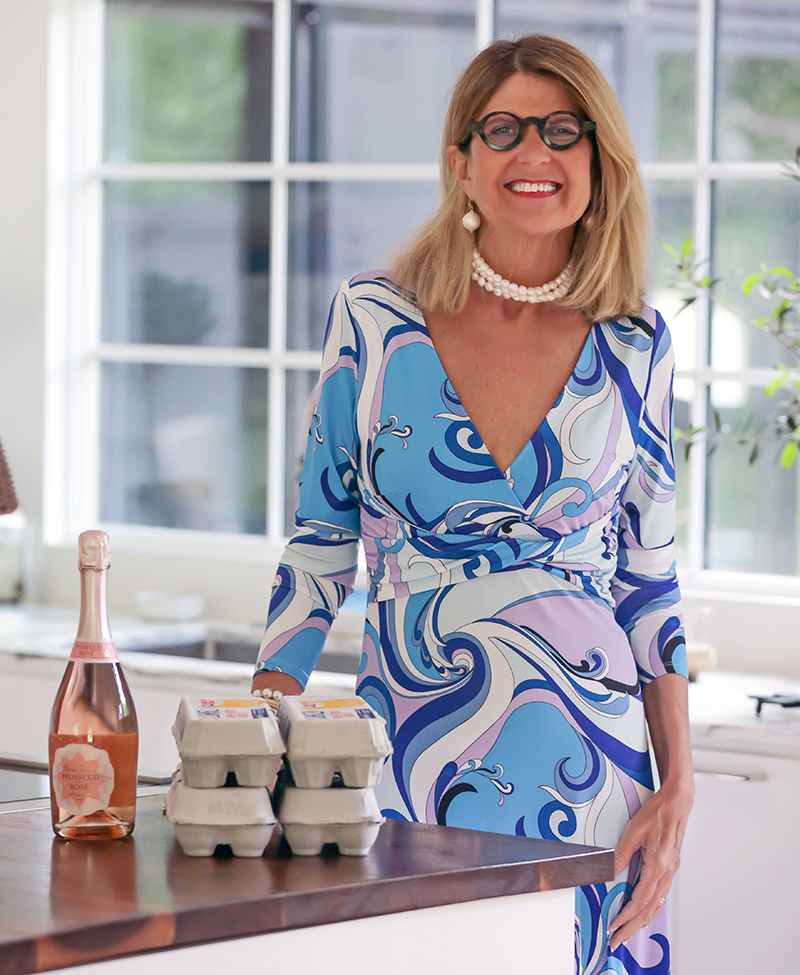 In a memorable moment in cinema, dishy Mark Darcy (Colin Firth) rescues Bridget Jones (Renée Zellweger) from disaster by whipping up an omelet to replace her pretentious, failed dinner party menu. "Don't worry," says Mr. Darcy, pouring her a glass of wine. "I'm sure they've come to see you and not orange parfait in sugar cages."
Those of us who cook and host remember this scene because it reminds us that many dinner party catastrophes can be rectified by having plenty of eggs, wine, and composure on hand. Often, calamities are prevented by keeping it simple. When Aesop said a crust eaten in peace is better than a banquet partaken in anxiety, he was probably thinking of the home dinner party, one of the great rites of civilization, and one with the most potential for mishap. 
By the way, speaking of Colin Firth—this has nothing whatsoever to do with party-giving—have you seen The Staircase on HBO Max? If you're a true-crime junkie like me, you will love it. Colin is not in the least bit dishy in this one, but it's full of twists and turns, just like the two true party disaster stories that follow. 
Snatching Victory from the Jaws of Defeat
My friend Lon Lane, probably the most illustrious name in Kansas City catering, has a doozy of a tale about triumph over adversity. He was catering an extraordinary dinner to honor a recently departed, much beloved man and his affection for great wines. Lon's menu was divine, the wines transcendent. The venue was a grand, historic house whose kitchen looked good during the initial walk-through. But when Lon and his crew got to cookin', they realized one of its two ovens was not working at all, the other functioned only on "broil."  The main course was grilled veal chops and vegetables, no oven needed there. But he had promised a fabulous, tableside presentation of Grand Marnier soufflés, one for each of the three tables for ten.
Thinking fast, Lon raced back to his office to fetch portable convection ovens in which to bake two of the soufflés. "Given the situation, I really needed three portable ovens, but I owned only two at the time," Lon says. The solution for Soufflé No. 3? Bake it in the semi-functioning oven, using a cookie sheet to diffuse the heat, keeping the temperature constant by switching the broil setting off and on. But then the coffeemaker blew a main fuse, plunging the entire kitchen and connecting hallways into darkness.
Adapt, Improvise, Overcome
In the front of the house, hors d'oeuvres were being passed; the party was progressing splendidly. Lon aimed to keep it that way. "A good caterer does everything necessary not to disturb the hosts with 'little problems' like this," he says. He searched methodically for the fuse box and, miraculously, found it hidden behind a massive, floor-to-ceiling picture mounted in the hallway between the library and the kitchen. The piece was hanging by a wire, too heavy to remove from the wall. Lon had one of his staff lift it from the bottom and pull it out far enough from the wall for Lon to crawl behind it, open the box, and, using a Bic lighter for illumination, find the blown fuse and a fortuitous spare. He replaced the fuse, power was restored to the kitchen, the soufflés baked to great result (the broiler tactic worked, for future reference), and were presented simultaneously, on silver platters, to dazzled guests. No one, other than Lon's staff, ever knew what it took to produce them.
"It's all about flexibility and creative problem-solving," he says. "Do whatever you have to do to make it work. And never let them see you sweat."
That Smoky Flavor
My friend Brian Justice, a writer and artist formerly of Kansas City and now of Chicago, is an experienced host and ever-amusing raconteur. What he calls "an unexpected bout of middle-aged poverty" forced him to take a several-year hiatus from entertaining. When the bout ended, he hosted a sit-down dinner for ten, featuring his famous seafood risotto, which he'd made dozens of times.  
"I was overwhelmed," says Brian. "I'd forgotten how much work goes into feeding and entertaining ten people. I'd forgotten how long it takes to cook risotto properly and burned it trying to hurry it up as things deteriorated in my dining room. 
"Because my timing was off, I drank too much too fast," he says. "I couldn't babysit my guests who were also drinking too much too fast, and a political argument—unforgivable at a dinner party—broke out at the table because I was in the kitchen trying to doctor the risotto. If I had been on my game, none of it would have happened. I was out of practice."
But the party turned out to be wonderful. "I just said what the hell and served the burnt risotto, and one of my guests actually complemented its 'smoky flavor.' I also put an end to the political talking by issuing an edict to stop it immediately—you can do that as the host—and then asked each guest to name the movie they'd seen most recently, and tell how they liked it. The evening proved that people really just want to be together and chat and be social; the food doesn't really matter that much, in the end."
Except if it's a Grand Marnier Soufflé. I've included Lon's recipe below.  
---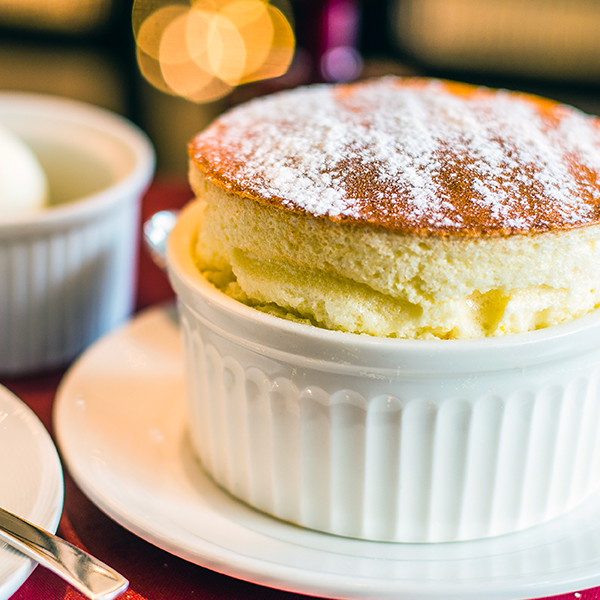 Lon Lane's Grand Marnier Soufflé
Preheat a working oven to 400 degrees.
Beat in a double boiler over boiling water:
6

lightly beaten egg yolks

2/3

cup sugar
Continue to beat until the mixture forms a broad ribbon as it runs from a lifted spoon. Add:
1/2 cup Grand Marnier liqueur
To arrest the cooking, transfer the mixture to a bowl and beat it over ice until cooled. In a separate bowl, beat until foamy:
Add:
¼ teaspoon cream of tartar
Continue to beat until stiff, but not dry. Fold the egg yolk mixture into the whites. Mound the mixture in an 8-inch soufflé dish. Bake 12 to 15 minutes, until firm, and serve at once with Grand Marnier zabaglione sauce.
Grand Marnier Zabaglione Sauce
8

egg yolks

2/3

cup sugar

2/3

cup white wine

1/3

cup Grand Marnier liqueur
Have all ingredients at room temperature.
Combine egg yolks and sugar in the top of a double boiler. Beat with a wire whisk until thick.
Place a pan over hot, but not boiling, water and gradually mix in white wine and Grand Marnier, beating constantly. Continue beating and cook until smooth, thick, and frothy, The zabaglione is done when it reaches the consistency of heavy cream. Serves 10.