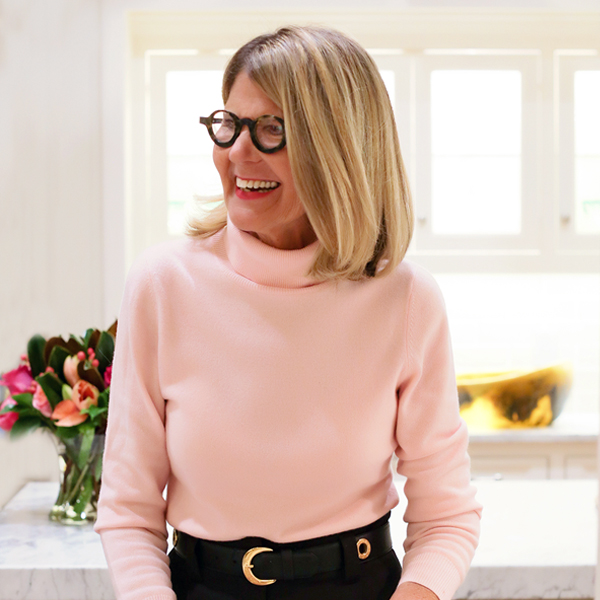 I had bilateral (for us non-medical people, that means both at the same time) knee replacement surgery in mid-January. Honey, let me tell you, I've never been laid so low. I'm not saying this to spoil anyone's intention to undergo elective surgery; I have no regrets and it's wonderful to have brand-new, pain-free knees. But in my case, the surgery triggered other problems, making my recovery difficult.
I was beset by stomach pain and—something I wouldn't wish on anyone—a complete and total loss of appetite, for weeks and weeks on end. I didn't feel like eating anything; even foods I normally love grossed me out. Fatigue quickly set in because I was eating so poorly. I subsisted on saltine crackers and protein drinks. For someone who has all her life adored food, and the preparation and serving thereof, it was a sad, disconcerting place to be.
I felt very far away from that person who writes a cheery monthly column advising people about food and entertaining. And although my appetite and energy are slowly returning—how lucky we are in KC to have such quality medical care—I am having a hard time summoning that girl as I write this month. Many of you can relate, I feel certain of that. We all go through times when we feel we must remember who we are and conjure that person up out of very thin air.
So, this month, for you and for me, to get us in the mood for springtime hosting and partying, I'm offering up some new low-energy insights on my most frequent advice themes—dedicated to all of you who are "goin' through somethin'."
Ordering Takeout is Better Than Ever
You can totally have a terrific party, even if you don't feel like cooking. There are so very many options. During the pandemic, our favorite restaurants all sharpened their skills at packing their specific menu items for takeout, at the same time meal delivery services such as DoorDash and Uber Eats were coming into their own.
A couple of weeks after my surgery, a thoughtful friend ordered dinner for my husband and me from Kona Grill, delivered by Uber Eats. It arrived hot and delicious. Well, for Bobo anyway; I watched him gobble down miso soup and pad Thai noodles while I sipped on a Fairlife vanilla protein drink. I see no reason why you couldn't serve the same or similar cuisine for a dinner party at your house, minus the protein drink.
Before my surgery, I wasn't cooking at all; my knees wouldn't allow it. But I had several rowdy little dinner parties wherein I set my table and served fried chicken and all the trimmings from Rye on the Plaza. They have, hands down, the best chicken in town, and they pack everything in such a way that it's easy for you to quickly transfer everything to serving dishes to be served buffet or family style while your guests enjoy cocktail hour.
One caveat about Rye: they offer only curbside pick-up, so if you don't live reasonably close to one of their locations, it's probably not a good option. But Stroud's delivers, and they have excellent fried chicken—and those yummy cinnamon rolls.   
And Speaking of Conjuring Things Up…
The right ambience puts your guests—and most importantly, you—in a happy frame of mind. It's easy to achieve. Good smells, fresh flowers, romantic lighting, and great music—all combine to create a sense of hospitality that guests will remember much longer than whatever food you serve. Light a divinely scented candle or two, so your place smells welcoming the minute guests walk in. (My new favorite is the clean, fresh scent of Sempre Beve Limoncello candles, available at Terrasi Living on the Plaza.) I tell Alexa to play the Charlie Parker station or the Billie Holiday station, timeless music that never fails to evoke a chill, unquestionably hip vibe. Then it's off with the overhead lights and on with the lamps, fitted with 15-watt bulbs. I love how my house looks in the dreamy, lower lighting—and how great my guests look in it, not to mention me, myself, and I.
Fresh Flowers Can be Super Easy
Flowers add life and cheer to any room. I used to do my own arrangements using blooms from big box stores or the grocery store. Sometimes, however, one needs to protect one's time and energy. Many florist shops have grab-and-go flower arrangements, in varying sizes, reasonably priced. Trapp and Company and The Little Flower Shop are my go-tos for beautiful, quick, small-but-mighty centerpieces. These also make swell hostess gifts.
Let's Talk About Cocktail Hour
While I was recovering from surgery, the last thing I felt like doing was drinking alcohol. But Bobo would frequently at dinnertime have a whiskey or a glass or two of wine. I found it cheering that someone in our house could enjoy a civilized bevvie. Before my surgery, I had discovered Skrewball Peanut Butter Whiskey. I know it sounds weird, but it's delicious over ice: a little salty, a little sweet, and velvety smooth. I'd gotten in the habit of offering it to guests, sort of as a novelty. It's nice to have an unusual drink to offer people in addition to the standard wine, beer, and liquors, and especially nice when it's something that doesn't require mixing ingredients together. Most of us like to try a new drink. I would never have tried Skrewball if a party host hadn't offered it to me. And now my across-the-street neighbor says Skrewball is all she drinks, because I offered it to her. Bobo has even put it in his whiskey rotation.
A Final Thought for the Low-Energy Host
Be vulnerable. Accept help. Use online grocery delivery services. Let friends bring starters, dessert, ice, cocktail napkins, whatever you need. Let 'em load the dishwasher if they want to. You know you would do the same for them. People are just happy to be invited to your house, and they're not expecting perfection. You will have a fabulous gathering, and it will energize you and your guests.
---
Need Something Easy to Serve with Drinks?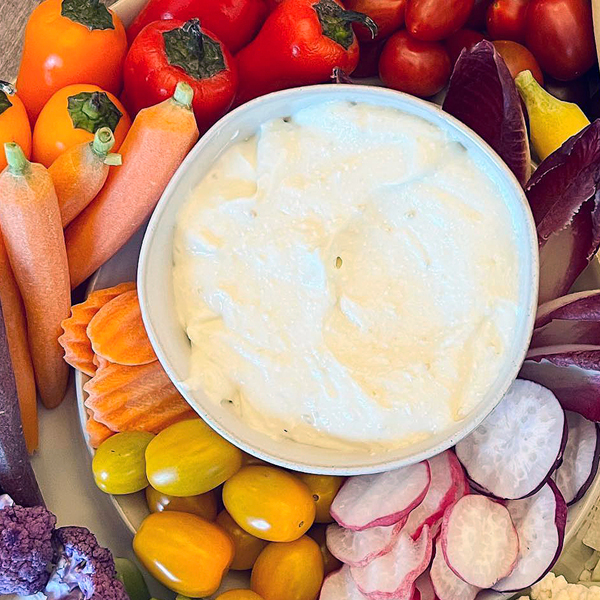 I don't usually serve store-bought dips because they have an underlying taste of preservatives. I found one, made right here in the metro, that tastes so fresh, your guests will think you whipped it up yourself: Mad Greek Spicy Feta dip.
I like to serve it with pita chips, but it also would be delicious with crudité or on a charcuterie tray. Go to @madgreekfoods for a list of grocery stores where you can find it in the refrigerator case.