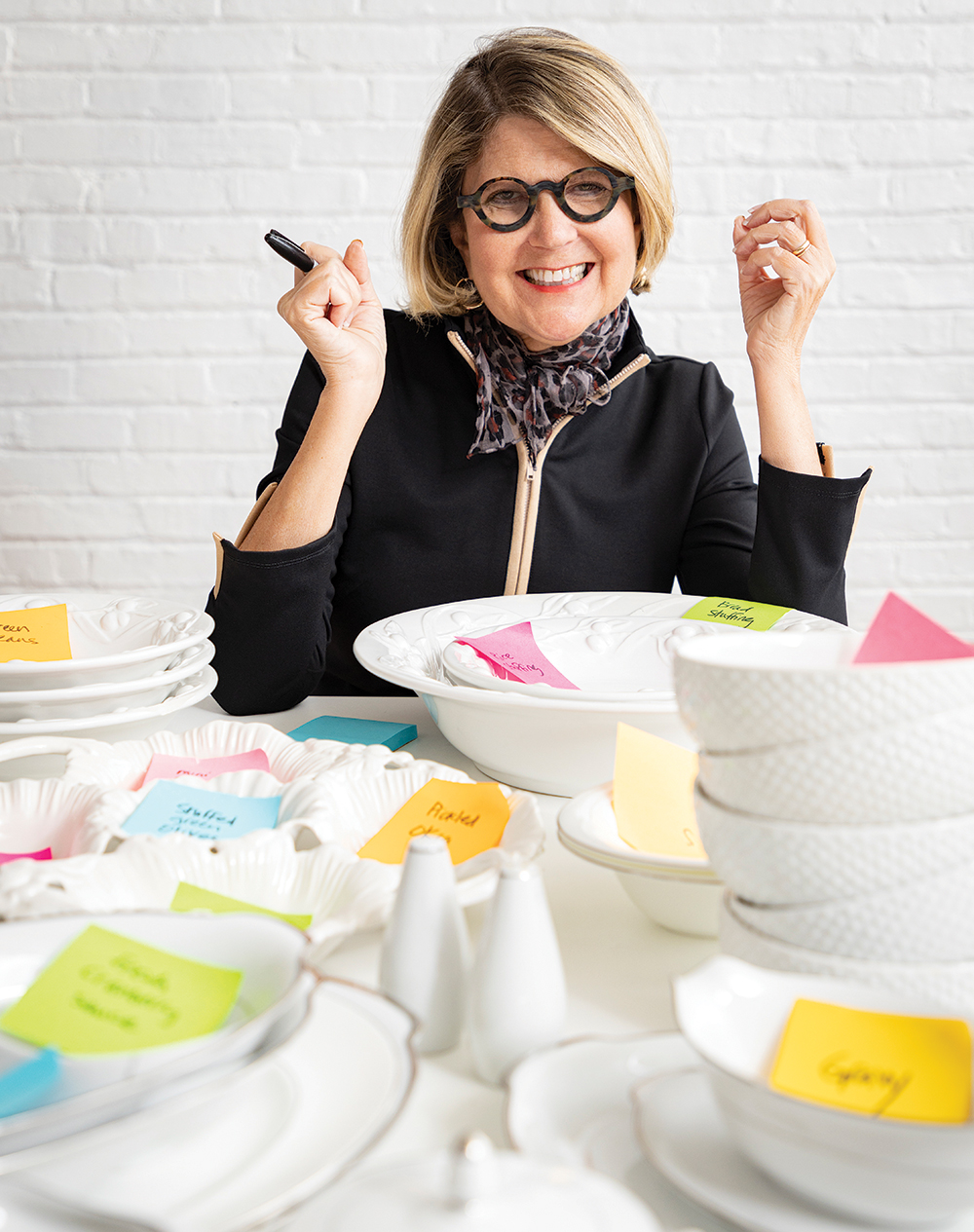 I have four brothers and two sisters, which means growing up there were seven of us urchins at the dinner table. We had plenty of relatives there in St. Louis, but nobody ever wanted a family of nine descending on them for Thanksgiving dinner. Year after year, the task of hosting Thanksgiving fell to my mother, who—although an avid hostess—would have been thrilled to see someone, anyone, just once step up and say I got this, Rosemary. Because, if you've ever hosted Thanksgiving dinner, you know it to be An Undertaking. Even the simplest company dinner demands planning and effort. Add multiple generations, gravy boats, and a very large bird to roast and the pressure is on. Herewith, my advice to Thanksgiving hosts, enthusiastic and otherwise, for staying sane and organized.
You're Only as Good as Your Lists
Put care and thought into the lists you make. Start by listing your menu. Include every crumb and drop you plan to serve: booze, appetizers, salads, sides (including those brought by others), breads, accompaniments, dessert, and after-dinner drinkies.
The menu will dictate your master grocery list, with possible sub-lists for the wholesale club, liquor store, and specialty shops. The menu also will drive your to-do list. Write down every silly little thing you need to do, the minute you think of it and in no particular order, and cross it off smugly as you accomplish it. Sometimes I write something down after I do it and then check it off, just for the thrill of it.
Your final list should be a timetable for serving dinner. Start with what time you want to put dinner on the table and work backwards. When should the turkey go in the oven, if you want to serve it at 5:30? (Probably about 1 p.m. if it's average-sized and stuffed. butterball.com has an excellent chart.) Think the order through carefully and write it down clearly.
Be Clear With Your Helpers
If you're hosting a large gathering, plan to prepare one appetizer, the turkey, gravy, mashed potatoes, and stuffing, and then assign dishes to your guests. Ask rather firmly that they do all their cooking in their kitchen, not yours. When feasible, encourage them to bring their offerings in crock-pots, which you can plug in immediately to keep them warm, preserving precious oven space.
If you have lots of guests bringing side dishes, I recommend telling each to prepare a serving amount equal to half the number of guests. Thanksgiving is such a smorgasbord that (other than the turkey and mashed potatoes) most guests take a "tasting" serving. If you want lots of leftovers, go for the serving-per-guest formula.
Ask a couple of people to help you get dinner on the table, and keep everyone else out of the kitchen. For a big crowd, assign greeters, coat-takers, bartenders, and appetizer-passers.
Stock Up On Sticky Notes
Decide whether you're going to serve the meal buffet or family style. Think through where you'll set up the bar and where you'll put the coats. Well in advance of the day, pull out your serving platters, bowls, and implements. Decide what foods will go where and tag them with sticky notes. (To make passing easier, place gravy, cranberry sauce, butter, and other condiments in several smaller containers all around the table).
Also pull out your china, linens, glasses, and flatware. Lay everything out so you can determine whether you'll need to buy or borrow more of anything.
On the big day, put sticky notes on each cooking appliance with its respective cooking schedule. For example, for the oven: "stuffing 3:00 – 5:00; green beans, 4:00 – 5:00; rolls, 4:40 – 5:00.
A Word About the Bird
Well before Thanksgiving Day, inventory your kitchen and make sure you have: a roasting pan with rack big enough to hold your turkey, a bulb baster, a big spoon for defatting pan juices or a fat separator, a sharpened carving knife, a carving fork, and an instant-read thermometer.
When buying a turkey, plan on about one pound per person for an 8- to 12-pound bird, or 3/4 pound per person for a larger bird. Purchase a larger turkey if you want leftovers for the weekend. If you are cooking a frozen turkey, start thawing it in the refrigerator on Sunday.
For really juicy turkey, take it from the oven when it's done, then create a tent of tin foil over the bird and let it sit for about half an hour. This allows the juices to redistribute themselves throughout the turkey.
To garnish the turkey platter, have on hand fresh sage, thyme, and rosemary and some colorful fall fruits, such as crabapples, cranberries and pears.
If the carved turkey meat on the platter looks dry, it can be moistened with a light sprinkle of hot turkey broth.
I've never had a good experience with a "heritage" or "organic" or "pasture-raised" turkey. Unvaryingly, they've been dry, gamey-tasting, horrendously overpriced. My advice is save your money and go Butterball. But you be you, honey.
Let Nothing Harsh Your Hostess Mellow
Dishes will break, the pie will burn, serving pieces will go missing. Choose not to let it harsh your mellow, as the kids say. Do not seek perfection. Embrace the chaos and dysfunctionality. Strive for simplicity, not perfection and keep your sense of humor. Practice your breezy, indulgent "oh that's all right!" face and expect to use it often.
Easy On the Sauce
Once her children became responsible mortgage holders, my mother was unshackled from hosting Thanksgiving. The first year of her liberation, my St. Louis sister stepped up to host, with my assistance. We busted out the pinot grigio early in our preparations, and by the time the guests arrived were just this side of roaring drunk. We laugh about it now, but we were lucky we didn't poison anybody. By the time everyone left, we were exhausted. Day-drinking makes for a very, very long night. Even if you have one of those aprons that says "I cook with wine; sometimes I even add it to the food," I advise you to stay away from the hooch until your first guest arrives. Well, maybe the tiniest dressing drink wouldn't hurt.
---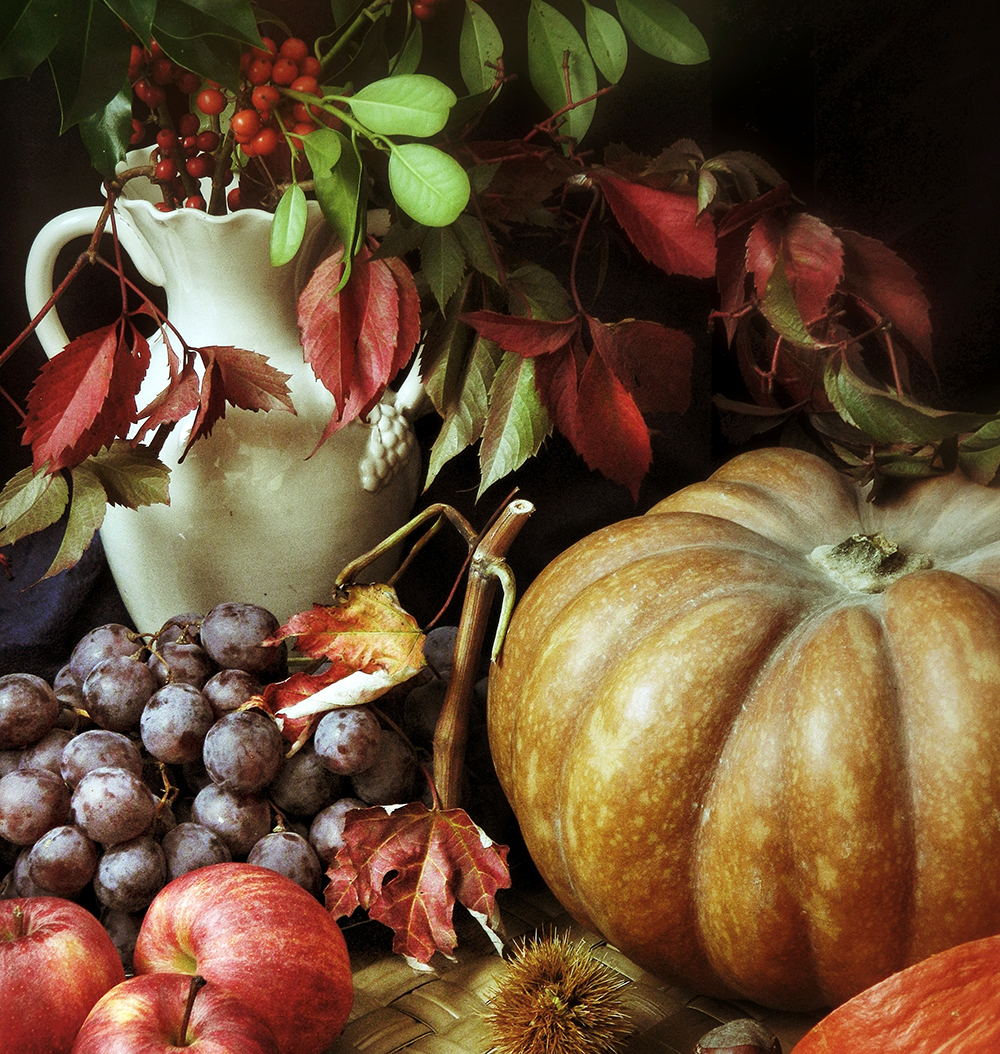 Three Ideas for Thanksgiving Centerpieces
My friend Chuck Matney of The Little Flower Shop is famous for his gorgeous floral arrangements—and impeccable taste in just about everything. He offers these ideas for your Thanksgiving table:
• A lush arrangement of fall flowers and foliage, such as bittersweet branches, pepper berry, mums, orange roses, bigleaf hydrangeas, miniature pears, artichokes and pomegranates. A soup tureen would make a pretty vase, as would a hollowed-out heirloom pumpkin, or a clear glass container filled with acorns.
• A garland down the center of the table featuring pumpkins, gourds, hedge-apples, fruits, berries, and colorful fall leaves.
• A long configuration of olive branches, grapevine, miniature pumpkins, kumquats, acorns, champagne grapes, and lady apples.
Chuck points to Whole Foods as a source for beautiful components, and to the produce department at the Price Chopper located at 4950 Roe Blvd.
"Add a touch of gilt to create a more formal feel to any arrangement," he says. "It's nice to play with texture, adding amaranthus or feathers." Always keep your centerpieces low, so guests can converse across the table.
---
Email me with your entertaining questions, dilemmas, or triumphs at mjackson@inkansascity.com