There's no shortage of top-notch restaurants, bakeries, and eateries in Kansas City that leave tummies full and cravings satisfied. So, it should be no surprise that not one, but two local establishments are semifinalists for a James Beard Award—basically the Academy Awards of the food industry.
So, which two local eateries should you move up your must-try list?
Story Restaurant

: Carl Thorne-Thomsen, chef and owner of the Prairie Village restaurant is up for the Best Chef: Midwest category.

Yoli Tortilleria

: Marissa and Mark Gencarelli, the owners of Yoli Tortilleria, are up the Outstanding Baker category for their freshly made tortillas.
IN Kansas City asked the three chefs for the best way to sample their dishes and products. Here's what they suggested.
Carl Thorne-Thomsen, Story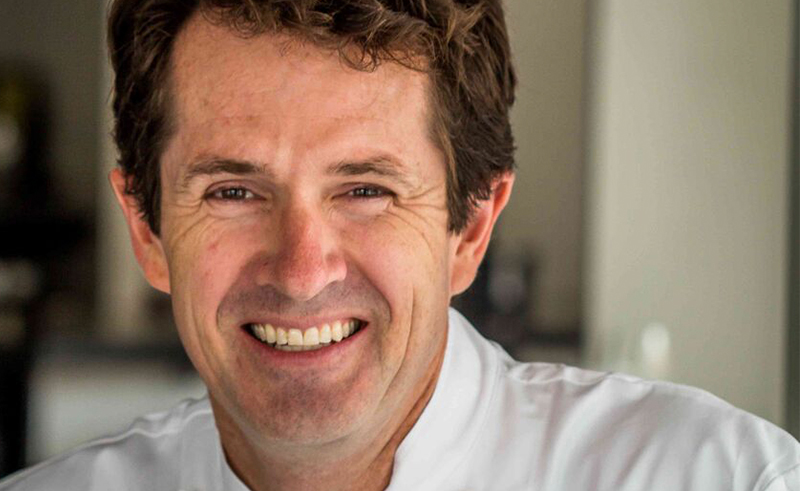 Story offers an incredible menu of New American dishes. It can be hard to choose which dish to order, so Thorne-Thomsen shared three of his favorites on the menu.
Braised Beef Short Ribs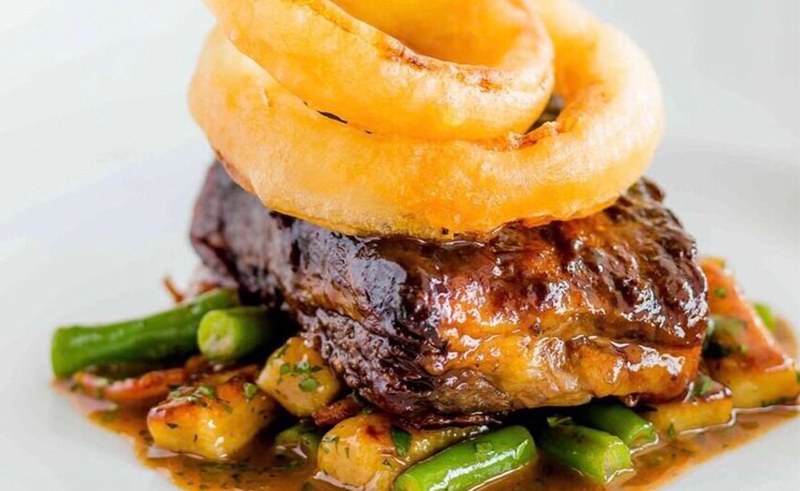 "Made with potato gnocchi, green beans, bacon, and onion rings, this entree reflects our thoughts on 'meat and potatoes.' We cook the short ribs for eight to ten hours, tucked in a bed of vegetables and fresh herbs. The gnocchi are handmade with smoked potatoes.  Green beans and bacon are a classic pair. Onions—which might be hidden in the sauce of a traditional braised dish—find themselves front and center, perched atop the beef as crispy rings in a tempura-style batter, the first thing the guest's eye sees as the dish arrives at the table."
Smoked Duck Empanadas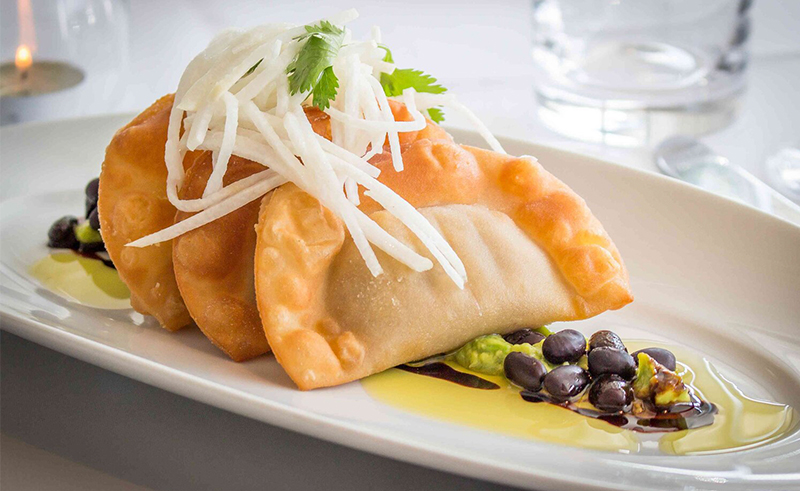 "The first dish on the original Story menu, these empanadas were influenced equally by European culinary traditions I grew up with, the Latin American flavors I love, and Kansas City barbecue culture. For the filling, we slow cook ground duck with chiles, spices, and aromatic vegetables, then we smoke the mixture over applewood. The empanadas arrive at the table with smashed avocado, black beans, and a barbecue sauce with a balsamic vinegar base."
Doughnuts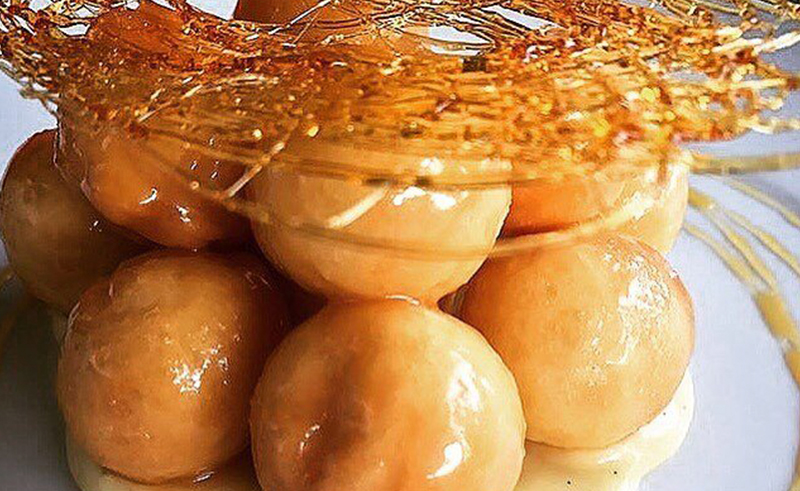 "We punch out the doughnut holes daily from brioche dough. During evening service, we fry them to order, glaze them with salted caramel, then line them up on a smear of vanilla pastry cream and a drizzle of tart passion fruit syrup—a perfect dessert to enjoy on your own or share with others."
Marissa and Mark Gencarelli, Yoli Tortilleria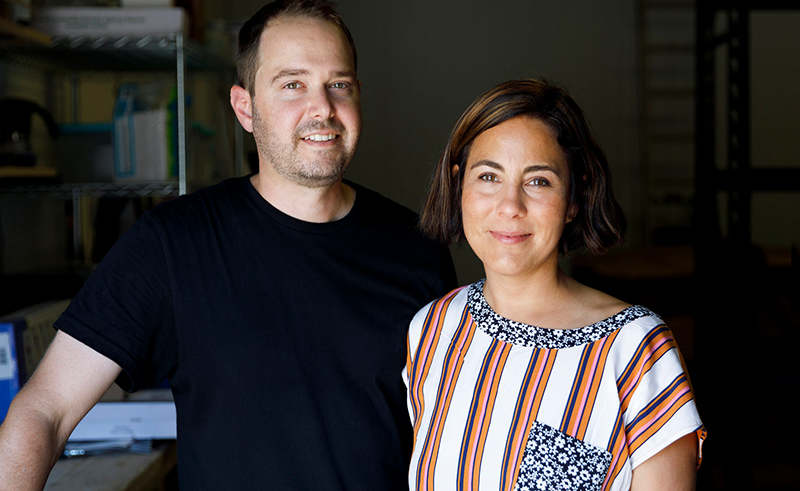 At Yoli Tortilla you can buy corn and flour tortillas that are also used for dishes at local spots like Chicken N Pickle, Billie's Grocery, Port Fonda, Enjoy Pure + Drink, and more.
The Gencarellis offered up tips on how to best use the tortillas at home.
Marissa loves making Tacos de Marlin with the bakery's white or yellow corn tortillas. It can be tough to track down black marlin in the Midwest, so she suggests using smoked salmon as a substitute—sauté it with tomatoes, Anaheim peppers, onions, and garlic. Then use queso Chihuahua, Gouda, manchego, or Monterey Jack to make a quesadilla and fill it in with the fish sauté.
Mark's favorite dish to make with the bakery's tortillas is tacos de carne asada. Made with a combination rib eye, skirt, and Delmonico cuts grilled over mesquite wood, the meat is seasoned with Sea of Cortez salt and freshly ground pepper and served on a tortilla, topped with cabbage, hot green salsa, and chiltepin salsa. He says grilled onions on the side are a must.
Want to make either of those dishes? Here are the full recipes, which can also be found in Yoli's Sonora Zine:
TACOS DE MARLIN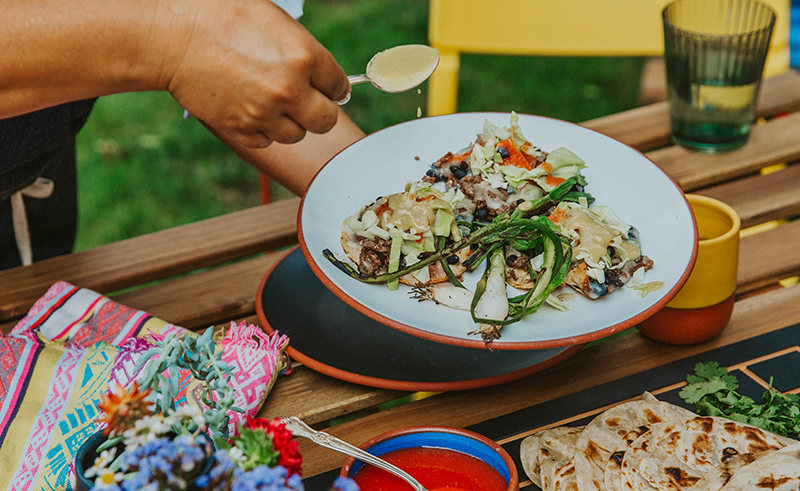 Ingredients:
1 pound of smoked marlin or salmon

½ small white onion

3 Roma tomatoes

1 jalapeño

3 garlic cloves 

2 tablespoons grapeseed oil

1 cup Gouda cheese shredded 

2 tablespoons of clarified butter

10 white or yellow corn tortillas 

consommé chicken bouillon granulates for seasoning or sea salt

shredded white cabbage

limes
Instructions
Get ingredients ready as it goes in batches: Slice onion lengthwise, finely chop garlic, tomatoes, and jalapeños. In a heavy cast-iron pan, heat up 2 tablespoons of grapeseed oil and add onions. Sauté until translucent, then add the garlic. Once garlic becomes fragrant after about 1 minute, add jalapeño and sauté for another minute until it begins to soften. Add the chopped tomatoes and give it a good stir. Let it cook about five minutes and season with consommé granulates or salt. Add the smoked fish and gently mix. Lower the heat and let it simmer for another 5 minutes. Turn the heat off. 
Then, heat up a comal or skillet to medium-high. Brush your tortillas with clarified butter on both sides and place on the comal for about 10 seconds. Add about 1/3 cup of shredded gouda to each tortilla and about 2 tablespoons of the fish mix. Fold over like a quesadilla and cook until the tortilla has become golden, and the cheese is completely melted. Serve immediately with shredded cabbage and lime wedges.
TACOS DE CARNE ASADA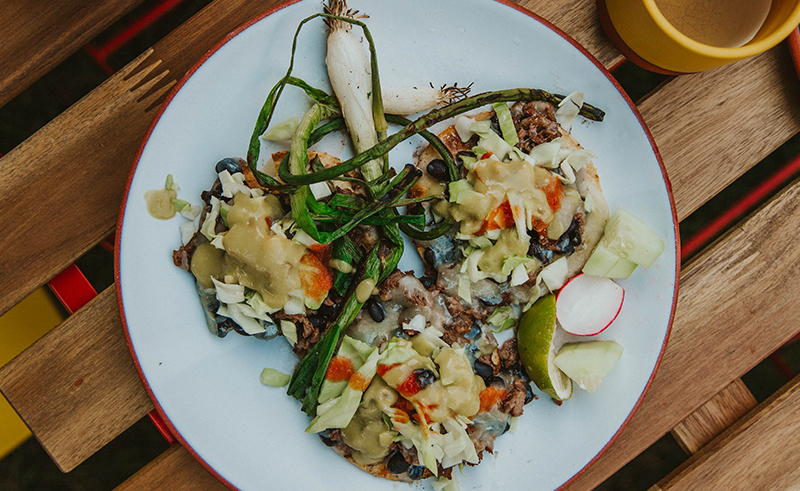 Ingredients:
1 pound of a combination of steaks (Delmonico, rib eye, skirt) 

Sea salt and freshly ground pepper

Finely chopped white cabbage

Green onions for grilling

Cucumbers

Radishes

Limes

Flour or white corn tortillas
Instructions:
Bring the steak to room temperature for at least 30 minutes and add salt and pepper generously 10 minutes before grilling. Heat up the grill—you want the grill as hot as you can, about 600˚F. Grill for about five minutes per side, remove and let it rest for 5-10 minutes. Chop the steak into bite sizes and mix well. 
Heat up the tortillas and assemble the tacos in the following order: meat, cabbage, 1 tbsp red salsa. Enjoy with limes and grilled onions on the side.
Or toast a white corn tortilla over the grill until crunchy, smear beans, and top with steak and cheese. Place back on the grill to get the cheese melted. Serve with the salsas and cabbage.