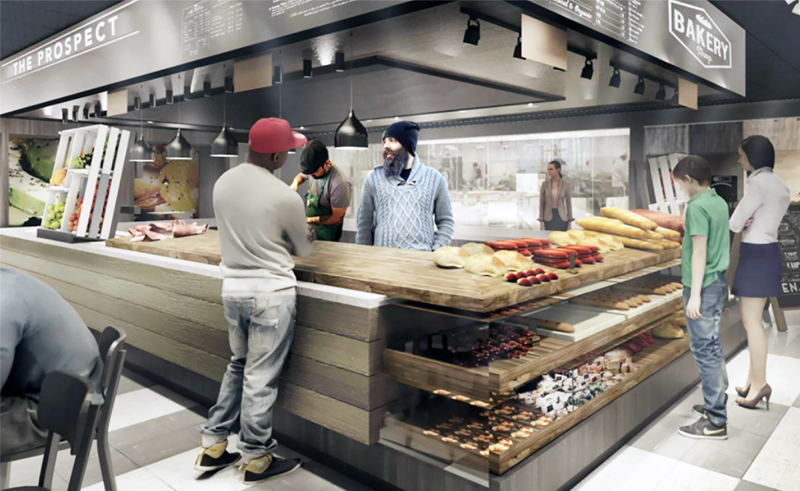 The Prospect
Chef Shanita McAfee-Bryant's soon-to-open eatery will do more than serve food. The Prospect KC is a social enterprise where people from disenfranchised communities can receive culinary training and get first-hand industry experience cooking for and helping to run The Prospect KC's cafe, coffee shop, and small, fresh grocer. Program participants also get access to wraparound services, such as case management and career coaching from community partners. 
"What we're really, really trying to do is create this ecosystem where we start closing some of these loops, so people don't fall through the cracks," McAfee-Bryant explains. 
The Prospect is part of the Catalyst Kitchens Network, a group of social-impact organizations that helps members and clients operate strong, effective programs that train individuals into employment in the foodservice industry. McAfee-Bryant saw member programs in action during trips to Seattle and reached out to navigate the development process and tailor the program offerings to Kansas City.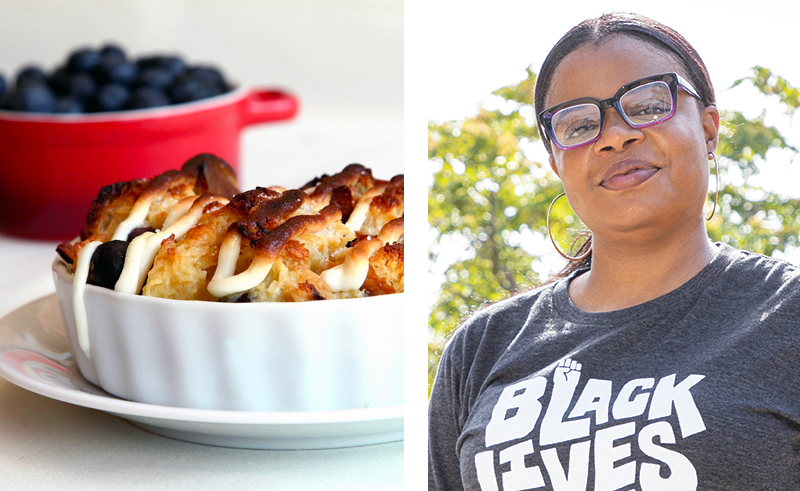 Now, after enduring COVID-19 delays, McAfee-Bryant is almost ready to welcome the first cohort of students for training in April and plans to open The ProspectKC's cafe to customers in May, providing a fresh and affordable new dining and shopping option to the community. It's in good company—located at 2000 Vine Street, The Prospect is part of a development that will also include the highly anticipated Vine Street Brewing Co. 
"I think sometimes, a lot of times, these social-service programs get tucked off in a corner, not in the best part of town or the most visible," McAfee-Bryant says. "So, I'm excited about us being in a very up-and-coming and developing area so that we're really showing there can be different uses for business in a community—it all doesn't have to be so commercial."
The business element will also help support The Prospect KC's community mission and allow it to focus less on fundraising from outside donors. As for what's on the menu, McAfee-Bryant envisions lots of locally sourced ingredients and approachable fare like burgers, but she's leaving room for participants to give their input and get a taste of entrepreneurship.
"We really want the people in that neighborhood to feel like this is something that's for them, not something that's a destination or for tourists," McAfee-Bryant says. "Of course, we hope that they come, but we're really trying to build it for the neighborhood and the community."
---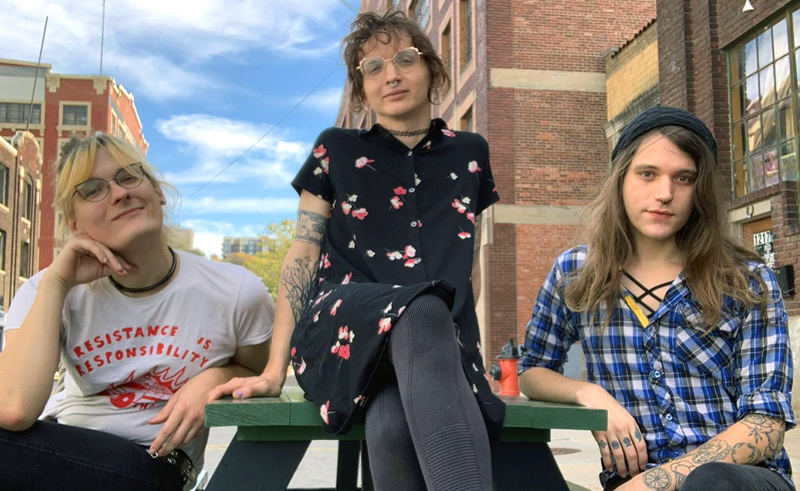 Cauldron Collective
You don't have to be a boss to run a business: Just ask Kim Conyers, Olive Cooke, and Sylvia Metta. The trio created the vegan food business, Cauldron Collective, with a collective ownership model, meaning they and anyone who joins the team in the future will share profits and responsibilities.
Conyers, Cooke, and Metta have all spent years in the service industry and grew frustrated with the status quo. Cooke and Metta tried to unionize workers at their jobs but were met with resistance. Meanwhile, Conyers felt alienated from her co-workers as she rose through the ranks in the kitchen. When the friends started discussing their own business, a collective model just made sense. It continues to work for them, as Cauldron Collective has grown from operating out of Cooke's home to hosting pop-ups and now having a residency on Mondays at The Ship. 
"Without having a top-down hierarchy, if there's anything we can't come to an agreement on just by chatting about it, then the next step is to propose it more formally and vote on it," Cooke explains. "But I'd say nine times out of ten, we just talk about what needs to be done and we do it."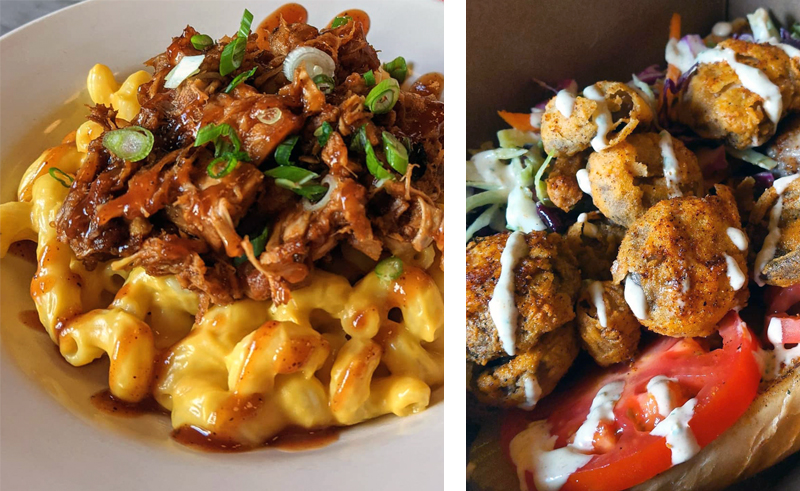 As Cauldron Collective expands, the trio will bring new members on board thoughtfully and plan to have a three- to six-month probationary period to make sure newcomers are the right fit before they officially become part of the collective. 
"Every member that we add will eventually become a full owner of the business," Cooke says, noting that each member gets one vote and ideally won't have to buy into the business to keep ownership accessible and equitable. 
So far, Kansas Citians have been receptive not just to Cauldron Collective's business model, but its food, which includes sandwiches and sides (aka "witches" and "familiars"). Dishes rely heavily on vegetables rather than meat substitutes and make use of Conyers, Cooke, and Metta's breadth of culinary experience.   
"When you work in the industry, you learn to cook a lot of different things and I think it helps be able to carry those things into vegan cooking," Conyers says. She points to her personal favorite dish, a mushroom po'boy, as an example. The mushrooms are smoked, a technique often reserved for barbecue, and dipped in a traditional batter for a sandwich that feels true to the original, just without meat. 
Culinary witchcraft, indeed. 
---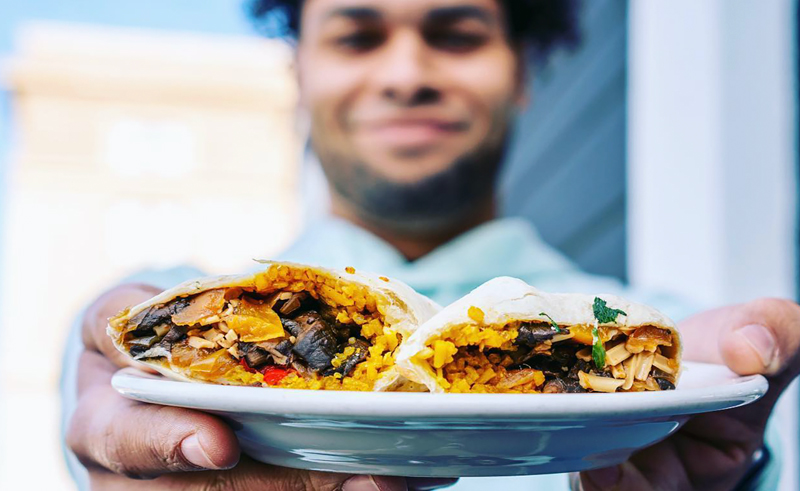 Kinship Café
As an insurance agent, TJ Roberts spent a lot of time meeting with clients at coffee shops around the metro. Now, his office is a coffee shop—Kinship Café, the bright and welcoming Kansas City, Kansas, spot he opened last October. 
"I felt like I was missing out on the all the fun," Roberts says, laughing. But the career shift wasn't just about his love of coffee—the entrepreneur noticed a need for education around financial and professional skills.
"I thought coffee was the best way to introduce that," he explains. He's hoping the inclusive, accepting environment of the coffee shop encourages people to take advantage of Kinship's equitable programming, which so far has included yoga classes, financial literacy classes, and a monthly business networking group. Roberts plans to expand the programming in the future, an effort bolstered by a GoFundMe to support the cafe.
Roberts is also working to give other Black entrepreneurs a platform: Kinship's retail section is stocked with products from local, Black-owned small businesses. You'll find teas and body products from Nature Made Me; candles and incense from Peace in Pain Candles; and natural cotton candy from CottonTale KC, just to name a few items. 
"For us, we saw this opportunity to create this Black market and bring other business owners into a space where they never had the opportunity before to have retail," Roberts says. Although he doesn't consider himself a business expert, he tries to provide support and help the vendors find success outside of Kinship, adding, "I want to see people's stuff everywhere."
That sense of collaboration carries over to Kinship's menu, which always features Black Drip Coffee as well as a rotating list of local roasters. Kinship's food offerings are designed to be health-conscious with a number of vegan options and a high degree of convenience—think sandwiches, wraps, salads, and soups. You'll find some familiar flavors, such as the Kale Yeah! Wrap from Gigi's Wellness Café, and maybe discover a new go-to, like the customer-favorite smoked hot buffalo chicken wrap made using local catering company Smokey by Nature's pulled chicken. 
"When people come in and support us, they're supporting not just us, not just Kinship, but they're supporting these other business owners, their values, their lifestyle," Roberts says. "And honestly, they're supporting the culture."