The bar for what might have been called "innovative" in our food and drink scene in the past has changed with the global pandemic, and the impact on our local foodways and restaurants will be felt for years to come. Yet, with any challenge comes new and creative ways to think about what we eat, the food we buy, who makes it, how they are paid, and even what we pay for the pleasure of eating it. We are seeing new retail stores, restaurants, bars, cafés, and coffee shops opening, with some choosing to open smaller, but more profitable and manageable locations that take less labor, while others may only serve food during certain hours to create a better quality of life for themselves and their employees. There are those in our community right now who are creating services to help stop food insecurity and provide culinary job training for those needing the work. Kansas City may not have the width and breadth of international cuisines that a larger city may offer, but we do have people willing to share their own flavors, foods, and experiences that allow us the opportunity to learn more about the people and cultures who are influencing our food scene and call Kansas City home. Innovation can be found anywhere you find open hearts and minds, willing to take that first bite.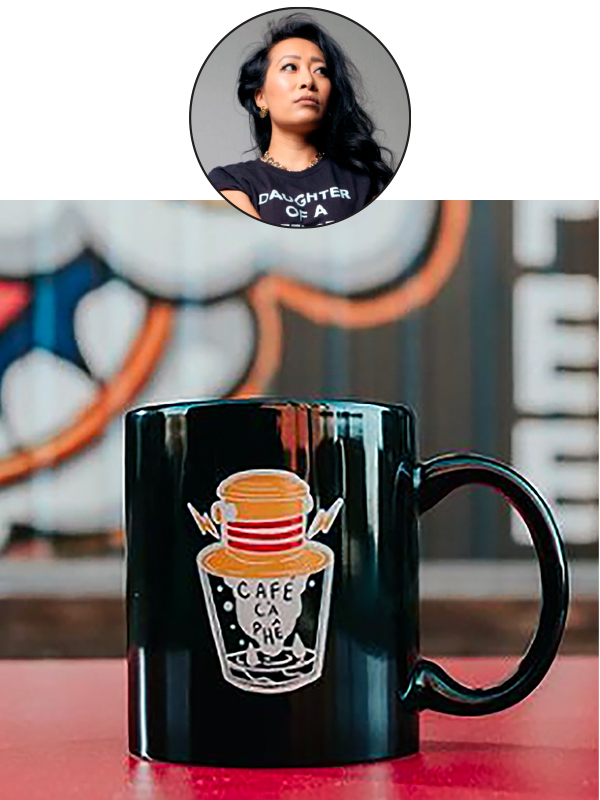 Jackie Nguyen
Owner of Cafe Cà Phê
She may have come from New York City to Kansas City to ride out the pandemic, but Jackie Nguyen hasn't spent a moment of her time here waiting for her next role. Instead, she has cast herself in a new one, as owner of her own mobile drink cart, Café Cà Phê, ready to introduce Vietnamese coffee to the people of Kansas City. Armed with nothing more than her colorful personality, barista skills, and brave heart, she has taught this city how to love her sweetly strong Vietnamese coffee and her culture at the same time. She has used her platform to bring awareness to AAPI issues, and has organized rallies, vigils, and celebrations to support the community. With her eye on building a more diverse and inclusive coffee culture in Kansas City, she will open her own coffee shop in Columbus Park this summer, building pride in her community in a city that has adopted her as one of their own.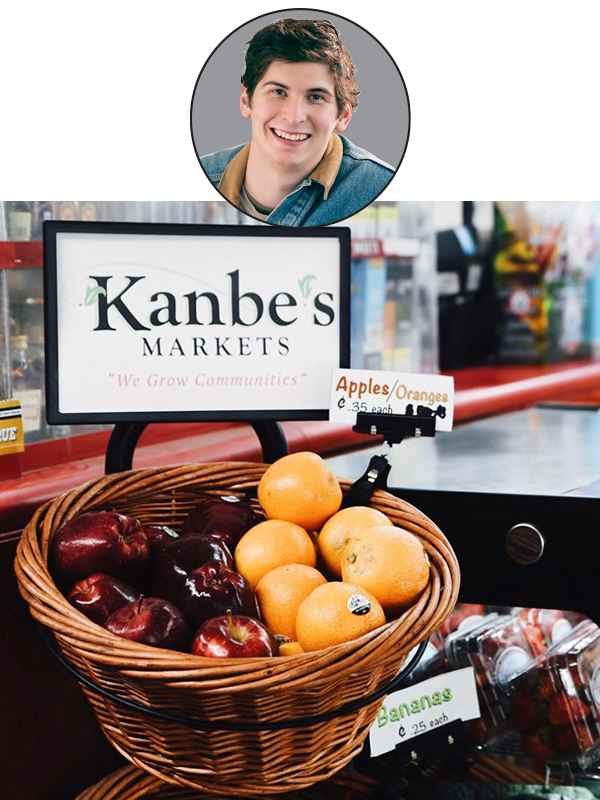 Max Kaniger
Founder/Executive Director of Kanbe's Markets
As the son of a chef, Max Kaniger grew up surrounded by good food and plenty of it. It was only during his travels abroad that he saw first-hand how not everyone had access to fresh food daily, and he came back to Kansas City on a mission to give everyone in his community that chance. Kanbe's Markets is the nonprofit he launched two years later, stocking his first convenience stores in Kansas City's worst food deserts with kiosks brimming with fresh produce, giving the people the ability to purchase in-season ingredients to create nourishing meals for their families. During the pandemic, Kanbe's was approached to help feed more of Kansas City's food insecure by purchasing and processing the farm-fresh produce into meals used to feed the hungry. With the menu of Kanbe's services getting longer, Kaniger's goal to eliminate food insecurity grows closer with every bite.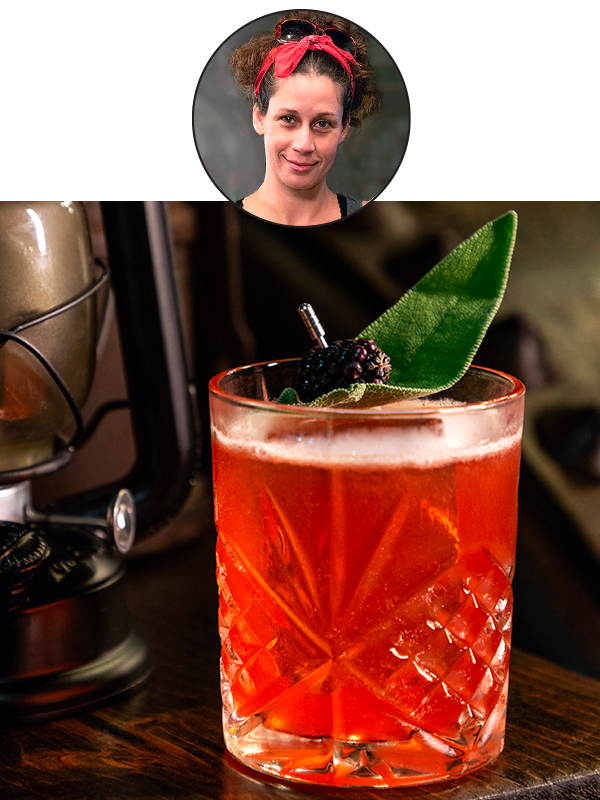 Jill Cockson
Owner of Swordfish Tom's and Chartreuse Saloon
Just as any bartender must know the exact measurements needed to make each cocktail distinct and delicious, Jill Cockson and her head for numbers took those careful calculations even further, creating her own formula for tiny-bar success. 
She has proven her theory not only in her own two bars, Swordfish Tom's and Chartreuse Saloon, but her higher math can also be seen at Drastic Measures, the Shawnee cocktail bar she helped open with Jay Sanders and partners Derick and Shelley Shackelford. It is a recipe that she has demonstrated can work in any neighborhood and with any type of bar. If you keep the space and menu small, have only a few core employees that you pay a fair wage, have the opportunity to bonus, provide access to healthcare, and allow them to make quality quaffable cocktails, profitability is sure to follow. It is a lesson in "small is the new big" the entire industry could take a page from, especially in these lean aftertimes. 
Curtis Herrera & Miel Castagna-Herrera
Owners of Café Corazon
When they couldn't find the Latin coffee experience they were looking for in Kansas City, Curtis Herrera—who is Mexican on his father's side—and his wife, Miel Castagna-Herrera—whose father hails from Argentina—decided to create it. Together they opened Café Corazon, their expressly Latin coffee shop, now with two locations. Showing Kansas City how communal, convivial, and colorful Latin coffee can be, they offer unique drinks, such as Café de Olla, Café Cubano, and Café Con Leche, representing a wide range of Latin countries, made with beans roasted by Messenger Coffee. They are also one of the few places in Kansas City to serve Yerba Mate, a highly caffeinated herb, infused with water and drank like tea in South America. Even their pastries come from local Latin makers including their signature empanadas and tamales. Providing the flavors, tradition, ceremony, and ritual associated with Latin coffee is at the beating heart of Café Corazon.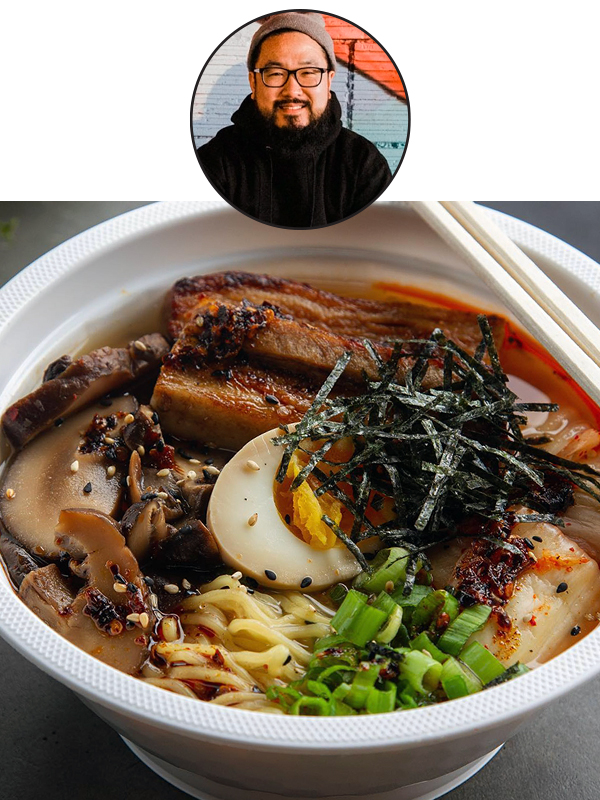 Chef Keeyoung Kim
Co-Founder of Sura Eats and Chingu
It has taken time for Kansas City to really understand and crave the flavor profile of Korean food, and Chef Keeyoung Kim has played the willing teacher, slowly pushing us out of our comfort zones and into the sweet, salty, spicy heat of his own cuisine. He started slowly, introducing us to bowls of bibimbap and kimchi fried rice with a fried egg on top at his pop-up-turned-food stand, Sura Eats, located inside of Parlor, and soon he will expand our curriculum with his first full-service restaurant and bar, Chingu, opening in Westport this July. Chingu is Kim's invitation for people to dive deeper into Korean food and drink culture, with a menu that combines street foods, Korean barbecue, and Korean home cooking all served with a cup of house-made soju, a Korean spirit made by a local distillery exclusively for him. Although Kim and his business partner, David Son, could teach a master class on how to grow a restaurant business and brand slowly and sustainably, they are also educating this city on how cool Korean culture can be.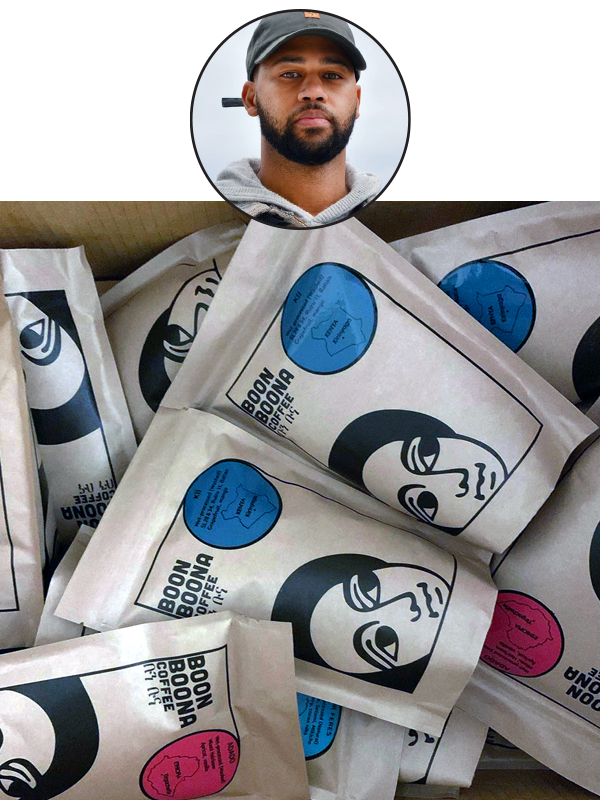 Brian Roberts
Owner of The Black Pantry
When Brian Roberts launched The Black Pantry, a retail shop selling curated items by Black makers, creators, and artists in response to the death of George Floyd, he created more than just a place, but a purpose and a pulpit from which to speak on more things needed to be said and heard by the entire city. His goal was to elevate and support the Black community and give confidence to those makers that if they create it, he has a space to sell it, moving the conversation directly to commerce. From having his own retail shop inside the Made in KC flagship in Midtown to now having The Black Pantry-branded corners inside other independent retail stores where he sells food, drink, and artisan products made by Black-owned businesses are small steps in the right direction. With a background in marketing and merchandise management, Roberts has managed to create more than just a space to "shop Black," he has created a powerful platform to bring awareness of and introduce new creators and their products to Kansas City.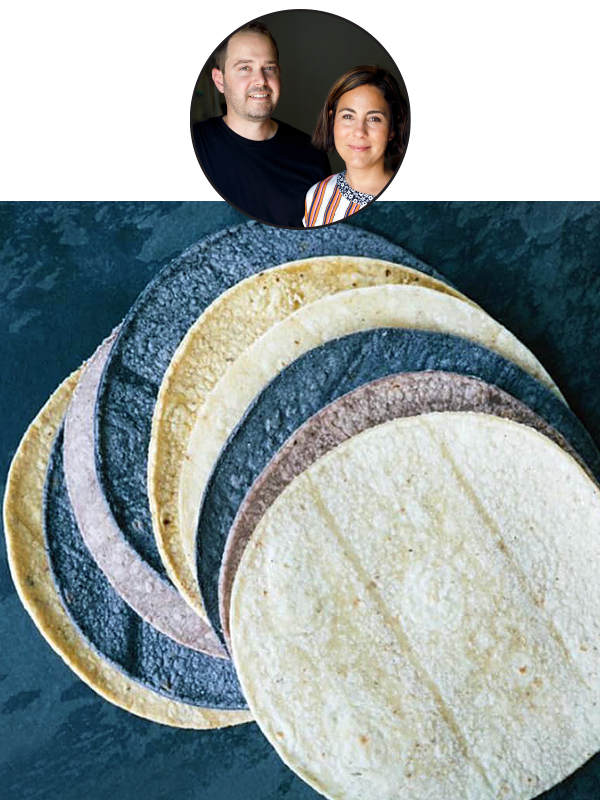 Marissa Gencarelli & Mark Gencarelli
Owners of Yoli Tortilleria
By taking traditional tortilla-making processes native to Mexico and applying them to seasonal Midwestern ingredients, Marissa and Mark Gencarelli have perfected a line of stone-ground corn tortillas and Sonoran-style flour tortillas for Yoli Tortilleria that are so good they caught the attention of the James Beard Foundation who named them a semifinalist in the Outstanding Baker category this year, marking the first time a tortilleria had received a national nod in this category. Although the honor pushed their five-year-old company onto a national stage, the couple remains committed to their Kansas City roots as they recently expanded into a larger production facility on Southwest Boulevard and have thoughtfully diversified their tortilla, salsa, and masa offerings with the acquisition of Art's Mexican Food Products, a Kansas City, Kansas-based company known for their corn chips and enchilada sauce. The move marked the respect-filled passing of the torch from one Latina business owner to another, as the two companies (and their owners) share a real culinary passion for growing a line of quality products inspired by Mexico but made in Kansas City.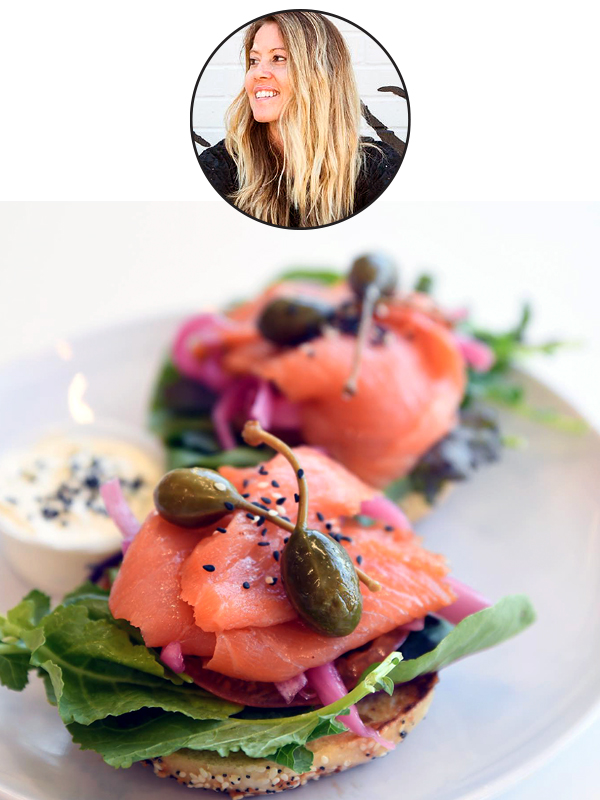 Robin Krause
Owner of Billie's Grocery and Unbakery & Juicery
Health and wellness became a primary focus for Robin Krause in 2004, after she grew and sold her popular local chain of Filling Station coffee shops to Messenger Coffee for a stake in the business. Returning to school to become a nutritional therapist and health coach, she opened Unbakery and Juicery, her tiny clean-eats snack bar, coffee, and juice shop in East Brookside. Looking back, you can see how this café was the start of an idea that would eventually inspire Billie's Groceries, her flagship spot, where she manifested all the things she wanted to do under one roof: a clean-food café, coffee shop, juice bar, bakery serving dairy- and gluten-free treats along with a market and culinary classroom housed inside the historic and visually stunning Luzier Building in Midtown Kansas City. Her stylish spaces give off serious L.A. vibes while serving delicious meals and treats that taste as good as they make you feel. Here you choose how you want to eat without the labels or dogma. Wellness never looked or tasted so good.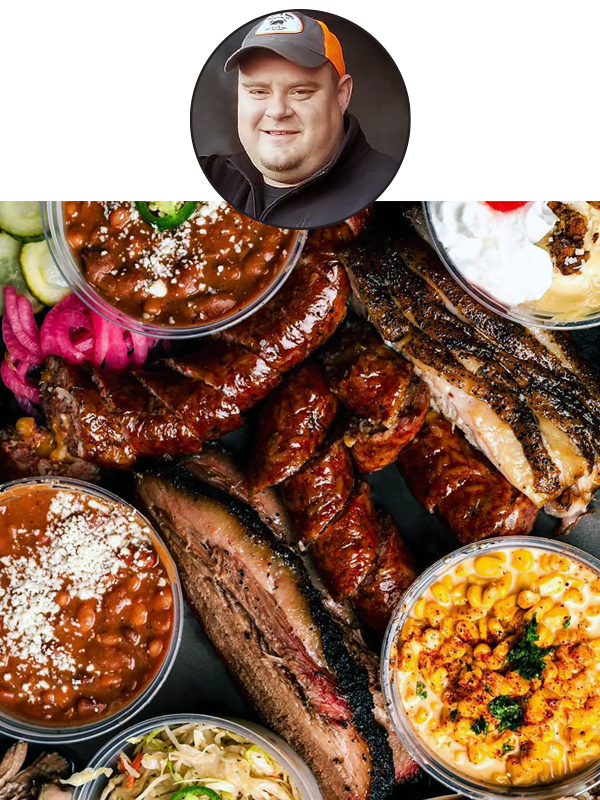 Tyler Harp
Chef/Owner of Harp Barbecue
After his extensive travels across the country, cooking and learning about many different regional styles of barbecue with the masters, Tyler Harp came back to Kansas City, bought a rig, and started his own culinary journey serving up thick and juicy slices of Texas-style beef brisket, meaty ribs, and his famous blueberry cheddar sausage to sellout crowds that line up on the weekends at Crane Brewing Co. He introduced us to something other than Kansas City-style barbecue, which many would argue over the years has gotten a bit complacent. Harp has injected a little youth, vitality, and bravado to our barbecue scene, so much so that the barbecue writer at Texas Monthly crowned his brisket the best in the city to no one's surprise. More than that, Harp is creating barbecue culture and camaraderie while leading the next generation of Kansas City pitmasters—including Chef J BBQ, Scott's Kitchen, Burn Theory Fire, Buck Tui BBQ, and Night Goat BBQ—into the spotlight, asking them to come and cook at his annual Harp Barbecue Festival every year.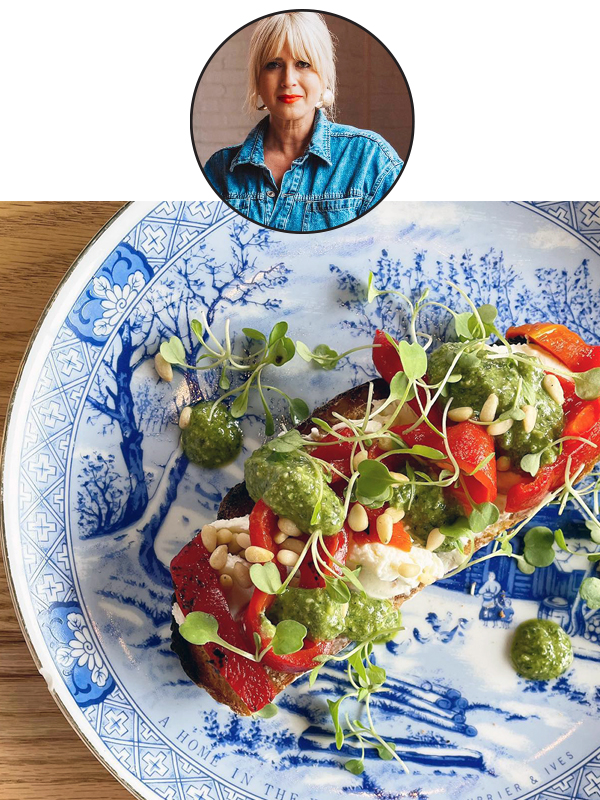 Chef Anna Sorge
Owner of Housewife
New to Kansas City, but not the restaurant industry, Anna Sorge took a gamble when she opened Housewife, her pretty-as-a-picture brunch spot, in sleepy downtown Grandview, but based on the crowds that flock in for coffee, croissants, and soup, salad, and sandwiches, it is one that has paid off. At Housewife, you'll find Sorge in the kitchen, whipping up a rotating mix of fan favorites, such as avocado toast, biscuits and gravy, chicken salad sandwiches, and turkey clubs, all executed to perfection and served with pride. The eye-popping selection of croissants, cookies, and bars are compliments of her co-conspirator, pastry chef and chef de cuisine, Zoey Ramberg, whom she met while they were working together at The Market at Meadowbrook. Open until 3 p.m., Sorge has a solid strategy for being closed in the evenings. That's when she uses her space to host catered dinners and private events, a brilliant business model that gives her control over her own schedule and allows her to utilize her space and flex her culinary talent for meals beyond just brunch.