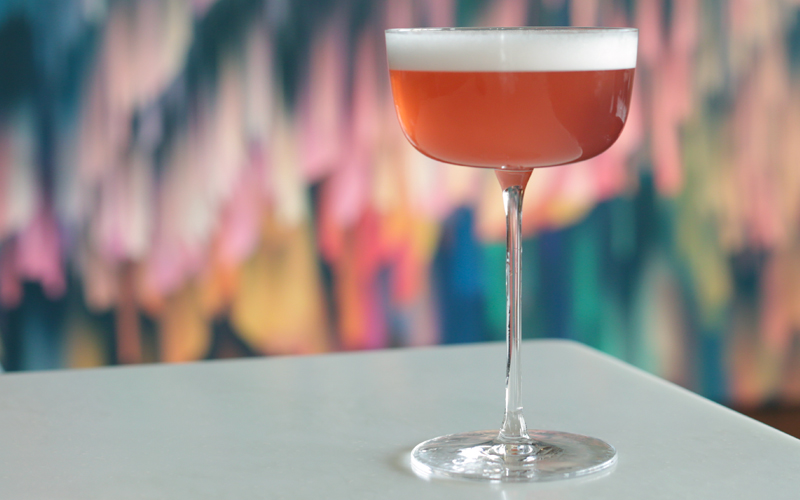 Located halfway to anywhere you want to be, downtown Shawnee is proving to be a convenient midway meeting place to stop in for a drink, with the City of Shawnee working hard to attract new businesses by being an affordable and welcoming place for food and drink development right now.
Wild Child is the second cocktail bar that Jay Sanders and his partners, Derek and Shelley Shackelford, opened together in downtown Shawnee. Their first, Drastic Measures, recognized this year by the James Beard Foundation as a finalist for Outstanding Bar, is located right around the corner from their newest spot, on a corner that has recently seen new restaurants, a new brewery, and now this new bar. 
When you have two places in this business, the first thing people tend to do is compare them, but I am not sure you can in the case of Drastic Measures and Wild Child. So this is how I would describe them to a stranger: If having a drink at Drastic Measures feels like the adults enjoying conversation and cocktails in the sunken living room of a 1970s home, drinking at Wild Child feels like the teenagers partying in the basement rec room below. It is like Sanders and his team of talented bartenders are hosting two totally different parties in the same house, both serving exceptional drinks but each with their own stylish, unique vibe and crowd.
At Wild Child, you'll find midcentury-modern wood paneling on some walls, while a colorful, giant floral-print wallpaper decorates others. In addition to the hairpin-legged tables and chairs, glam atomic light fixtures hang from the ceiling, and green plants drape across the room. Wild Child feels like the party you wish you would have thrown (or at least attended) in high school. 
The drink menu is broken up into four distinct sections. First is the wine list, with 20 natural wine selections from small and independent producers across the globe, which are served as a six-ounce pour. 
Next, there are three cocktail divisions. The first is simply referred to as "cocktails" and these are full strength, fully leaded alcohol-based cocktails. That's followed by bottled cocktails. These delicious drinks lean into seasonal vegetable and fruit juices that are mixed with alcohol then bottled and forced carbonated to create a lower ABV (alcohol by volume) with just a bit of effervesce to them, available by the glass or bottle for the table to share. 
Lastly on the Wild Child menu are non-alcoholic cocktails that are booze-free but are creative and tasty all the same. The N/A negroni is made with de-alcoholized gin, vermouth, and Campari, and I promise, you will never miss the booze, the flavor is so very close to that of a traditional negroni cocktail.
No- and low-alcohol menus can be found across the city in many fine restaurants and bars, and I think Wild Child will soon be one of many spots that cater to enjoying a drink depending on how you feel on any given day. 
On a recent Friday Food show on KCUR 89.3 FM Up to Date with Sanders, I was in the studio when he explained to the host, Brian Ellison, that when he is creating a new cocktail for his menu, he tends to follow a special formula that his staff has nicknamed the "golden Jaytio," after Sanders himself. The name comes from the mathematical concept of the golden ratio, an equation the Greeks gave to something with divine proportions. 
For Sanders, he always starts his drinks with 1.5 ounces of a main spirit, .5 ounces of a secondary modifying spirit, .75 ounces of an acid, like citrus juice, and .75 ounces of something sweet, like a simple syrup. He then tweaks the formula until he gets the cocktail just right.
For the Curry Club, a drink from the full-strength portion of Wild Child's cocktail menu, Sander's "golden Jaytio" is almost achieved with Opihr gin, a London dry gin made with spices and botanicals, shaken together with raspberry liqueur for flavor and color, lime juice, and simple syrup, along with dashes of Fee Brother's Foamer to create the foam floating on top. The result is a pink drink full of deep spice and sweetness.
---
Curry Club
1.5 ounces Opihr gin

 

.5 ounce Giffard raspberry liqueur
.75 lime juice
.5 ounce simple syrup

 

4 drops Fee Brothers Foamer*
In a shaker, combine all ingredients and ice. Shake well. Double strain (which means straining your cocktail through the Hawthorne metal strainer that typically comes with a Boston shaker at the same time you pour it through a fine mesh strainer held over your cocktail glass) the contents of the shaker into a coupe cocktail glass.
*Fee Brothers Foamer is a way to add a foamy head to any cocktail, just by adding a couple of dashes to your cocktail of choice and shaking it. Use in place of egg white or aquafaba. It is vegan as it does not contain egg or egg products and the taste is neutral.