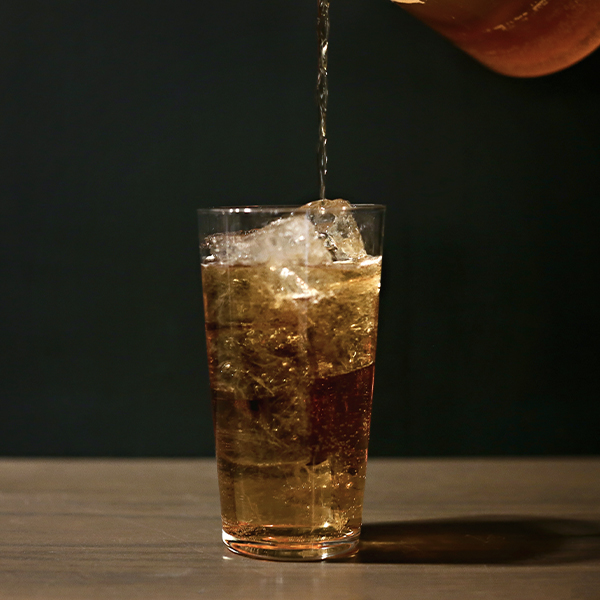 Don't come to Nighthawk, Hotel Kansas City's uber-cool new basement bar, expecting a full page of cocktail options or a long list of beers and wines. The bar program is carefully designed to offer interesting flavors without leaving guests waiting around for a bartender to mix anything up.
"We want to keep it really easy," explains General Manager Dominic Petrucci. "It's not about us at nighttime, it's about the people that come in, it's about the party, it's about the music."
It is, indeed, about the music at Nighthawk—the first two features that catch your eye after descending the basement stairs into the bar are a bright red-curtained stage at the front of space and a state-of-the art DJ booth to the side. An eclectic lineup of live artists and DJs can be found performing in the moody space, which is filled with leather banquettes, glowing lights, and a pool table, plus an enviable collection of vinyl and vintage concert posters.
Those elements combined with a 3 a.m. closing time and some 70s metal-inspired branding help give Nighthawk a raucous energy totally separate from the polished sophistication you'll find at Hotel Kansas City's other food and beverage concept, The Town Co. But you can still enjoy food from the restaurant's executive chef, Johnny Leach. Inspired by bar snacks and dive bar faves, Nighthawk's food menu includes buttermilk fried-chicken wings and bologna and cheese sandwiches served into the wee hours of the morning.
The bar program, created by Petrucci along with Scott Tipton, the hotel's director of restaurants, bars, and events, is similarly relaxed—at least, on the surface. Nighthawk collaborated with River Market-based Strange Days Brewing Co. to create two exclusive beers available on tap, one light and bright and the other a dark Mexican lager. Also on draft are several cocktails, including a whiskey sour and the Fizzenet, which features sweet vermouth and sparkling wine.
Guests can order one of a few more traditional wines, as well as a bottled cocktail like the sucker punch, a boozy milk and tea concoction, or machined cocktails, which include the absinthe-based melon ball and the frozen KC coffee. Perhaps the most unique offering? Canned hard seltzers made in-house, cleverly labeled as Nightclaws.
"There's a lot of hard work that goes into it so that when the guest comes in, all we're doing is cracking cans and pouring drinks off taps," Petrucci notes.
That effort comes through as you sip the seltzers, available in flavors like lemon almond (inspired by Italian ice), pineapple, and cucumber mint. Petrucci started working on the recipe for the latter drink five years ago after accidentally infusing Fernet Branca Menta, the amaro's minty sibling, with cucumber and discovering the delightful results. When the Nighthawk team began discussing the idea of canning their own seltzers, the long-workshopped recipe emerged as an ideal contender.
"Cucumber and mint is like a first-round ballot hall of fame flavor combination," he says. 'It doesn't get any better than this—they're made for each other."
Still, the drink doesn't win the spot at the top of Petrucci's personal list—that honor goes to the Fizzenet. "That one makes me want to dance, and I love that," he says.
Although the drink is served on draft at Nighthawk, you can enjoy the next best thing at home with this pared-down recipe.
Fizzenet Cocktail
1 part Cinzano 1757 Sweet Vermouth
4 parts Cinzano Sparkling Wine
Combine ingredients over ice in a cocktail glass, then enjoy.