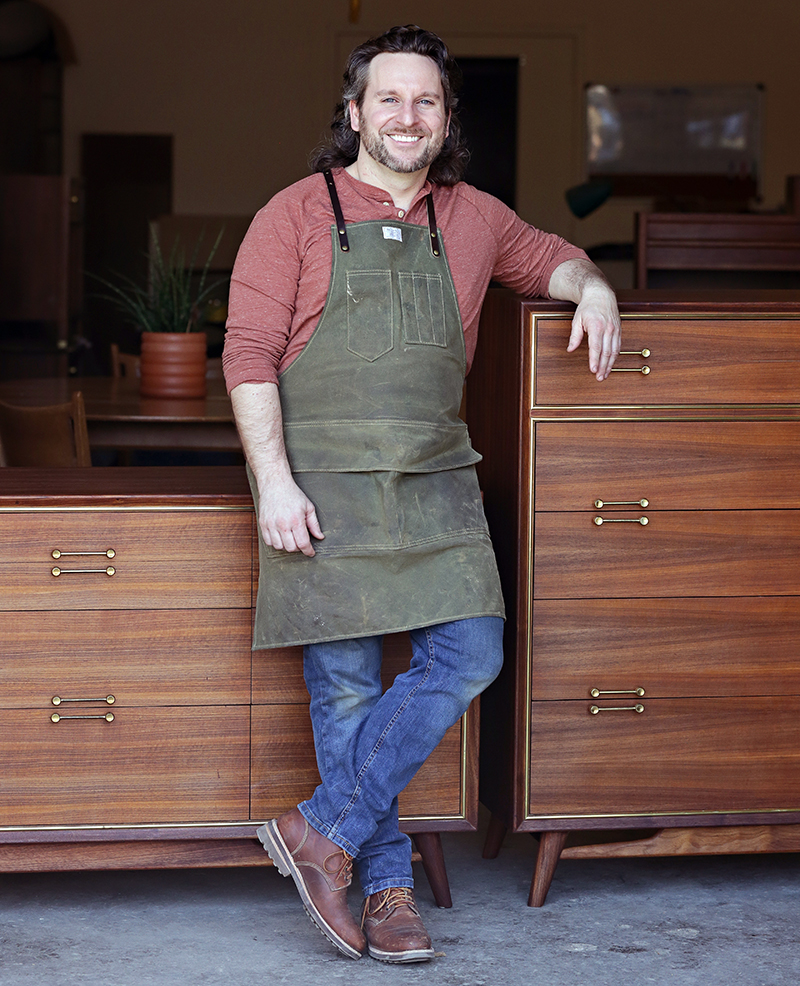 The events of the last few years have ushered in an era of change for many, and for Dan Posch, it led to the discovery of something meaningful. After spending a decade in Kansas City's boutique hotel industry running sales and marketing for hotels, such as The Fontaine, 21c, and others, Posch needed to make a change as the pandemic weighed down on the hospitality industry. So, he founded Vintage Posch. Now he's refinishing midcentury modern furniture—focusing on enhancing the wood grain of pieces from the 50s, 60s, and 70s—and selling and shipping his work all over the country. "I want my pieces to bring beauty and joy to my clients' homes—it makes my work even more meaningful," says Posch, adding that Kansas City has been the perfect place to start a new business. "Kansas City supports makers, entrepreneurs, and the creative community. That's why I'm able to do what I do. People are genuine here, and we have a lot of pride."
---
Dan's essentials…
Ice Cream: The French Custard is currently doing pop-ups around Kansas City. Their Chocolate Toffee Crunch is worth planning your weekend around.
Credit Card Damage: I love stopping by Westside Storey. It's the perfect mix of vintage finds and KC-made items. I grabbed my latest Kansas City tees and the top half of my Canadian tuxedo from there.
Drink: The Big Sipper at Panther's Place—spiced rum, tonic, and ginger beer with a little lime. It tastes even better when sitting around a fire.
Haircut: You can only trust so many people with a mullet. Luckily, Ryon at Lumine Salon in the Crossroads keeps the right ratio of business in the front and party in the back.
Outdoor Activity: Mountain biking with my fiancé, Kelly. I literally get to ride bikes in a forest with my main squeeze. We've got dozens of legit mountain bike trails cared for by volunteers. My favorite trail is at Wyandotte County Lake. Shelter #9 on Google maps is the best place to drop in. There is something for every experience level—flow trails, rock gardens, and a nice breeze off the lake on hot summer days.
Staycation: I'd stop by Velo Garage and Tap House making sure we have all the gear we need, then mountain bike at Wyandotte County Lake. After that, we'd grab a massive slice at Buffalo State Pizza, and hop on a couple of scooters for the afternoon. Dinner at Stock Hill, nightcap at Nighthawk, and I'd stay at the Kansas City Hotel.