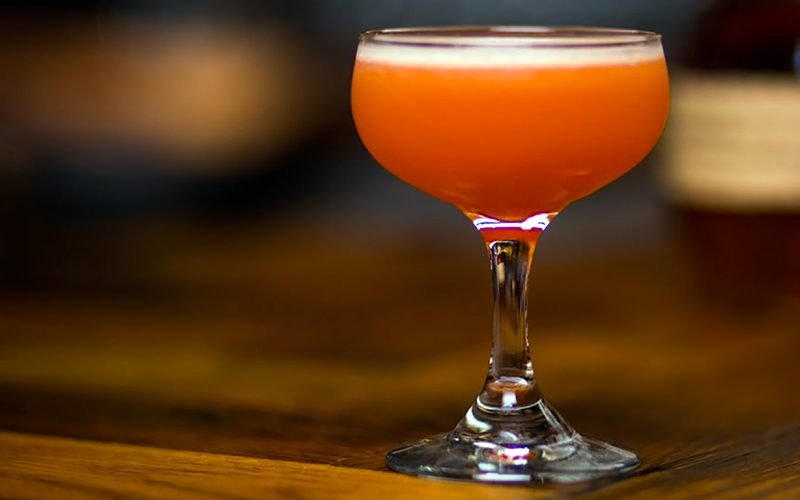 When Spencer Sight opened his low-key, high vibes, eight-room hotel, No Vacancy, on the top floor of his two-story red-brick building in the Crossroads Arts District in the summer of 2020, he combined his own stylish bohemian world-traveler's aesthetic with the convenience and privacy of keyless entry in an intimate boutique hotel setting. In addition to each room having its own unique and chic look and feel, the hotel also boasts a small indoor lounge attached to a private outdoor rooftop patio featuring a colorful mountain mural painted on one of the walls. It quickly became a popular socially distanced staycation spot for those needing a bit of an escape during the pandemic.
The lounge and patio were originally intended for use by hotel guests only as bonus spaces that would replace a lobby in a standard hotel. It was designed to give guests staying at No Vacancy a place where they could sit with their laptops and enjoy a cup of coffee in the morning or bring in a carry-out meal and dine alfresco on the rooftop patio before retiring to their room. 
However earlier this summer, Sight began working with local bartender Hilary Rambeau to turn the space into Le Lounge, a tiny bar open one day a week—Thursdays from 5 to 10 p.m. Guests are asked to enter through the door in the alley behind the hotel and head up a flight of stairs to reach the common space, where you'll bump right into the bar and can order a specialty cocktail from the small menu, or they are also happy to mix your favorite well drink from what they have on hand. Simply grab a seat inside or out, and your drink will be brought to your table, with instructions to pay your tab at the bar on your way out.
On pretty nights the patio is the place to be with plenty of tables and chairs where you can sit and sip on something delicious as the sun sets. Inside, a local DJ spins tunes with people chatting on couches, their drinks dotting low-slung coffee tables. The vibe is a super-chill house party where everyone is welcome. There is seating piled with vintage throw pillows tucked in every corner and hidden behind curtains, while the space is lush with greenery that transports you to a land, far, far away. The clientele is a who's-who of young Kansas City's movers and shakers from politics to activists, developers to creators, and artists to writers.
Interested in dropping in for a drink? Be sure to check Le Lounge's Instagram feed before heading out, because they are occasionally open on additional days or may need to close on regular nights due to hotel private events or buyouts. Know before you go.
The drink menu and bartending skills of Rambeau and her small team are solid, and they have worked this summer with others in the industry on collaboration events at Le Lounge, including a brunch with Baba's Pantry and an ice cream social with French Custard, a pop-up frozen custard business started by a local couple, Jessica and Alex Wood, who are preparing to open their own ice cream parlor near Brookside soon. 
They were the ones who suggested that Rambeau serve The Paper Plane cocktail to pair with their fresh strawberry custard, and it became an instant fan favorite. Invented by award-winning New York City bartender Sam Ross in 2008, this boozy cocktail balances sweet, tart, and bitter notes. It was such a huge hit for Le Lounge, they plan to keep it on the menu year-round and have provided it here for you to enjoy at home.
---
The Paper Plane
1.5 ounces High ABV bourbon, they use West Bottoms Whiskey

 

1 .5 ounces Aperol

 

1 .5 ounces Amaro Nonino
1 .5 ounces fresh-squeezed lemon juice
Add all ingredients into a shaker with ice and shake until well-chilled. Strain into a coupe glass and enjoy.