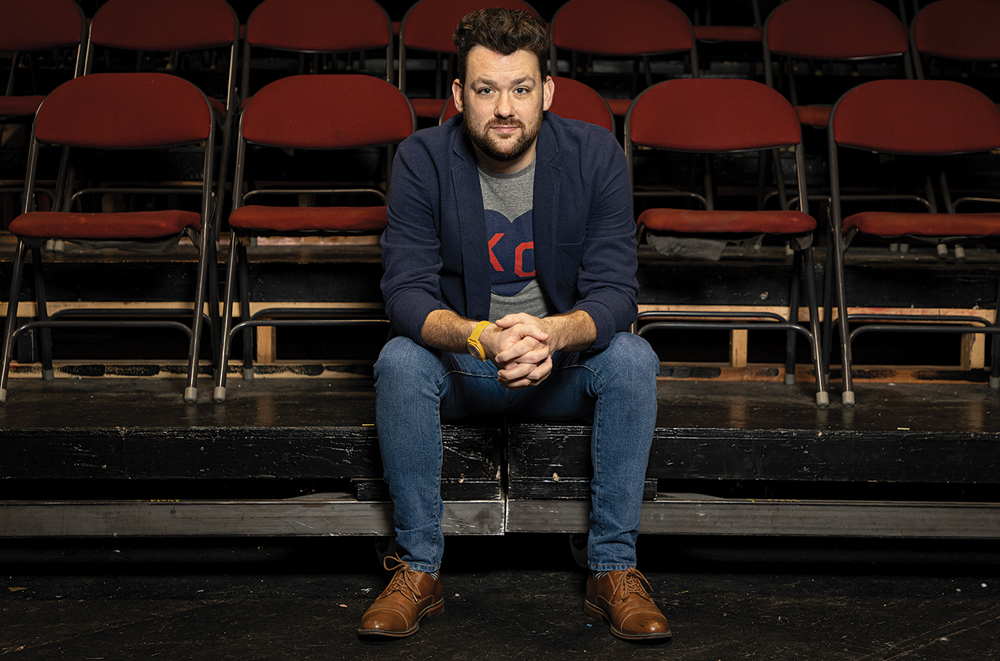 A shaky fifth-grade performance of Aladdin did not dampen Ryan Fortney's desire for a career in the theater. As a co-founder of Kansas City's new Forge Repertory Theatre—along with Coleman Crenshaw, Elaine Clifford, Todd Lanker, Bailey Rose, and Valerie Schlosser—Fortney has taken on the additional role of director of business and marketing. He will also direct an upcoming production.
Forge Repertory Theatre is making a debut in other ways, too. It is introducing a ticketing policy that has been implemented in other cities, basically pay-what-you-can pricing. Forge Rep also emphasizes transparency—you see what the production costs to stage. That way, you can decide what kind of theater "angel" you can afford to be.
How did you get interested in theater?
I took a summer-school theater class in fifth grade and performed an awful rendition of Never Had a Friend Like Me. Luckily, I was able to recover from this disaster, and I haven't been able to stop since. I got my undergrad in theater performance from the University of Central Missouri and then grad school at the University of South Dakota, where I received my masters in directing. When it comes to theater, I have pretty much done everything from acting to design, and front of house to back of house. Some of my favorite productions include The Baltimore Waltz, The Wizard of Oz, On the Verge or the Geography of Yearning, In the Yose: Tales from Japan, and Another Woman's Baby. I have been fortunate to work all over the Midwest and even in NYC for a bit.
Outside of Forge Rep, I manage Charlie Hustle on the Plaza. Hustle is an amazing company to work for and from day one has encouraged my artistic endeavors. I also am on the board of Stonewall Sports KC, an LGBTQ+ intramural nonprofit sports league that works to build stronger communities through intramural sports.
What prompted you and the other members of the board to found Forge Rep?
We were driven by a desire to make an impact on the ever-evolving KC theater scene. All of us had worked professionally for several years and our joint experiences—both positive and negative—helped guide us. We asked ourselves what is it missing and what can we bring? Those two questions helped us build our mission statement and eventually the progressive policies that we have adopted.
As founders, we talked a lot about what type of audience we wanted to attract. We valued diversity on all fronts and wanted our patrons to be as diverse as the city itself.
Forge Rep is introducing a progressive new-to-Kansas City ticket pricing policy. Can you tell us about it?
One of our core values at Forge is that art should be accessible to everyone. The biggest barrier between the audience and the stage is the rising cost of tickets. To make our shows truly accessible, all our tickets are free. You can reserve your tickets at no cost and without stigma. We also know that art is fairly expensive to produce. Therefore, we encourage those who can donate to give. Everything from a penny up makes all the difference at Forge. In an effort to provide guidance for our patrons who are used to more traditionally structured tickets, we offer a suggested donation system. This is called the living ticket.
The living ticket provides a three-tiered structure. The first suggested donation level is the actual value of the ticket based on the current budget for the show, the second is the value of the ticket if we were to pay all of our artists minimum wage, and the third tier is if we were able to pay all of our artists a living wage. It may seem complicated, but it is simple, and our audiences have already proven to us how successful this ticketing structure can be!
People always say that Kansas City is a best-kept secret, a great place for start-ups. How has Kansas City nurtured the Forge Rep dream?
Not only is Kansas City a great place for start-ups, it is also one of the best theater scenes in the country. We are spoiled with some of the best regional theaters in the country, a variety of well-established diverse local companies that are continuing to transition, grow, and redefine theater. Our city has a thirst for live art, and we have not even begun to quench it.
Upcoming Forge Repertory Theatre performances include:
Secret in the Wings by Mary Zimmerman,
Directed by Todd Lanker, March 5–22
(Kansas City professional theatre premiere)
John Steinbeck's The Grapes of Wrath by Frank Galati,
Directed by Ryan Fortney, April 30–May 27
(Kansas City professional theatre premiere)
All performances are at the Black Box Theatre, 1060 Union Ave., Kansas City, MO