Sponsored Content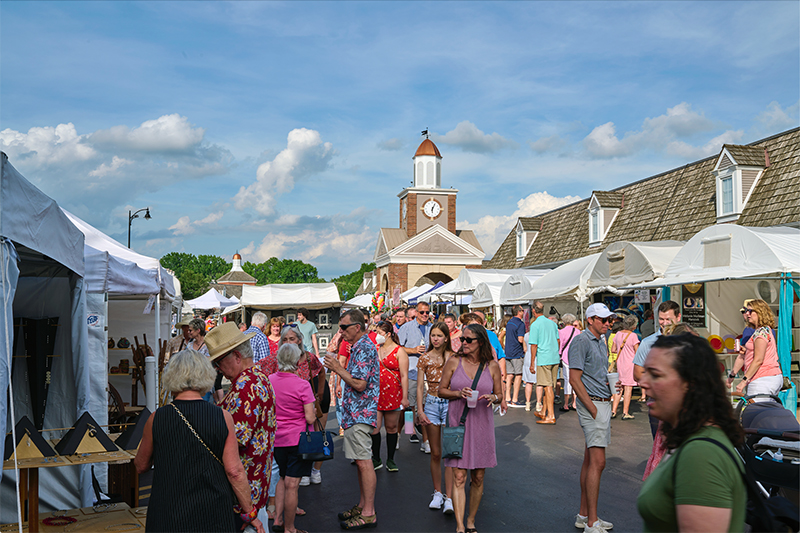 Fun, Food, Games, Art, and Ice Cream!
Ever since I Love Lucy and the frisbee first came on the American scene—that's 66 years ago—Prairie Village has hosted a family-friendly gathering celebrating locally as well as nationally and internationally known artists. Since 1957, the familiar white tented booths have lined the central thoroughfare of The Shops of Prairie Village at 6950 Mission Road. People of all ages, from all over the metro area, come for the art, the fun, and the food.
This year the festivities begin at 5 p.m. on Friday, June 2 and wrap up by 4 p.m. on Sunday, June 4. Admission is free, with food, drink, and merchandise for sale.
Over 100 Artists with Work for Sale
You have just the spot for a unique work of art, don't you? Well, you just might find the perfect piece here. As the second oldest art show in Kansas City, the Prairie Village Art Show continues to attract a carefully curated selection of high-quality art from a diverse range of artists working in a variety of mediums. You can expect to see a wide range of styles and techniques, and know that the art on display is of exceptional quality.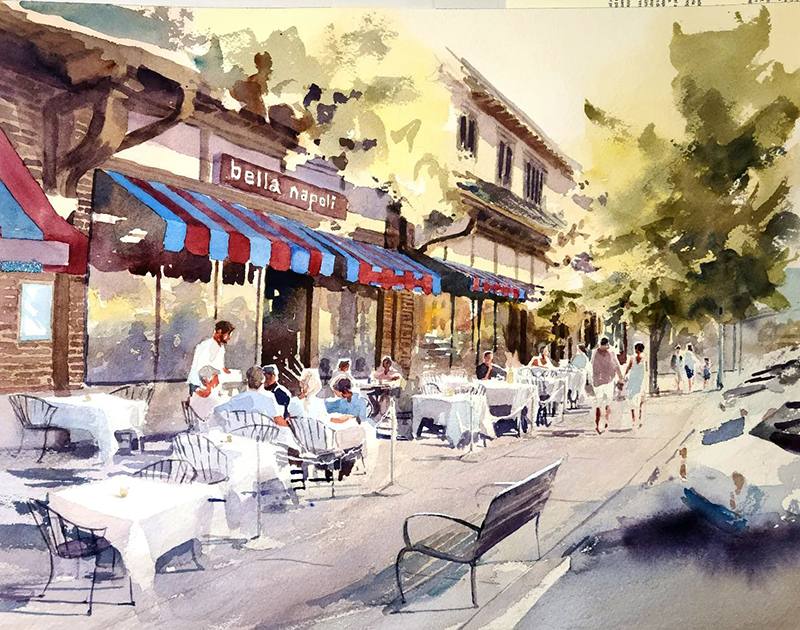 This year's featured artist is Steven Dragan, from Kansas City, Missouri. Steven specializes in watercolor paintings and will be exhibiting at the Prairie Village Art Show in Booth 50-51. 
Additional artists include Cindy Berry, from Olathe, Kansas, who works in colorful 3D mixed media; Laurette O'Neil, from Las Vegas, Nevada, who crafts contemporary jewelry; and Kurt McDaniel, from Midwest City, Oklahoma, who creates color photography. To view a full list of exhibiting artists and their booth locations, visit pvartshow.com/map.
Golden & Pine will also host an evening celebrating five curated artists on Friday, June 2, from 5 to 8 p.m.
You'll also find some of your favorite local artists and perhaps meet a new one. It's all about connecting and community. Check out the who's who at pvartshow.com/artists.
This year, the Best of Show Awards will be presented to artists on Saturday, June 3, between 2 p.m. and 4 p.m. by the art show's three-member jury.
Family Fun, Live Music, and Entertainment
Kids' activities and a variety of entertainment throughout the weekend create opportunities to gather, play, listen to music, dance, and have a good time. 
In the Kids' Village near the Clock Tower, the little ones can keep busy making balloon animals, getting their faces painted, coloring, and more.
On Friday night from 4 to 6 p.m., Little Gym hosts a Parent Survival Night for kids ages 3 to 6 so parents can enjoy the art and activities—for a while. 
Live music under the Clock Tower entertains on:
And Don't Forget the Food . . .
Summer is not summer without ice cream, so Chill in the Village's The Big Chill Ice Cream Truck will have eight flavors of ice cream with 18 toppings to choose from available for purchase.  Their menu will also include root beer floats, boba tea twists, and ice cream for dogs. 
Can you catch a pancake? The popular Chris Cakes flips out at the all-you-can-eat Pancake Breakfast on Saturday, June 2, from 8:30am to 10:30am. At the Information Booth, located near the Clock Tower, purchase your ticket for an all-you-can-eat pancake breakfast that includes sausage and orange Tang.  
Guests can also enjoy a variety of food options including special menus from Tavern in the Village, Gravity, Scratch, Minsky's Pizza, Caffetteria, Rise, and more. 
The Merch . . .
Guests can purchase exclusive Charlie Hustle X Prairie Village shirts as well as 2023 Prairie Village Art Show T-shirts and posters at the Information Booth.
Weekend Deals and Promotions . . .
The first 100 customers that spend $300 at any of The Shops of Prairie Village businesses will receive a complimentary $15 gift card valid at participating businesses within The Shops of Prairie Village. Rules and restrictions apply, more details can be found here.
Click here to view a full list of over 20 exclusive offers and promotions available during the Prairie Village Art Show.    
And Our Sponsors
The 66th Annual Prairie Village Art Show is presented by Premium Sponsor AdventHealth and Platinum Sponsor First Washington Realty. Additional sponsors include Gold Sponsor Titan Protection; Silver Sponsors Renewal by Andersen, Prairie Village Arts Council, Buck Roofing & Construction LLC, KCUR Broadcast and 91.9 Classical KC, KC Landscapes and Pool, Blackfin Commercial Real Estate Services, Town Plaza Women's Health, Hen House, and Meddys; and Bronze Sponsors Lewis Rice LLC, WeLightKC, Metro Snow Contractors LLC, Project Advocates, New Horizons Enterprises LLC, HL Restoration, and Ripple Glass.