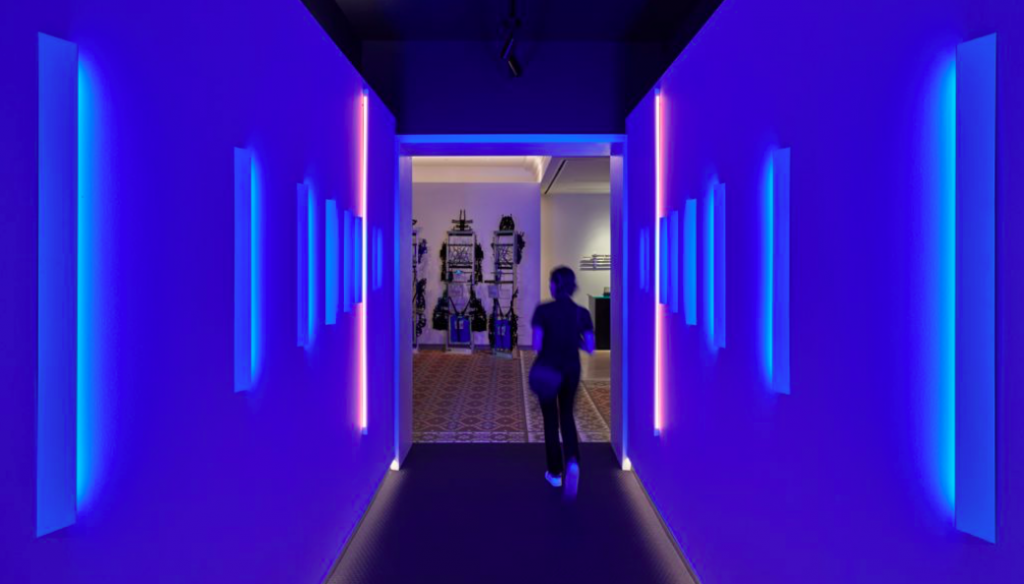 It takes fewer than three steps inside the front door of Kansas City's new 21c Hotel to be immersed in art. The ramp to the lobby is a splashy, geometrically illuminated corridor. It's just one of dozens of pieces of artwork sprinkled around Kansas City's newest boutique hotel.
The 21c hotel chain is renowned for their hyper-contemporary, sprawling displays of art. Every floor offers up its own must-see exhibition–an eclectic hodge-podge of paintings, sculptures and multi-media designs.
The ground floor of the hotel even offers a free contemporary art museum that's open 7 days a week, 365 days a year. "I visited the 21c Museum in Nashville and loved it. When I found out they were putting one in Kansas City, I flipped out," says guest Colleen Kirk. "This city welcomes art with arms wide open and after seeing what the curators included in this space, you won't be disappointed."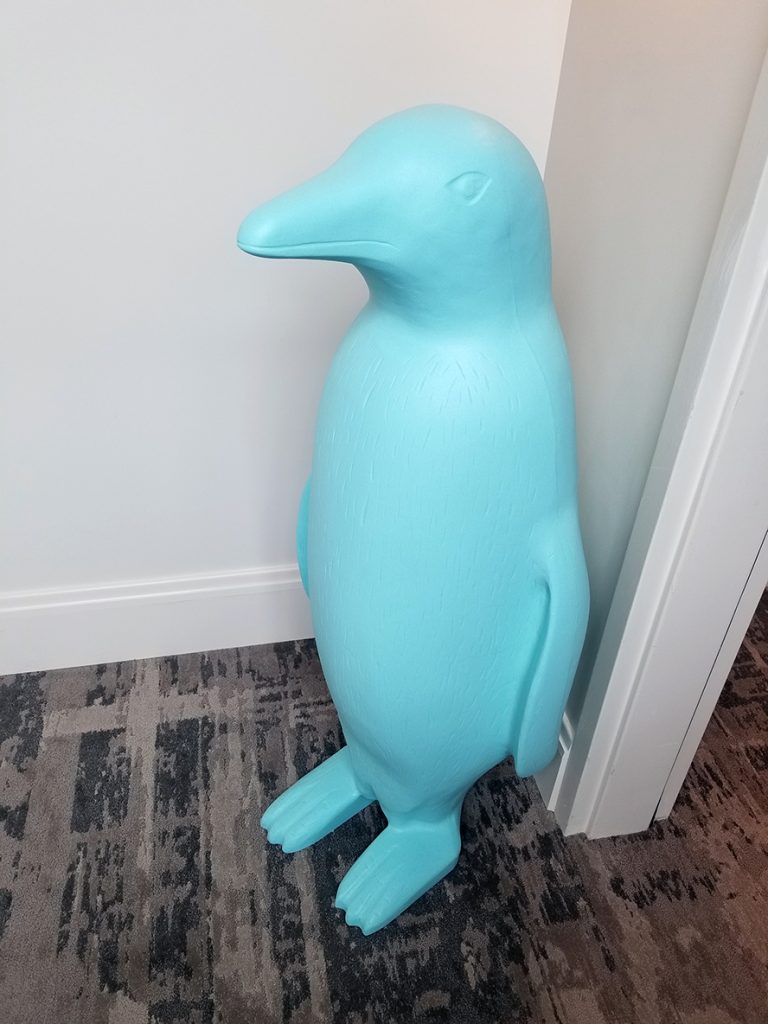 It's easy to see why mouths hit the ground during the open house on July 17th–this hotel is like nothing Kansas City has seen before. And we haven't even mentioned the smattering of three-foot-tall, Italian-made penguin statues whimsically strewn around. Each hotel in the chain features a uniquely colored penguin as their unofficial, official mascot. Kansas City's version is a minty, sky blue.
"Their flair for pairing restoration with contemporary renovation is epic," says patron Greg Morey. "Love the sleek, stylish guest rooms, modern art installations that complement the classic architecture without clashing, and their signature ice blue penguins—that keep popping up in the oddest places and times—are sure to delight."
21c is the former stomping ground of the famed Savoy Hotel—a historic, 170-year old institution familiar to many old-school Kansas City natives. The Savoy closed in 2014 and renovations began in earnest the following year. Now—three years later—the revamped 120-room hotel is creating its own buzz. "On opening day, our guests were pleased to revisit the areas that had been preserved, while enjoying the renovations that had been made to adapt the spaces for the display of thought-provoking contemporary art," says Kelsey Whited, the chain's public relations and influence manager.
"The reveal of the historic hotel remodel was something I have been looking forward to for months," says Josh Kirke, a guest who attended the open house. "The developers spared no expense and the attention to detail was over the top. This building, in my opinion, is one of Kansas City's finest."
The designers also didn't miss a beat in the layout of guest rooms. Rooms are luxurious with high ceilings, large windows and—of course—inspired, original artwork. KC-based firm Hufft Projects had a hand in the room remodel. Four variations of suites are also available—including the expansive 21c Suite which features the ultimate amenity—a large private outdoor terrace with sweeping views of the city. "It's not just a hotel, but an experience to savor over and over," says Morey.
Next up for the team at 21c? They'll unveil another art-friendly hotel in Downtown Des Moines near the city's burgeoning East Village area. It's set to open in 2021.