Hall and Oates' history of live performances in Kansas City goes back to 1975, when they performed at Memorial Hall in Kansas City, Kan.
Over the next 20-plus years, they would perform at variety of venues in Kansas City, from Worlds of Fun and the now-defunct Station Casino to Kemper Arena and Sandstone Amphitheater.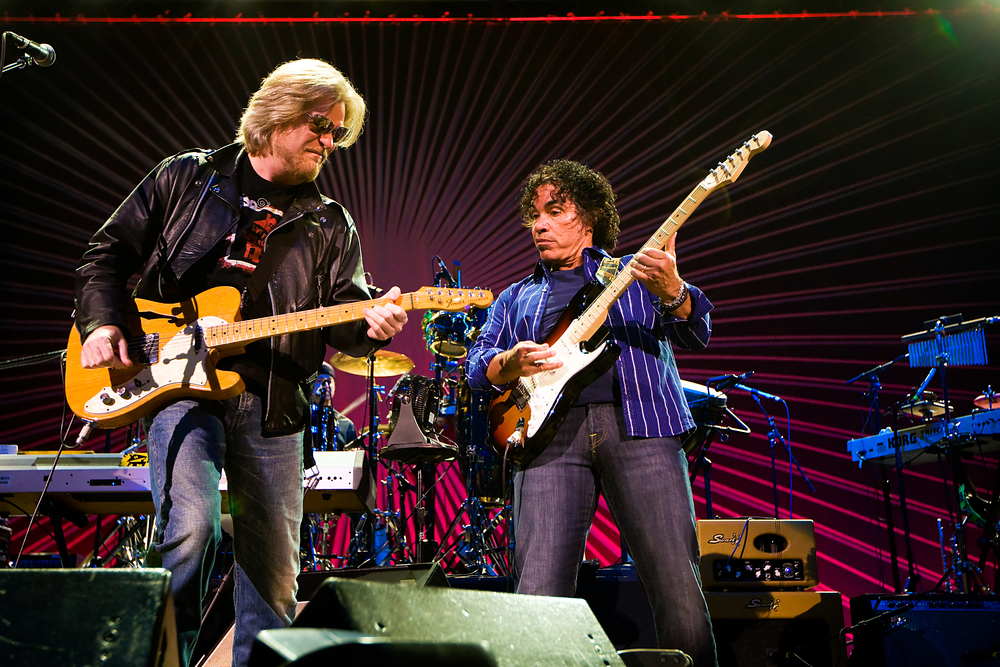 Friday night, the Hall of Fame duo from Philadelphia performed at the Sprint Center, their first Kansas City show since 2012, when they played at Starlight Theater.
Time moves on, but some music is timeless: Hall and Oates drew one of their biggest Kansas City crowds ever, one that included fans with parents who were pre-schoolers (or younger) back in 1975. It also included many who were seeing the band for the first time.
Some credit for the big turnout goes to the multi-platinum band Train, the evening's co-headliner, who followed the opening set by singer-songwriter Kandace Springs.
Train is a pop/rock band that emerged from the same vein as danger-free groups like Matchbox Twenty, Sister Hazel, Better Than Ezra, Five for Fighting—bands whose spit-shined sound lacks sharp corners, serrated edges or beneath-the-belt sexuality. It's all well-groomed, pleasant and innocuously handsome, like your average TV anchorman. Thus, its durable, mainstream appeal.
Lead singer Patrick Monahan's voice is hardly formidable, but it can fill an arena with surprising ease. He brandished his nimble falsetto a few times, but otherwise there's a reedy-ness to his tone that can take some getting used to, especially when it gets borderline pitchy.
He has the slick, flashy, front-man shtick down pat, though he can get a bit unguent at times, like an overzealous game-show host. Nonetheless, his manner is effective; he had command of the crowd all night. And it was evident from the onset of the 14-song set that a lot of the 13,000 people in the place were there to see Train as much as Hall and Oates.
They opened with "Parachute," a propulsive, arena-ready anthem with some Journey in its bones. They followed that with "50 Ways to Say Goodbye," a galloping pop tune that featured a virtual (via video) mariachi-horn ensemble.
Then came "It's Love," another fuzzy pop ballad, during which Monahan, with much pomp, bonded with people up front by taking several selfies with phones from fans in the front row.
After "Call Me Sir," a catchy, low-cal pop-soul number, Train played the first of two covers: Led Zeppelin's "Black Dog." (Some context: In 2016, Train released a Led Zeppelin IItribute album.)
It was a serviceable rendition but felt out of place amid Train's creamy pop ballads and anthems. The lurch from "Black Dog" to "Sweet Virginia" was jarring—like switching from whiskey to Zima-on-the-rocks.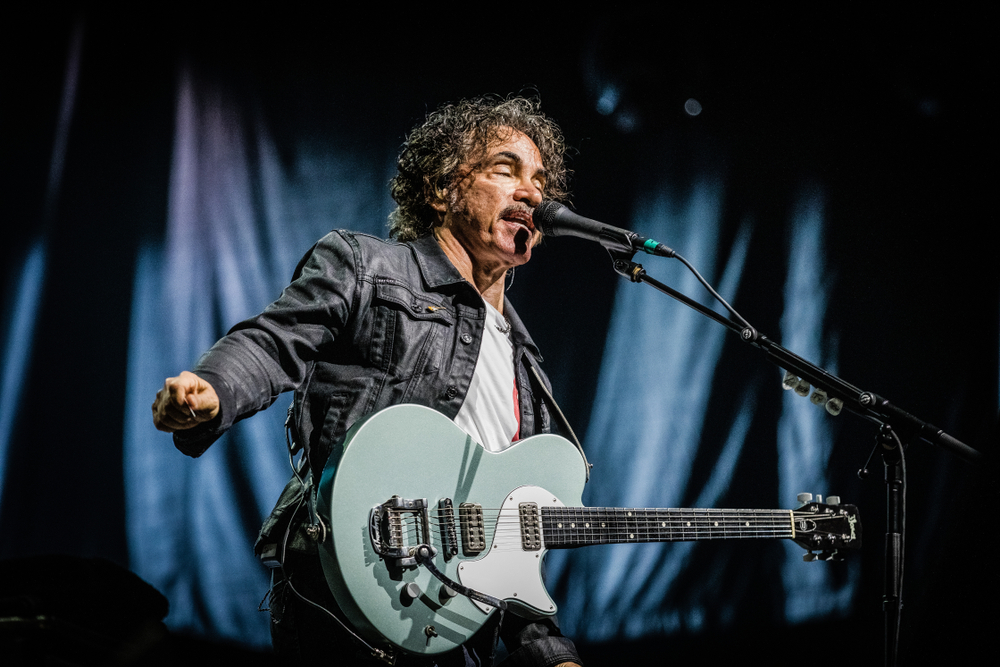 Likewise, the cover of Tom Petty's "Free Fallin'" felt forced, rote and trite, especially when Monahan commanded the crowd to sing loud enough that "Tom will hear us." (Eye roll.) Maybe as a rule groups should stick to covering bands that are in their own pay grade.
The rest of the set bustled with energy and Top 40 hits:  the tribute to the band's hometown, "Save Me, San Francisco"; the pretty, stripped-down version of "Marry Me" featuring Monahan on acoustic guitar; the relentless earworm ditty "Hey, Soul Sister"; the bubbly "Drive By"; and "Drops of Jupiter," Train's first multi-platinum single, now 17 years old, which brought the lively set to a raucous close. Mission accomplished: They earned a co-headliner billing.
It would not be the last we'd see of Mr. Monahan, however.
After a brief intermission, Hall and Oates hit the stage at full-speed. Both are in their 70s, and they have been recording for more than 45 years, but they and their music have managed to preserve themselves impressively.
Daryl Hall is the primary lead vocalist and the unofficial spokesman for the band. He wasn't exactly chatty, but he did most of the talking, introducing band mates, thanking the big crowd several times and announcing that he would soon revive Live from Daryl's House, his popular online series, which has been on hiatus since June 2014.
Hall bears a sandy mane of shoulder-length hair that looks inspired by a character in "That '70s Show." Oates looks like he spends way more time than most of us at Gold's Gym. Neither appears to be a septuagenarian.
Of the two, Hall's voice sounded more like it used to. Oates has lost a bit of his register but overall his vocals all night were beyond satisfactory, even during the challenging cover of "You've Lost That Lovin' Feeling."
The crowd comprised many generations: from pre-teens to 20-somethings to fans in their 70s. At one point, the video screen showed a kid who looked to be pre-adolescent holding a sign that read: "You guys are making my dreams come true."
They opened with "Maneater," a gritty, sultry, soul song that rides what has become one of the more instantly identifiable sax riffs in pop music history. It was the first of many spotlight moments for Charles DeChant, the duo's sax player for more than 40 years and a member of the stellar six-piece backing band.
Next came a short fusillade of greatest hits, starting with "Say It Isn't So," a pop-soul tune so instantly accessible its refinements may elude you. Oates then took over on "Lovin' Feelin'" and then they ripped into "She's Gone," which featured a feverish soprano-sax run by DeChant.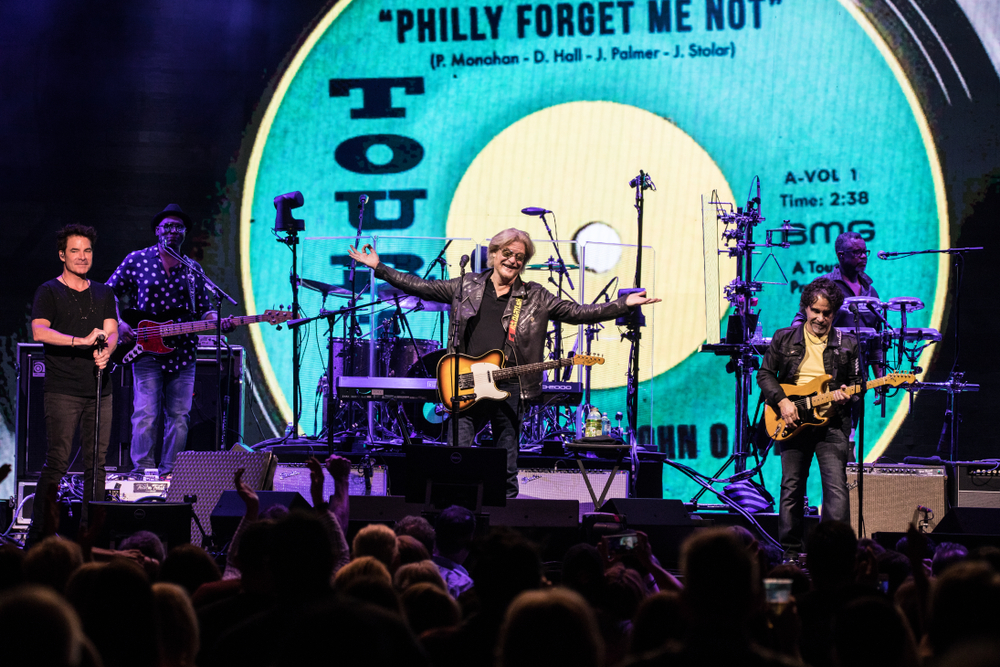 Up to this point, the show was flawless. But then it took a temporary turn. "Sara Smile," one of their loveliest songs, was transformed into an extended instrumental jam that deflated some of its charm.
They followed that with "Is It a Star," a new song that deserves to be in the rotation, and then "I Can't Go For That," which wended and wandered into a long, jazzy, jam-band odyssey. The band had the chops to pull it off, but it diffused the vibe.
Hall then brought out Monahan, a fellow Pennsylvania native, and they sang a brand-new collaboration: the forgettable "Philly Forget Me Not."
Monahan would stick around for two more songs: the H&O classic "Wait For Me" and Train's "Calling All Angels." Frankly, I'd had enough Train by that point, but more rewards were in store.
The ending was like spectacular fireworks finale: full of hits and widespread sing-alongs. First, a burst of bubble-gum dance-pop, "Kiss On My List," then the clap-happy "Private Eyes." They disappeared for a few minutes but returned for a rousing two-song encore: the snarky, funky "Rich Girl," and then a gust of romance, "You Make My Dreams."
No telling who was living a dream this evening, but given the turnout and the crowd's joyous response, this show was a once-in-a-lifetime event for many.
HALL AND OATES SET LIST
Out of Touch; Say It Isn't So; You've Lost That Lovin' Feelin'; She's Gone; Sara Smile; Is It A Star; I Can't Go For That (No Can Do); Philly Forget Me Not; Wait For Me; Calling All Angels; Kiss On My List; Private Eyes; Rich Girl; You Make My Dreams.
TRAIN SET LIST
Parachute; 50 Ways to Say Goodbye; If It's Love' Call Me Sir; Black Dog; Meet Virginia; Save Me, San Francisco; When I Look to the Sky; Marry Me; Hey, Soul Sister; Play That Song; Drive By; Free Fallin'; Drops of Jupiter.
KANDACE SPRINGS SET LIST
Thought It Would Be Easier; Forbidden Fruit; People Make the World Go Round; Break Down; The World Is a Ghetto; I Can't Make You Love Me; Love Got In the Way; First Time Ever I Saw Your Face.