Illness forced country star Miranda Lambert to postpone two shows scheduled before her Thursday night concert at Sprint Center. She would mention a couple of times that she'd been under the weather over the weekend, but any evidence that she was still on the mend was brief and insignificant.
For nearly 90 minutes, she and her eight-piece band gave a crowd of about 9,000 a potent dose of Lambert and her music, which portrays her small-town Texas upbringing candidly, genuinely and unapologetically. For that she is revered by her fans but an outcast in country radio. (Of her 28 singles released since 2004, only 10 have breached the Top 10 of the radio airplay charts and only three hit No. 1.)

But that's life for women in country music these days, and to her credit, Lambert refuses to kowtow to trends or submit to anything but her own truths and intuitions, writing and recording songs like White Trash, which opened Thursday's show. It's a self-effacing tribute to displaying your roots, whether it's "dishwater blonde" hair or the junk that gathers on your lawn.
Next came Kerosene, one of a few songs she's written about a scorned woman who is out to impose lethal revenge upon an unfaithful partner: "Now I don't  hate the one who left / You can't hate someone who's dead."

But Lambert isn't all firebrand and brimstone. She has a soft side, and she showed it in songs like Famous in a Small Town, where, whether you're "late for work or stuck in jail," everyone's going to know about it; and The House That Built Me, a tender hymn about returning to the home you grew up in and remembering your youth in intimate details.  It's sad and sentimental but not sappy.
She and her band were keenly aware of what had transpired in our city's sports universe this week. Before Vice, a video camera focused on a Chiefs decal on a band member's cherry red guitar. Before Heart Like Mine, Lambert issued a proclamation and a toast: "Congratulations and cheers to the Chiefs!" A couple songs later, she dedicated We Should Be Friends to Patrick Mahomes, a fellow East Texan.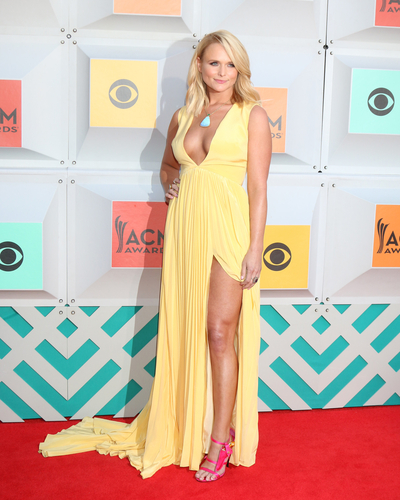 The stage was set up sparingly. Videos and graphics were displayed on a large circular video screen that was flanked by two vertical screens and on the front of the long riser upon which half the band was perched. Spotlights and multi-colored pinhole lights that shone through the video screens delivered tertiary visual elements. For the most part, the focus was the songs, the band, and Lambert, who flashed her less-than-reverent sense of humor several times but kept the chit-chat to a minimum.
The set list included several covers, all of which were worthwhile. They turned John Prine's That's the Way the World Goes Around into a rocking honky-tonk anthem.  Fleetwood Mac's Say You Love Me was played straight but with some banjo adornments. She honored fellow Texans ZZ Top with a bristling, organ-fueled cover of Tush. And to the end of her own song Baggage, with some lead-vocal assistance from her bandmates, she seamlessly fused several measures of Traffic's Feelin' Alright.
Lambert had fun with Only Prettier (co-written with Natalie Hembry of The Highwomen), a call for diplomacy and amends delivered with a below-the-belt punchline: "We got a lot in common, you will see / We're just like you, only prettier."
She closed with more girl-power fire, literally: Gunpowder & Lead, in which an abused woman takes the law into her own hands; Mama's Broken Heart, which exposes the dramatic differences between a daughter's and mother's ways of dealing with a breakup; and then the closer and one of six tracks she performed from her stellar Wildcard album, Pretty Bitchin'. It declares the many ways life can be pretty uneven—"pretty weird", a "pretty hot mess," but it's all good when you've got a "pretty good band" and a "pretty Airstream" with a "pretty kitchen" stocked with Tito's vodka.
It was a good way to bring the night to a close: with more confessional insights, delivered with color and candor, from an artist who ignores fads and trends and listens to and expresses solely what's in her heart.
SET LIST
White Trash; Kerosene; Mess With My Head; Famous in a Small Town; It All Comes Out in the Wash; Vice; Bluebird; Heart Like Mine; The House That Built Me; We Should Be Friends; That's the Way the World Goes 'Round; Say You Love Me; Baggage Claim/Feelin' Alright; Automatic; White Liar; Little Red Wagon; All Kinds of Kinds; Tequila Does; Tush; Only Prettier; Gunpowder & Lead; Mama's Broken Heart; Pretty Bitchin'.