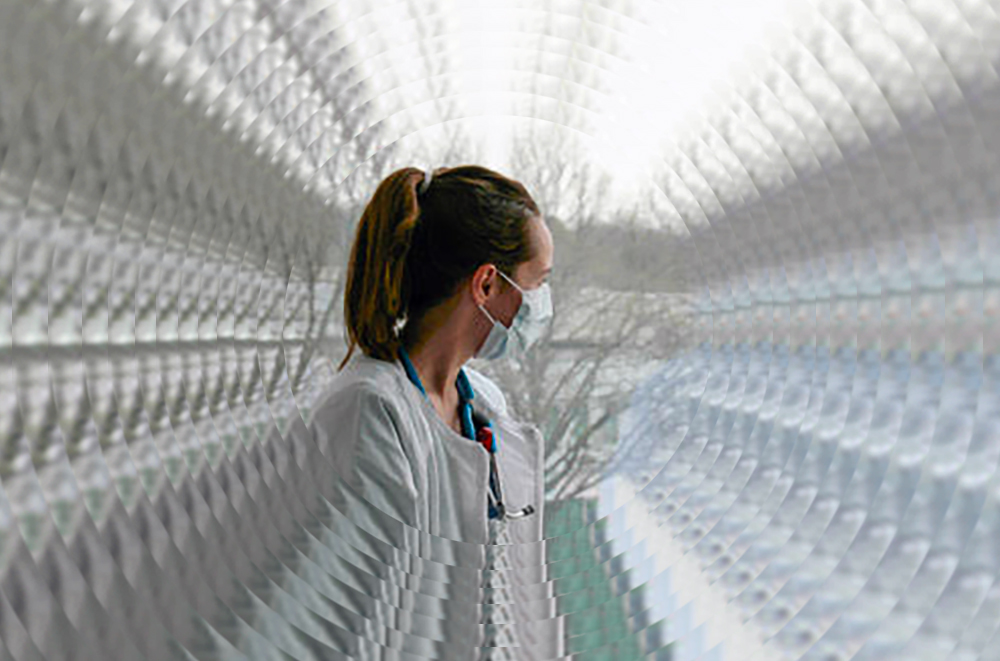 COVID-19 is a deceptively stealthy threat to our region's physical health and economic vitality. Its means is to seep, largely undetected, into the very air that Kansas Citians breathe. And yet, people are settling in and adjusting to the best of their abilities. They're adopting new routines and attitudes that less than a month ago might have seemed unfathomable.
 Human contact, so vital to our existence, is shunned. Interactions that once felt carefree and automatic—a handshake, a hug, a kiss—could kill us. 
But COVID-19 is not untenable. People are adapting to what it means to shelter at home; converting laundry rooms, garages, and guest bedrooms into repurposed office space. They're finding that the virtual world of Zoom, FaceTiming, and other gadgets of technology are sufficient for gathering in prayer, song, and sometimes for happy hour to share a nip of wine or spirits.
For healthcare workers and those caring for the aging and ill, life during the pandemic is hyper-charging the decisions that long extended a heavy moral canopy to their work.
The coronavirus is not only an invisible threat, it's a wily one. As new information emerges, protocols must shift—mask or no mask, homemade versus store-bought, six feet distance or completely cut off.
Many are deeply reflective for what not only their day will hold, but the future. But they are not daunted.
Here are a few of their stories:

Monica Powers, assistant chief nursing officer and incident commander over COVID-19 operations and planning task force at AdventHealth
One of our biggest strengths is that we are a faith-based hospital. Being faith-based, we've already ensured that nobody dies alone. That's something I see in the news that's incorrect.
We do everything we can for our COVID patients. If they are critically sick, we bring at least one family member in so that they can see and touch them. We have Chromebooks that we use to connect them with family who can't be here. The nurses will stay with the patient if no one can be here from the family.
No one is dying alone here at AdventHealth. That to me is a big deal.
With COVID it seems like the way we are handling things changes about every 48 hours. The message morphs as the situation has matured and as we have more cases come in.
Our frontline staff is fearful. Our physicians are fearful.
I think what's key is really knowing how to control your emotions and being able to listen to what the real fears are and have a real conversation. There's been a lot of change in a very short period of time. People, in general, don't like change. So just helping people adjust on the fly has been the hardest, and it's what I've lost the most sleep over. Frankly, I'm fearful at times.
We expect our front-line staff to provide whole-person care to our patients, while we are providing whole-person care to our front-line teams.
In the last week-and-a-half, we've also been letting the staff know what our surge plan is. We're letting them know how many ventilators we have on site, for example. And we're letting them know what our plan is if we have to set up an ICU outside of our regular ICU.
So if we get a surge, the staff knows this is how we are prepared to handle it. We've been able to get predictive analytics so those are the numbers that we are really planning towards.
It's a day at a time. My whole day is COVID. 
Quinton Lucas,  Mayor, Kansas City, MO 
Two-thirds of the deaths in KCMO and two-thirds of the deaths in KCK are African Americans. We've got to be talking about that. When this first broke out, I was already thinking about the disparities. 
I knew this couldn't last forever. And yet I was terrified for the communities—the black and brown communities—where it would probably hit the hardest. 
I fear they will be completely forgotten when all of this shifts. When some of us are bored with staying home and want to go on our way and play.
The real-life stories are the most difficult. It's people like Billy Birmingham [the Fire Department EMT who died of COVID-19] that this is all about—those who are out saving lives. On the night he died, it broke my heart, and it almost broke my spirit. On the other hand, it motivated me.
It motivated me to fight about dates for reopening. We have to continue to fight about this, even though people are shouting about reopening.
For some, it's like what AIDS was in the '80s and '90s. If you don't know anybody with it, you don't think that it's a problem.
I think that's why people shout about reopening. I get a lot of calls about it.
"Yeah, you are going to save a few lives, Lucas, but what about the economy?" That's a direct quote.
I'm worried about things like the recent news item about the man that the FBI shot—the white nationalist from Belton who wanted to blow up the hospital, and he wanted to shoot up a black elementary school. 
This is the first week I've had more concern for my personal safety. I get messages saying, "Lucas, you hate freedom." We can't just reopen without thinking about both the economy and about the disparities.
On a brighter point, I've been impressed with how much the community has been willing to change. And that shows we can change for the better in a number of ways to help us address these issues. 

Rev. Scott M. Chrostek, executive director of regional campuses, The United Methodist  Church of the Resurrection
So much of our faith is reflecting and imagining how you might look back. And for me, my wife Wendy and son Freddy, when we look back at this season, one of the defining moments is that we had our second child—our first daughter—two weeks ago.
So much now is about restriction and sheltering in place. But that's been redefined by that baby girl's little face. We're calling her Poppy, for Penelope.
Our son has said repeatedly, "I just love that I get so much family time now." It melts my heart. 
We call it "germ season." My hope is that he remembers this as when he got to spend time with his parents, and that he was getting to cuddle his baby sister. What a great time that we have to instill that in him. 
As a church that roots itself in physical gatherings, we've had to pivot. And we've had to reimagine everything in how we do our mission.
How do we begin to focus on each other and care for one another and really serve each other by doubling down on doing whatever we can to meet people where they are? More than ever, we're having more in-depth and centered conversations with church members—and non-church members too. We've found that people are more accepting of reflection right now.
I have a prayer group. It's about 50 guys, and we meet on Zoom. I asked them, "How do you want to remember this moment, and how you lived in it and navigated in it?"
For some, it's that this would be the best season of life for their family. For others, it is what would it mean to be the best leader in his business now. To someone else it might be being fearless to give away what they had, because they had a lot to give.
For me, this time has been exhilarating… seeing the best parts of humanity. Kind of a reflection on what we can be when we come together.

Kathy Nelson, president and CEO, Kansas City Sports Commission & Foundation–WIN for KC
For us—with what is happening within our industry of sports commissions—it's survival of the fittest. I'm in conversation with my counterparts every day at other sports commissions across the country. And every day, I have a counterpart who has had to cut staff by 50-plus percent, and some who have had to close indefinitely.
Now we've started to look at how we can serve as a collaborator. We know how to put events together. We planned the Super Bowl parade! So here we are, all at home on our computers planning e-sports.
Our staff is pretty excited. We're trying to figure out how to stay relevant, about how we help bring sports back. We want to always be thinking about how to make our city better through sports.
But I keep worrying about all sorts of issues. Like, we need to get 75,000 people into Arrowhead. How are we going to do that safely now?
It will be similar to what we experienced after 9-11. The first thing to come back was youth sports. All of the surveys said that no one would miss little Susie's game, and they might not fly, but they would drive to get there. They wouldn't miss it for the children.

John Gordon, Jr., executive director, Boys Grow 
The guys are pretty much a mix of races, but the majority live in the urban core. They are 14 to 17 years old. This is a place that's a constant for many of them. The farm is where they know they're going to get a paycheck, where they know they will be a part of it. We're trying to reassure them that it will be back up and running. We just don't know when.
Our mission is working directly with the youth. And in that regard, to do what we do, we've shifted our focus a little bit. We are trying to secure some more funding for projects.
It's a problem. Normally, we sell our products back to restaurants. We wouldn't be where we are right now if it wasn't for the generous chefs and restaurants in the community. And they are really feeling the hurt. I feel a little helpless about what we can do for them.
Another piece of our mission is to teach being good stewards of the land. So now, with this current situation, we're trying to get food back to the families of our kids. Some vegetables are already planted—like lettuce and garlic—and we have greenhouses where we're growing tomatoes, beets, and carrots. We're raising meat chickens now. Our chickens and turkeys are going to be harvested and given back to the families of the boys.
Like most businesses and nonprofits right now, we're trying to find some kind of silver lining. 
Dr. Michael Moncure, trauma surgeon and critical care specialist, Truman Medical Center and professor of surgery, UMKC School of Medicine 
We in Kansas City are extremely blessed that we had leadership in our region and in our city to put the stay-at-home orders in place. It's a real factor in the fact that we aren't currently filling every ICU bed with COVID patients.
We don't want to be in a situation where we run out of ventilators and ICU rooms. Right now, it's manageable. But we're always looking at the potential for things to change. 
It's one thing for someone to cough near you, and then you touch your face. But it's another thing for someone to have particles flying in the air and you are the one who inhales them. That's what the healthcare workers and first responders are facing. It's not only the exposure to the virus, it's the amount they are being exposed to. That's what we're speculating.
We take all the precautionary measures with any trauma patient entering the hospital. Until a patient is cleared or the tests come back negative, we treat them as if they have COVID.
The best thing is to be proactive. That has made a huge difference.
Matthew Gibson, Ph.D., dean of the graduate school of the Stowers Institute and associate professor, UMKC School of Medicine
It's like we are doing an experiment with our daily lives. 
You can be productive in a totally different kind of way. We are in the midst of this really difficult and challenging period, but at the same time it's forcing us to adopt new technology and a new way of doing things.
The way people will communicate for science, for medicine, for business, will change if the technology can allow for human interaction. It will get better and better. 
I'm not an epidemiologist. I'm a very basic kind of scientist. My lab works with fruit flies and sea anemones. Keeping them alive during this is what we are focused on.
Fortunately, our sea anemones can live a month or two without eating. They're almost immortal. They don't age like other animals. Sea anemones eat small crustaceans, so we feed them shrimp larvae, but they're able to go through starvation for months at a time.
Fruit flies can grow at a lower temperature, but they reproduce less. So we can slow them down by keeping them at a lower temperature.
Well before the shutdown, we scaled back everything that we could. Now one person goes into the lab and takes care of them.
In the beginning, all of this was kind of scary. But now people have really pulled together in meaningful ways and have started to plan for a new future.
There's research leading to treatments and vaccines. We are going to find a way out of this. That's a cool story of resilience.
This teaches us how we might respond to the climate crisis. That's a slower moving, but even a more disastrous problem in the long term. But by reasoning and the application of science, we may realize that we can make life better. 
I'm totally confident that we will be able to overcome COVID-19.

Randy Wisthoff, executive director and CEO, the Kansas City Zoo 
The elephants don't care if it is Christmas, or New Year's, or your birthday, or snowing. They need the same amount of attention and care every day of every year, every day of their lives. We have a great team that cares for them. But with this coronavirus, we just have to assume that somebody, somewhere, sometime, is going to become infected, and operate on that premise. 
We still have 200 acres and almost 2,000 animals to take care of. 
Feeding penguins is a very labor intense and detailed operation. We probably have at least 70 penguins in that building, and they are fed by hand, twice a day. Our fruits and vegetables come from the same supplier that supplies restaurants and grocery stores. We're being really careful with masks for our animal health department. Right now, they aren't doing the routine procedures, sort of like our human counterparts in hospitals.  
Now—with the tiger at the Bronx zoo testing positive—we've had to adjust. Every one of the areas that have cats was addressed—our cat population is spread out in different areas of the zoo. Our new protocol now is to wear face masks and rubber gloves with the cats. 
All of the experts kept saying that this wasn't transferable to animals. But this virus originated in an animal so, well, we learn stuff everyday too. We've been able to shift on a dime and change protocol.
There is still so much unknown about this virus.

Brenda Tinnen, senior vice president and general manager, AEG Kansas City/Sprint Center
At first, in March, it seemed that we just got information about COVID-19 in bits and pieces.
Now that the Sprint Center is closed, we have 24-hour security that maintains it. I'll go inside and walk around, and I drive around the outside regularly. It's very eerie when I walk around the concourse. It's quiet. The Big 12 basketball court is still there, out on the floor. I have time to reflect.
I've been in the sports and entertainment industry a long time. I was at Staples during 9-11. And at first, this seemed similar. But with 9-11, we thought we knew who the enemy was. And as bad as it was, people got back to having events maybe four or five days later.
While we didn't forget, at least it felt like we were moving forward.
But now, you can't just say OK on this date we will have an event or let's play ball and let's get the Royals out there. 
It's challenging to manage everything because the facility expenses go on whether you have events or not. There have been discussions in the national media about how refunds are being handled, and there have been changes, new policies. People are short of cash and maybe having concert tickets today isn't as important as it used to be. They need the cash instead of the ticket. I'm happy that's been taken care of.
I'm very confident that when the industry comes back, we can disinfect and sanitize and accept people into the building. But I'm not sure what the protocol will be.
Will there be social distancing and what will it need to look like? It might be that we sell every other seat or every other row. Some of those conversations are just now taking place because we all have time on our hands. The NHL and NBA will probably set the tone for how we will move forward.

Kwanza Humphrey, artist and user-experience designer at Cerner
I don't think in my lifetime I've ever seen everyone on the globe dealing with the same challenge. It is not a Democrat thing, or a Republican one, or a racial one. Everybody has to deal with it.
And then there are the layers and complexities within. When you have money, you're able to do more and be safer, and if you don't have money, you can't.
But in some way, everyone has to deal with the pandemic.
Right now, I think about the everyday. The hustle and lack of cars on the street. Now I'm always seeing the road and the empty parking lots. But I see more people actually walking.
It's transitioned. Now it's people rushing back and forth instead of cars. I see the individuals.
Early on at Cerner they suggested that everyone work from home. Then I just started coming in here to the studio [at Cerner] to do my work during the day and my art at night. My day job is all digital and thinking about the user. The artwork is thinking about the experience.
Some of my favorite works of art are timeless and have universal themes. That's why I like to focus on portraits. People can tell a story just by the way they look. 
Art is an interactive medium. It's not like a physical interaction, but I think of it more as a mental interaction. As a viewer, you have your own preconceived ways of seeing things that comes from your history. I like to leave it somewhat open. I don't want to necessarily dictate everything, I want to leave it open to interpretation. It gives the viewer a say in it as well.

Dr. Wayne Hunthausen, doctor of veterinary medicine, Westwood Animal Hospital
As a small business owner, I have concerns. I have a great staff that I really want to keep employed. We are still exploring, but one of things that we have thought about is dividing the staff into two teams. They would work in shifts, but always with their team. If someone on one team became infected and possibly exposed their team, we would still have the other team.
At the hospital, we are trying to limit our services to only needed services. Just like the human hospitals, we are trying to postpone any unnecessary procedures.
When someone pulls up with a pet, we have a masked and gowned staff person take the pet from the owner, put a new leash on it and guide the pet into the hospital.
And then we'll have the conversations that we need to have—gathering more information—by phone with the owner, who's usually waiting in the parking lot.
It takes more time to see an animal that way. We have about half the appointment times available than we've had in the past.
Pets are great stress relievers. Even just touching and stroking a pet brings a person's blood pressure down and decreases their heart rate. Owning a pet has mental and physiological benefits.
My dog is getting a lot more attention right now.

Lila Tulp, senior at Shawnee Mission East High School and co-editor of The Harbinger
I plan on going to the University of Missouri where I'm going to study strategic communications in the journalism school, but they've already canceled orientation. There are talks about not having classes this fall. Definitely everything is fluid right now. I'm preparing myself for anything. But I know that once one school drops, most are going to follow. And there is talk about it [COVID-19] coming back and resurfacing in the fall.
I haven't planned anything past going on a walk with my friends tomorrow. It's just one day at a time.
We're still producing the print issues of the school paper. We usually print about 2,000 copies; that's gone down to approximately 200, and it's posted online. That's been keeping me busy. We do 16 editions every year. This was our 15th. It's like our senior issue. 
Everything is just weird because you don't know when you'll see everybody again, but I feel that keeping the paper going is like keeping our school together. It's bringing some normalcy to everyone.
I think it's better to not try to figure out when it's going to end, but to try to do your part in ending it. I've been going on walks with my friends, but we will be on different sides of the street. We also have car circles where everyone is in a different car; we park our cars and hang out.
Everybody is adapting because there aren't other options—we're all in the same boat.
There isn't a single person who isn't facing the same things. The most important part is being able to adapt.