This week's roster of notable shows includes a world-class blues singer, a Grammy-winning R&B songstress on her farewell tour, an avant –garde singer/composer/keyboardist, and a big band led by a master trombonist.
Nov. 30 at Knuckleheads Saloon: Shemekia Copeland
 Copeland is the daughter of ace blues guitarist/vocalist Johnny Copeland and for 20 years she has forged her own eminent career, dazzling blues audiences with her electrifying mix of blues, gospel, and R&B and drawing rave reactions like this: From Rolling Stone magazine: "Shemekia Copeland is a powerhouse, a superstar…she can do no wrong."  From the Chicago Tribune: "Shemekia Copeland is one of the great blues voices of our time. No one comes close to the sheer firepower that Copeland conjures at will."
2018 International Blues Challenge champion Kevin Burt opens at 8:30 p.m. Tickets are $28.50 and $43.50.

Nov. 30 and Dec. 1 at the Music Hall: Anita Baker
Baker is an eight-time Grammy winner with five platinum albums who has put 12 singles into the Top 10 of Billboard's R&B chart. Baker, who turned 60 in January, has declared this her farewell tour, and fans are responding accordingly.
In September, at the second of two sold-out shows at the Greek Theater in Los Angeles, special guest Stevie Wonder told Baker,
"You cannot say goodbye. We want more of you and more of you and more of you. I just want to thank you for the love you've given us all this time. More than ever in the world today, we need to make love great again."
Her farewell shows will be Baker's first Kansas City performance since a show at the Midland in September 2008. Show time is 8 p.m. each night. Tickets start at $69.
Dec. 1 at YJ's: Thollem
California native Thollem McDonas is a renaissance man: composer, multi-instrumentalist, vocalist, activist, author and plumber and alchemist of a deep, wide array of music genres. His experiments have created sounds and subgenres described as psych-punk, noise-lounge, agit-punk, post-Americana, world blues.
He has recorded and performed with a who's-who list of artists and musicians, including members of Deerhoof, the Minutemen, Half Japanese, Wilco, Can, Old Time Relijun, Cibo Matto, and Yeah Yeah Yeahs.
Thellum will perform two sets at the new YJ's, 1746 Washington St.: one solo and one with Kansas City ace drummer Brian Steever.
 Show time is 8 p.m. A $10 donation is suggested.
Dec. 2 at RecordBar: The Marcus Lewis Big Band
 Lewis, a trombinist, is a native of Georgia who moved to Kansas City in 2013. His music resume includes a degree in jazz performance from Valdosta State in Georgia, a teaching assistantship at the University of Nebraska at Omaha, a music directorship on a cruise line, a touring member of Sugarfoot's Ohio Players, and a member of the touring brass section for Janelle Monae.  Since his move to Kansas City, Lewis has immersed himself in the city's music scene.
In September, the Marcus Lewis Big Band released Brass and Boujee, which local jazz critic Bill Brownlee called "a poised dispatch from the intersection of jazz and hip-hop." Lewis said of the album: "It's the first time that I know of that an 18-piece big band has played with two rappers fronting it."
You may have seen Lewis and his band perform at Starlight Theater in October, opening for Monae as part of The Weekend, a component of the 10-week Open Spaces series. If not, here's another chance.
Show time is 8:30 p.m. Admission to the 18-and-older show is $5.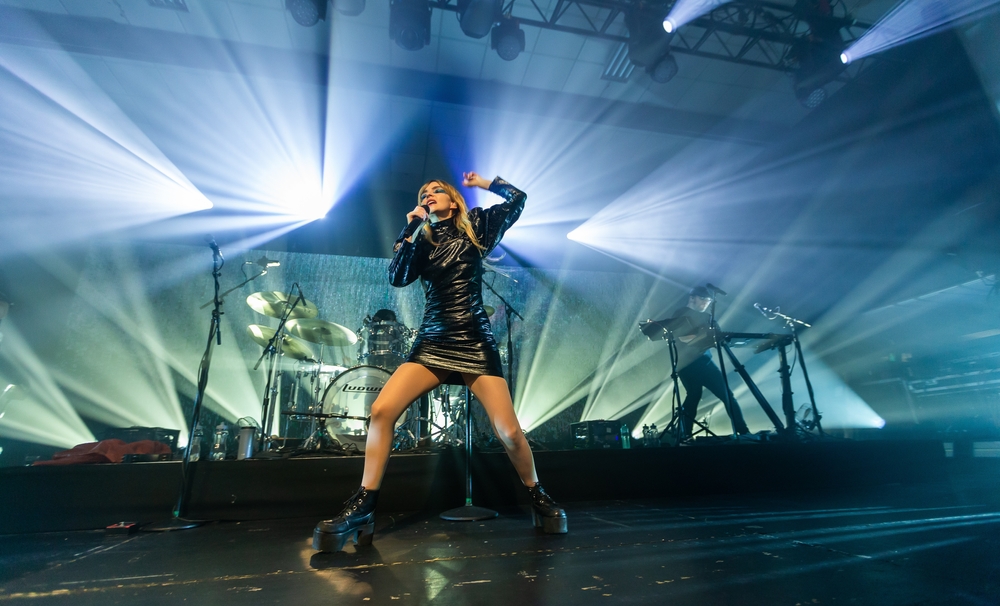 Dec. 4 at the Arvest Bank Theater at the Midland: Chvrches
Chvrches is a synth-pop trio from Scotland that has attracted widespread praise from critics since its debut in 2013.  The British Observer said Chvrches' electro-pop "is only just short of brilliant." Wired magazine called them the heirs to Depeche Mode, New Order and "other titans of British electronic music." And Consequence of Sound declared: Chvrches has "evolved from a hype band to something much more coveted: a great band."
See/hear for yourself at the Midland on Tuesday. Also on the bill: The Moth & the Flame and Royal Teeth. Show time is 7 p.m. Tickets to the all-ages show start at $29.65.
 A look ahead: Other shows to know about
 Manchester Orchestra, Dec. 2 at the Uptown Theater: This four-piece from Atlanta has been grinding out its dynamic, emotive brand of artsy indie-/alt-rock since 2004 and with each album has taken its sound into interesting, at times confounding, directions.
 Radkey with Drop a Grand and Bad Ideas, Dec. 21 at RecordBar: Radkey comprises a trio of brothers from Kansas City via St. Joseph who continue to produce appealing blends of punk, Afro-punk, metal and hard rock.
 Sam Bush, Jan. 18 at Knuckleheads: Bush is a virtuoso on the mandolin, a pioneer in the world of progressive bluegrass and a regular collaborator with Alison Krauss.
 Trampled by Turtles, Jan. 19 at The Truman: A quartet from Minnesota, Trampled by Turtles does intriguing things with insurgent country, folk and bluegrass.
 Charlie Wilson, Feb. 14 at Municipal Auditorium: The former leader of the Gap Band will provide the perfect Valentine's Day celebration for you and your significant other. Or for you and friends.