This week's list of must-see shows includes a hometown Idol, a rising jazz masterand a wife-husband team leading a soul-blues orchestra.
Oct. 25-26 at the Silverstein Eye Center Arena: MercyMe with Tenth Avenue North
It's no stretch to say MercyMe is to contemporary Christian rock what U2 is to secular rock: one of the most popular bands in its genre.
The Oklahoma group formed in 1994 and has since released more than a dozen albums, six of which have been certified gold (500,00 in sales); another has been certified multi-platinum (1 million in sales). Their most-recent album, Lifer, reached No. 10 on the overall Billboardchart and No. 1 on the Billboard Christian chart.
This week, the band is in town for a two-night stay in Independence, at the home of the Missouri Mavericks hockey team. Their Imagine Nation Tour also features openers Tenth Avenue North, a veteran Christian rock band from West Palm Beach, Fla.
Show time each night is 7:30 p.m. Tickets start at $42.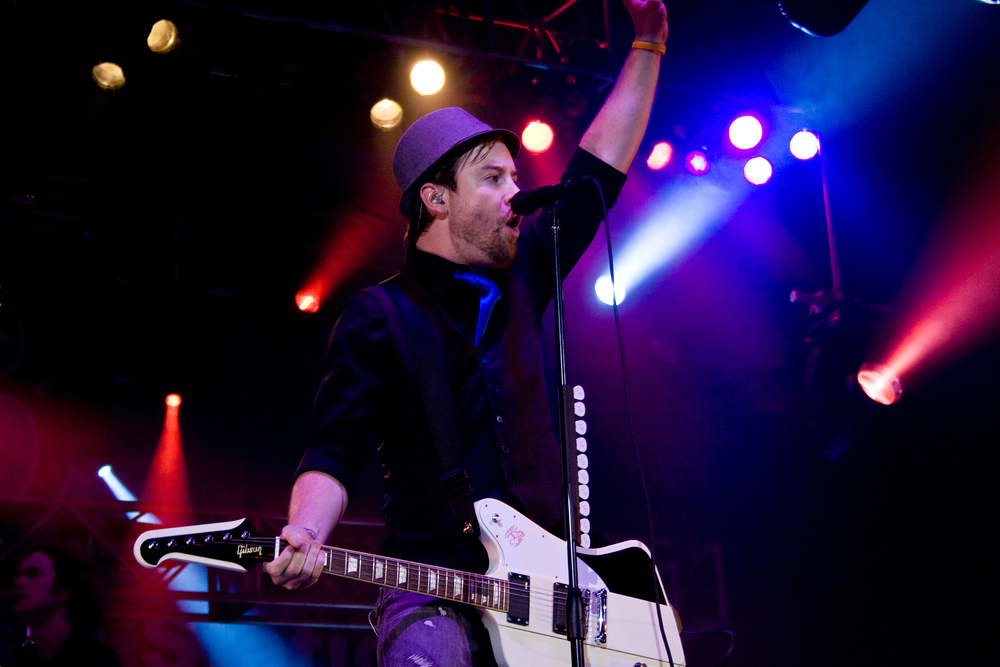 Oct. 26 at the Madrid Theater: David Cook
Cook won his American Idol title 10 years ago but unlike some fellow AI champs, he continues to record and tour and remain in the spotlight. This year, he released the acclaimed EP Chromance and also made his Broadway debut playing the role of Charlie Price in the Tony-winning musical Kinky Boots. On Friday, the Blue Springs native will perform an acoustic set at the Madrid Theater, where a big hometown crowd is certain to give him a loud, warm, homecoming welcome.
Tyler Boone, a singer-songwriter (and founder of Boone's Bourbon) from South Carolina, opens at 8 p.m. Tickets to the all-ages show are $35.
 Oct. 26-27 at RecordBar: The Outer Reaches Fest
 Formerly known as Psych Fest, this celebration of psychedelic rock has expanded to include a wide variety of sounds, ideas, and genres. The seventh annual festival now rightfully touts itself for showcasing the "out there, left-of-center, under-the-radar artists pushing boundaries in their respective genres … (and) celebrating the variety of experimental music around the globe."
The two-day lineup includes some of Kansas City's most artistic/theatrical and experimental music ensembles—don't miss Freight Train Rabbit Killer on Friday night—plus several out-of-town touring groups (Brooklyn, Montreal, Chicago, and Sydney, Australia) who want in on the festival's vibe and growing reputation.
Show time is 6 p.m. each night. Both nights are 18-and-older events. Ticket prices for Friday: $12 in advance; $15 day of show. Saturday: $15 in advance; $20 day of show. A two-day pass is available for $25. Tickets and a full schedule are available at the RecordBar website.

Oct. 29 at the Truman: Kamasi Washington
Washington is the rare jazz artist who gets a lot of attention from writers and critics in the mainstream music media.
A composer, bandleader and saxophonist extraordinaire, Washington recently released the full-length Heaven and Earth, which the music gatekeeper Pitchfork crowned "a multi-genre feast of musical ideas" and "his most sweeping and complete statement yet."
From Rolling Stone: "The most talked-about jazz musician in recent memory blurs genres on a two-hour-plus new album."
Jazz may not be your primary love, nor is it mine, but I'm planning on taking the advice of several friends who are jazz devotees: Don't miss this show.
Show time is 8 p.m.Tickets to the all-ages show are $32.50 and $35.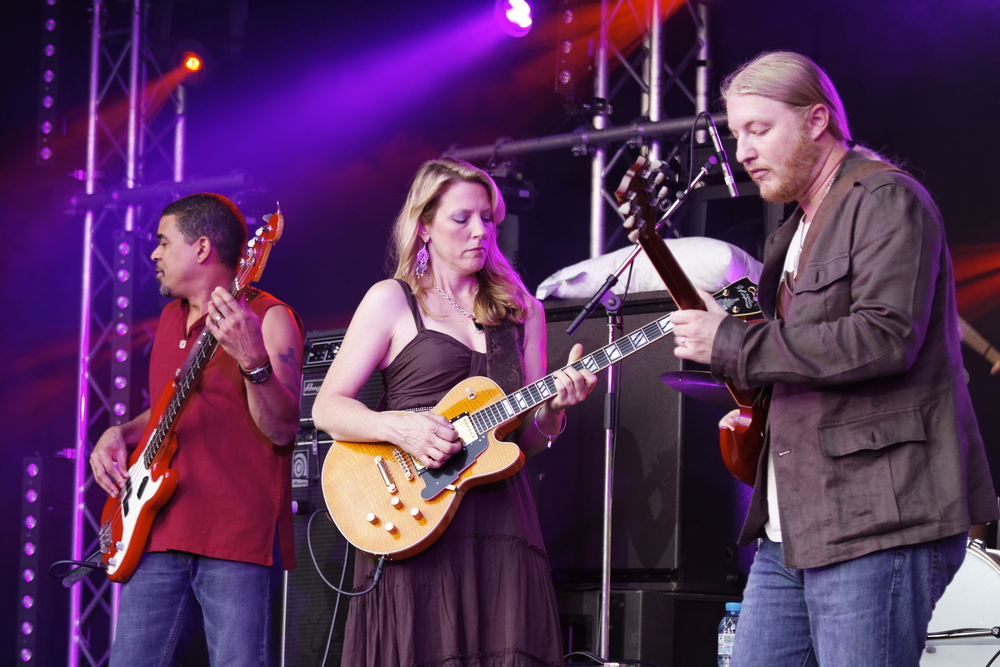 Oct. 30 at the Arvest Bank Theatre at the Midland: The Tedeschi Trucks Band
In the early 1990s, Susan Tedeschi emerged as one of the most promising singers/guitarists in the blues constellation, male or female. She has since more than fulfilled that promise.
At a gig in 1999, she met Derek Trucks, founder of the Derek Trucks Band, slide guitarist for the Allman Brothers Band, and nephew of the Allmans' drummer and founding member, Butch Trucks. She and Derek Trucks married in 2001, and in 2010 they put aside their own bands and formed the Tedeschi Trucks Band, a 12-piece rock/soul/blues orchestra that has since become one of the most dynamic live bands in any genre. A review of a recent show in Nashville was strewn with words like "mesmerizing," "masterful," and "breathtaking."
Show time is 7:30 p.m.; there is no opener. Tickets are $34.50 to $79.50.
Other shows to know about:
Sharice Davids Fundraiser at RecordBar, Oct. 25: Several Kansas City bands will perform at this fundraiser for Davids, Kevin Yoder's opponent in the Kansas 3rd Congressional District. The stellar music bill: Amy Farrand and the Like; Emmaline Twist; Mikal Shapiro and the Musical; and Terri Quinn. Admission to the 18-and-older show is $10. For contribution rules, visit recordbar.com.
English Beat at Knuckleheads Saloon, Oct. 27: Dave Wakeling and his band continue to hit the road and deliver their dance-happy blend of ska, new wave and pop. The openers: The Red Ball Jets, a rocksteady/reggae/surf quartet from Kansas City featuring members of the Elders, the Rainmakers, and Hi-Lux.
Kadesh Flow at MiniBar, Oct. 30: One of Kansas City's most intriguing and gifted musicians–rapper, producer, jazz trombonist with the Phantastics and featured artist at this year's Nerdcore Showcase at the SXSW Music Conference—will bring his unique and compelling brand of hip-hop to the intimate environment that is MiniBar, 3810 Broadway. Check out his latest release, Room Service, recorded in a hotel room during a gamer/music convention.
Apocalypse Meow, Nov. 3 at RecordBar: This annual fundraiser benefits the Midwest Music Foundation, a Kansas City nonprofit that raises money to help musicians get through financial difficulties caused by healthcare crises. It also honors its co-founder, Abigail Henderson, who died of cancer in 2013. The music lineup includes Chris Meck & The Second Sons, Bacon Shoe and Chase the Horseman.
Lúnasa at Kansas City Irish Center, Nov. 30: This internationally renowned quartet from Ireland plays straight-up traditional Irish music—lots of fiddles, flutes, pennywhistles, guitars, and Uilleann pipes—and recently has included ace fiddler Colin Farrell, formerly of Kansas City's best-known Celtic rock band, the Elders.