This week's list of recommended shows includes American Idol's most successful alum, a legendary British metal band, a record-release show you don't want to miss and a book-release show featuring poetry readings with a jazz ensemble.

Sept. 19 at Sprint Center: Carrie Underwood
 She's calling this her Cry Pretty Tour 360, named after the title of her latest album, released in 2018.
But it seems that American Idol's most successful and popular alum and one of country music's biggest stars has little to weep about these days. Underwood is a rarity in country music: a woman whose songs get consistent radio airplay: Her song Southbound was No. 6 on Billboard's Country Airplay chart the week of Sept. 14, making Underwood the only solo woman artist in the Top 10.
Nearly 15 years after her Idol title, the seven-time Grammy winner and mother of three (including a son born in January) remains a premier live performer, one with a compelling combination of style, personality, and skill. Billboard wrote about a recent show in Los Angeles: "She manages to string together about two dozen of those show-stopping performances, complete with the impossible power notes, all in the span of two hours."
Maddie & Tae and Runaway June (an all-woman trio who also have a Top 10 hit) open and also will join Underwood for a medley during her set.
Show time is 7 p.m. Tickets start at $43.
Sept. 19 at RecordBar: Calvin Arsenia
 Few performers can command a stage like Calvin Arsenia. The multi-instrumentalist from Kansas City is an ace harpist and charismatic vocalist with seemingly unlimited range.
This will be a record-release show for Arsenia's latest album, L.A. Sessions, which showcases his vocal dexterity and diversity as it explores an array of genres, including rock, jazz and soul. It features a gorgeous cover of Billie Holiday's Don't Explain. The album, released by the Kansas City label Center Cut Records, is the follow-up to Cantaloupe, Arsenia's outstanding sophomore album from 2018.
A few surprises, including some "special guests," are in the works, so get there early to see it all. Show time is 8 p.m. Tickets are $20.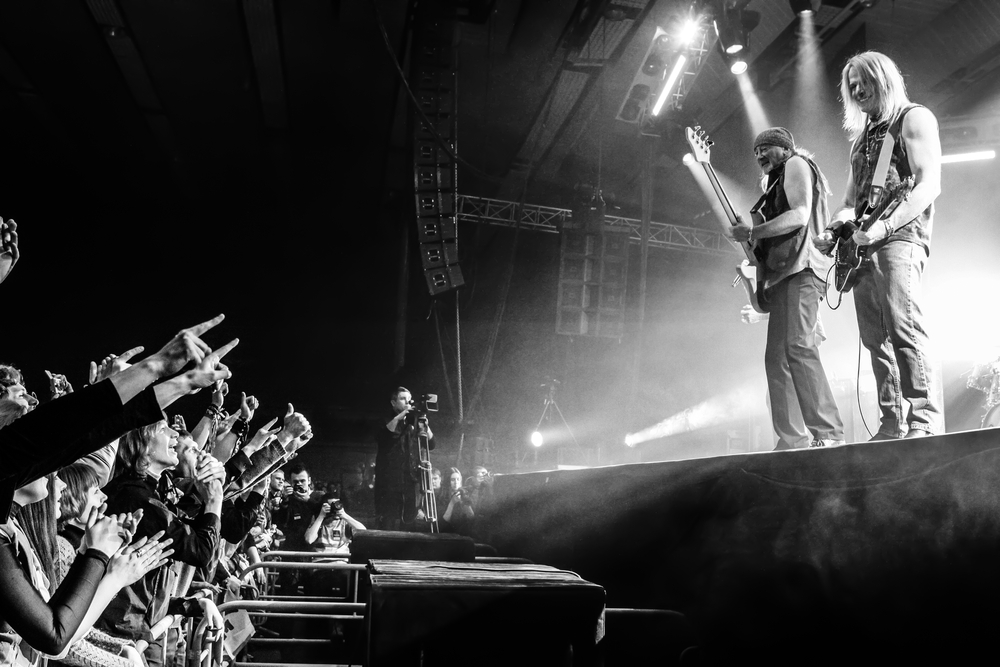 Sept. 19 at the Uptown Theater: Deep Purple
In May 2017, the Hall of Fame metal legends began The Long Goodbye Tour, an odyssey that spanned eight legs and 120 shows. This spring they announced the ninth—and likely final—leg, a 33-stop tour that began Sept. 3 in Riverside, Calif., ends Oct. 19 in Minneapolis, and includes Thursday's stop at the Uptown.
The lineup features founding members Ian Paice, Roger Glover, and Ian Gillian, longtime member Steve Morse, and touring keyboardist Don Airey.
Recent set lists have mined heavily the band's most successful album, Machine Head, and included tracks from two other classic albums, Deep Purple in Rock and Fireball—not too different from the band's previous performance in Kansas City, almost exactly one year ago—Sept. 18, 2018, at Starlight Theater.
Joyous Wolf, another young band with some Led Zep in its DNA, opens at 7:30 p.m. Tickets start at $55.
Sept. 20 at the MTH Theater in Crown Center: Victor & Penny and the Loose Change Orchestra with Annie Oakley
 As a duo, Victor & Penny (Jeff Freling and Erin McGrane) deliver a highly entertaining take on what they call "swing-infused folk jazz." When their three-piece Loose Change Orchestra supports them, that music is transported into another, more thrilling dimension.
Longtime fans will be pleased to hear that after a summer of heavy touring, the band is in great form and has some surprises and new twists in store.
The opener, Annie Oakley, is a folk/Americana trio from Oklahoma City led by twin sisters Sophia and Grace Babb.
 Show time is 7:30 p.m. Tickets are $15.

Sept. 22 at Ça Va: Poet Jen Harris and The Fellas
Harris is a Kansas City poet, writer and activist who is releasing her third anthology of poems and essays, Unconfirmed Certainties.
To celebrate the book's release, Harris will read entries from the collection, backed by a trio of esteemed Kansas City jazz musicians: pianist Eddie Moore, bassist Jason Emmond, and drummer Brian Steever.
In Unconfirmed Certainties, Harris explores with raw candor a traumatic year that included the public breakup of a long-term relationship and a subsequent plummet into depression and despair. A limited edition of the book will be available at the show for ticketed attendees.
Ça Va is a wine bar at 4149 Pennsylvania in Westport and an ideal, intimate venue for an occasion like this.Show time is 7 p.m. Tickets are $35.
 OTHER SHOWS TO KNOW ABOUT
Flamenco Andaluz with Ensemble Iberica, Sept. 17-18 at the MTH Theater in Crown Center:  Two evenings of rapturous music from Spain and Portugal.
Greta Van Fleet, Sept. 21 at Starlight Theater: They are as beloved as they are resented for faithfully re-creating (read that: plundering) the sounds of heyday Led Zeppelin.
Jonas Brothers, Sept. 22 at Sprint Center: The boys are men and, similar to predecessors like Hanson, they have evolved into an act suitable for adult viewing.
 The Black Keys with Modest Mouse, Sept. 24 at Sprint Center: A slightly odd pairing: Modest Mouse is an archetypical indie-rock band. The Black Keys traffic in variations of raw and heavy rock/blooze.
 Heart with Joan Jett, Oct. 8 at Starlight Theater: Women can rock as good or better than men. This tour proves that every night.